Georgia Tech needed a win to claim a spot in the ACC championship game in Tampa. With a lot on the line, it was up to Tech to write their own history in Durham. The game started off with the Blue Devils gaining a notable lead of 10-0 with the first touchdown pass to RB Re'quan Boyette over Georgia Tech's Mario Edward's head.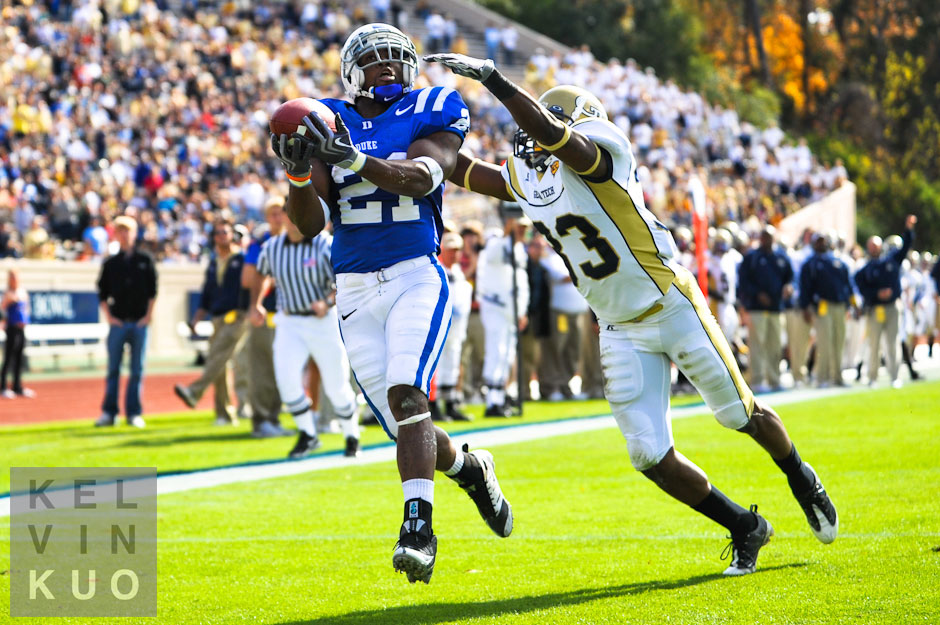 But this would be the only opportunities for Duke to score, with Georgia Tech dominating the last three quarters. Here is the Blue Devil looking on after their first two possessions leading to some points on the board.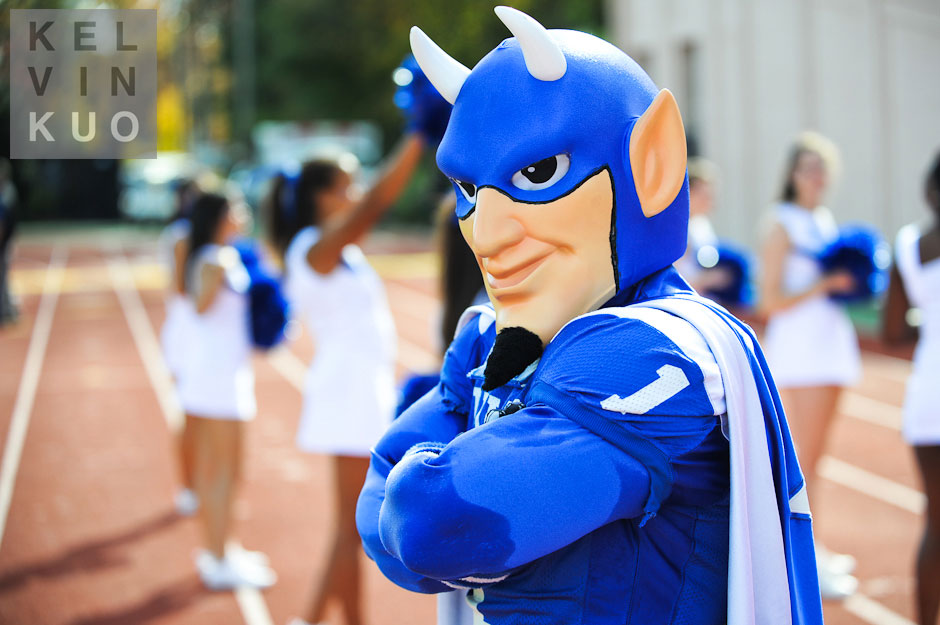 B-Back Jonathan Dwyer runs through the defensive line for some positive yards. Dwyer finished the day with 14 carries, 110 yards and 2 touchdowns.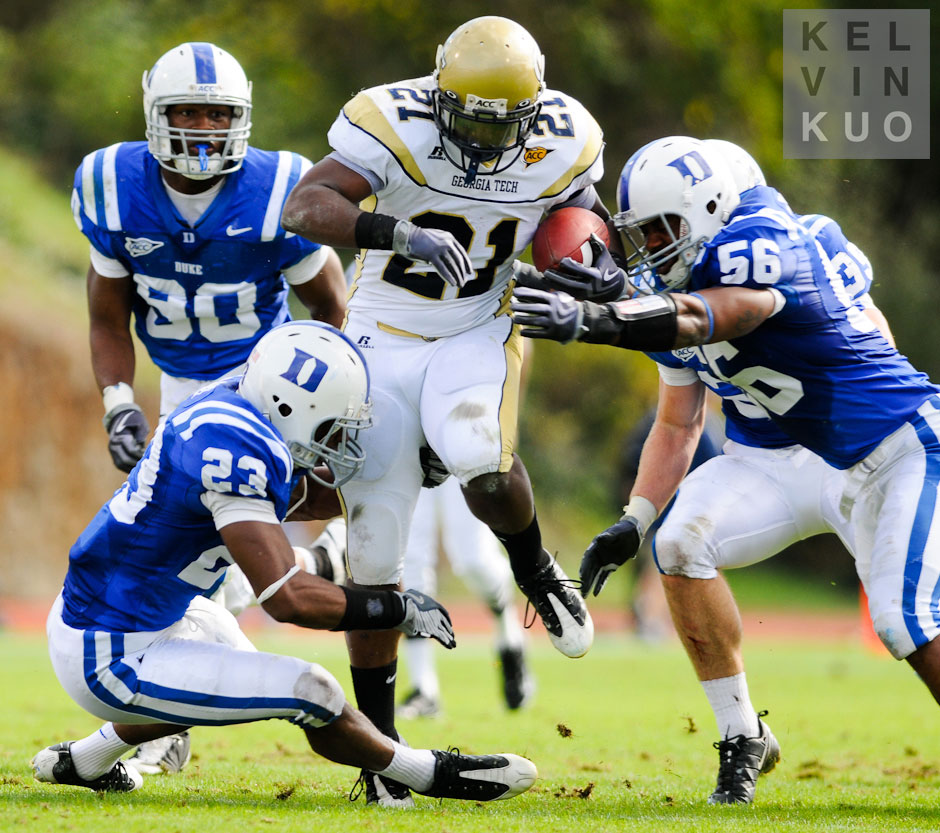 Duke wide receiver Johnny Williams returns a kick off with only Kicker Scott Blair to stop him.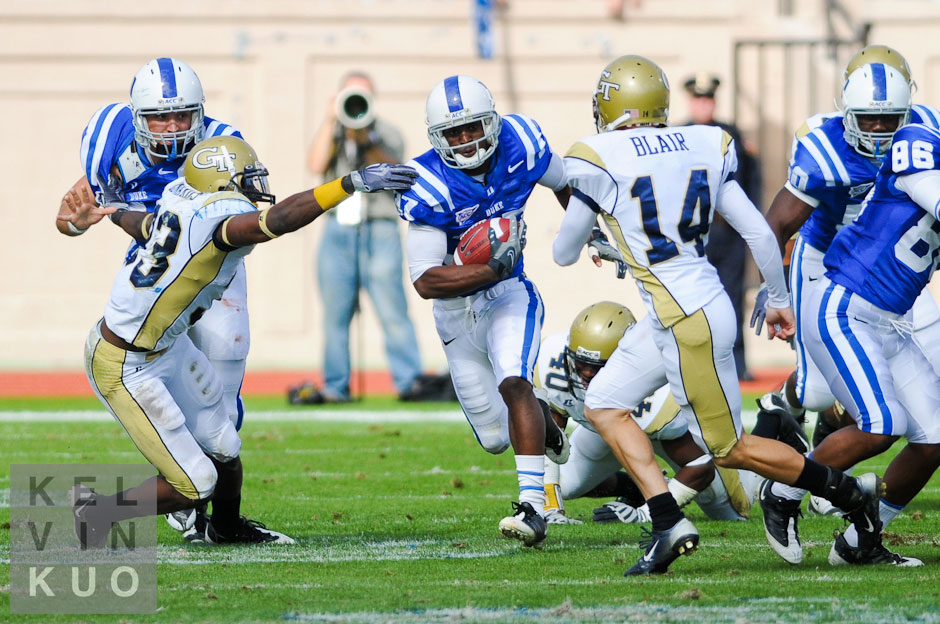 Georgia Tech wide receiver Demaryius Thomas catches a clutch pass over two defenders but is ruled back to be incomplete.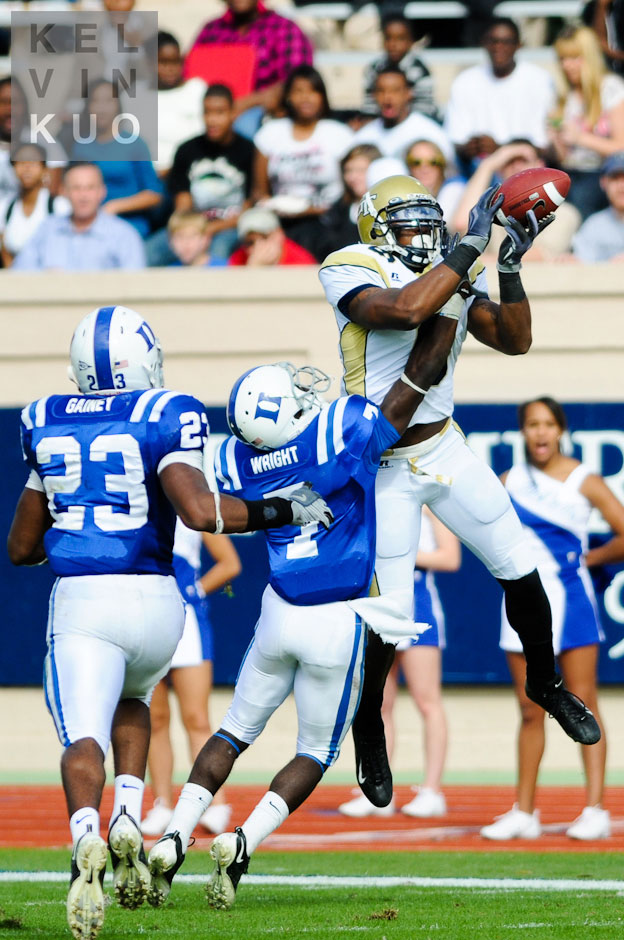 Corner Back Jerrard Tarrant runs a punt return back for a few yards. He ended the day with 4 punt returns for 44 yards.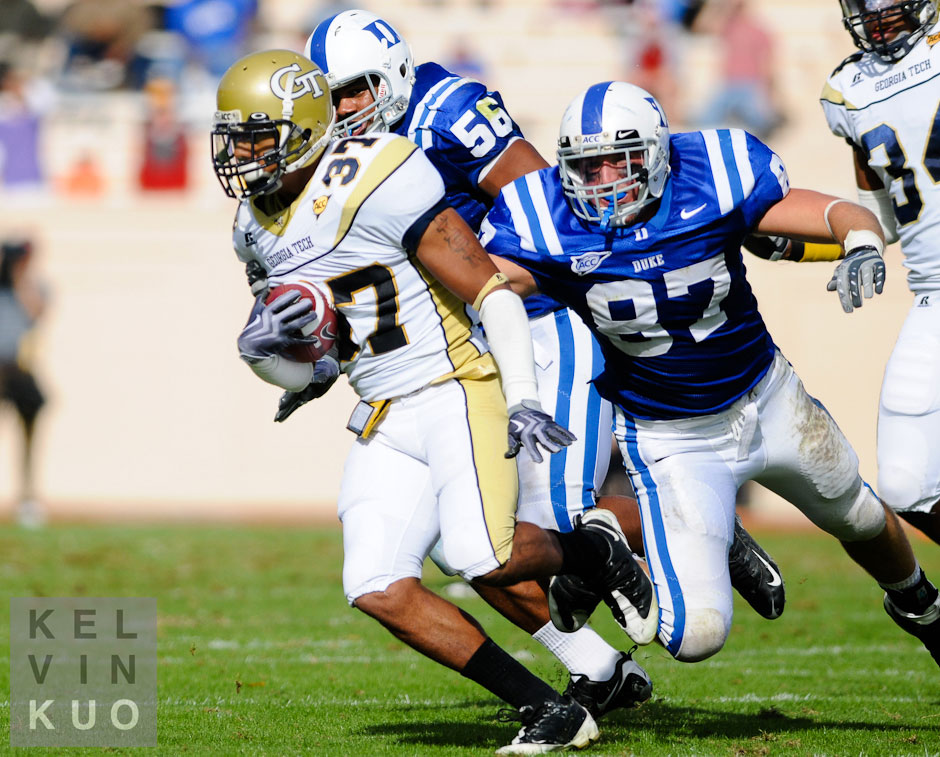 Georgia Tech's wide receiver Stephen Hill's first touchdown pass. He ended the day with 2 receptions for 38 yards with 32 of them being from this one reception.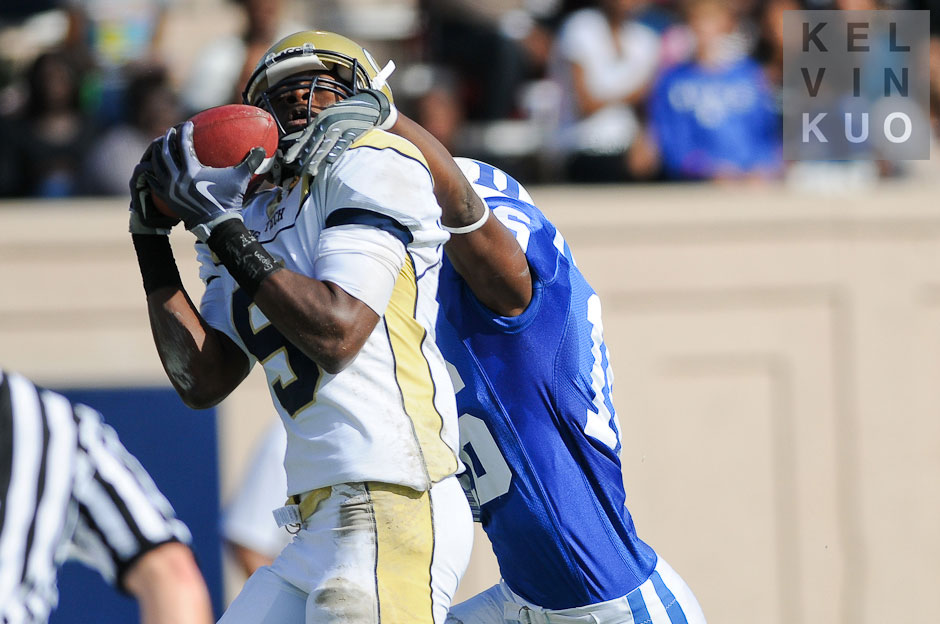 Another one of Georgia Tech's three headed beast, but soon becoming more. A-Back Anthony Allen ended with 5 rushes and 37 yards. He also had 1 reception for 37 yards.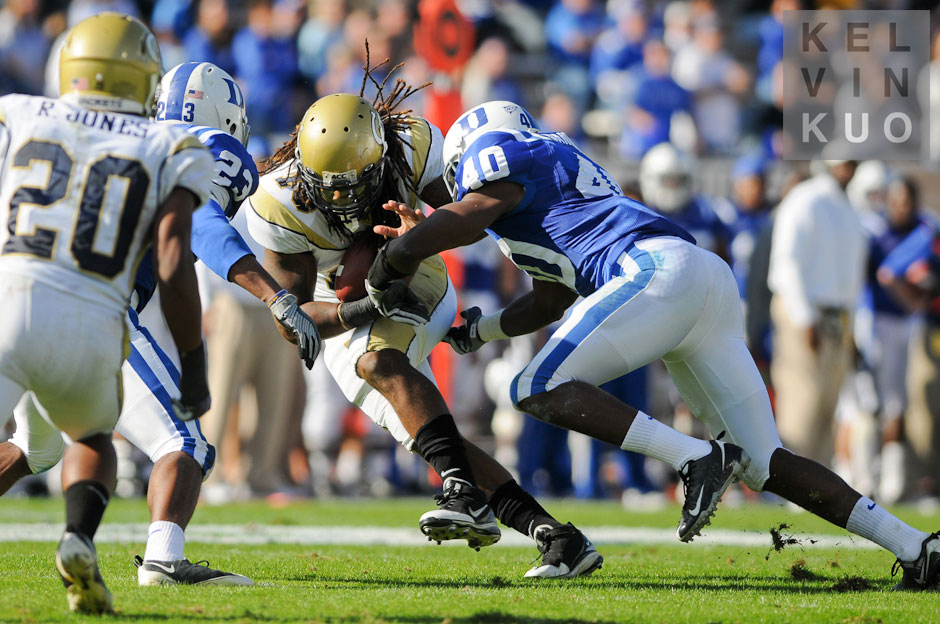 Line backer Brad Jefferson has a big hit on Duke's offense. The defense seemed to step it up after the first quarter of play.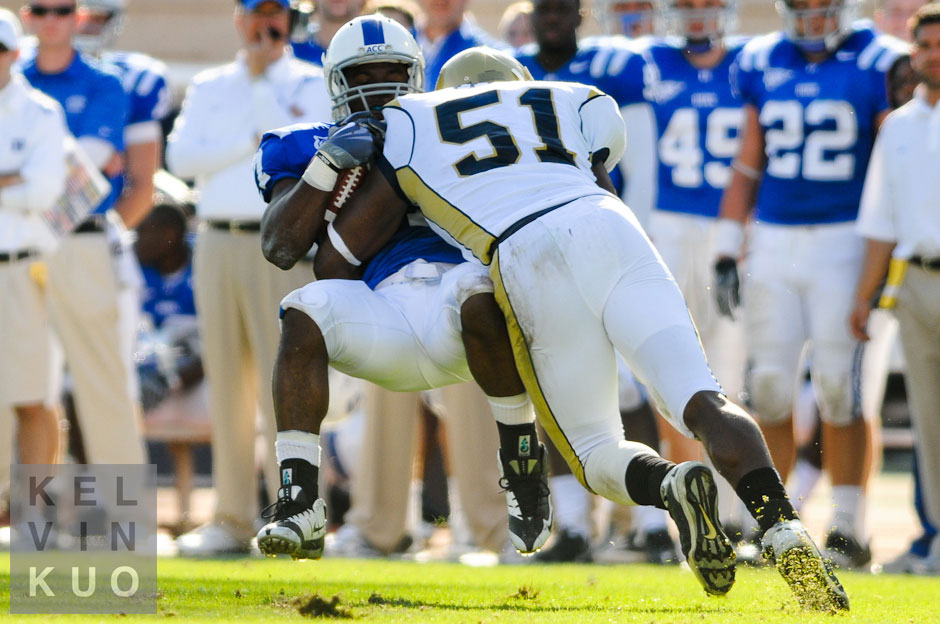 Dwyer grinding through the line for some extra yards to decrease Duke's time of possession.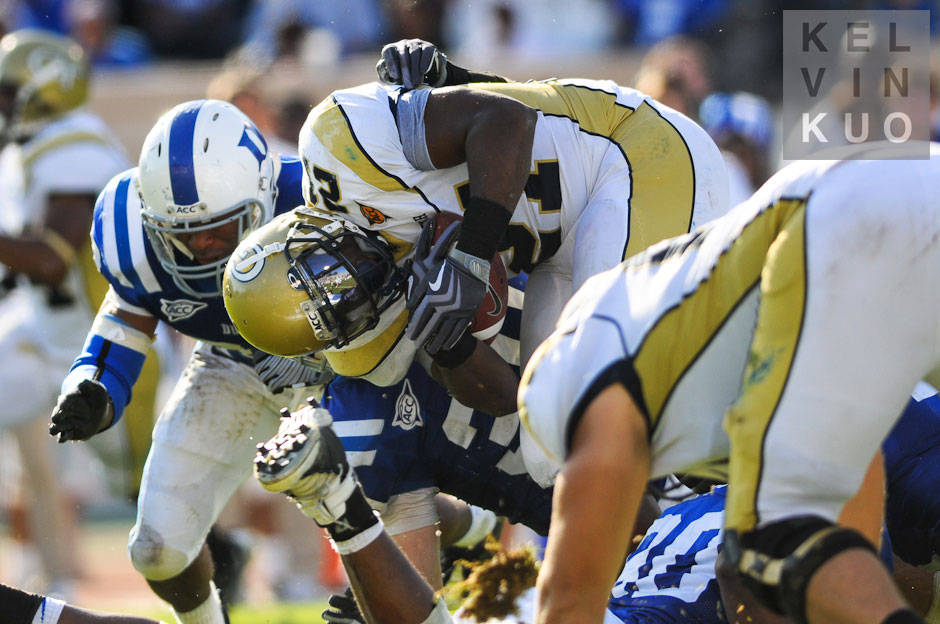 Would be epic shot of Demaryius Thomas catching the ball at the apex, but I decided to stick with the 300 instead of switching to the 80-200. Well the next two shots were better, but not as interesting.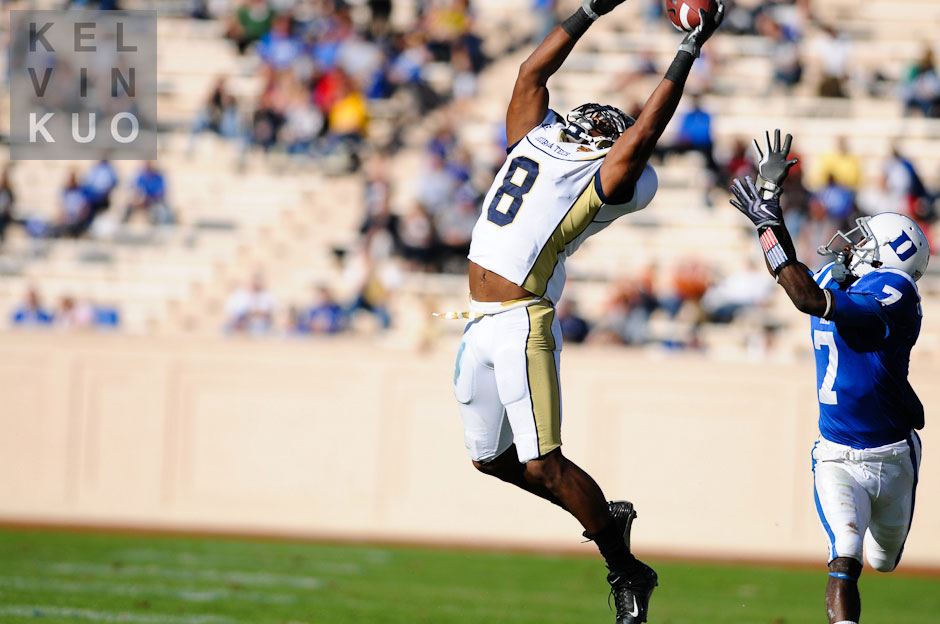 Thomas' touchdown pass for 75 yards.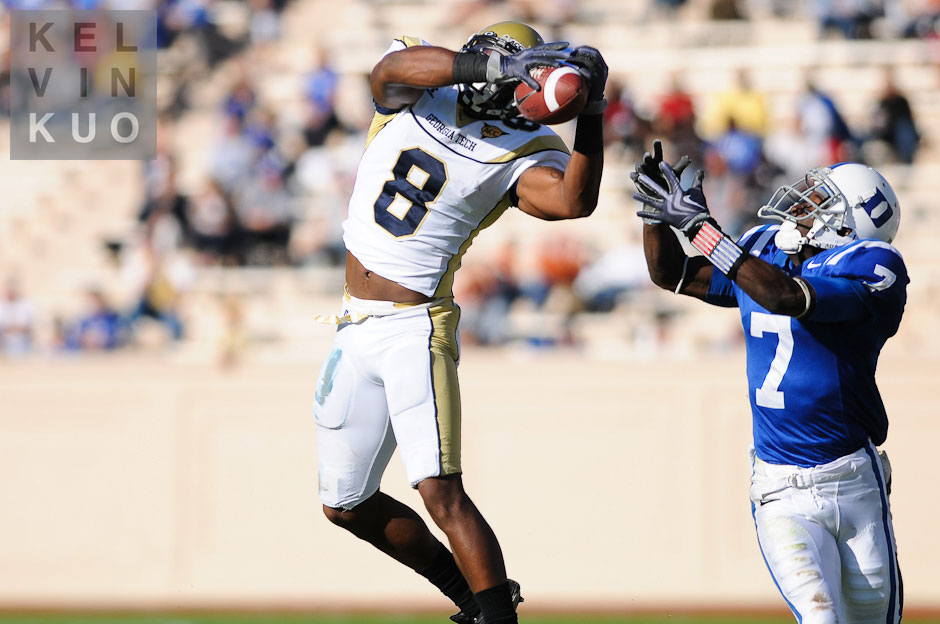 Demaryius Thomas ended the day with 2 receptions and 89 yards. The Georgia Tech air attack is becoming potentially more dangerous to future opponents.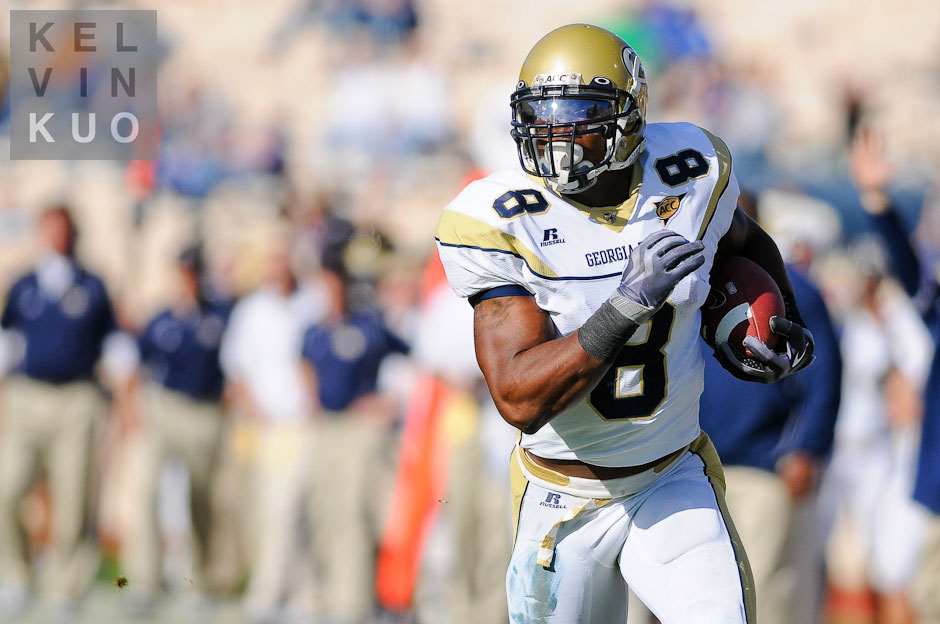 The celebration after the TD.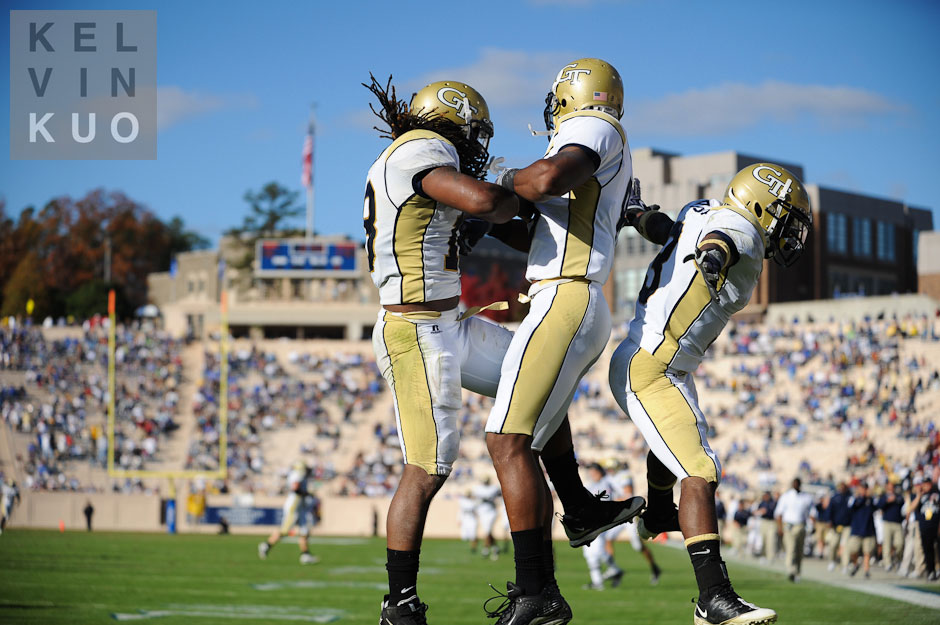 Just a great shot of Scott Blair getting stiff armed. I know I go to tech, but this is still an epic shot.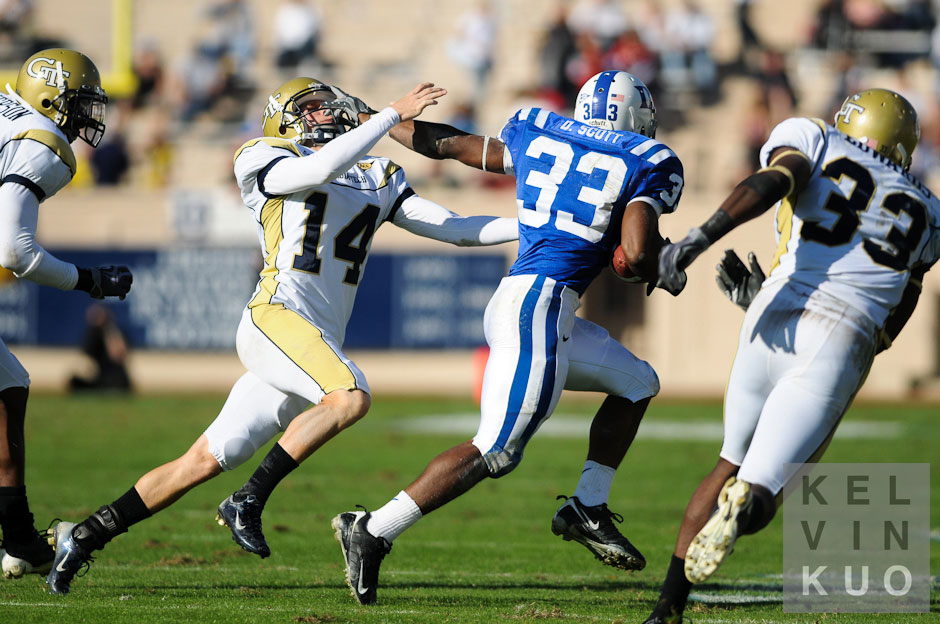 Duke wide receiver Conner Vernon fighting for extra yards during the fourth quarter of play.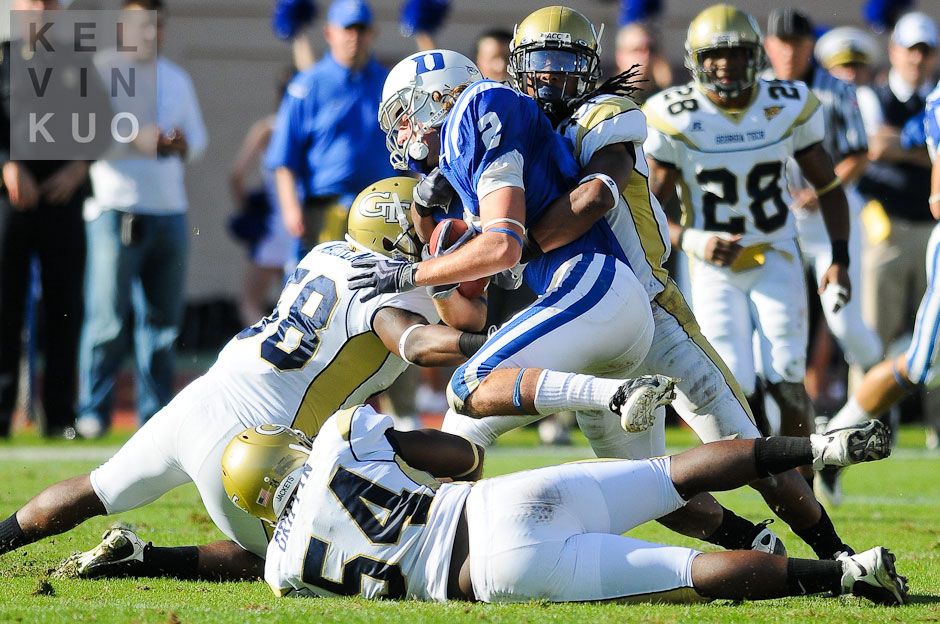 After a huge lead, up 42-10, Jaybo Shaw was placed in to replace Nesbitt as the QB. Allowing him to showcase his talents.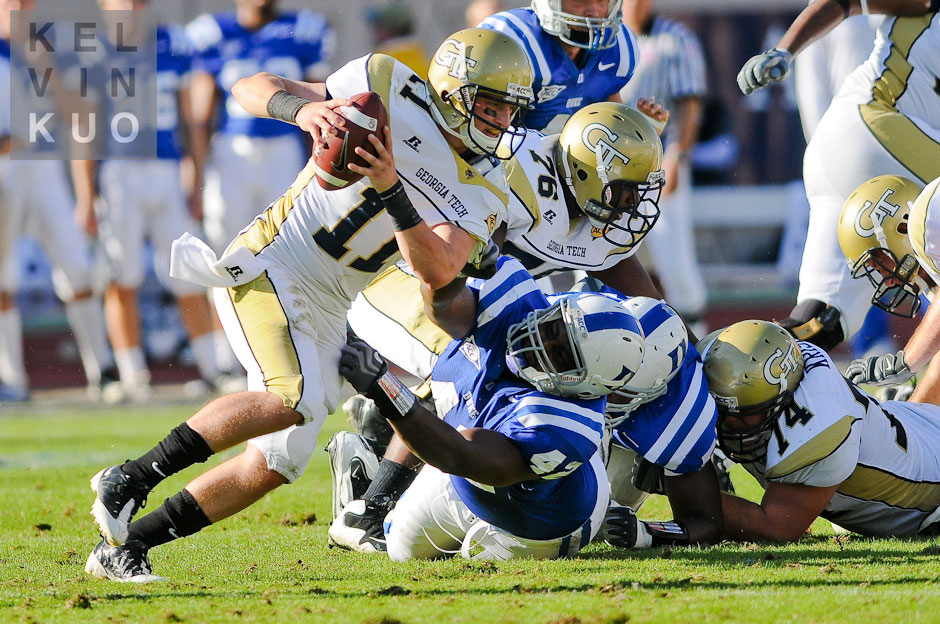 A-Back Marcus Wright, running alone with his lead blocker. Wright ended the day with 5 carries, 47 yards and a touchdown.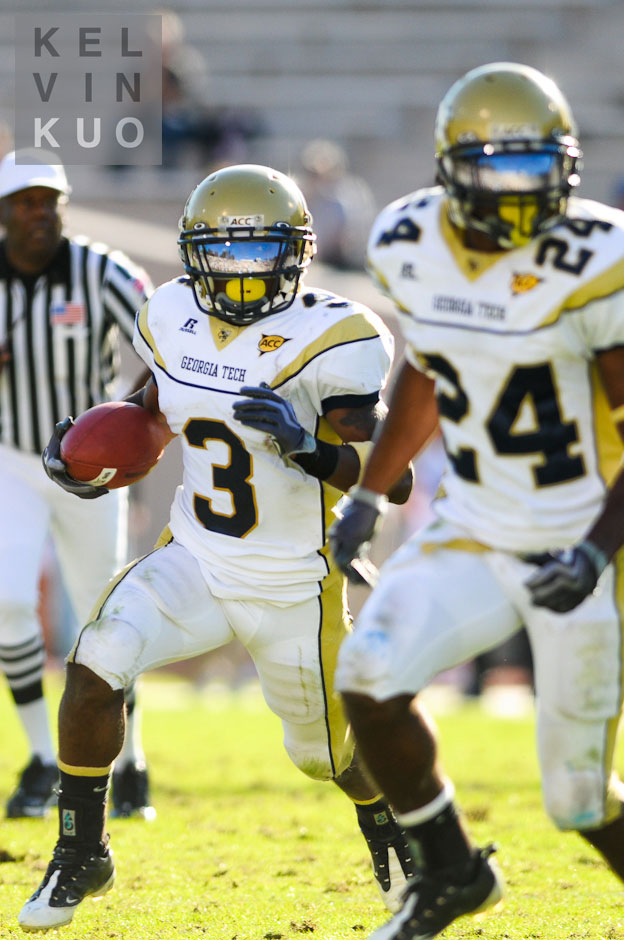 Wright breaking through tackles, wearing down the Duke defense.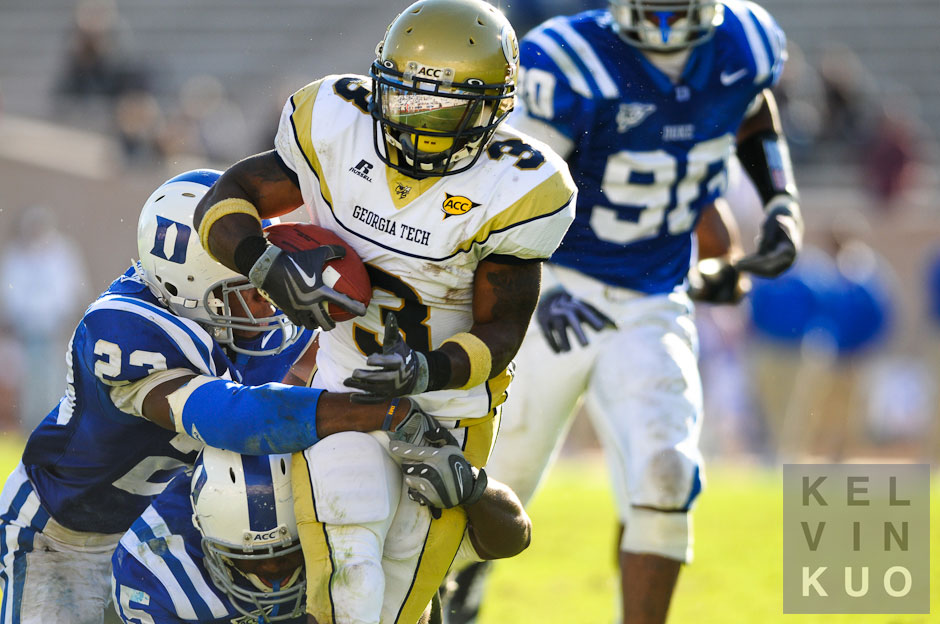 B-Back Richard Watson scored his first ever collegiate touchdown with the dominating performance from Georgia Tech as a whole.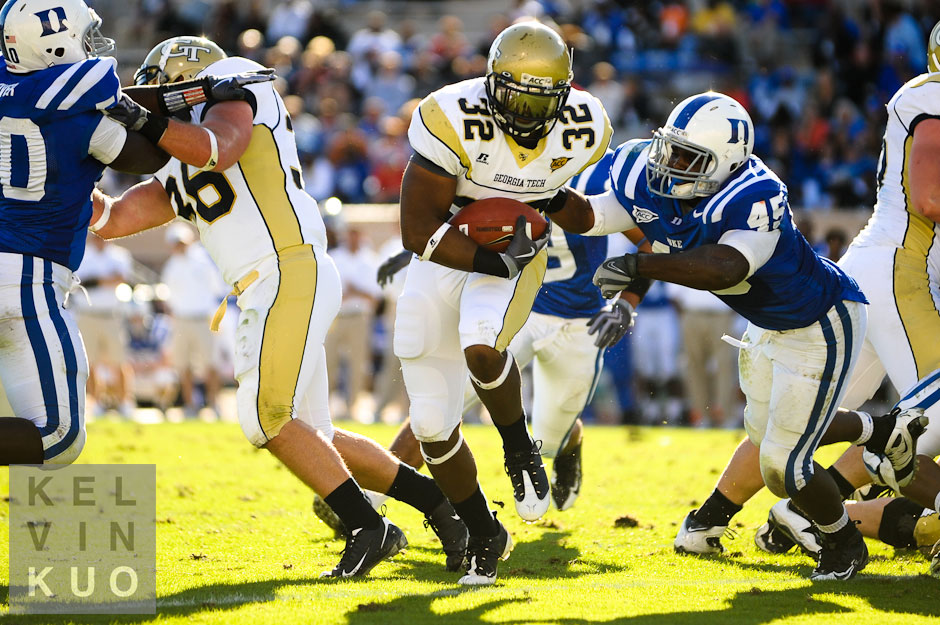 I think this sums up the day, with Georgia Tech's defense not allowing Duke any yards. It was a slow and one sided battle.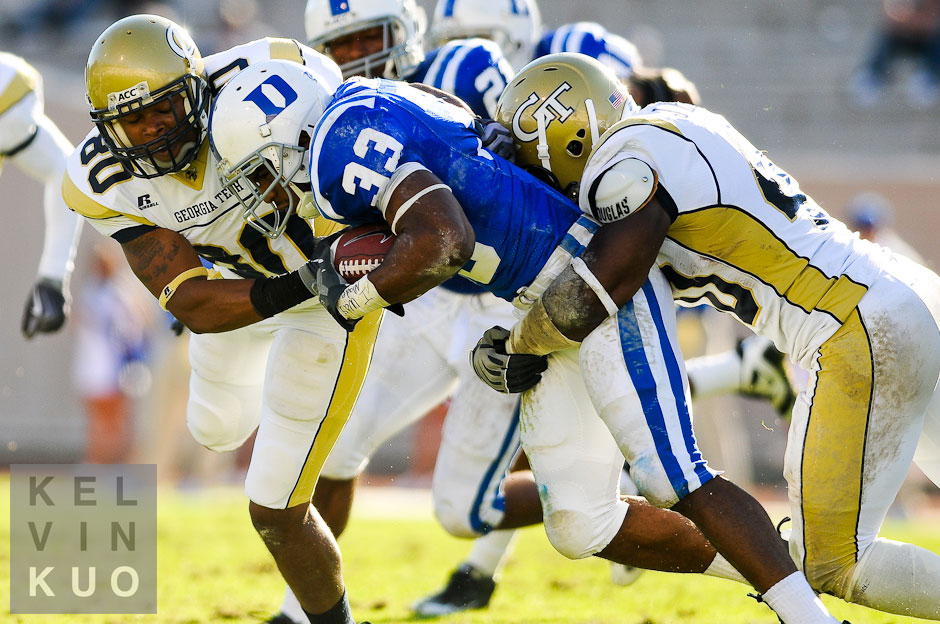 With this win, Georgia Tech is now off to the ACC championship game in Tampa, Fl. The Jackets will now focus on theirr biggest game against the University of Georgia bulldogs, trying to to finish the season 11-1.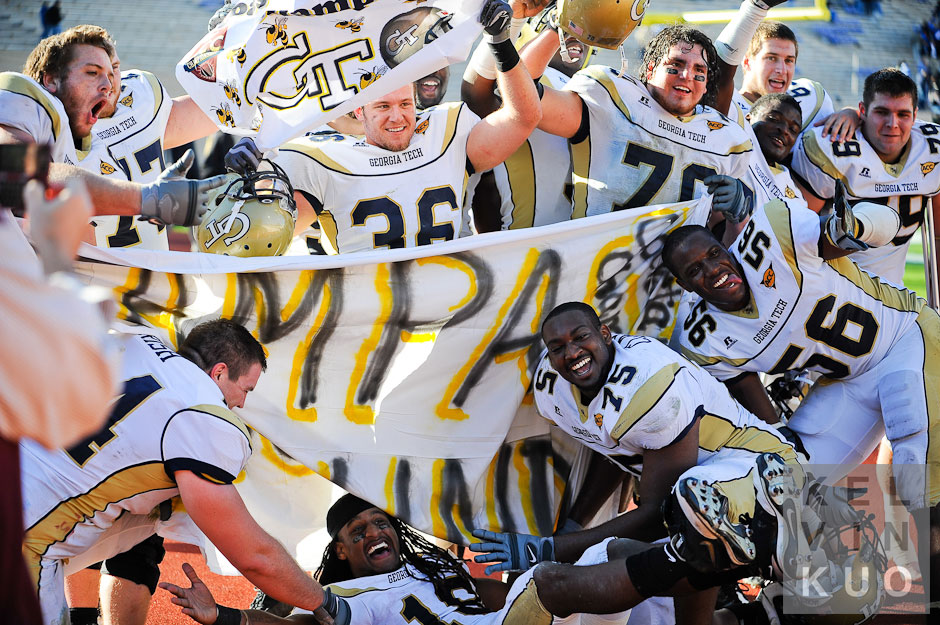 ---
---
You might also like
---