Day two was a lot easier, since we got home at 2 A.M. the morning of, I was glad to hear that I was tasked to edit the photographers photos that night.  I have been working both the desk and shooting as well, so this allows me to get much needed rest as well as stay sheltered from the cold. I ended up waking up later than expected because I really can't sleep in.  Also I had to head to the free media breakfast, or I would be starving later in the day.  My trip this morning was to Gyeongpo Beach to see if I could get any features along the beach.  I noticed that everyone was donned with a heavy coat, which is odd compared to the beaches in Southern California.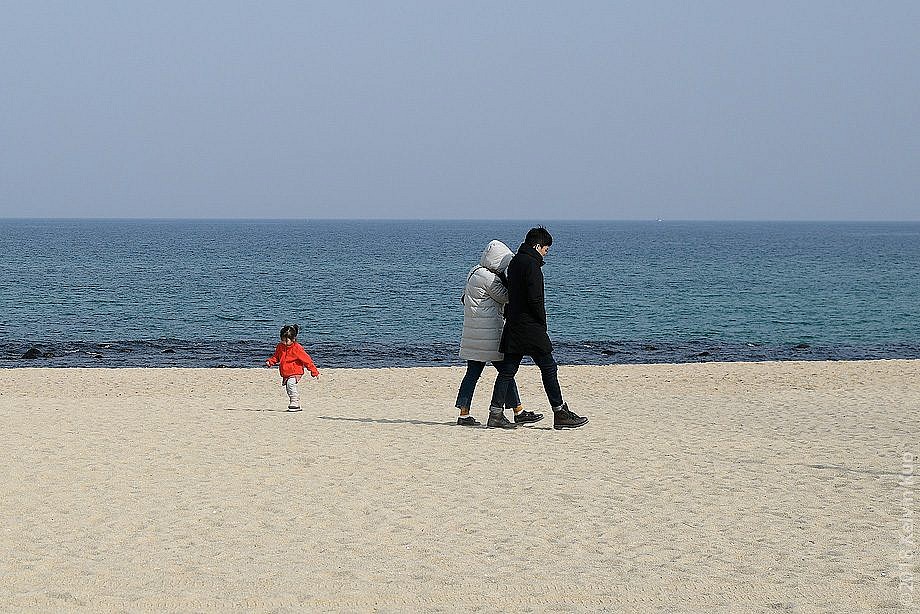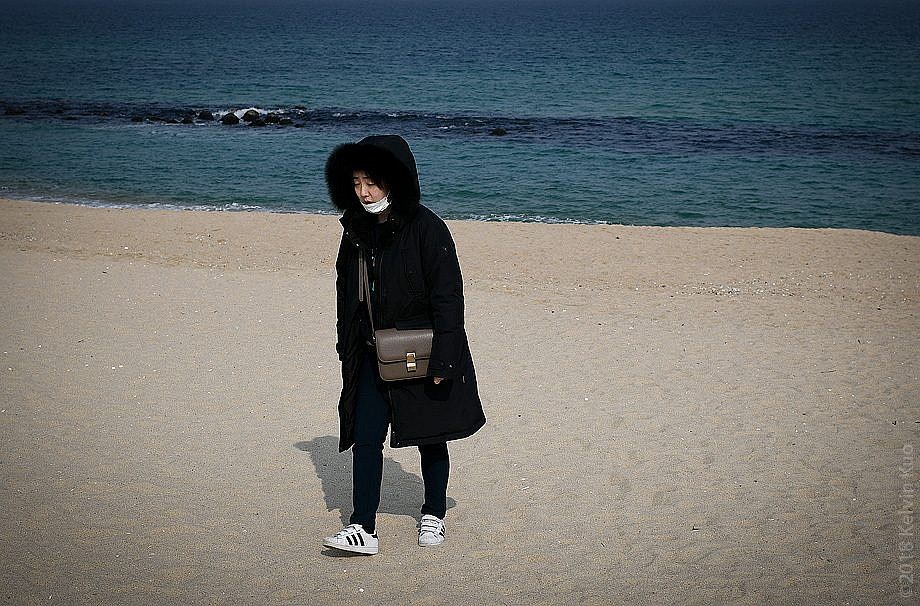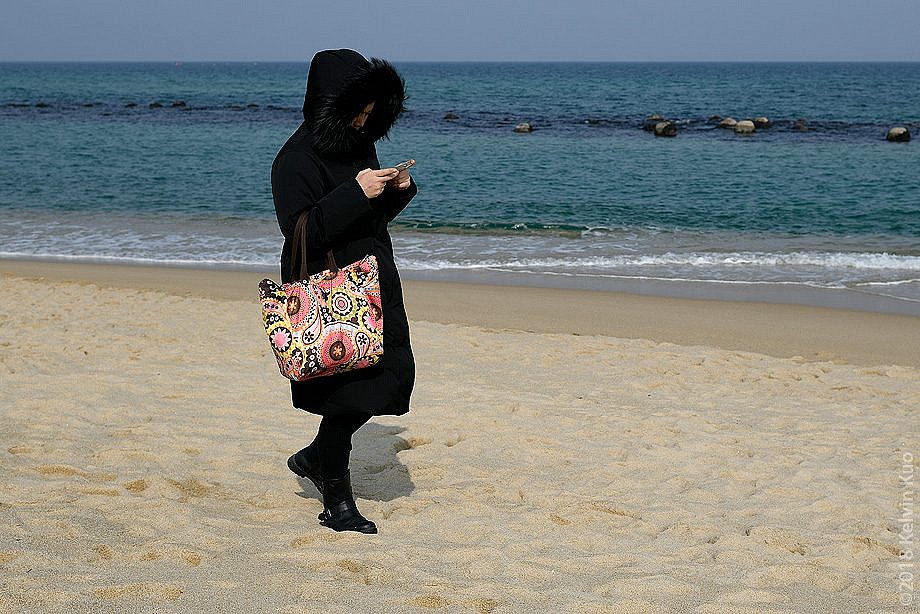 I ended up walking around a mile to a mile and a half down the beach path.  It was nice to actually get out and move, instead of stand and wait around for a bus or something else.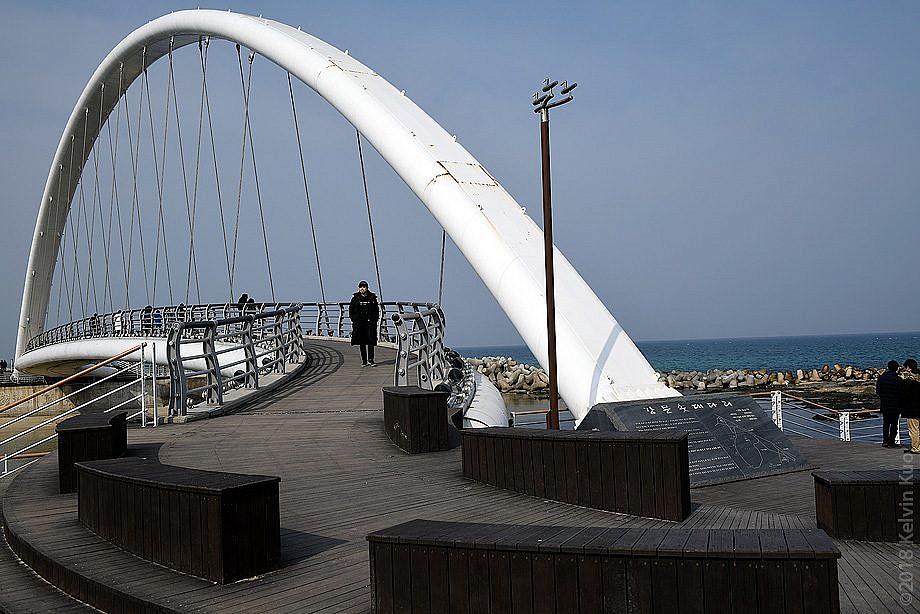 After crossing the bridge above, there were some art pieces for an "Artfiresta" that were going to be burned later that night.  This has been a long tradition since the start of the Olympics in Greece.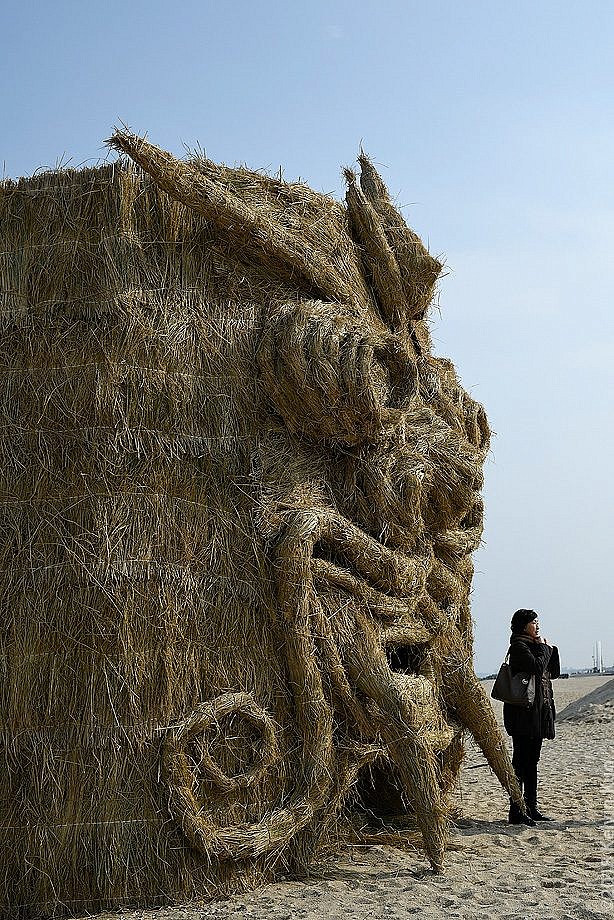 And this cute ram, that reminded me of corn on the cob.  I took this manly since I knew Melody would like it.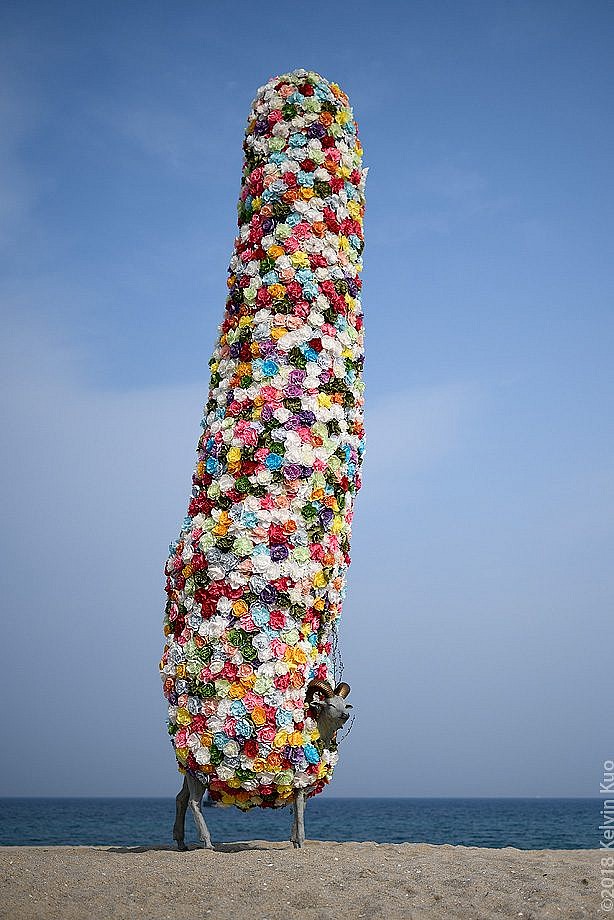 It was a scene even for the locals to look at.  Everyone was in the Olympics mood here.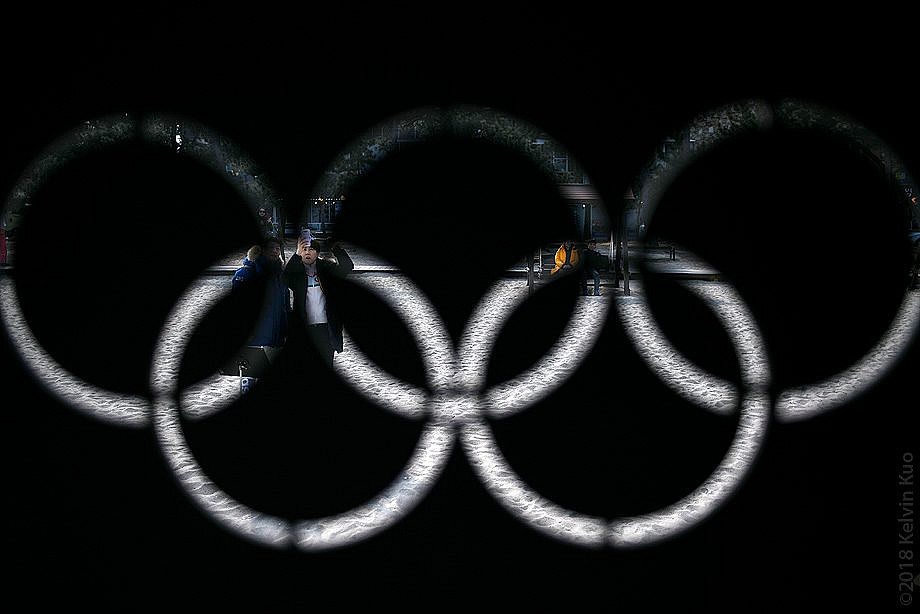 And the iconic rings that were set on the beach of Gyeongpo for everyone to take a picture with.  I was thinking of getting one of myself, but the line was just too long.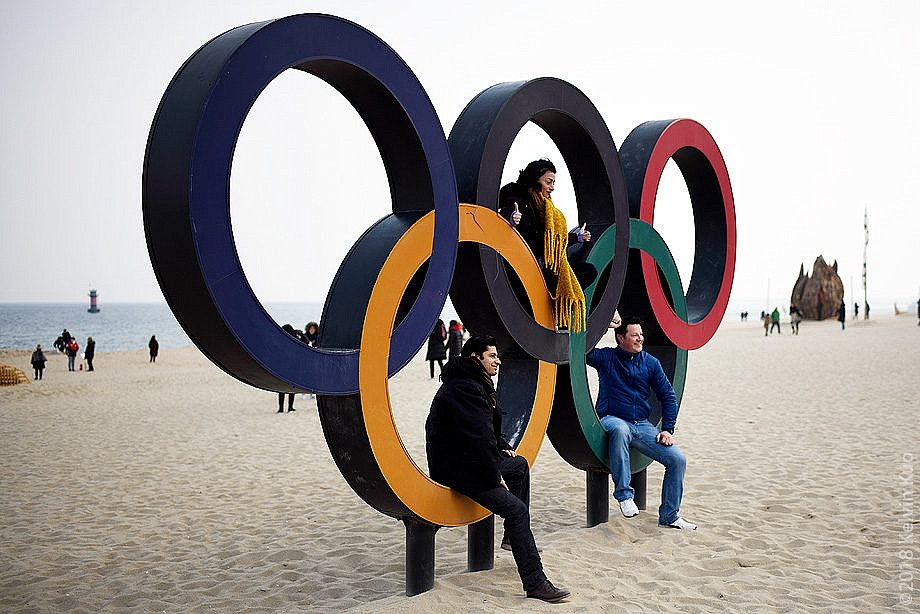 I started heading back, since my shift would be later that night.  And the transportation isn't the quickest from one location to the other.  I noticed that the trees along this beach were interesting and curvy, not the typical trees we see in SoCal, but something that reminded me of the Ancient Bristlecone pines.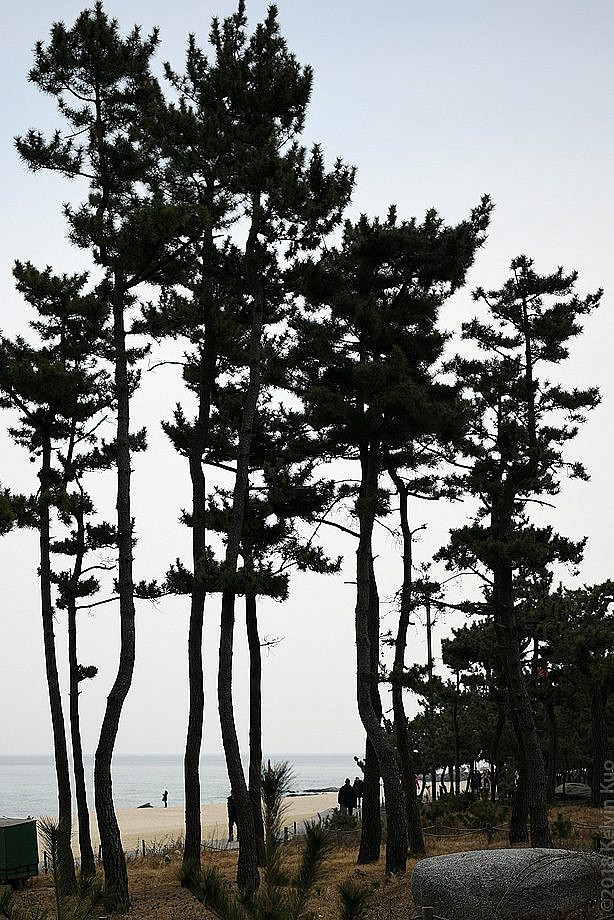 And a nice moment on the beach, with this couple.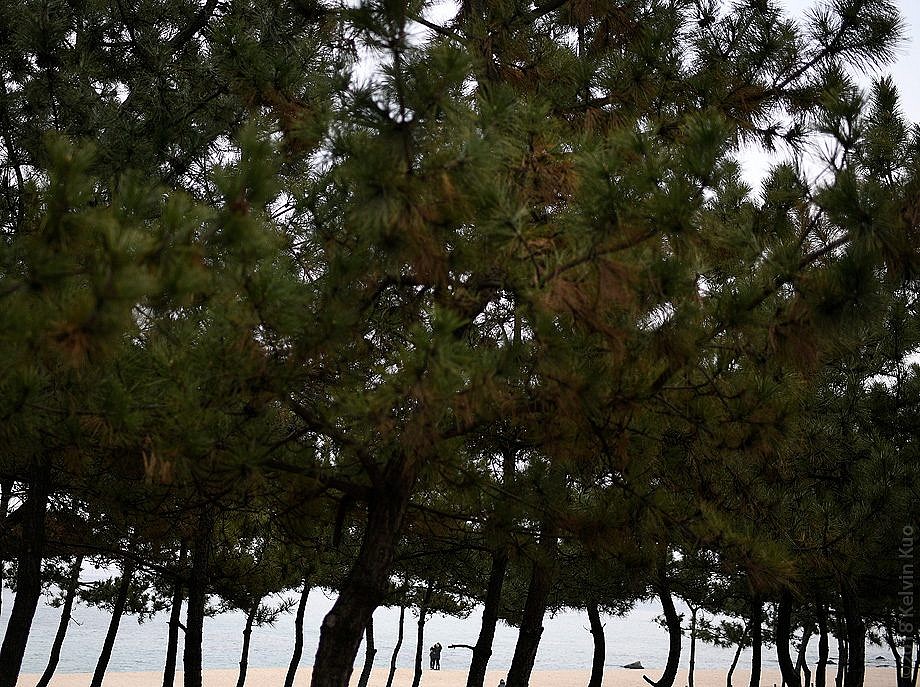 I ended up editing that night until around 1 A.M., since the ski jump was delayed that day due to the wind.  This seems like a common theme around here, the wind and the blistering cold.  But the late night didn't agree with me, and I headed straight to bed, even though my roommates were still up when I got back.  I had to be ready to be outside the next day for the Biathlon.
I ended up waking up earlier the next day, just blowing off the jet lag that has consumed me throughout my first few days here.  This time I was ready for a shoot, and ready to be outside again.  The morning ended up feeling quick, but we also were going to head to the 8 P.M. start of the biathlon at the Alpensia Biathlon course early.  We were looking to leave around 3 P.M., and this gave me a bit of time to wander around the course.  We arrived around 4 P.M. and I quickly dropped of my stuff, and prepared to walk the whole course.  I was really looking to scope out the photo positions, and determine where to shoot, since I would be shooting on course, rather than the start/finish line and the rifle range.  I had a lot of time before our photo meeting at 7 P.M. so it let me really visualize what to shoot.  I decided on a corner and figured there would be three looks that I could get from there and headed down to see the skiers warming up before the race.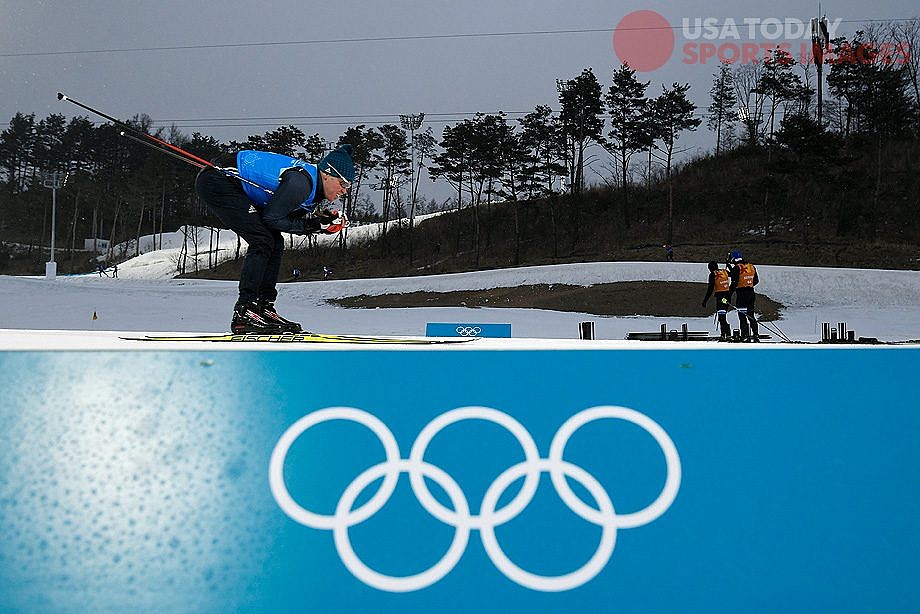 The photographers have the arrive at their positions around 30 minutes before the race, I ended up going out 45 minutes before to makes sure I would be getting my spot.  I found a nice clean background, with a little bit of context and sat.  It seemed like ages before the first racer came up, since we only knew the start time but don't really have any information on when the racer would be coming up.  Instead we had to be ready as the skiers came up the hillside I was sitting next to and ready to shoot when I saw someone's head pop up.  I ended up choosing this spot, since it wasn't completely black on the background, and it wasn't busy like on some areas on the course.  Here is a shot of the winner for the Men's 10km sprint, And Peiffer from Germany cresting the hill.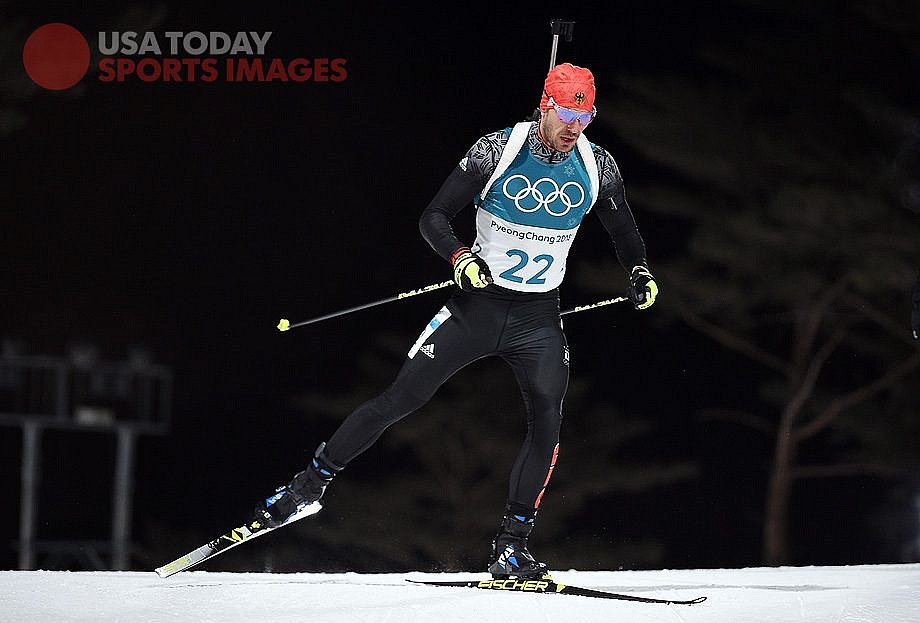 And second place or silver medalist Michal Krcmar of the Czech Republic.  We really had to just shoot every racer, especially since I was the one on course and didn't know any of the times and how well the racers are doing.  This makes it a little stressful, since we do have a list of favorites to concentrate on and the USA athletes, but this race proved that none of those on the list were making the podium, and really to shoot everything!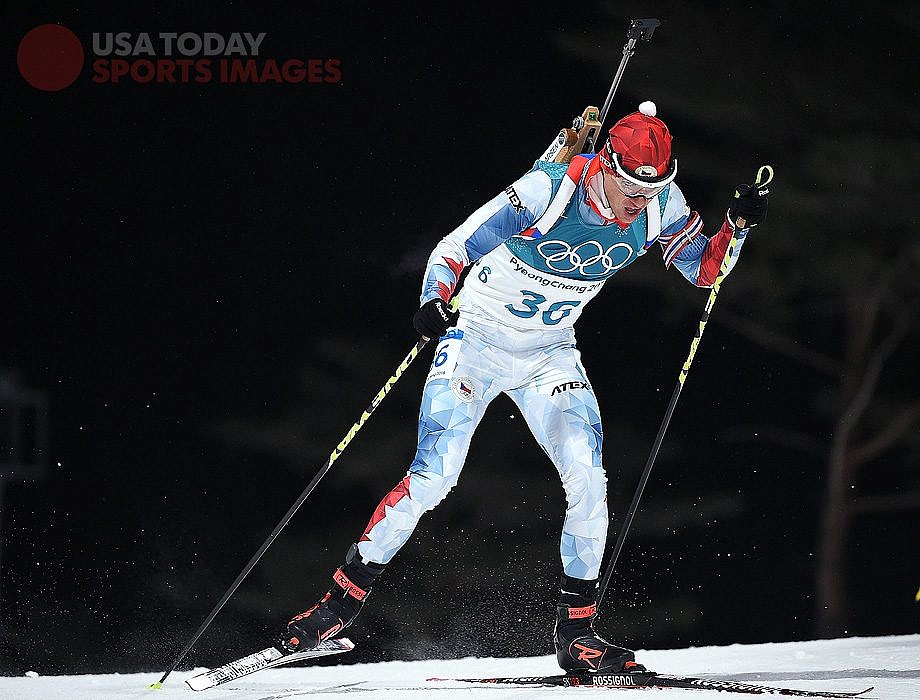 I headed down the hill, which was slightly complicated since we aren't allowed to get inside the video feed of the on site broadcasters.  This particular spot was situated next to two, and a hill.  I ended up talking to the POC guy and asked if I could go down when possible.  We would only be getting three laps from each racer, so I really wanted to get different angles of the winners if possible.  But I had a wide view I wanted to use, that would have been perfect for a mass start, which may have been wasted for this sprint,  but it overall is a nice looking image.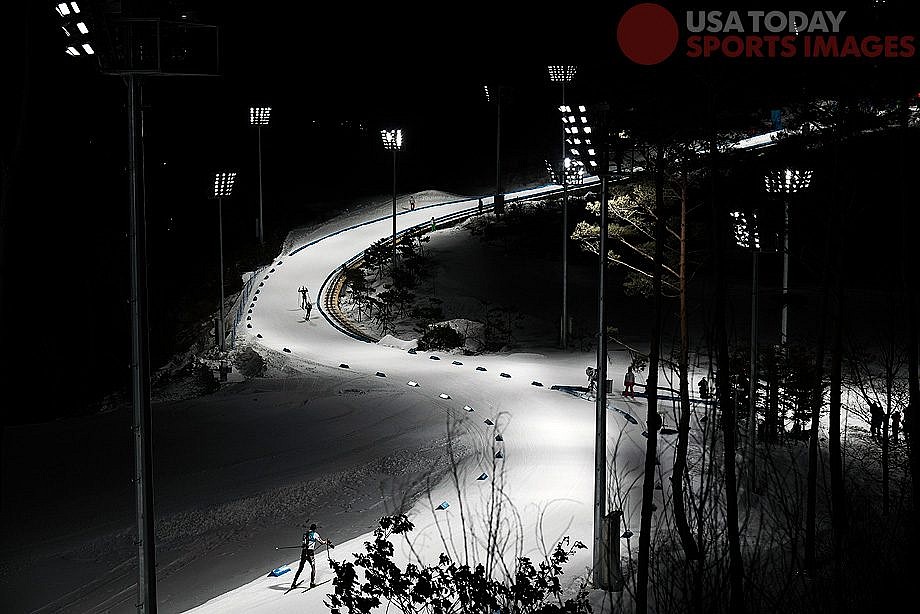 I snuck down and was able to get more of a scenic look of the course.  Not the prettiest course at all.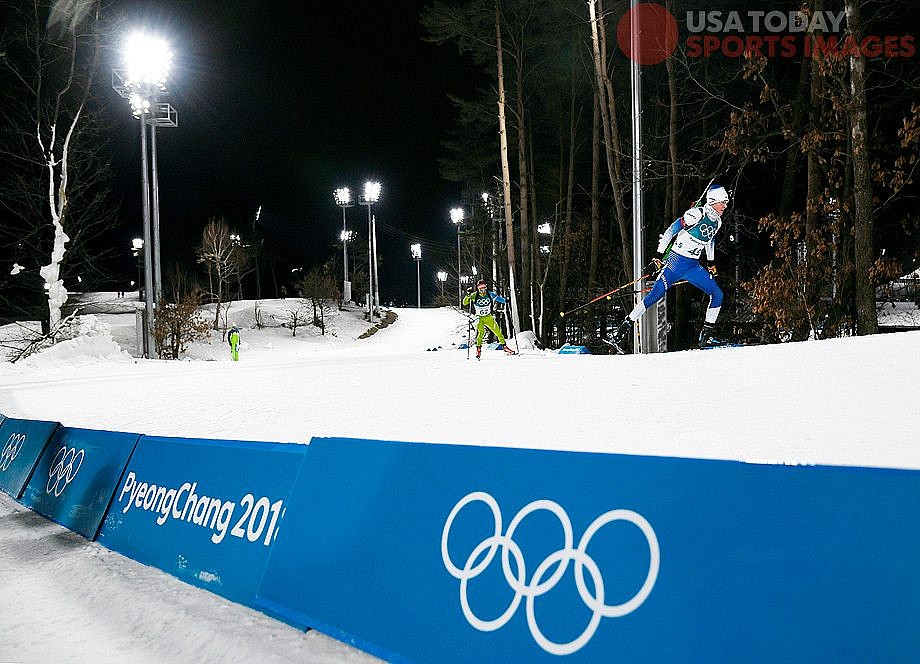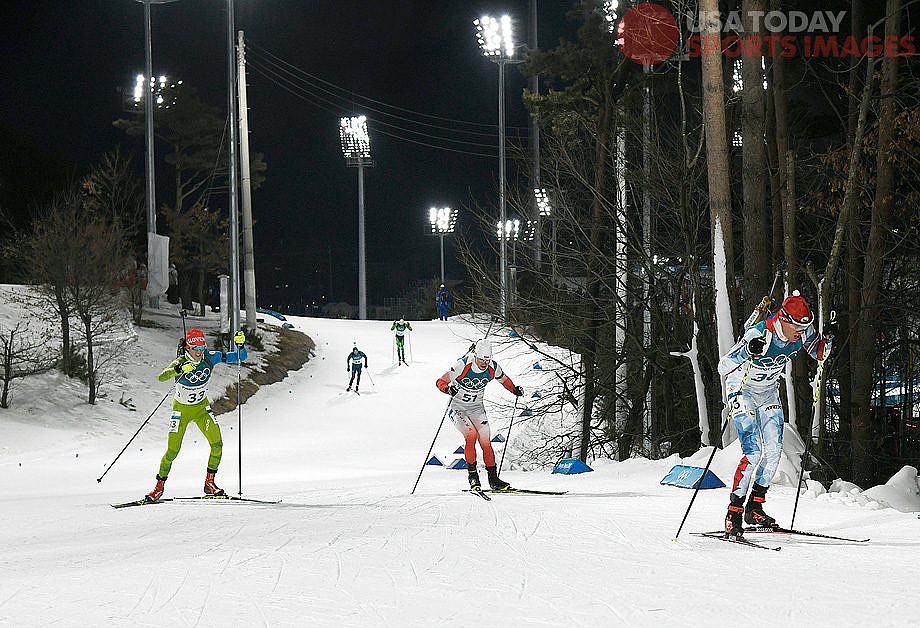 Lastly, I ended up using my 600mm finally and got some tight shots of the racers.  Here are a few that I found interesting.  It's fortunate to have some nice black backgrounds, but it really does get boring once you do this for an hour or so.  Raman Yaliotnau from Belarus.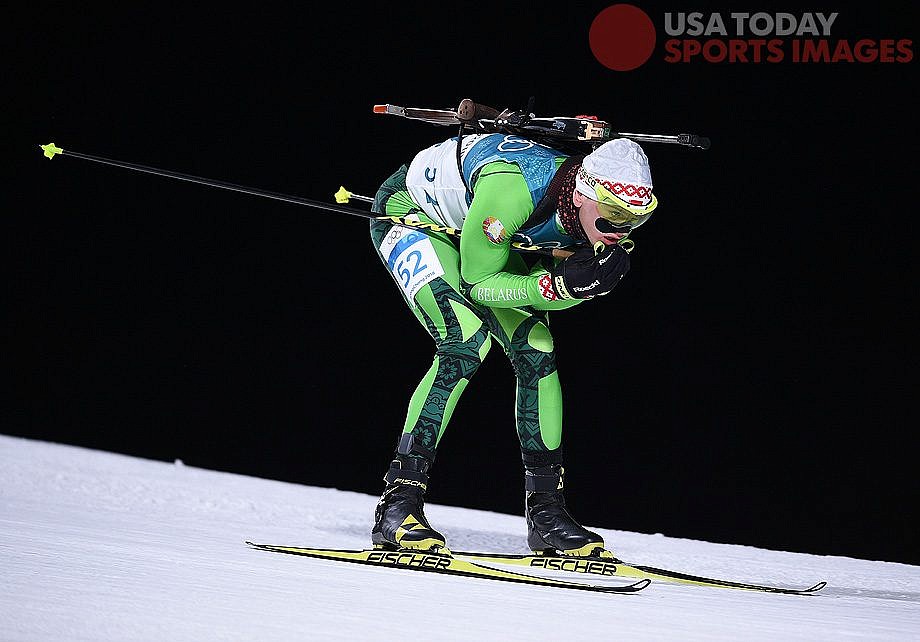 Lukas Hofer of Italy ahead of Michal Krcmar of the Czech Republic.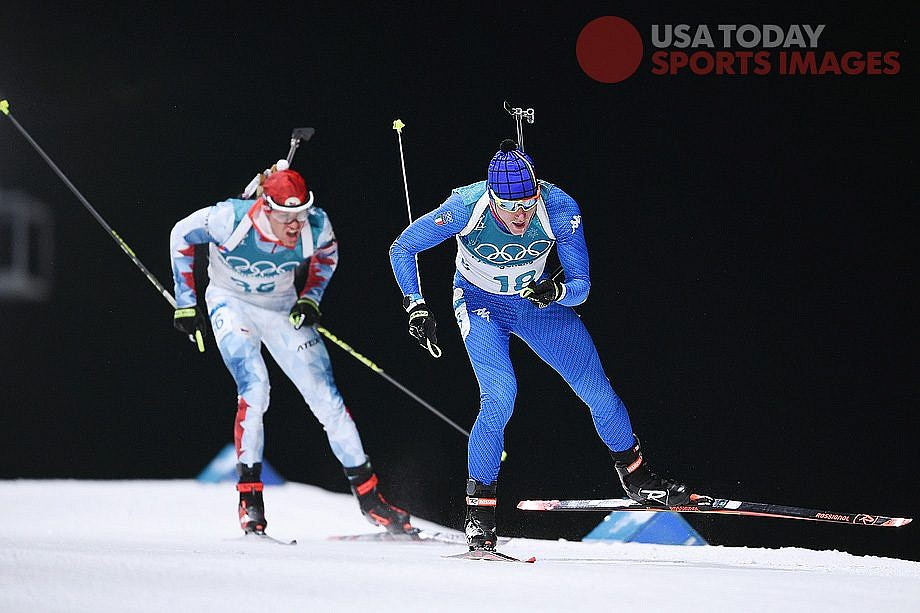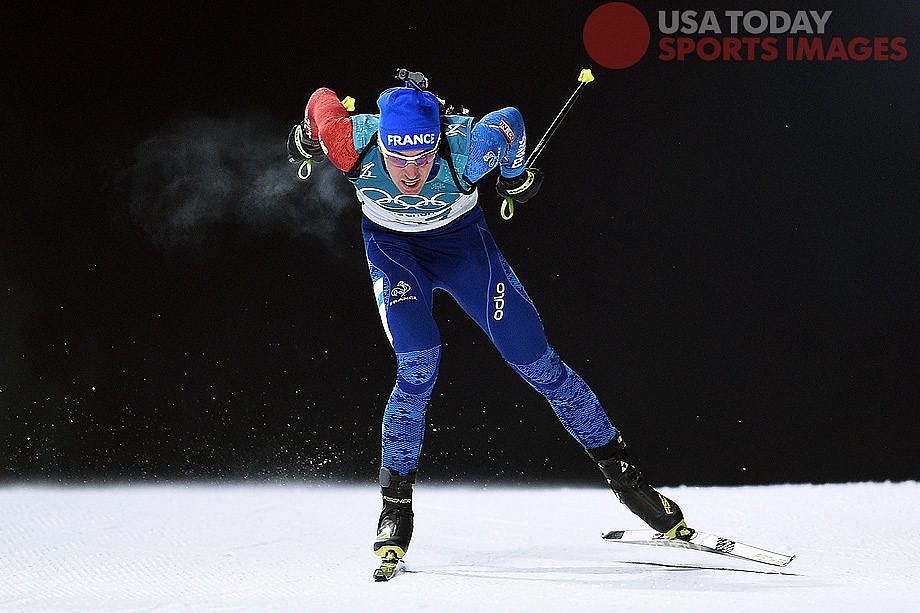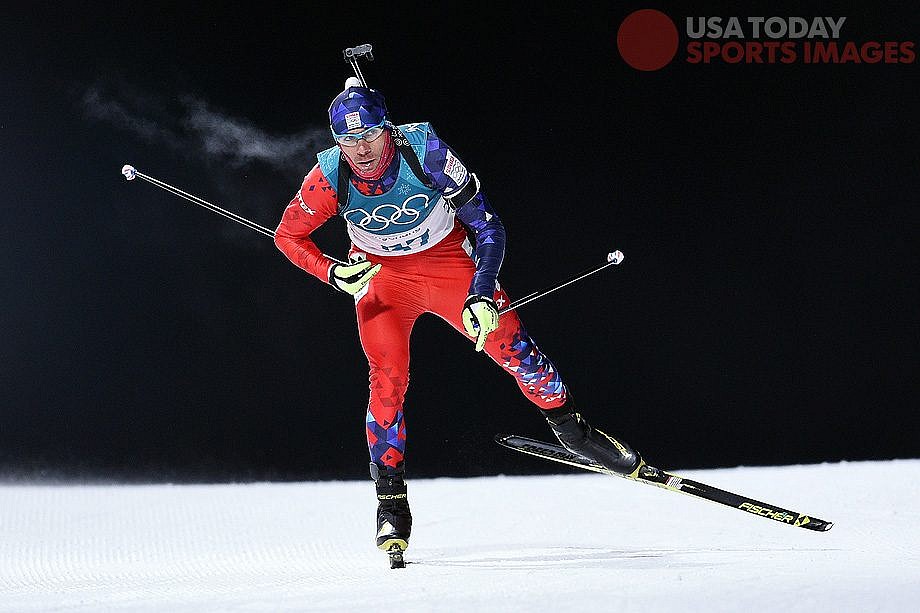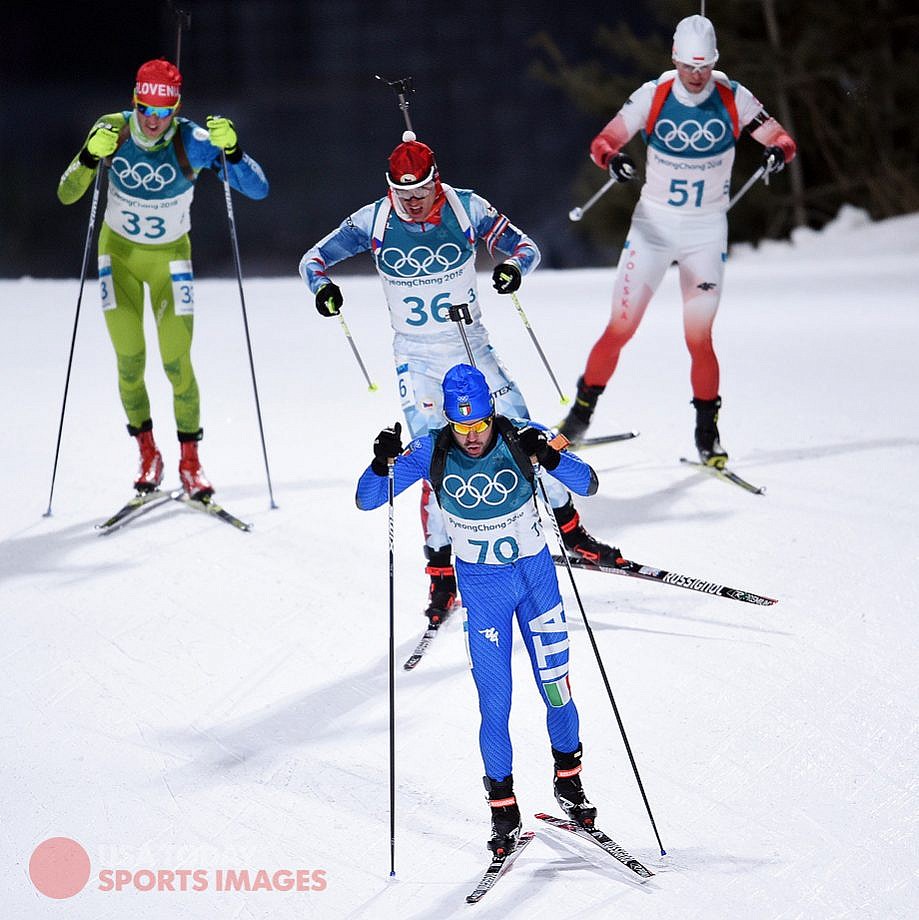 Lastly, for the final shots I ended up going toward the end of the race to get some different views as well as panning shots.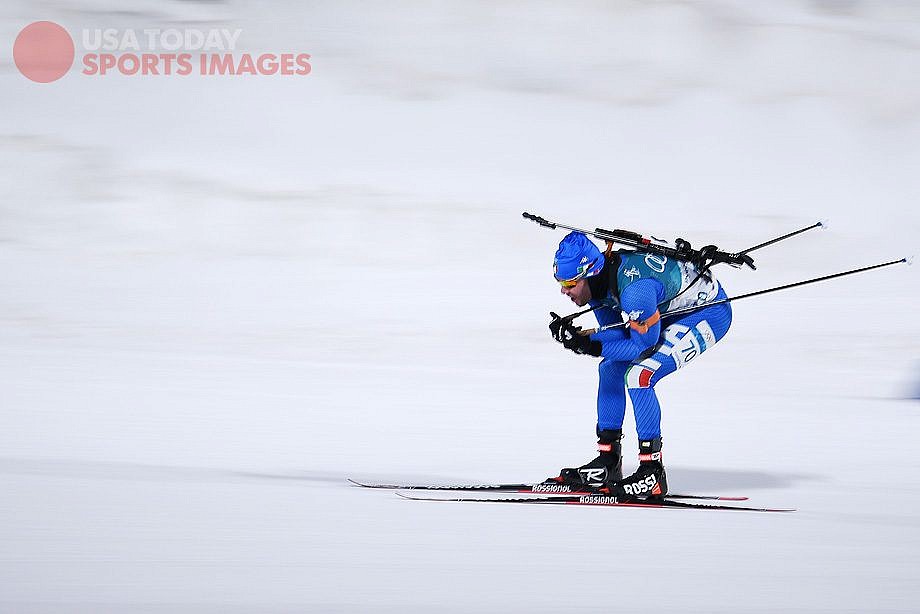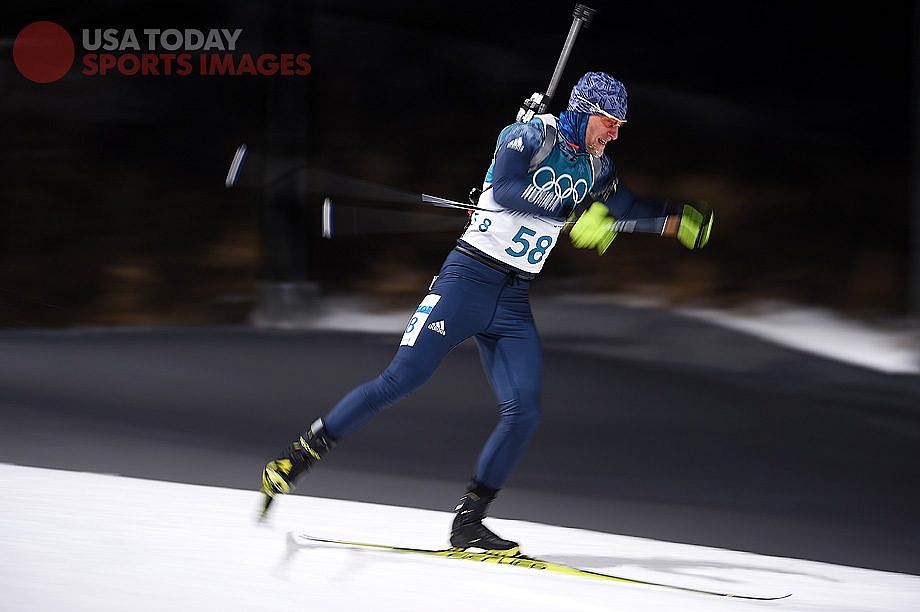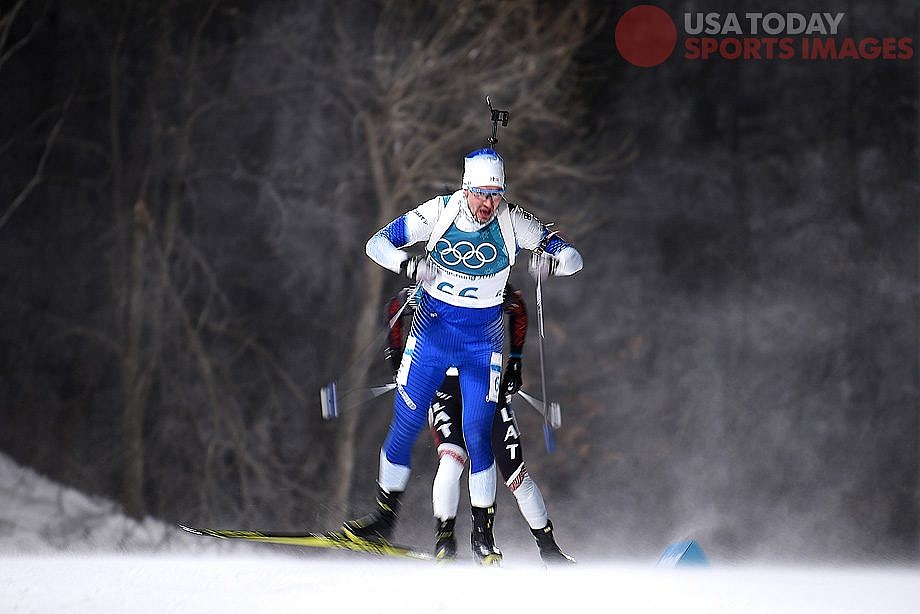 ---
---
You might also like
---