As my wedding was soon arriving, and with my brother in town, I decided to do a quick trip to Dusy Basin in King's Canyon National Park to get out doors and free my mind from all the planning.  I also wanted to get my brother on one of my backpacking adventures in the area, just so he can experience what I have been doing in Southern California. Here is a gps track and elevation profile of the overview of the trip: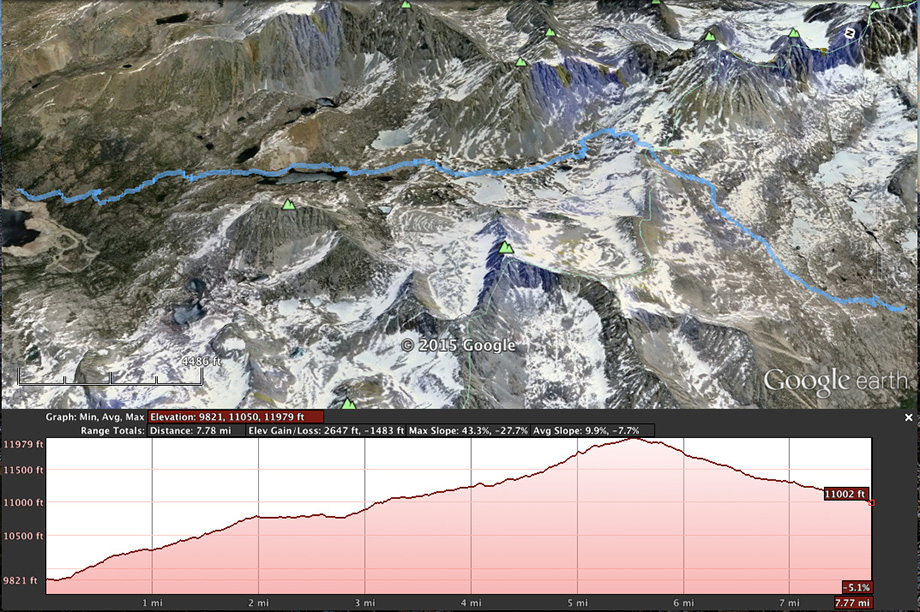 It was probably one of the best times of year to go as well, and definitely was that time of year for the kayakers.  These guys wait for the snow to melt and the water levels to be ideal to boat down the Middle Fork.  Here we meet some guys, hired to haul some gear for a few bucks.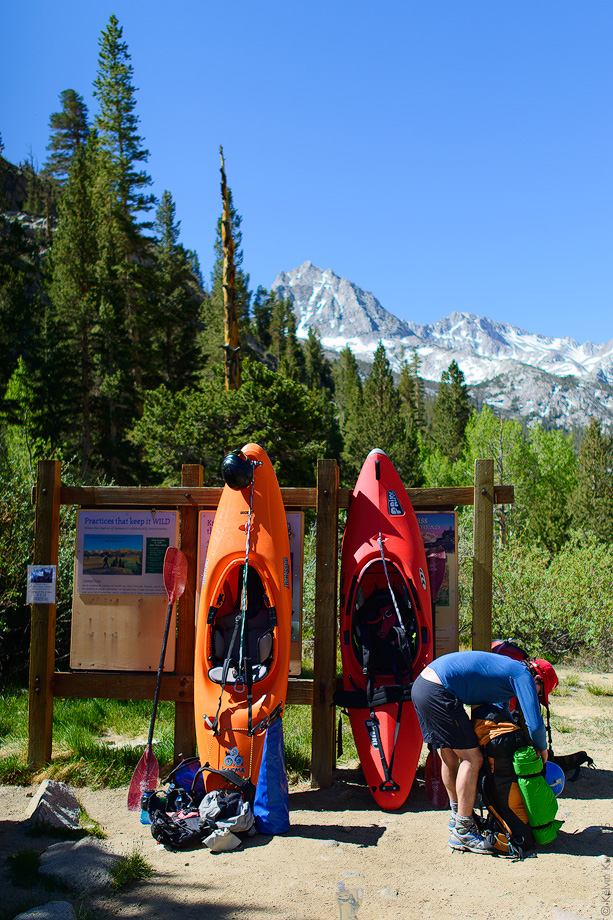 As we set out on our adventure, I couldn't help but notice that the water line in some of the beds had receded.  This was definitely a result of low levels of rainfall in SoCal.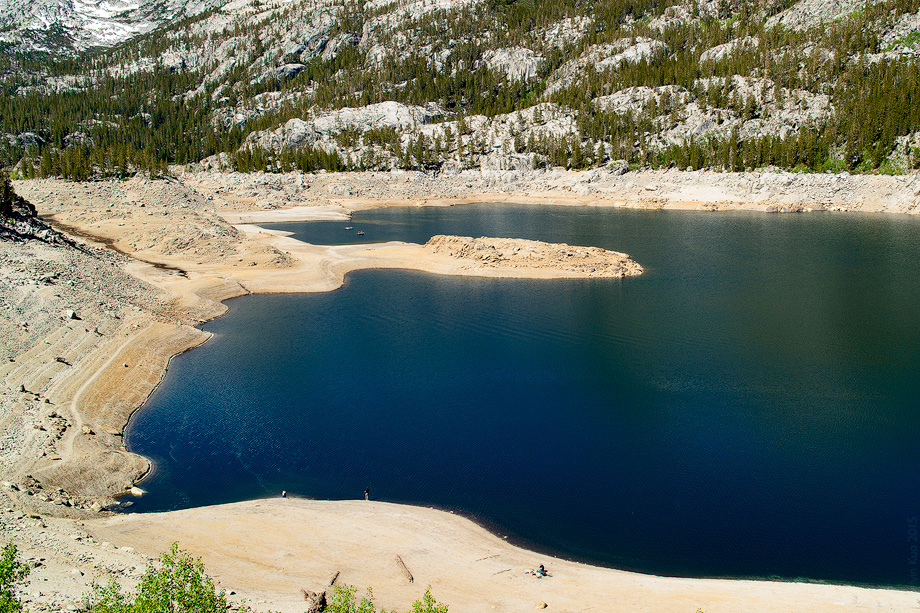 We continued to hike, here Marvin is equipped with Melody's bag headed towards Bishop Pass into Dusy Basin.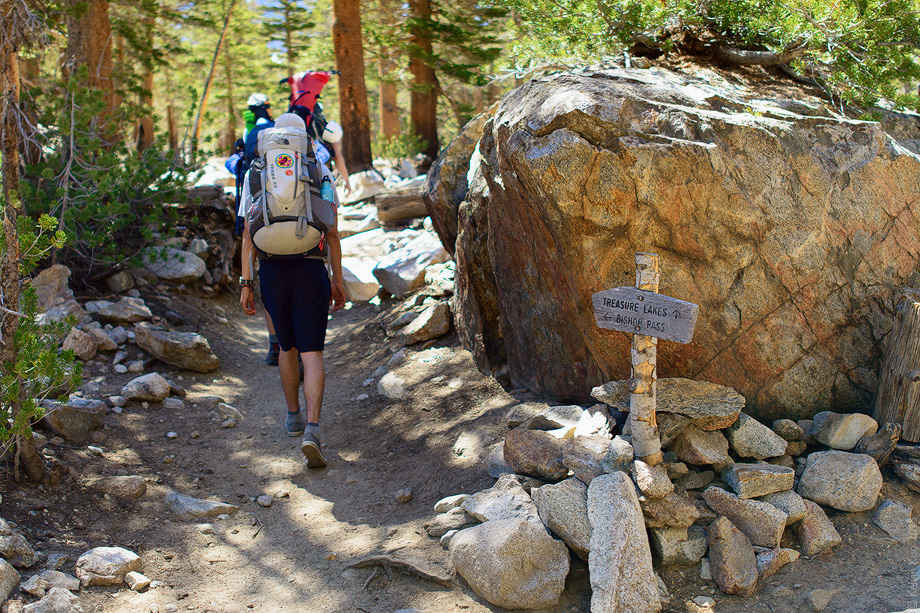 Although there were lower water levels in the lower lakes, this mountain side was full of snow and the lake below it was full of water.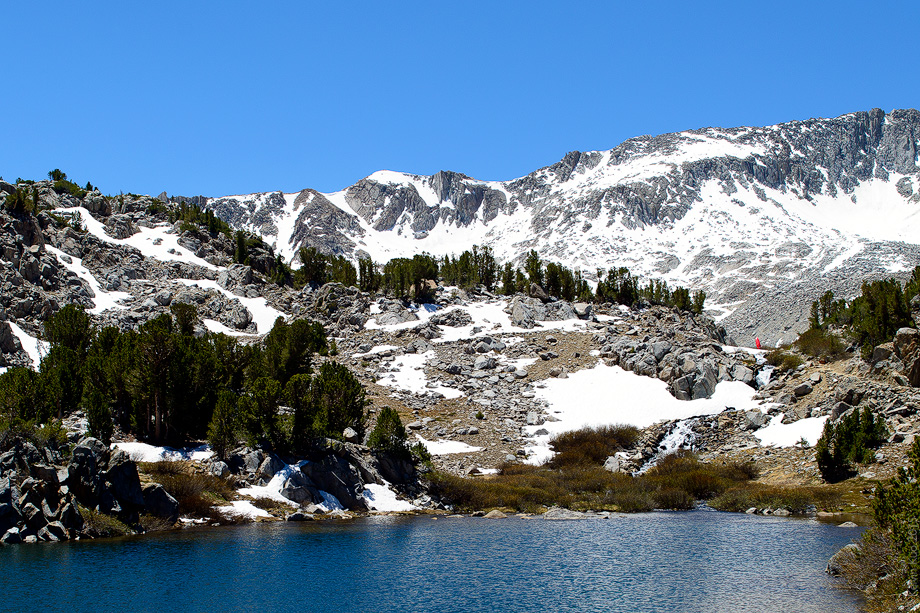 Another person to partake in our adventure was Luke, one of my groomsmen for my wedding.  Here we are taking a quick break after a long climb up.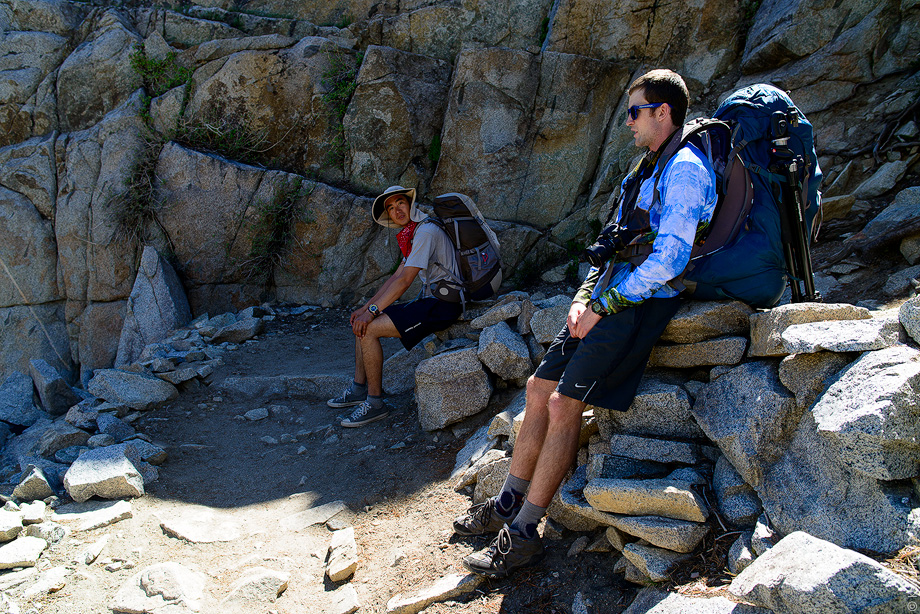 Hiking though Kings Canyon always gives me a sense of serenity and peace with myself.  With most of the Los Angeles area full of grays and yellows, I can finally see some natural greenery when I am in this area.  Here you see the boys hiking though some lush landscape for Southern California.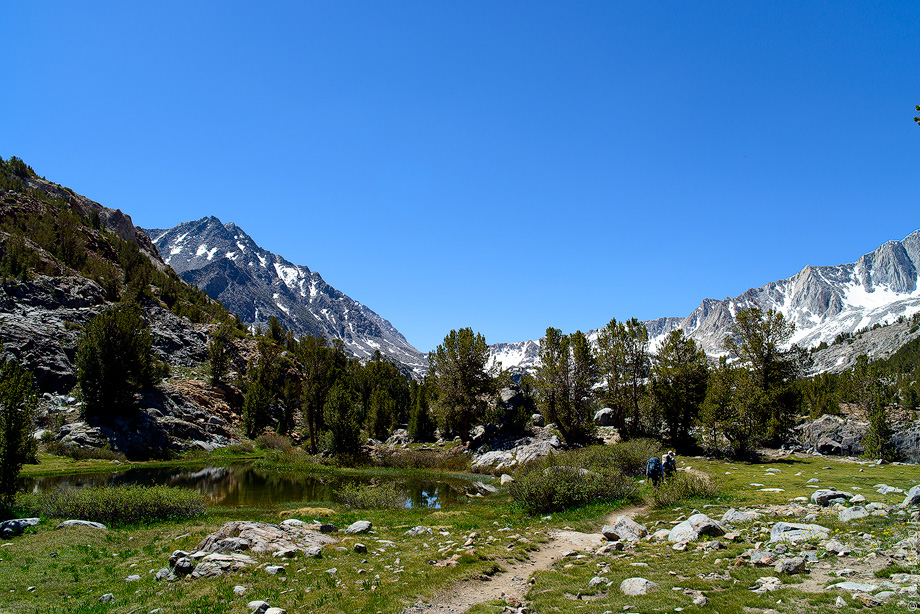 Luke, taking a break to take a few shots of the area.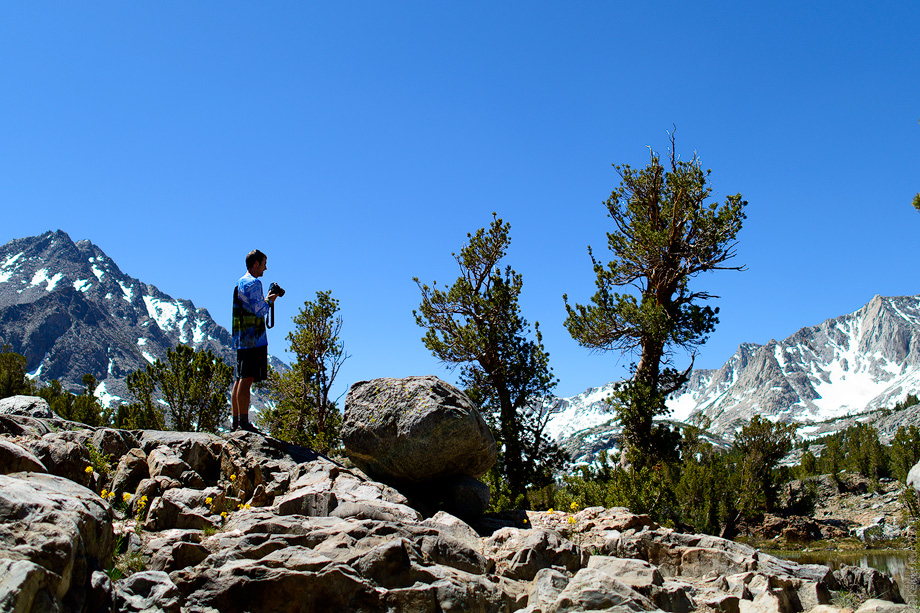 The great park of all these backpacking adventures in Kings Canyon is the steady source of fresh water.  The water is always clean, clear, and fresh.  Marvin and Luke hike past another little lake as we head towards Bishop Pass.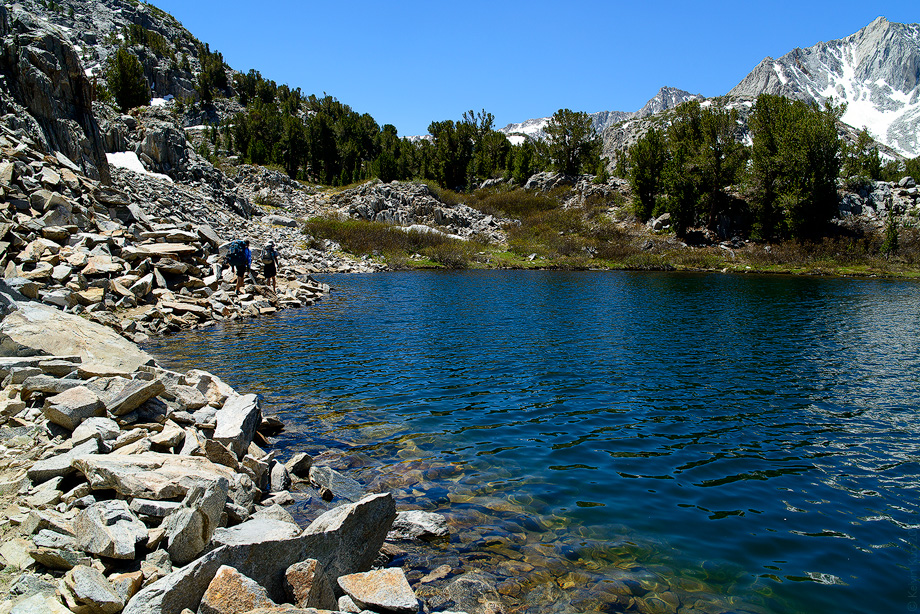 The Sierras are iconic to me with the sheer mountain walls, as you can see in the image below.  These mountains make for a dramatic landscape and something that you could only imagine through stories.  The views are simply breathtaking, which could also be induced due to the high altitude.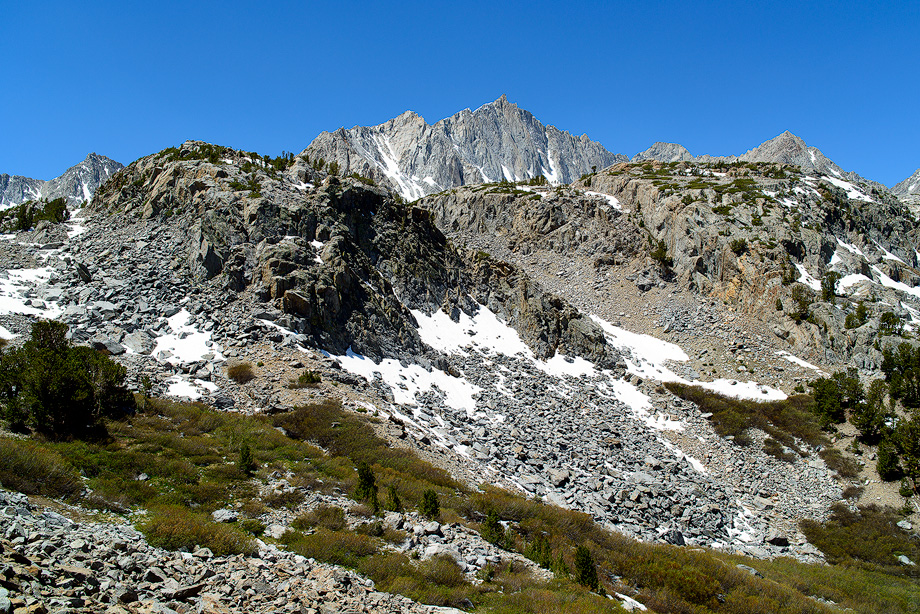 As we hike higher and higher, we approach the tree line, where the oxygen levels are not high enough to sustain the large trees.  But we slowly go up and down traversing the landscape.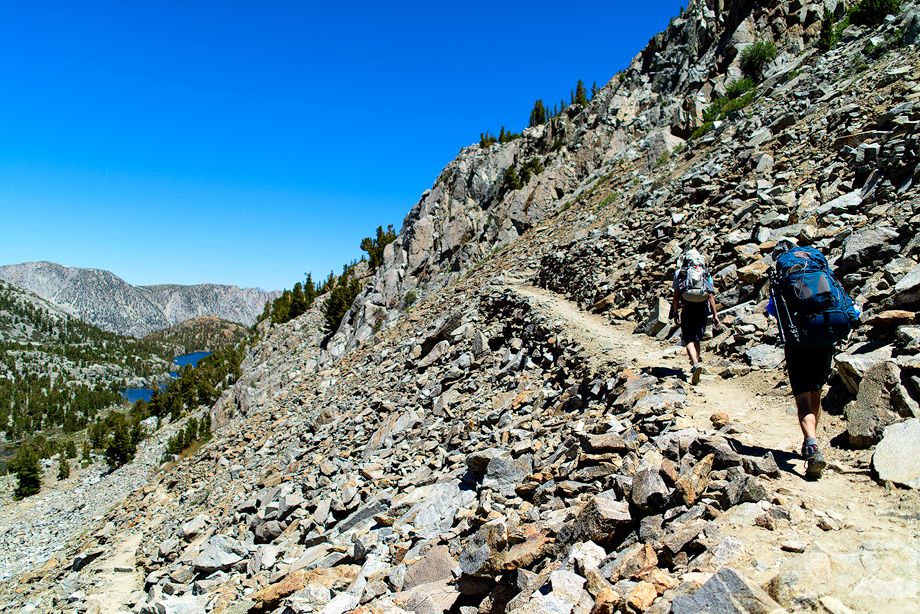 We eventually are also hindered by some unmelted snow fall.  This section wasn't too bad, but I couldn't imagine being able to follow a path if it was fully covered in snow.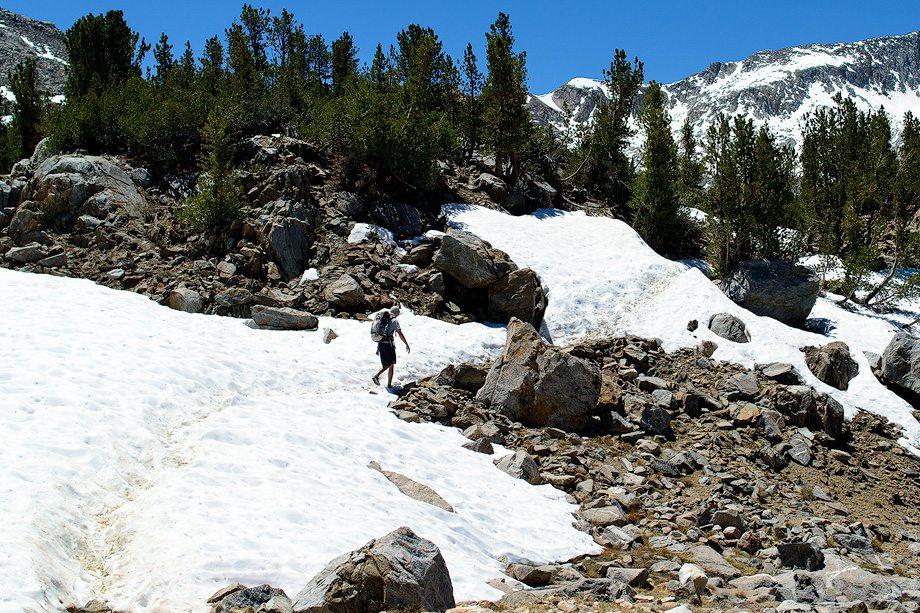 A view down the valley that we just hiked past.  We could see our friends from earlier in the trip taking a break as well. The kayaks that the were hauling could easily top 100 pounds.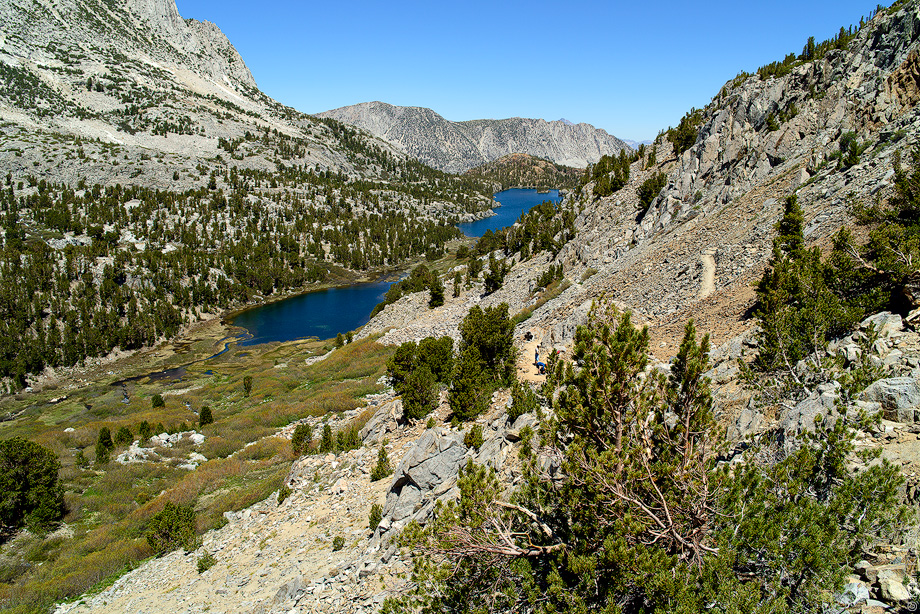 Luke, river crosser.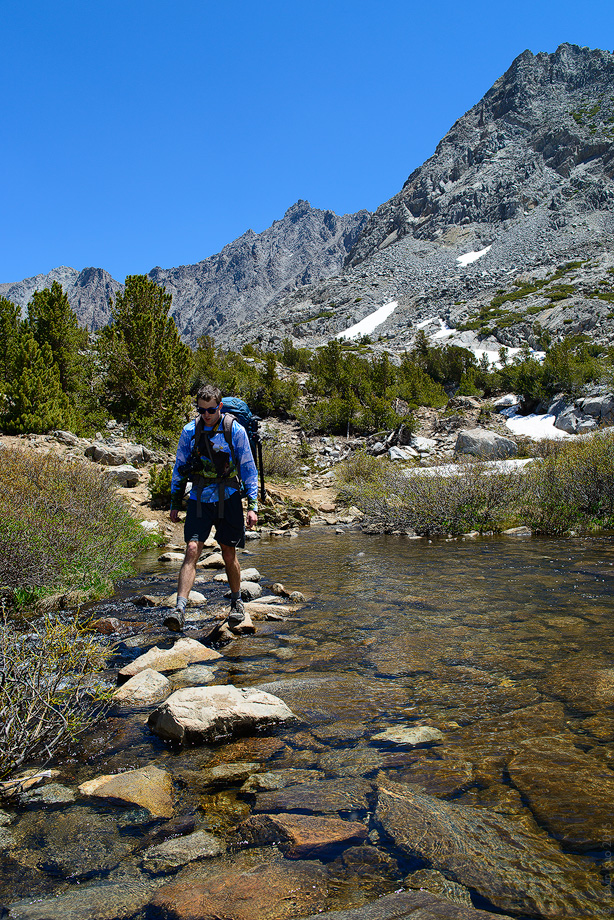 We met a lot of ambitious souls looking to conquer the Middle Fork.  Here was another one resting during his trek to the start of the Middle Fork.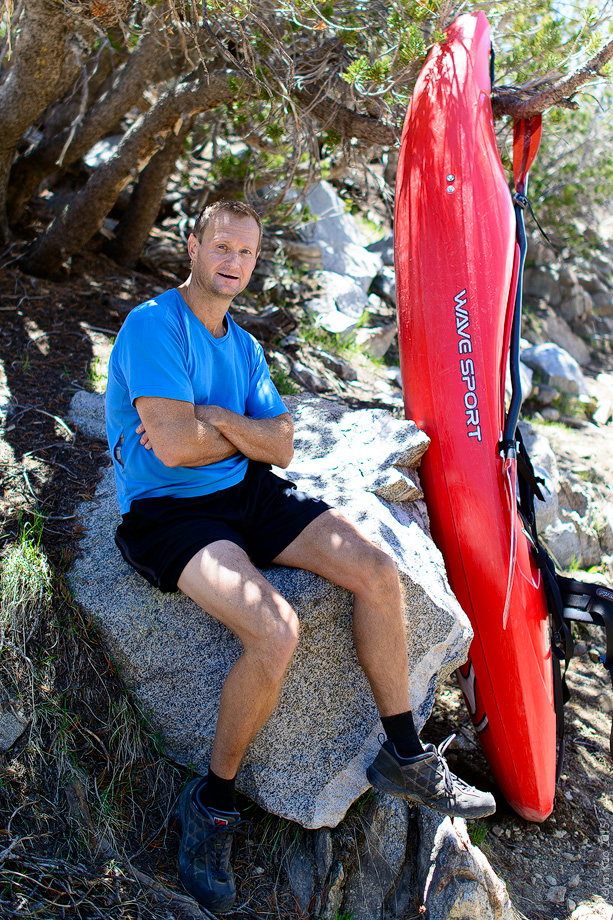 He had all his gear, food for a few days, stuffed into his kayak which he used as a backpack.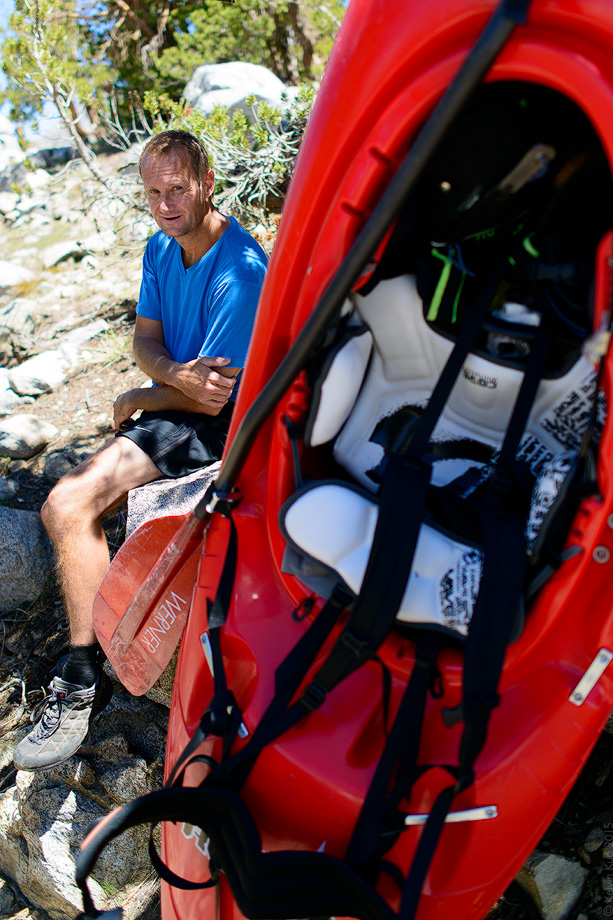 And slowly as we headed up the final stretch we were met with a little more snow.  A real smile from Marvin, I was hoping he was enjoying the exhausting journey.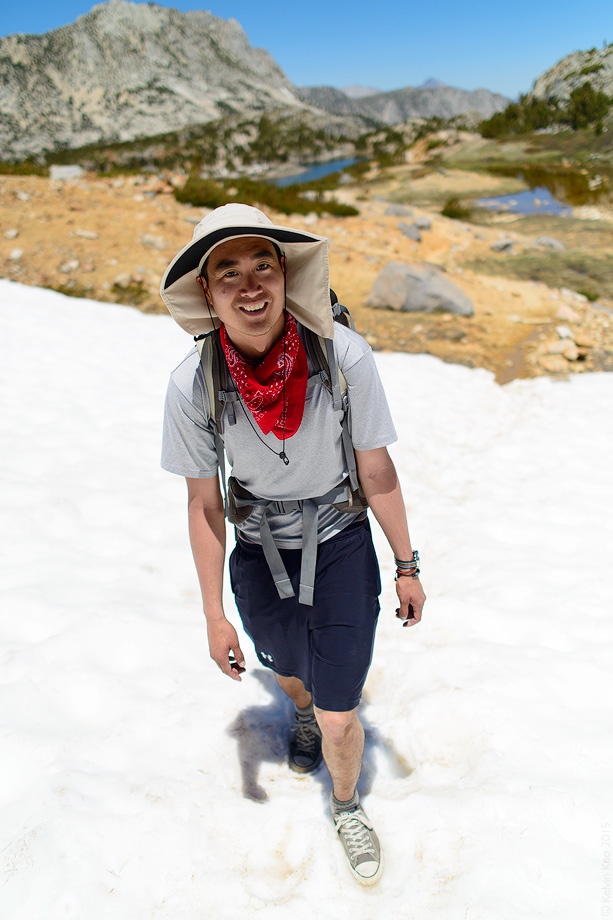 The typical Marvin picture I get.  He never makes a genuine face.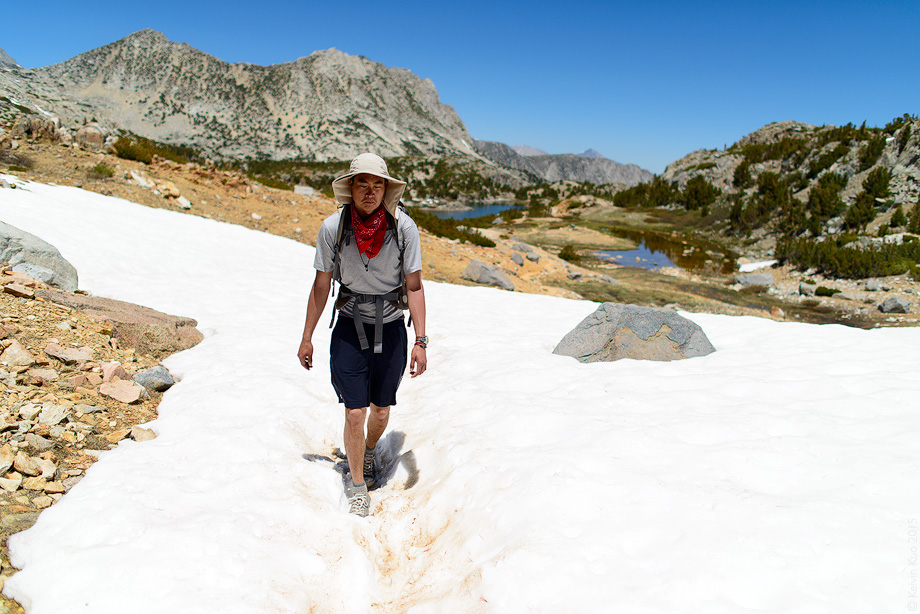 And as we were soon to hit the last stretch to go over the pass, we met a few more kayakers stopping for lunch.  We all learned the valuable lesson of what a juicy carrot really was and how delicious they can look when backpacking.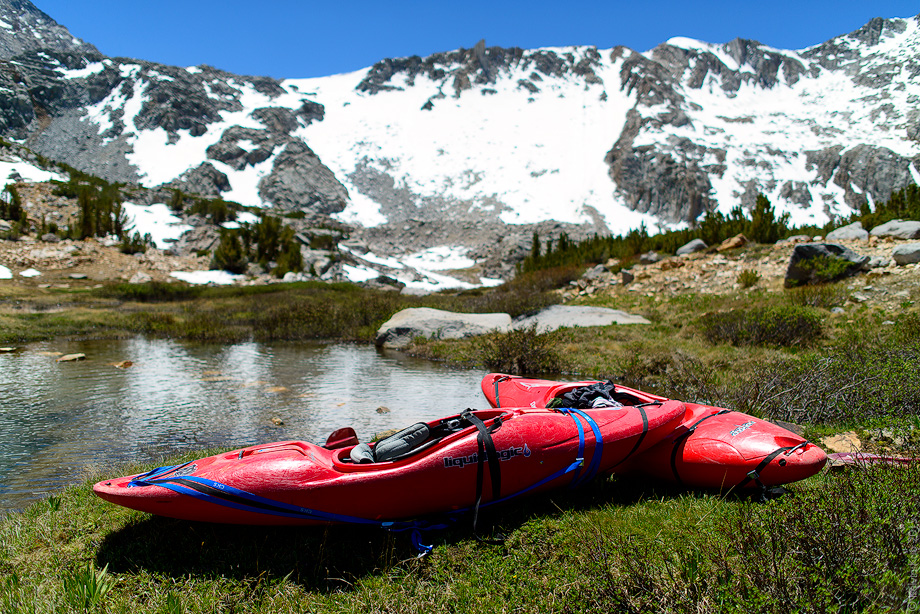 More snow to traverse as we headed up.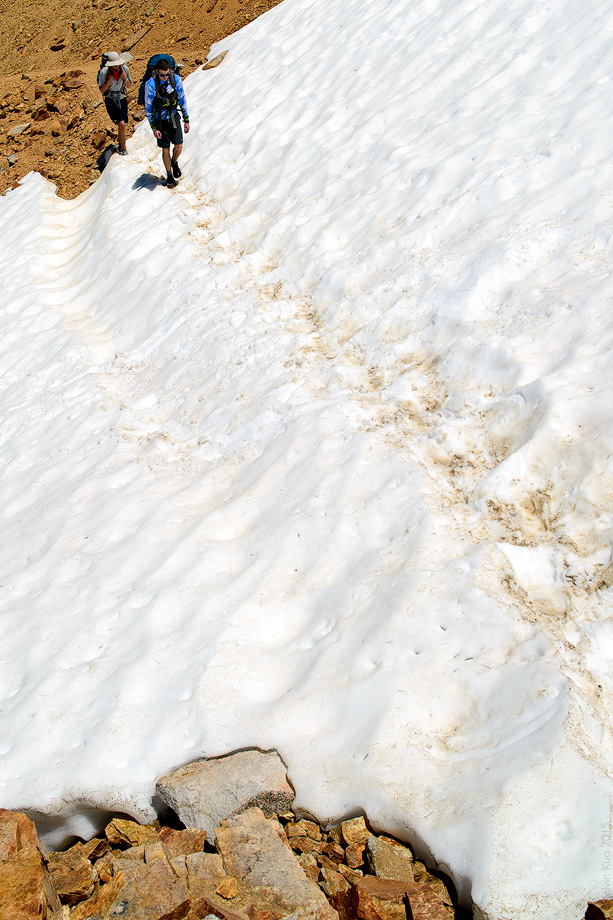 Luke didn't approve, throwing a snowball at me.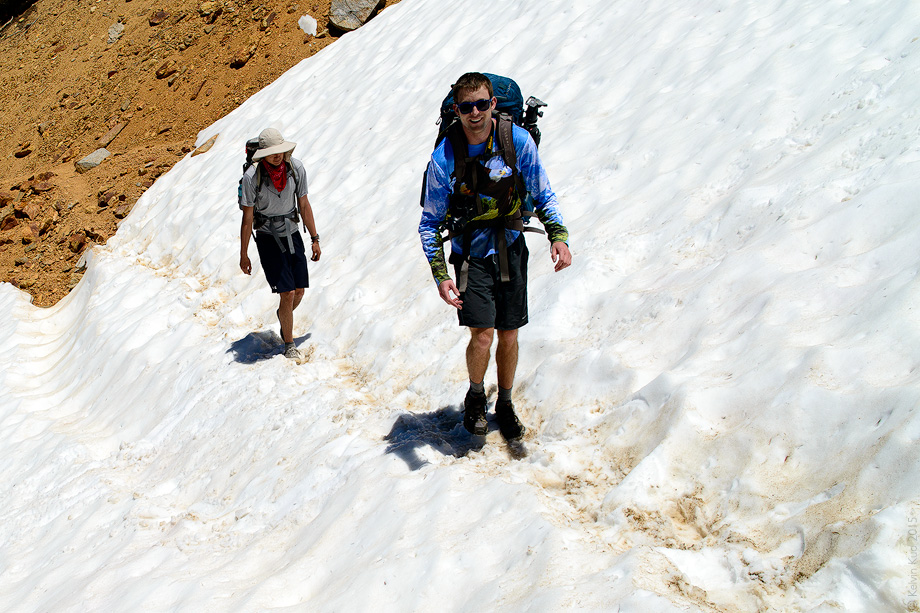 As we headed up, the final stretch was a set of switch backs that let us climb what seemed like a thousand feet in a few miles.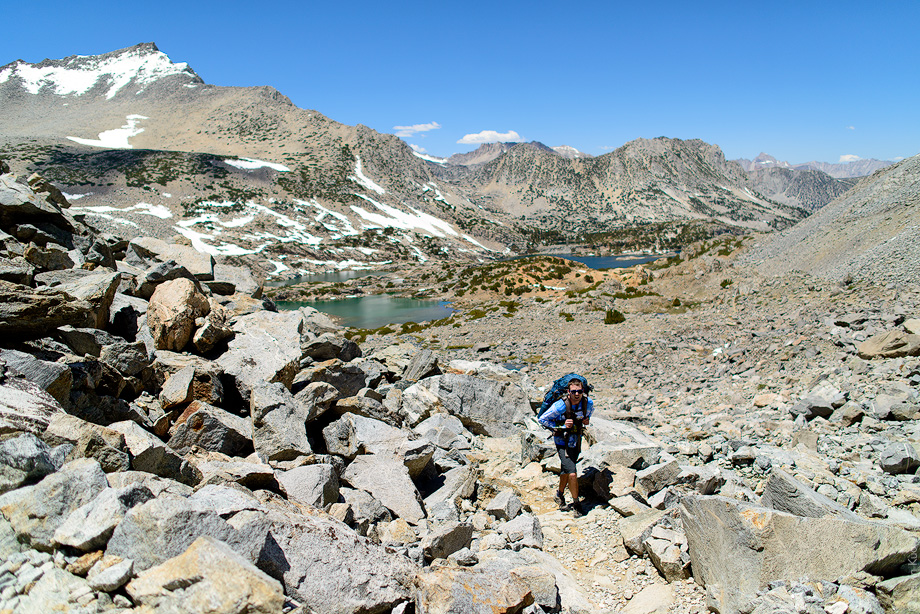 Another view of the Kings Canyon mountain range, one of my favorite.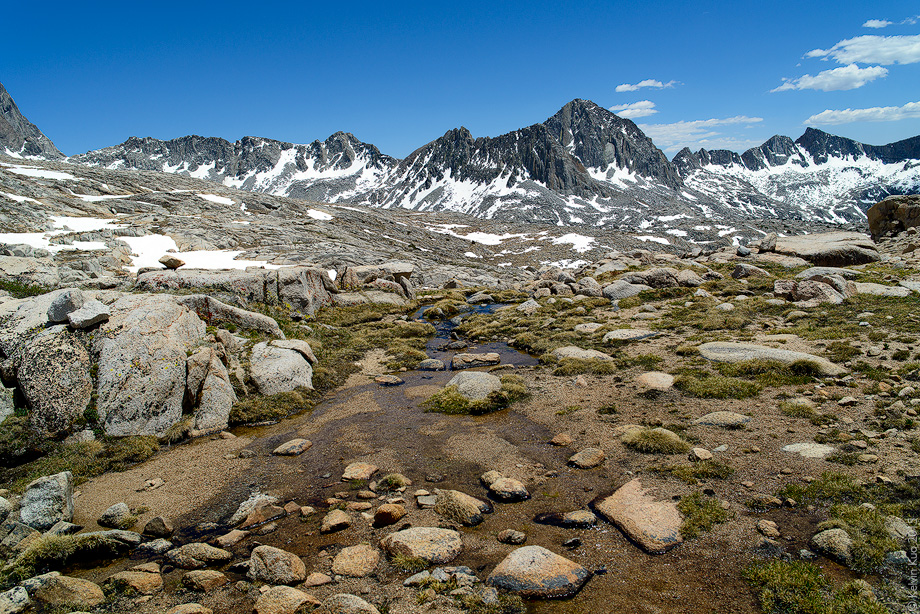 During the switch backs, we also hit a patch of snow.  It was a little iffier to go over this one, since you are looking at a thousand food drop on one side, and if you slip.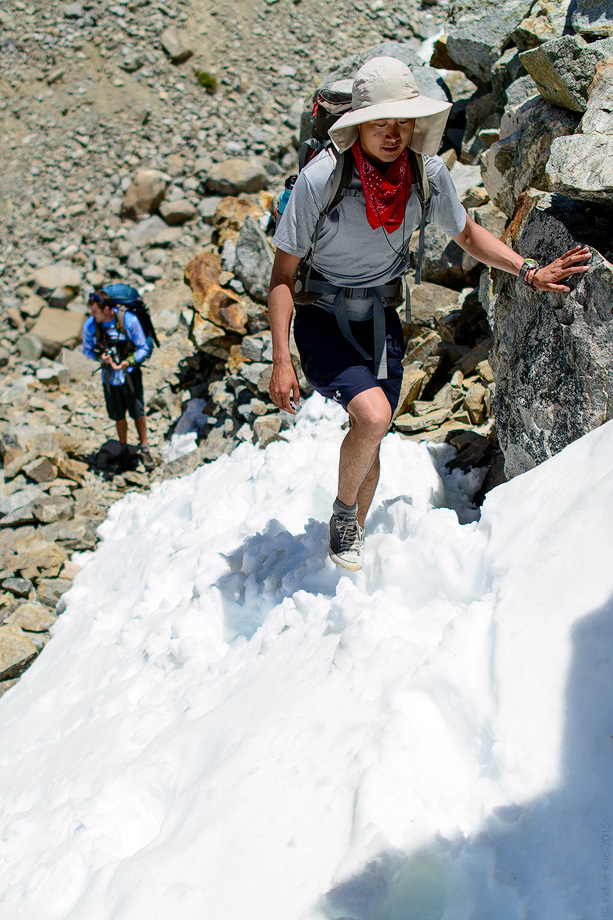 Luke, complete with the Teton's shirt I got him as a gift.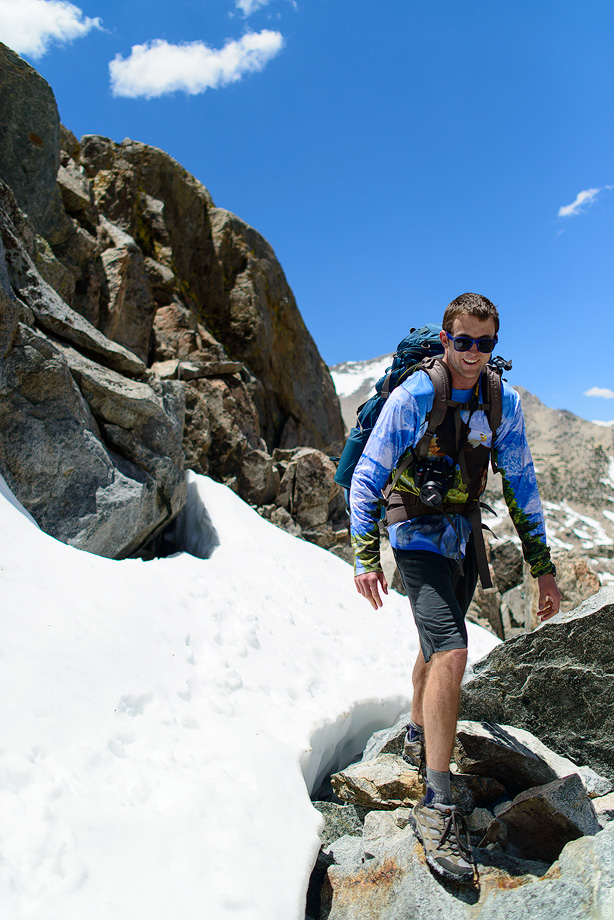 A view of the path we took, from Bishop Pass.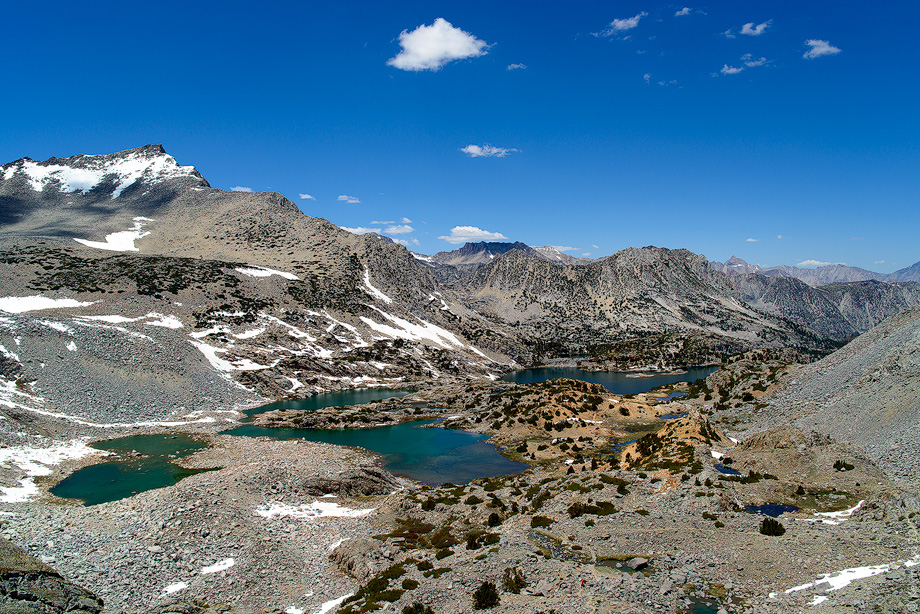 Luke looks out after completed our ascent up towards Bishop Pass.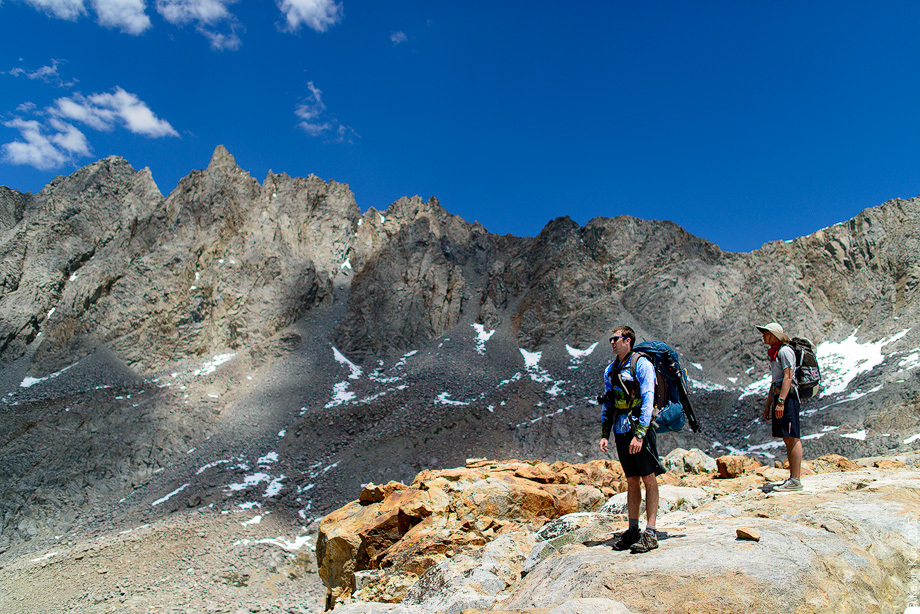 Atop the pass, we couldn't see any vegetation, and there was still a little bit of snow.  The rocky terrain was really different from what we had hike through prior to that.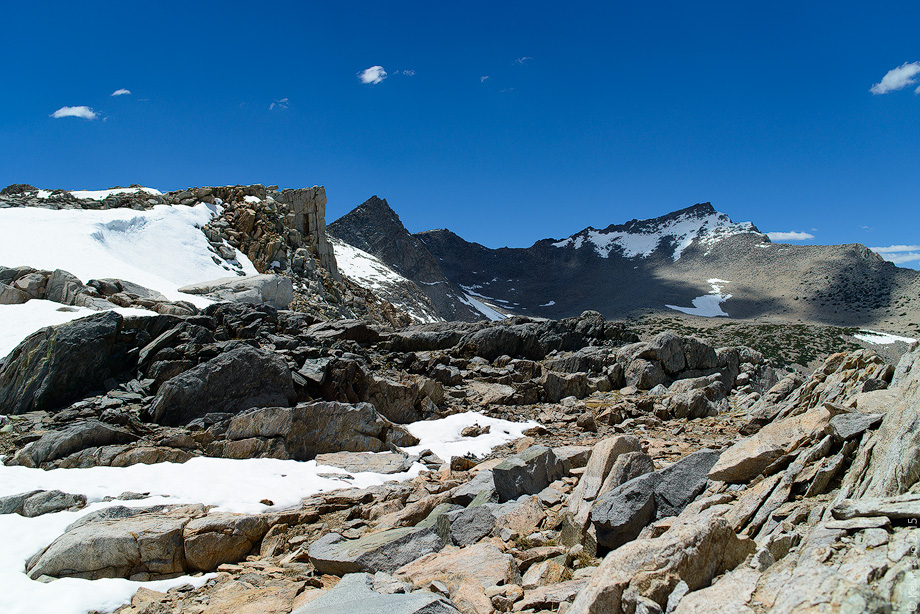 Luke taking a break at the top, we soon were going to head down into the area called Dusy Basin.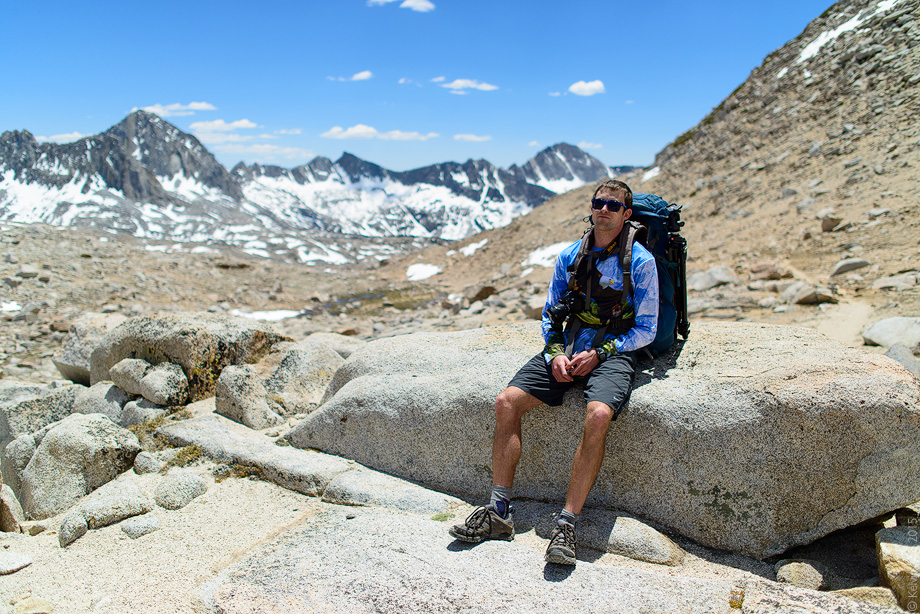 And off we went, toward Dusy Basin.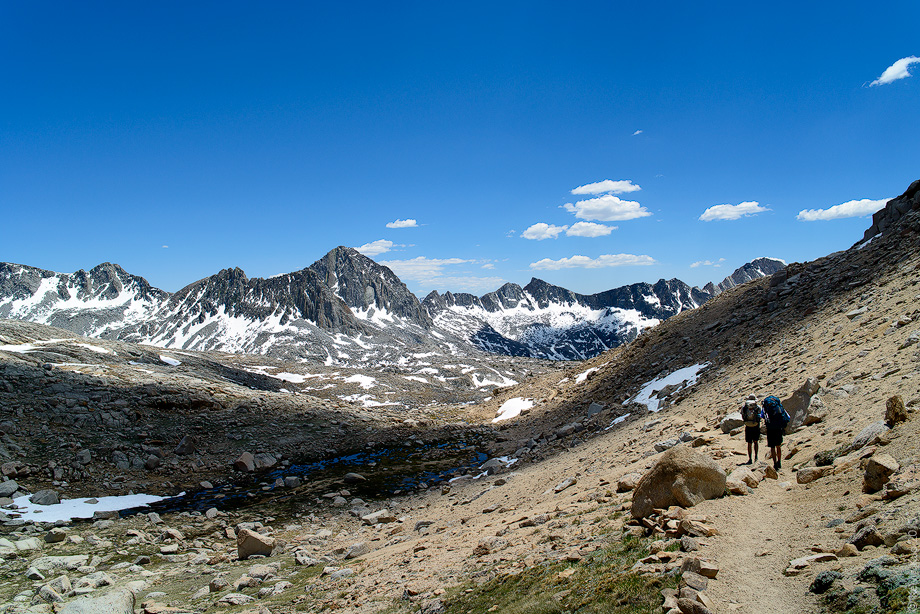 The water flows both ways, but the first sign of water is where the Dusy Basin in Kings Canyon is located.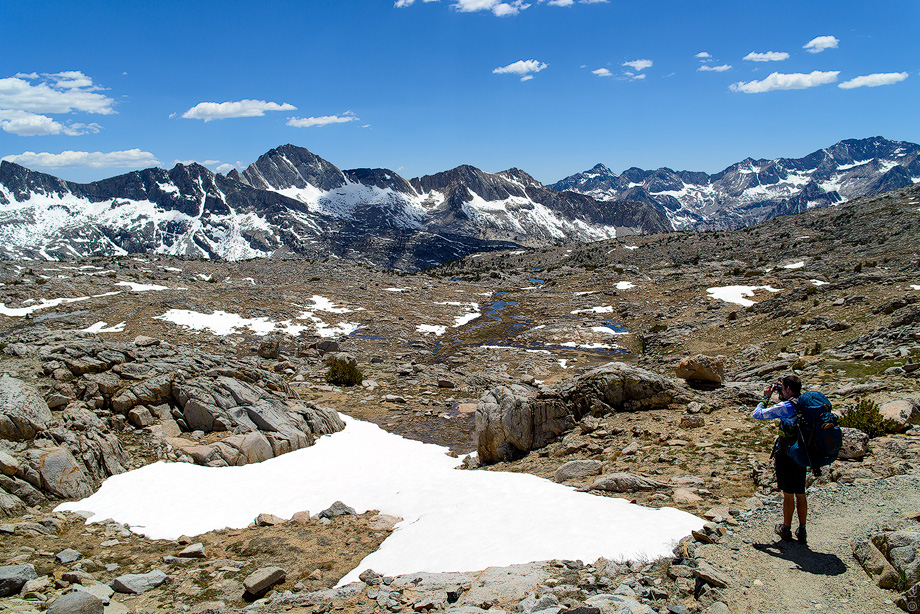 A view of our campsite that we would soon be calling home.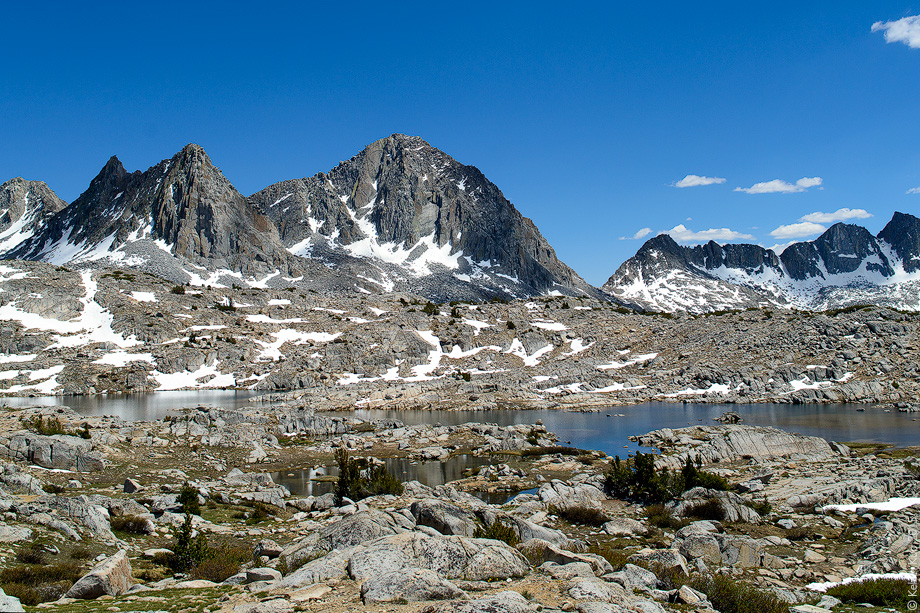 The basin was full of little watering holes and magnificent panoramic views.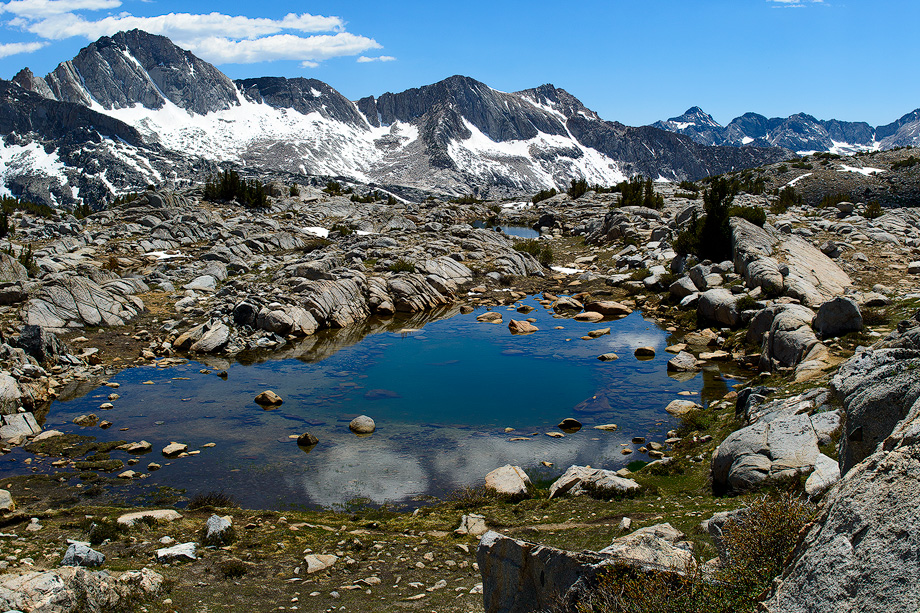 We all stopped for a snack in the shade, since there wasn't any in the area.  As you can see, this was one of the only low growing trees in the area.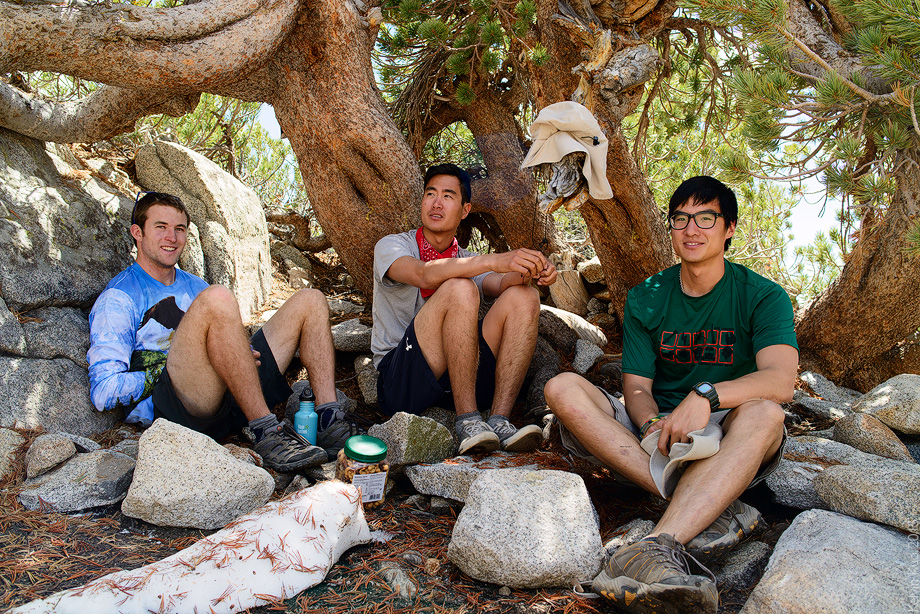 Later Luke and I went for a dip, I was already cold so it didn't take long before I rushed out of the water.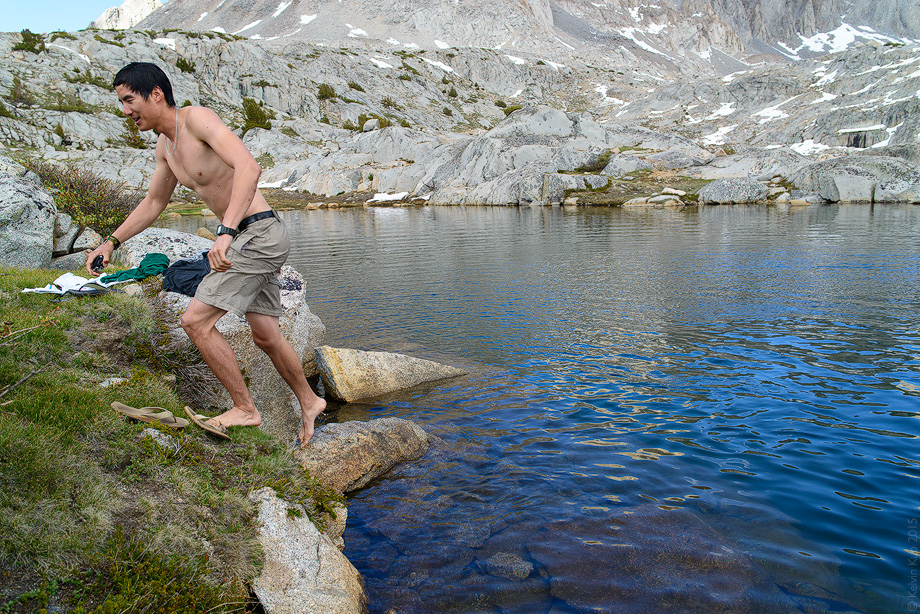 We also saw some Marmots, which the bear canisters for Kings Canyon is really used against.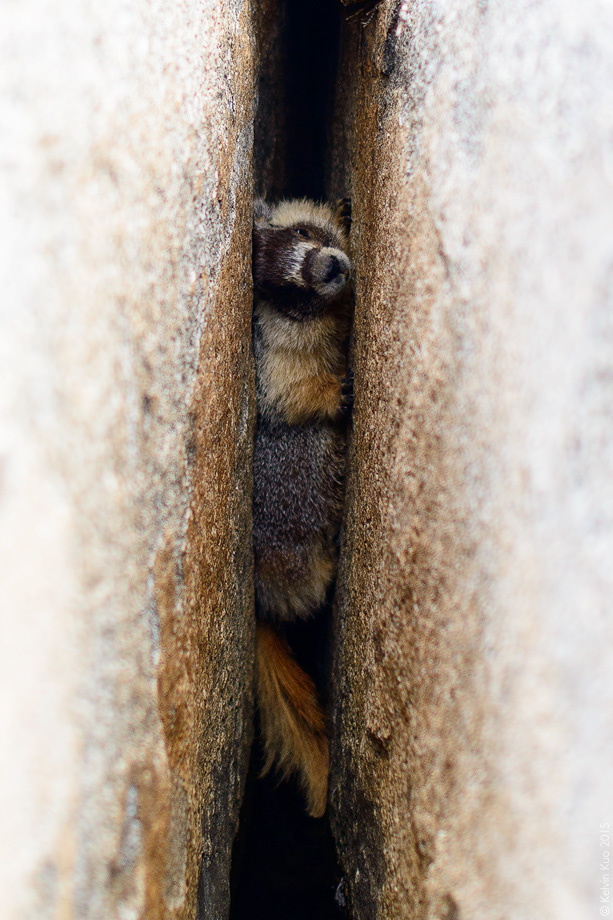 I decided to go around the area to find some shots I would want to take later at sunset.  As I was going around, I decided to get a few shots of this running stream.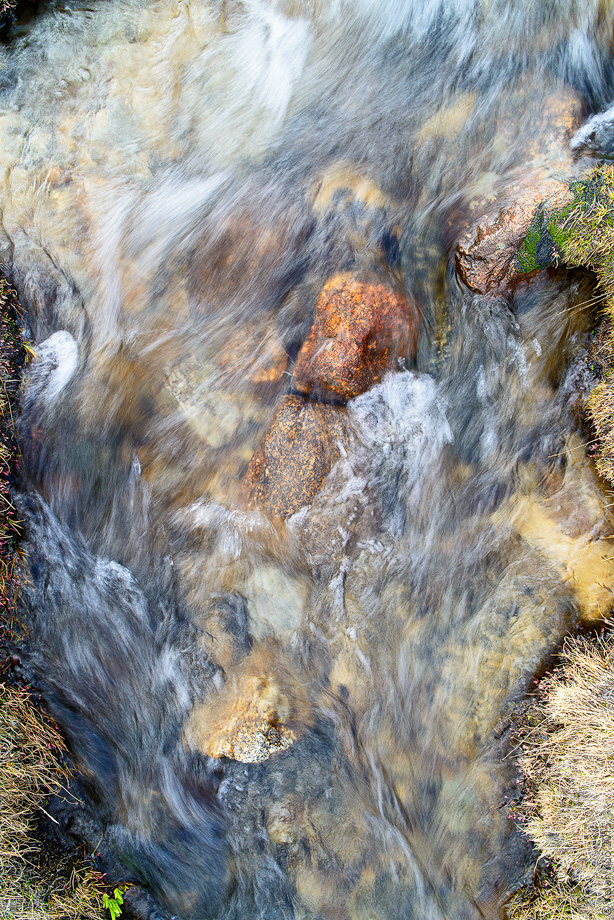 And scout of the location where I would be taking my photo that night.  I really didn't expect too much, but there was promise with clouds in the sky.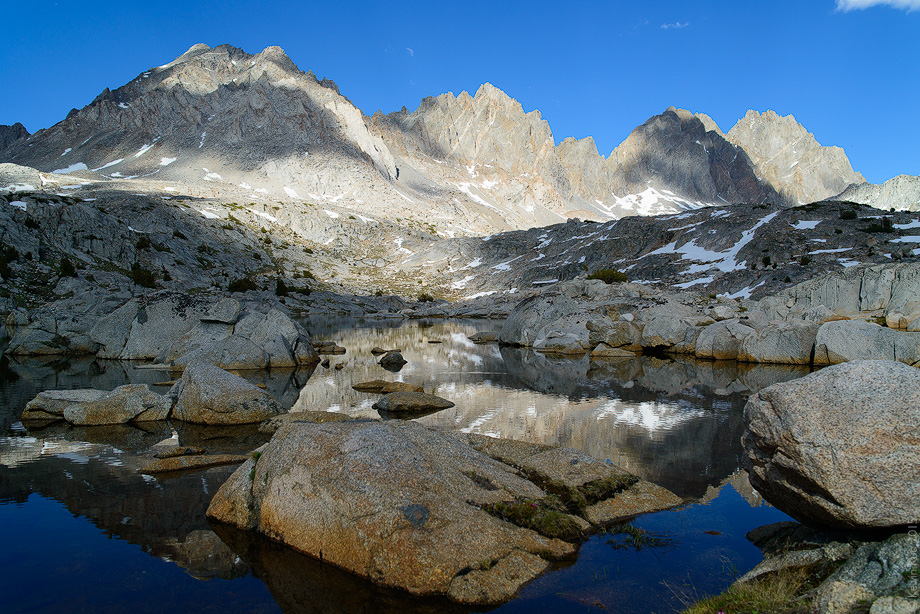 Luke waiting for the sun to set, and the clouds were rolling on in.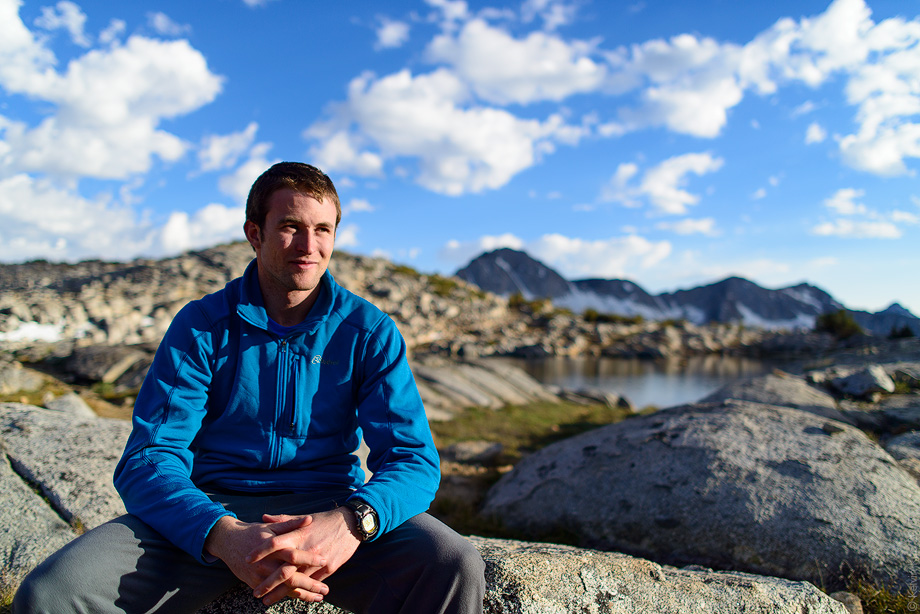 And then I got a shot of my brother before I went full force looking for light and a shot.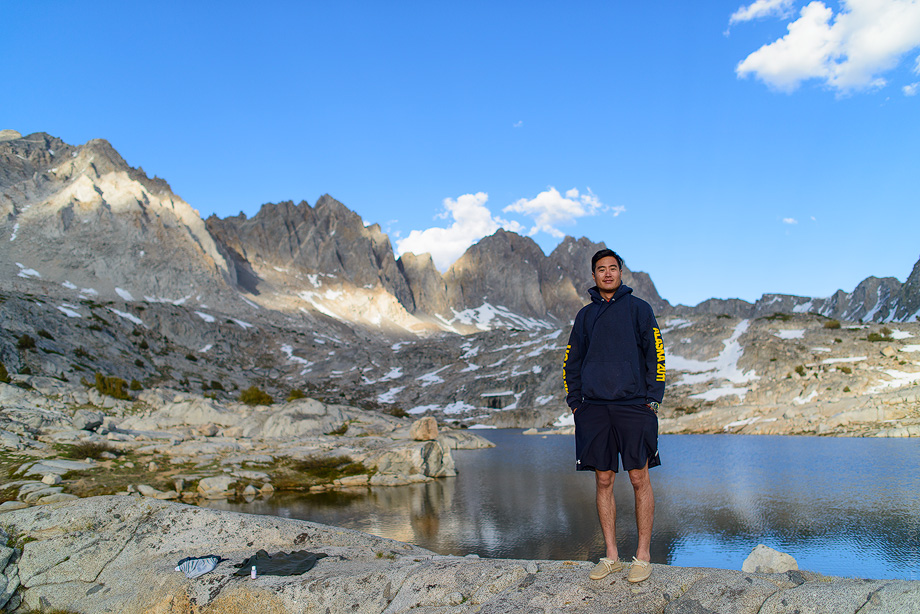 As I was heading toward my sunset location, I though this looked beautiful, our campsite at Dusy Basin.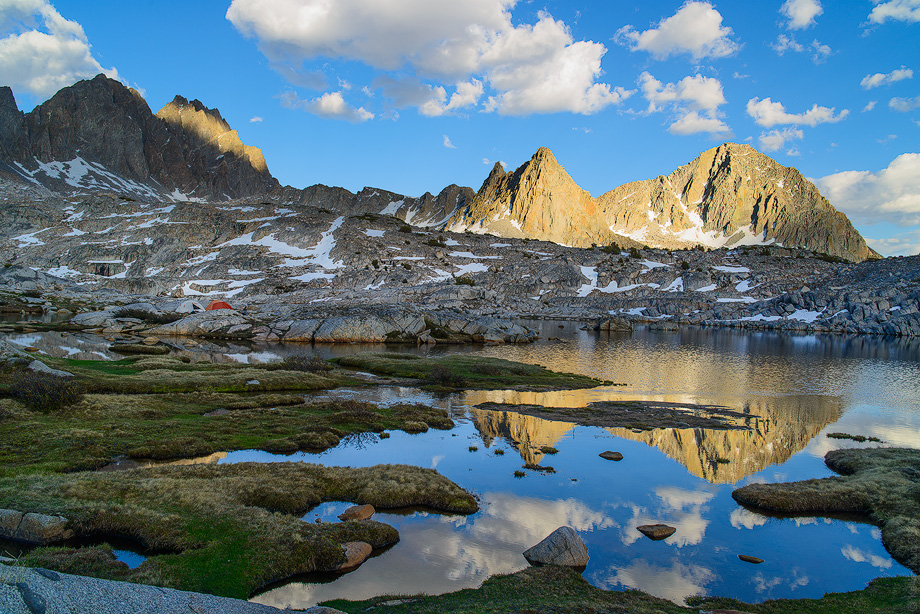 This is the shot I was setting up for.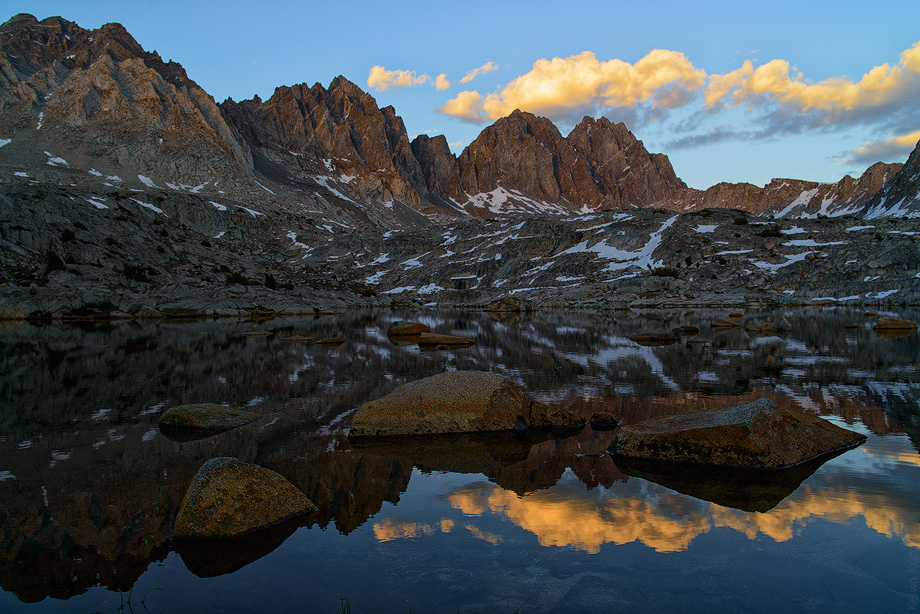 The running stream with sun rays kissing the edges of the mountains.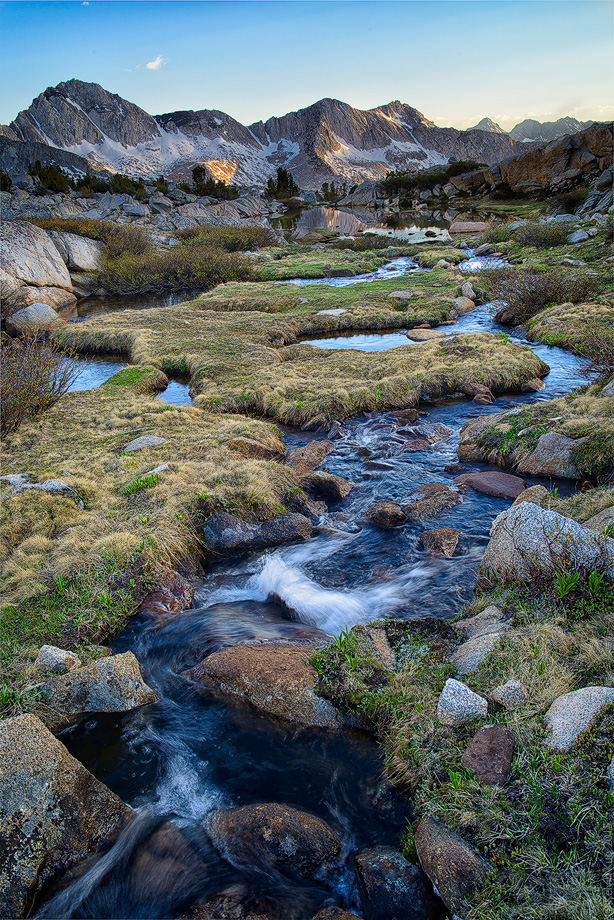 And Marvin, actually experiencing the sunset, instead of me and Luke frantically trying to capture the moment.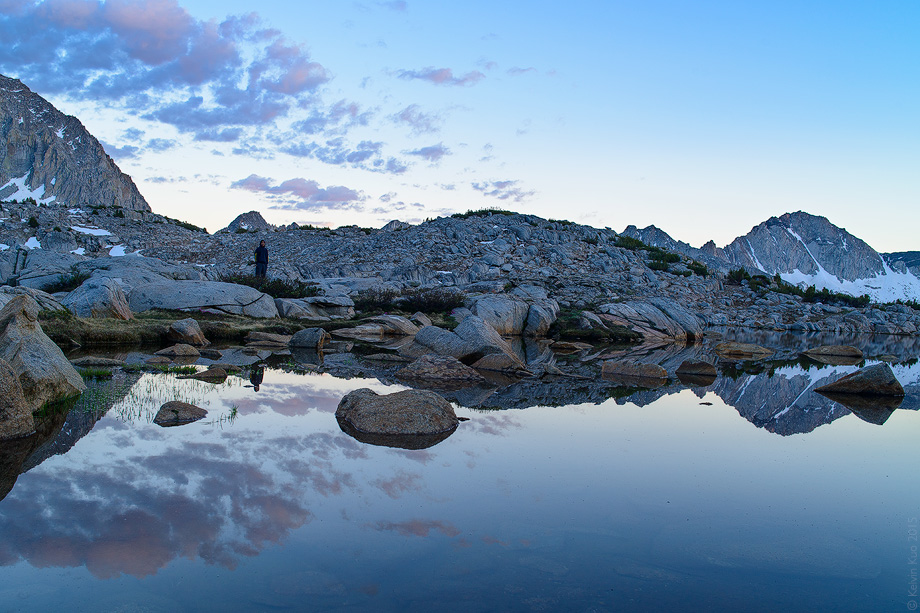 Luke, trying to get the shot at sunset.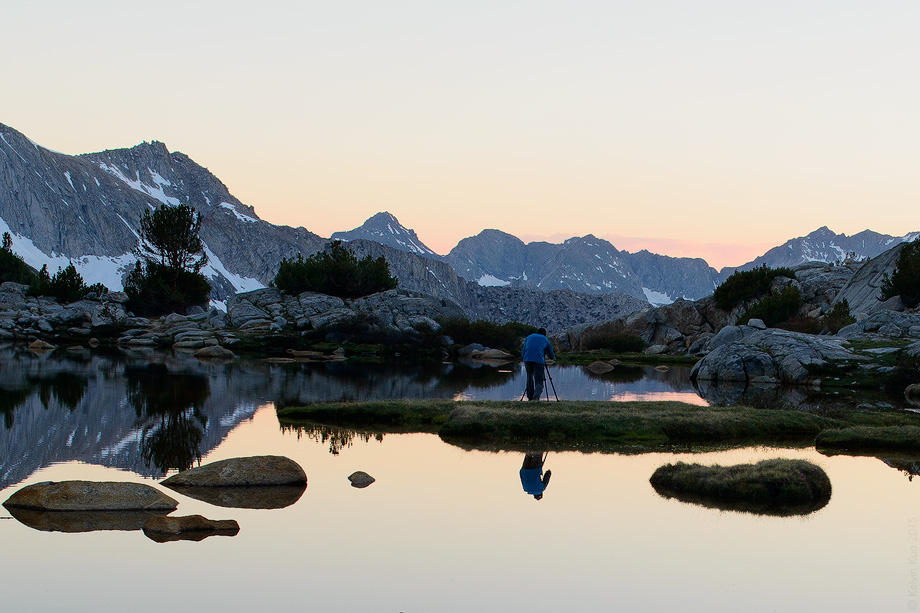 And our campsite, as the last rays of light hit the clouds above.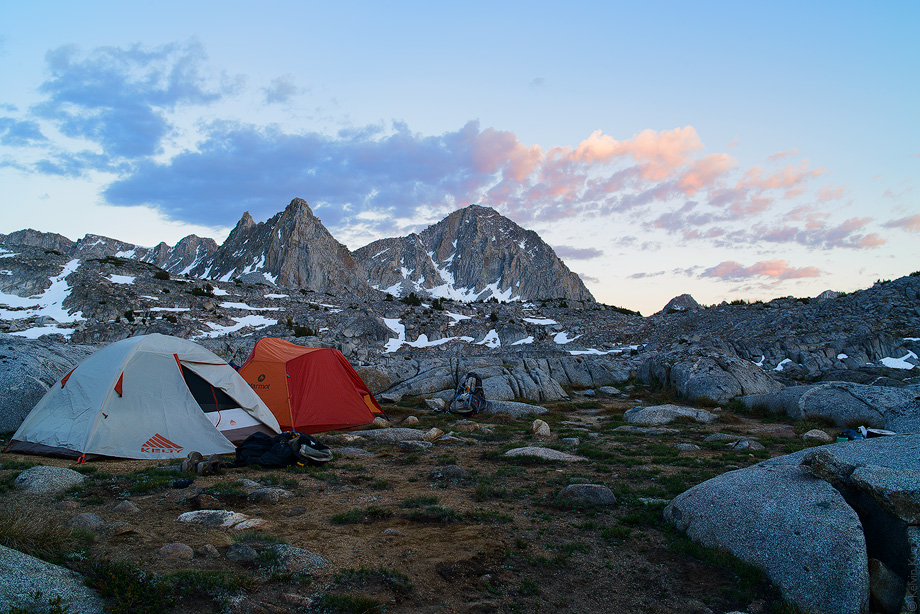 Another view, this time with the lovely jagged rocks that we had as our backyard.

That night, Luke tried to take a few photos of me and Marvin in our tent, but forgot to change the settings.  I kind of like this photo and it reminds me of my WWF tent we used to put up in our house as we were growing up.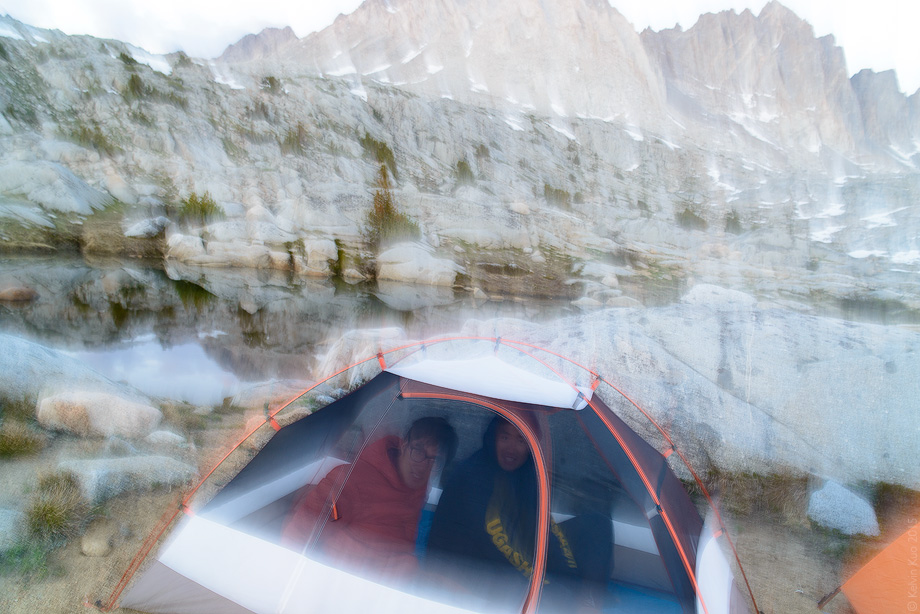 I decided to wake up in the middle of the night, to get a few photos of the stars.  I knew that the moon would be setting early that night, so I would be able to capture a shot of the milky way.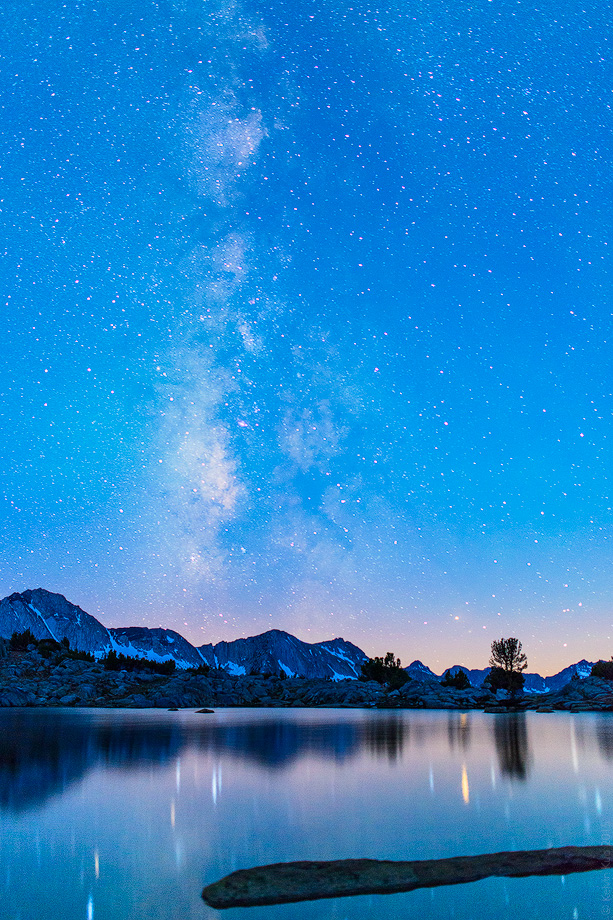 And also attempt a shot of my favorite background.  I would probably need a little bit of moonlight to light up the mountains in the back next time.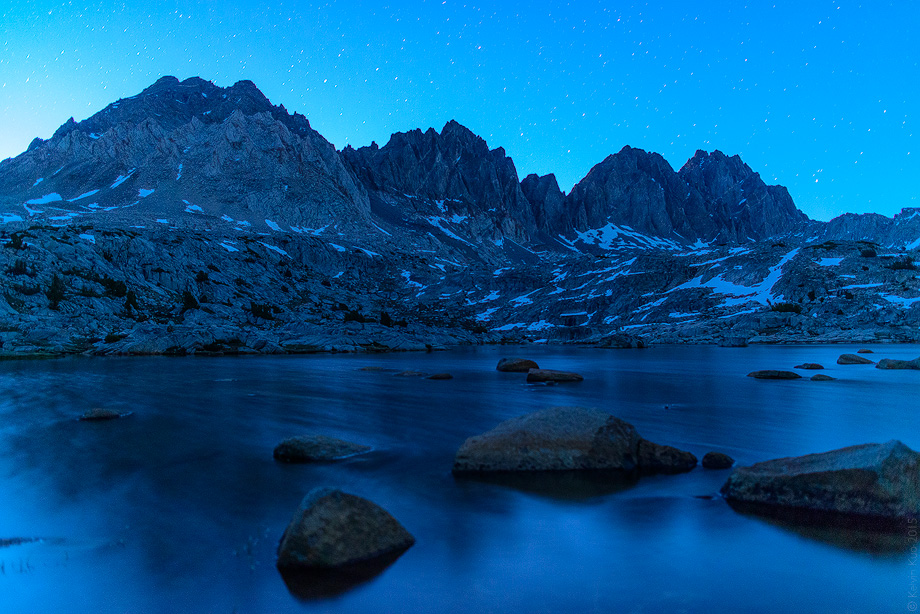 And the next morning, we were ready to head back from our short two day backpacking trip.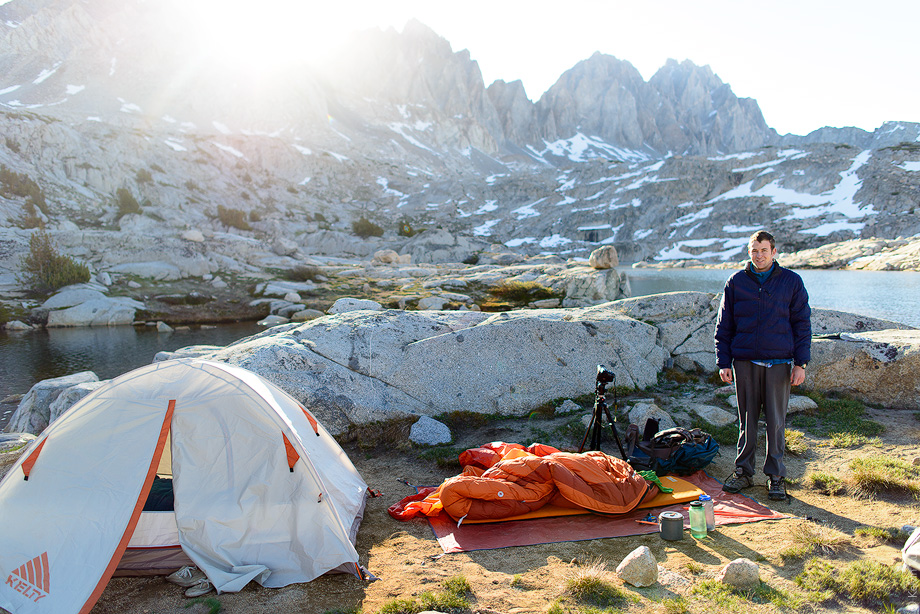 Marvin eating breakfast in our tent.  He was always a late riser.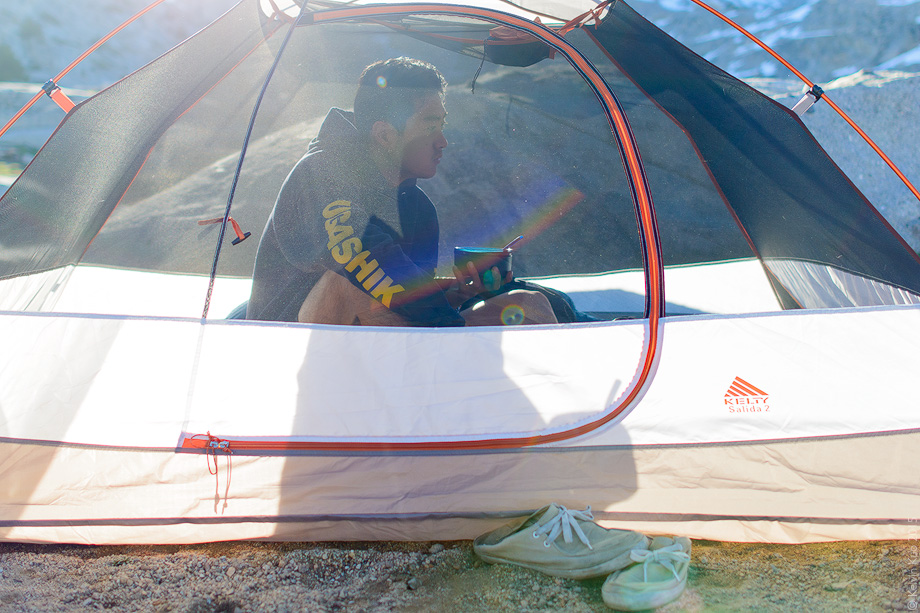 And off we go, reluctantly back home.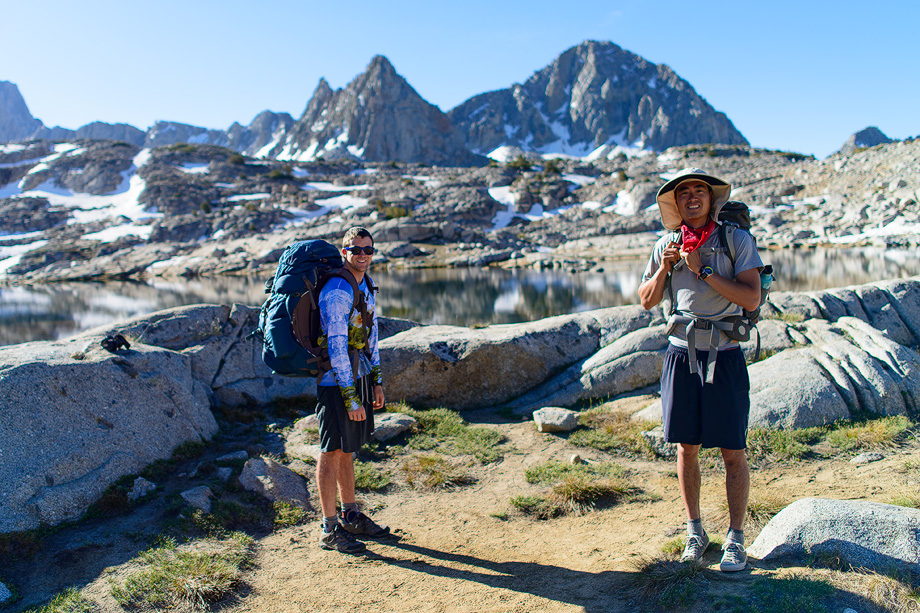 Back over the snow fields and homeward bound.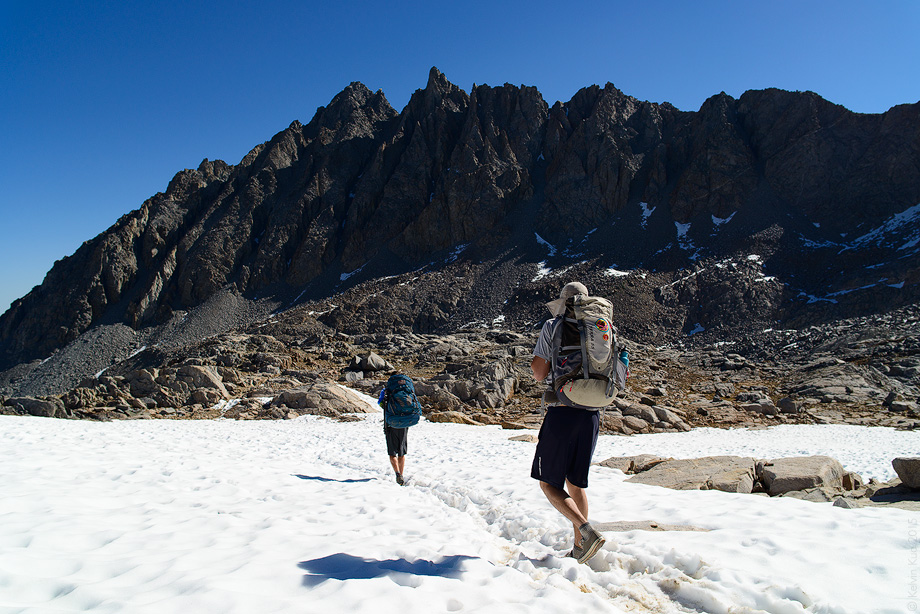 Up and over!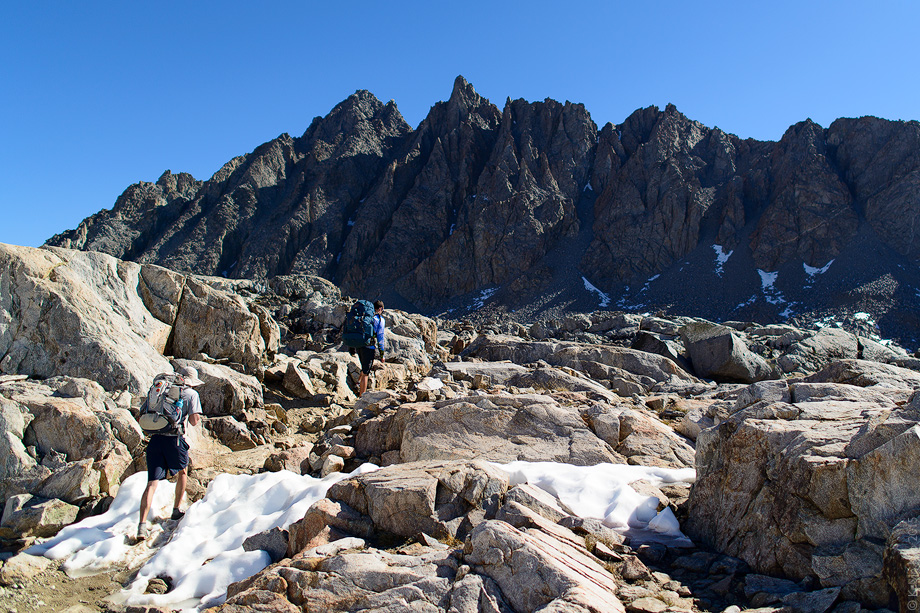 The beginning of the switch backs.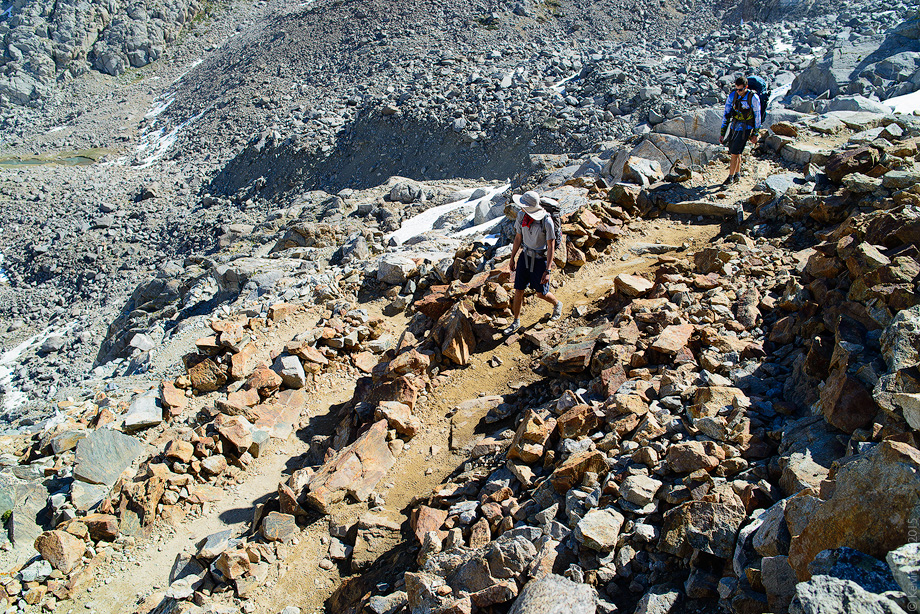 Back down the switch backs, here I can show you how precarious our situation was.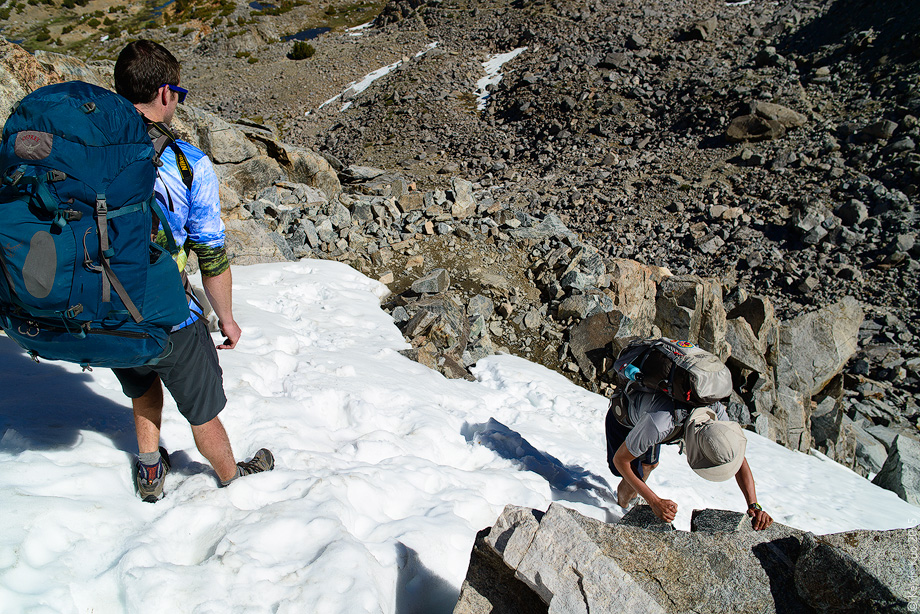 Our last shot, a shot at Bishop Pass.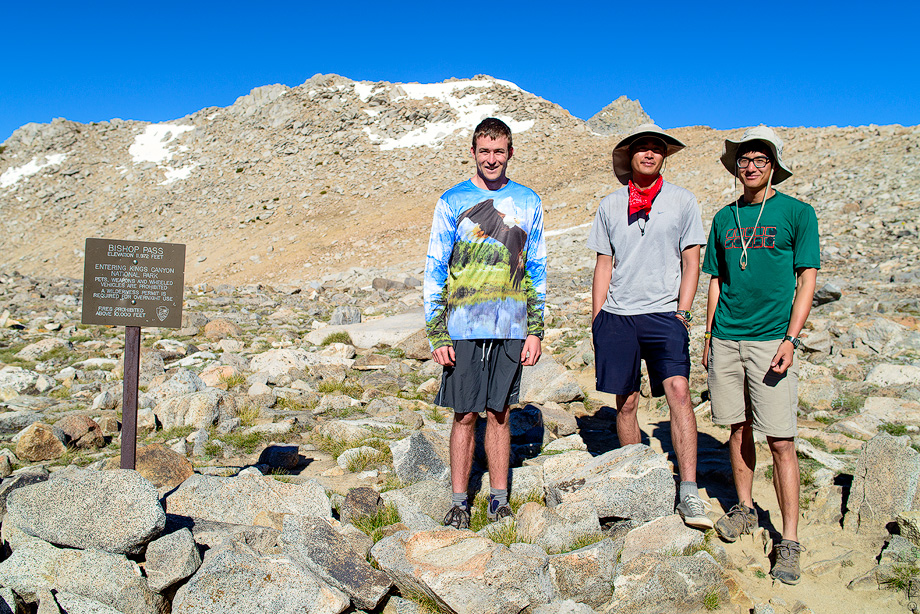 ---
---
You might also like
---