Fourth stop on our honeymoon backpacking adventure took us from Valencia to Cordoba.  As always, we started with our early train ride into town.  This gave us some time to get organized, do some research and also plan our day ahead.  Melody happily in the air conditioning of the train, instead of the hot summer day in Spain.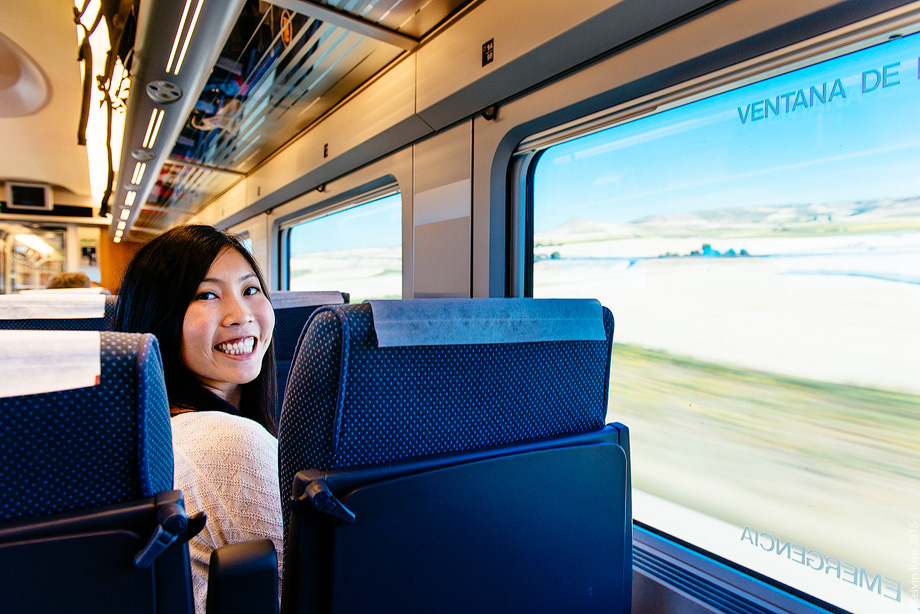 We arrived into town and was greeted with another quaint town.  The streets were lined with stones and was a beautiful sight as opposed to the asphalt streets in the states.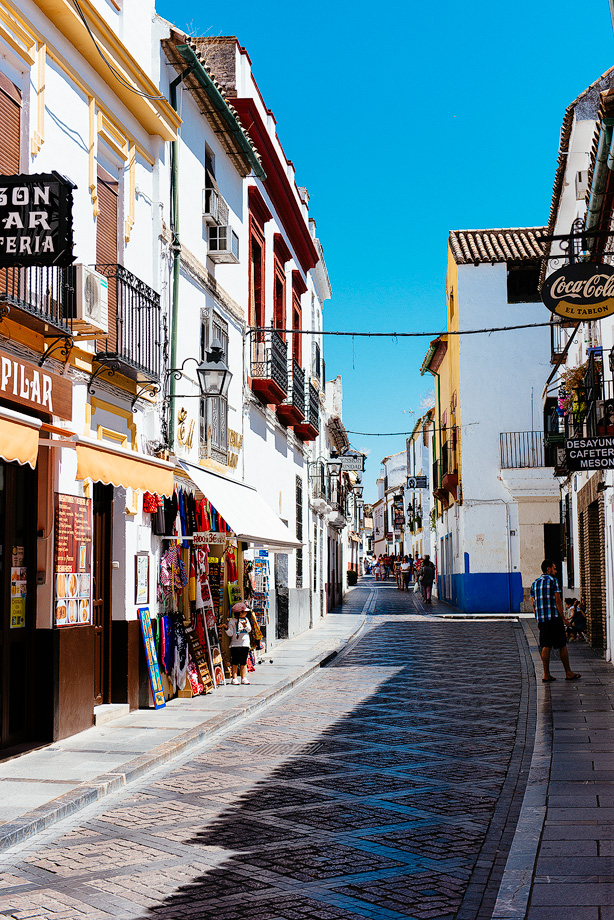 Our first order of business was to check into our hotel to drop off our bags.  We usually arrived at the hotels during the checkout period, but the rooms were often available for us.  Or we were just allowed to drop off our bags in their offices. We ended up staying at the Hotel Conquistador, right next to the Mezquita-catedral de Cordoba, or the highlight of the town.  But we decided not to enter until the next morning, hopefully with a little bit less people inside. After we got settled in, we ended up going on a little exploring in town.  We headed toward the Puente Romano de Córdoba, or Roman Bridge were we were greeted with this gate.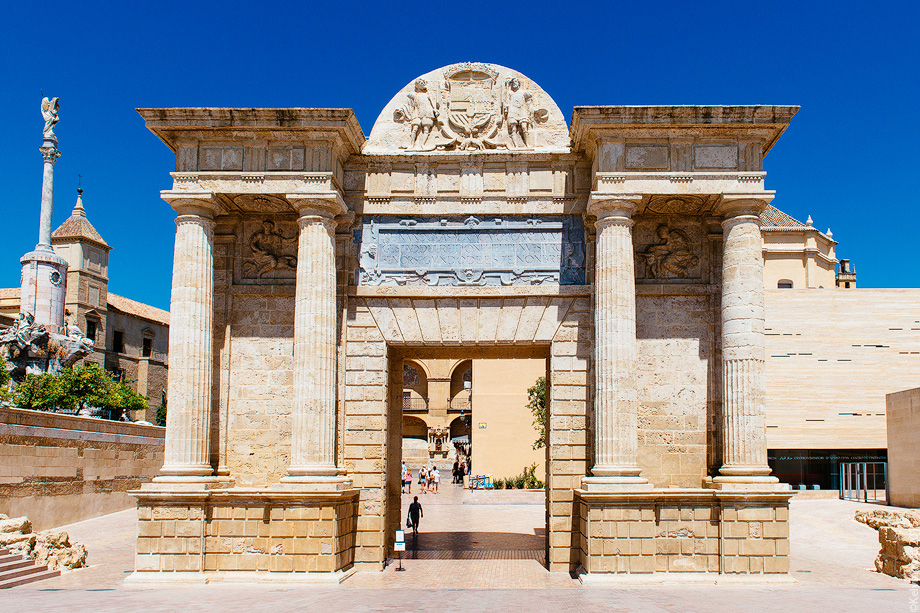 There were many little iron works around the area, including this little lantern holder.  I ended wandering around to scout some locations to shoot, since I love documenting my trips everywhere.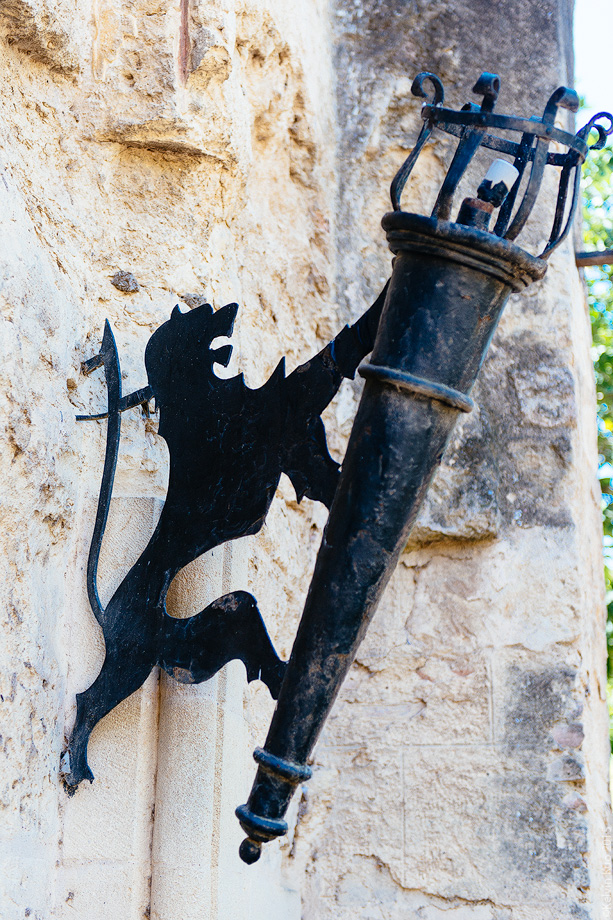 We ended up wandering some more and circling around the Alcázar de los Reyes Cristianos.  This wall made me feel like I travelled back in time, where castles, kings, and queens inhabited.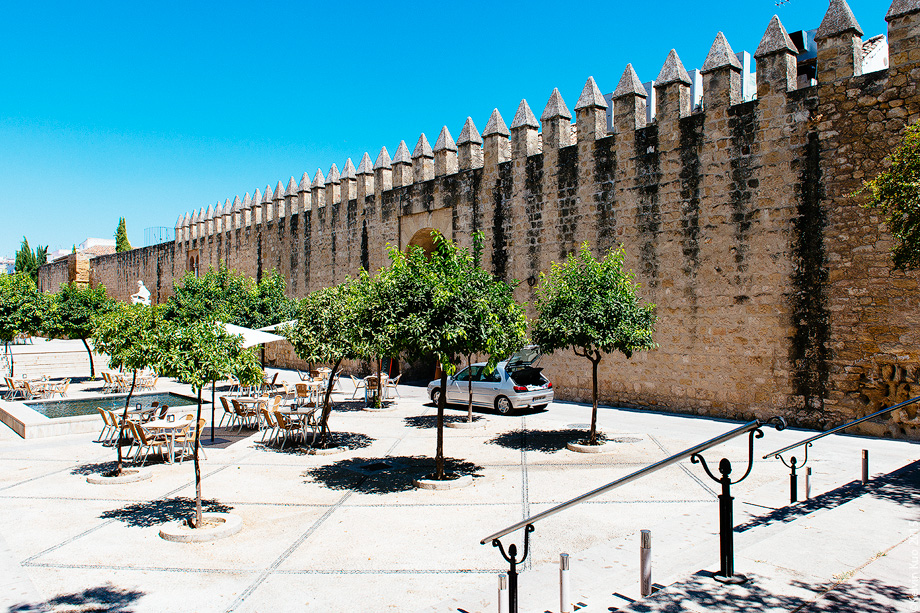 Due to our proximity to the Cordoba Cathedral, I ended up getting a few images of the tower that dominated the skies. I also later found a place for sunset and sunrise to get a photo that would capture the essence of this quaint city.
We ended up walking to the the courtyard of the Cathedral as well, just to see if there was anything interesting inside.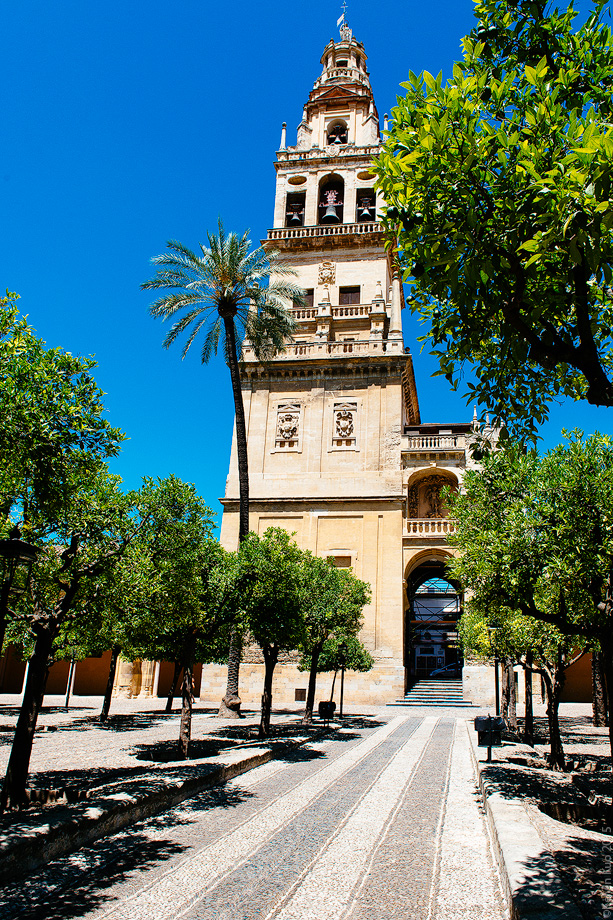 Many of the walls and trim in Spain had so much intricate detail, mostly of Islamic descent, and it was amazing.  The details even on the walls were amazing.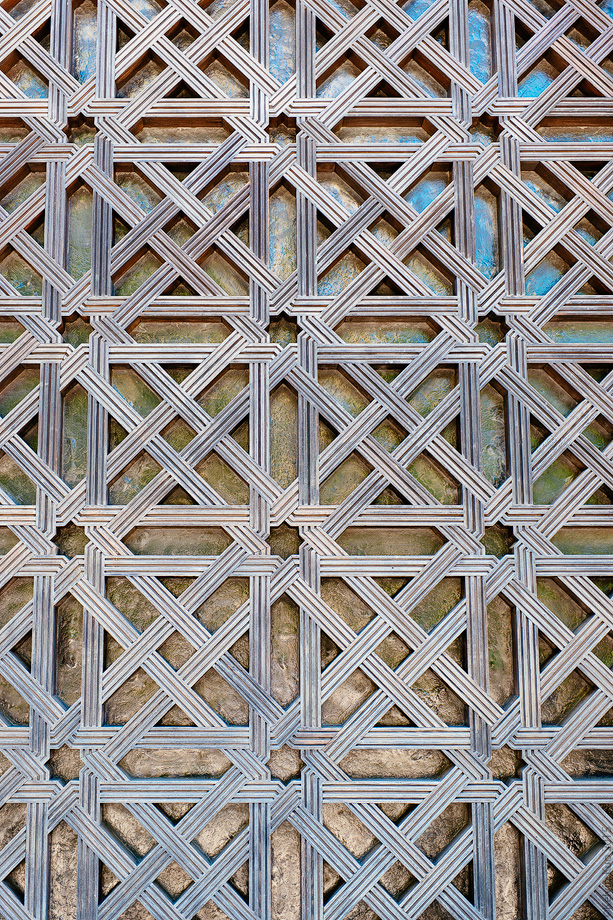 The entrance to the cathedral was simply breathtaking.  The only times I have found such detail was roaming around Taiwan or China, the details of their temples as well.

We ended up exiting the courtyard, and the doors for the place were so interesting.  I ended up asking Melody for a photo as well.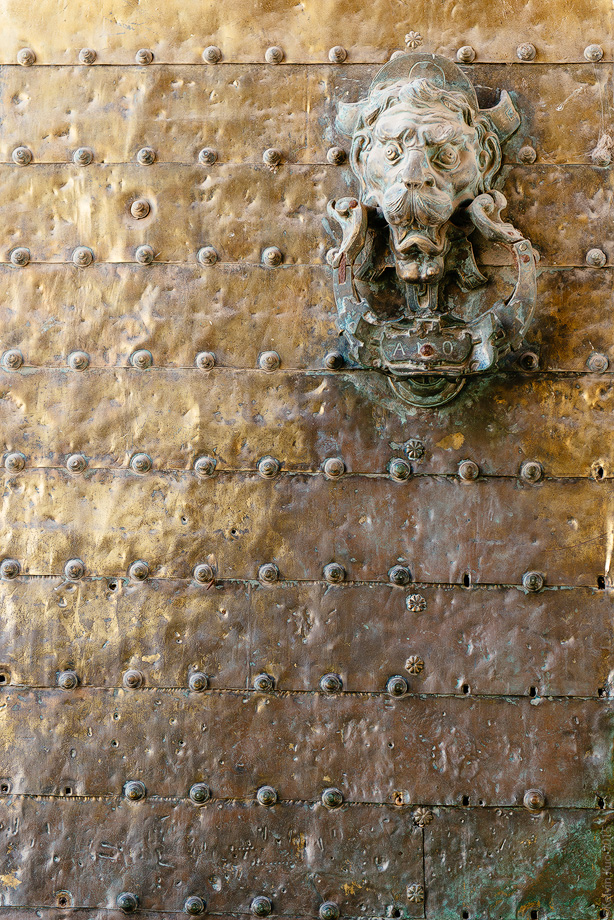 Smile for the camera.  As you can tell, the 95+ weather was pretty brutal, and there wasn't much for us to escape it.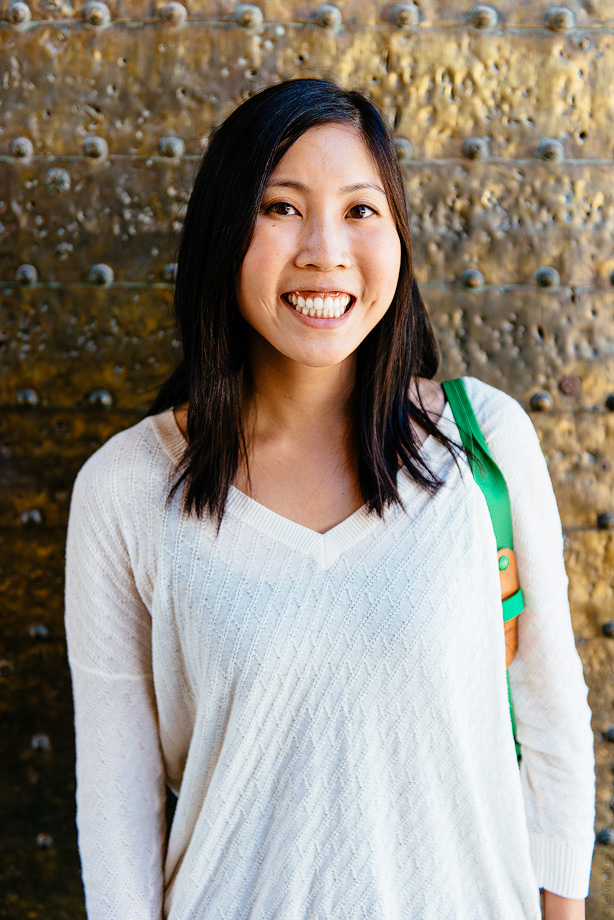 And good by until the next day, where we would be exploring the Mezaquita-catedral de Cordoba.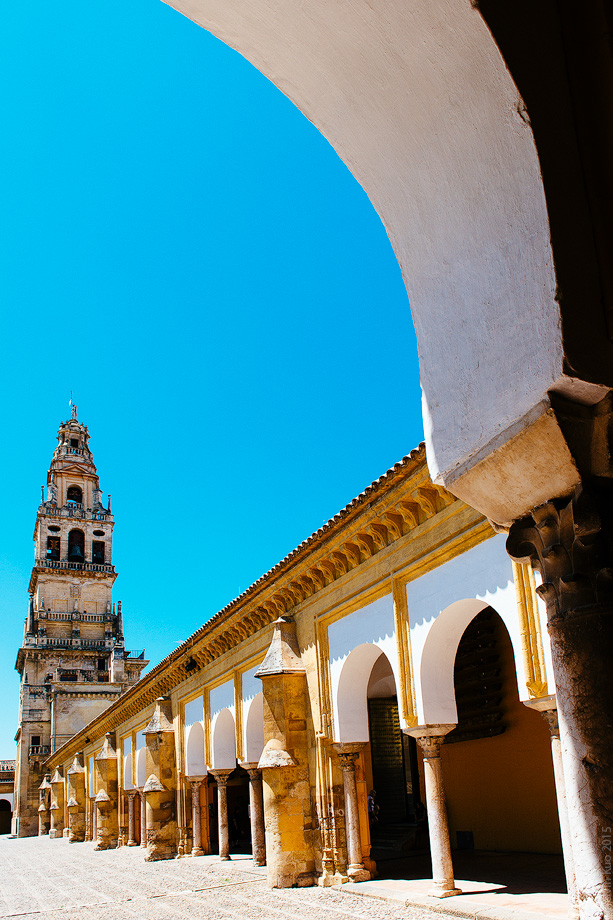 I ended up exploring more of the area, buildings to find a good place to get a few photos.  But the town is just too picturesque not to get any other photos.  Melody found inspiration in the potted plants that saturated the area, and wanted something like that for our home.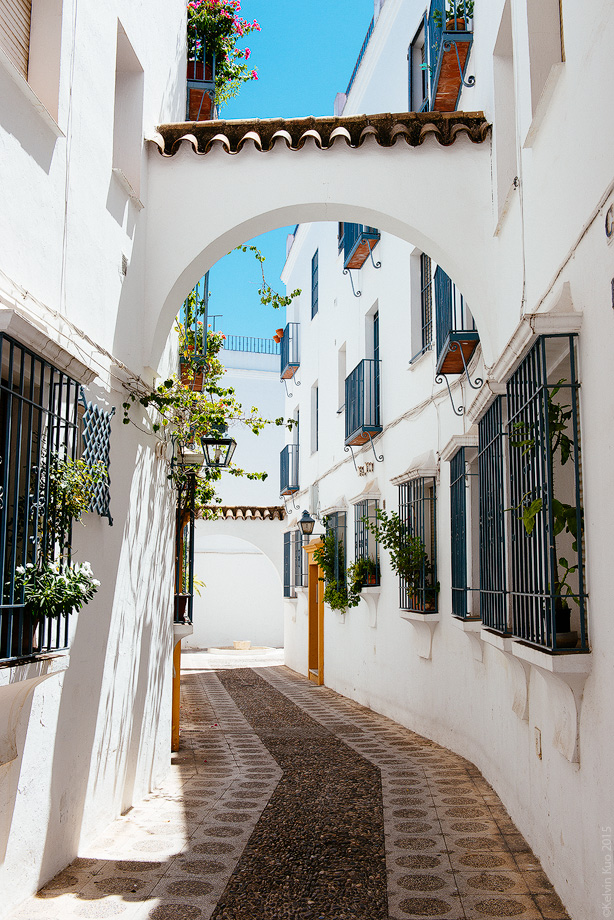 We ended up going up to Plaza de las Tendillas and found time to buy some groceries take a quick break.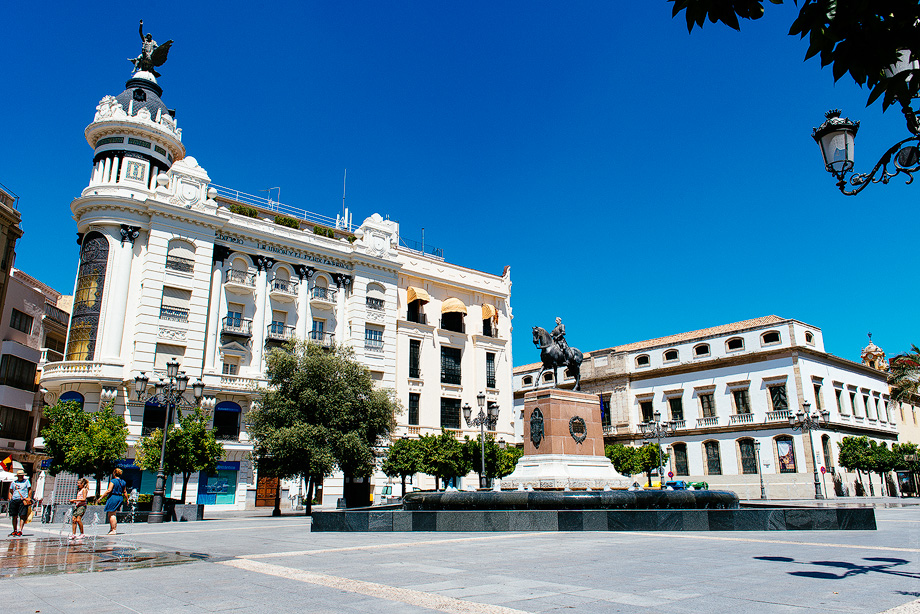 Melody and I ended up at the Plaza de la Corredera, to see if we could do some shopping.  But like all of the trip so far, there were not really any shops open.  The siestas were pretty prevalent, and also we could understand due to the heat. Sorority pose anyone?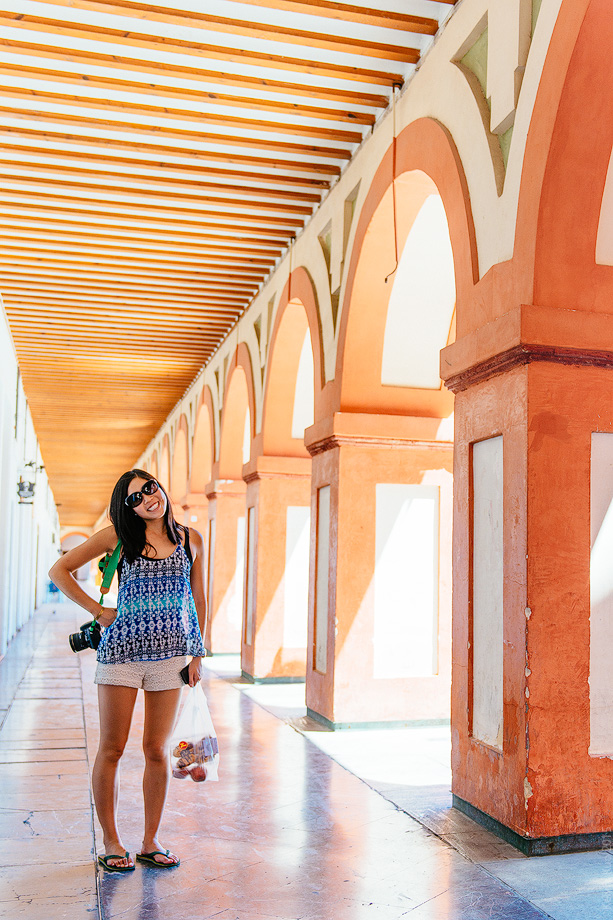 And inside the Plaza de la Corredera, where we were pretty much the only ones.  If you want to see what it's like after a nuclear fall out, the best time to see that is in the summer in Spain.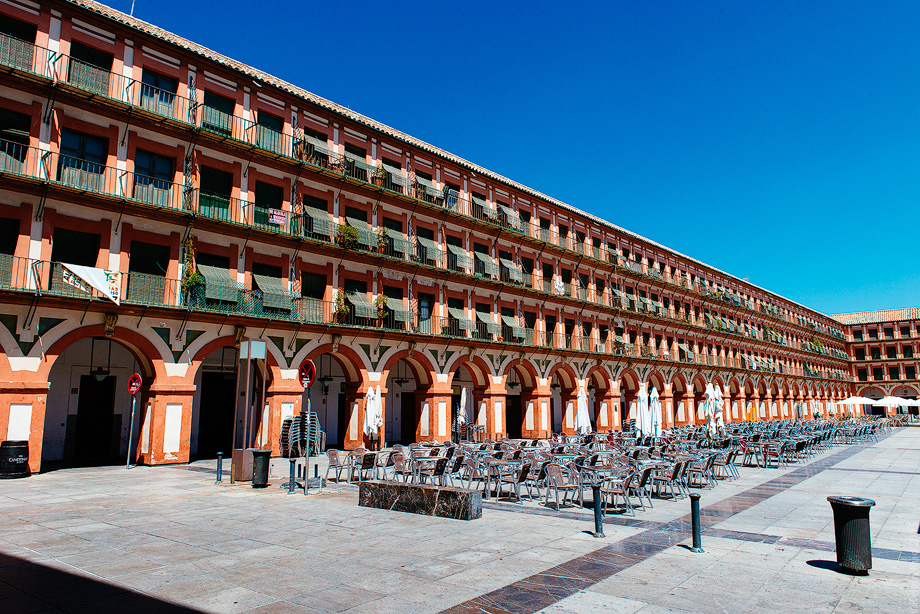 Melody's new friend!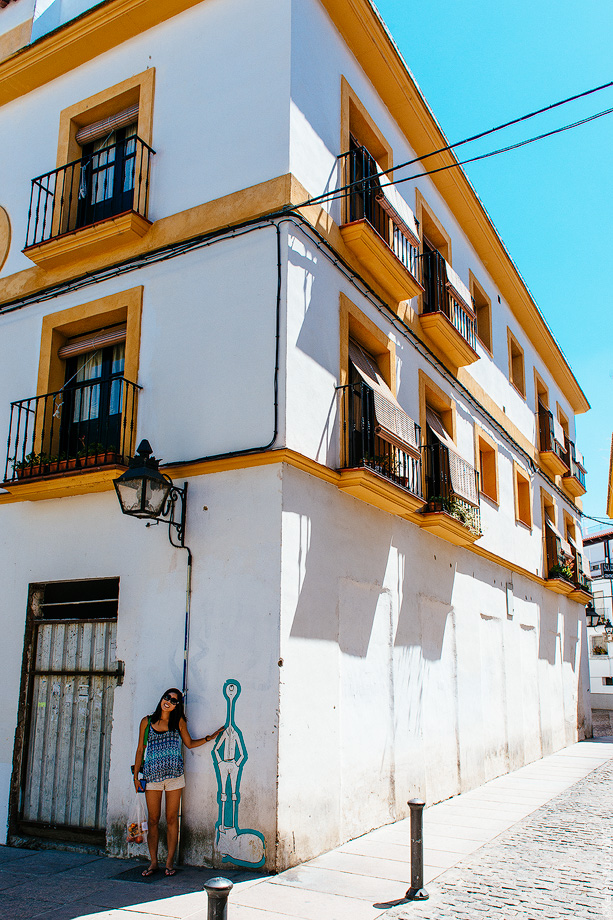 And we found this area while walking around, a little alley with white walls and potted plants lining the houses.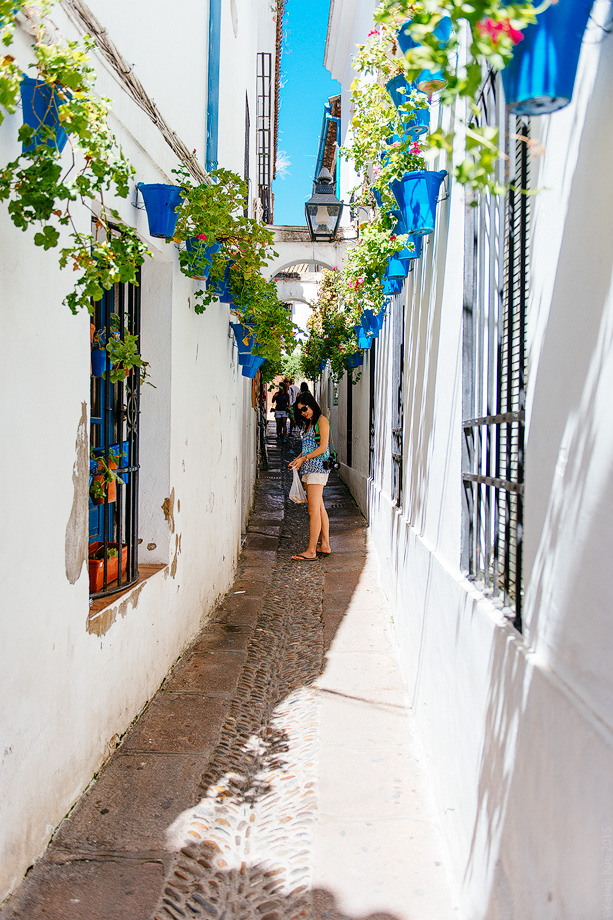 Melody with the beautiful potted flowers of Cordoba.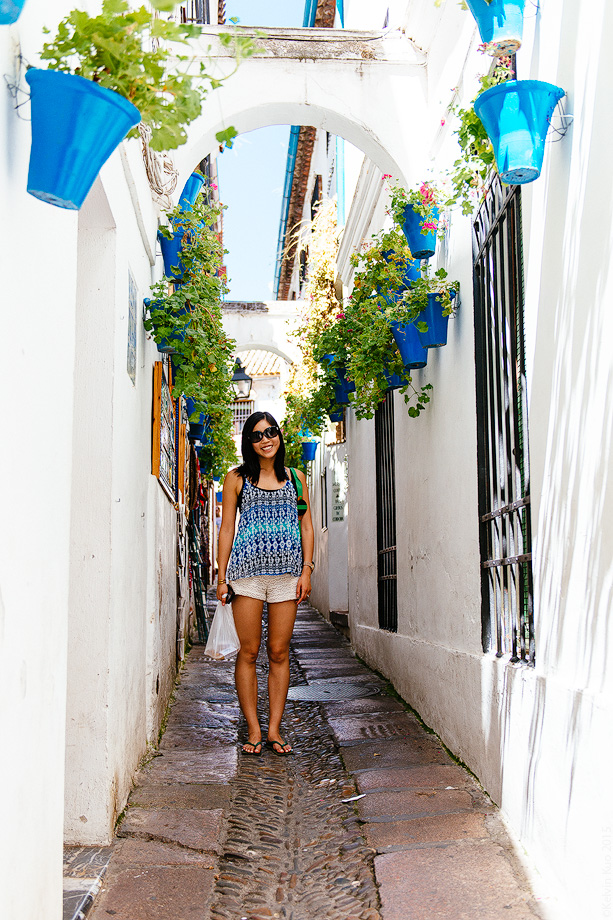 Afterwards, Melody and I decided to get a nice Cordoba Massage and spa session to alleviate ourselves from the heat.  I ended up getting in a little bit of trouble for making too much noise while dunking myself into a cold bath.  Also the massages are not recommended, it ended up feeling more like a tickle fight than the Thai massages I had grown accustomed to (because my dad loves torturous massages and also actually falls asleep to them).  And we ended up coming out in time for a wonderful sunset.  So we quickly got a few more photos of the tower we mentioned previously.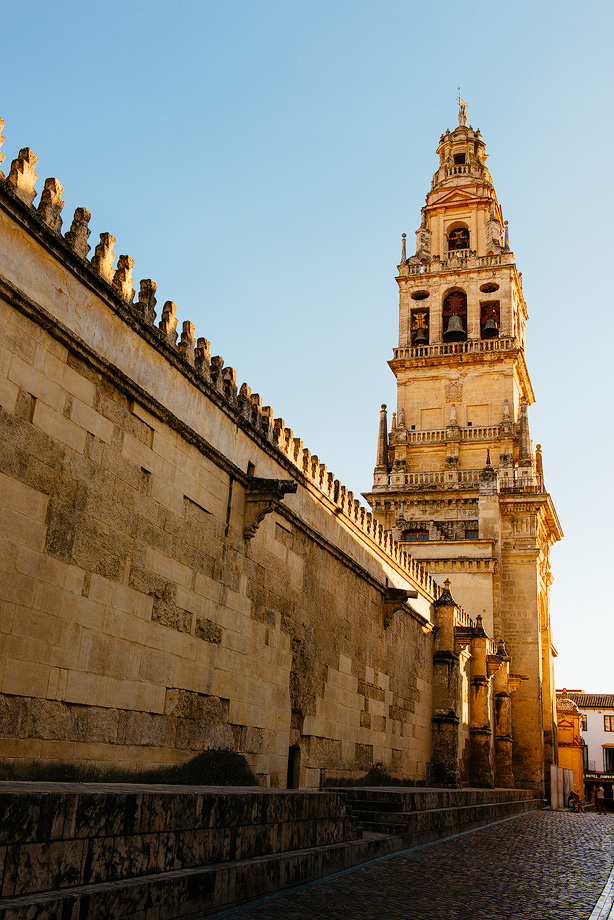 And then I headed to the Roman Bridge for some nighttime photos.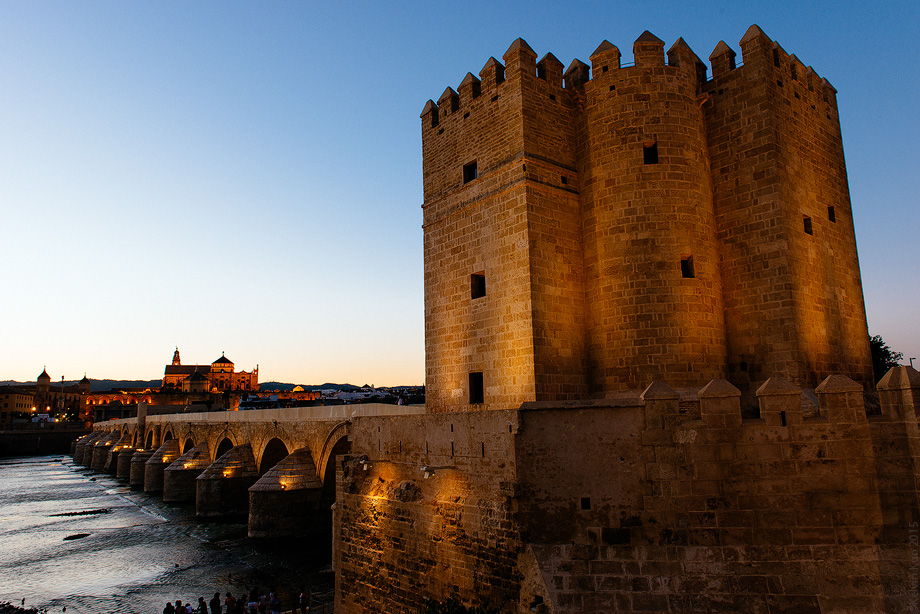 Some pots, and the Cathedral Tower.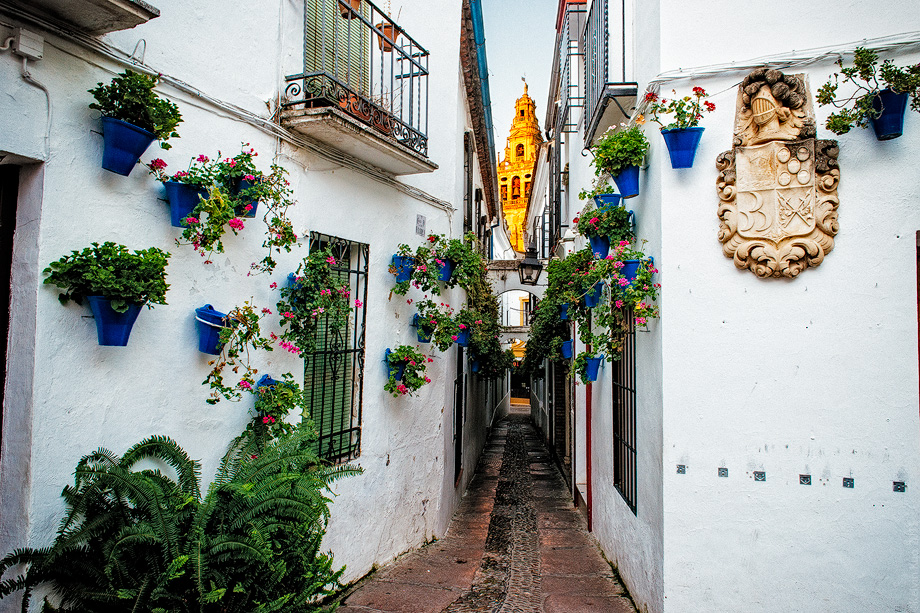 We woke up for sunrise the very next morning to get our tour of the Mesquita Cordoba, or the Cordoba Mosque.  This was one of the highlights of this city, and a must see.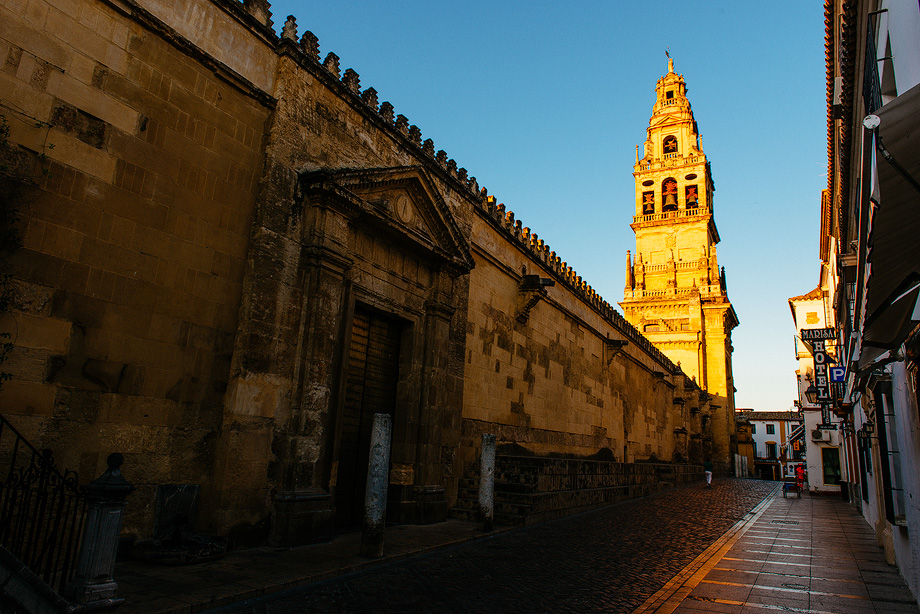 Inside was just amazing, I just ended up taking so many photos inside.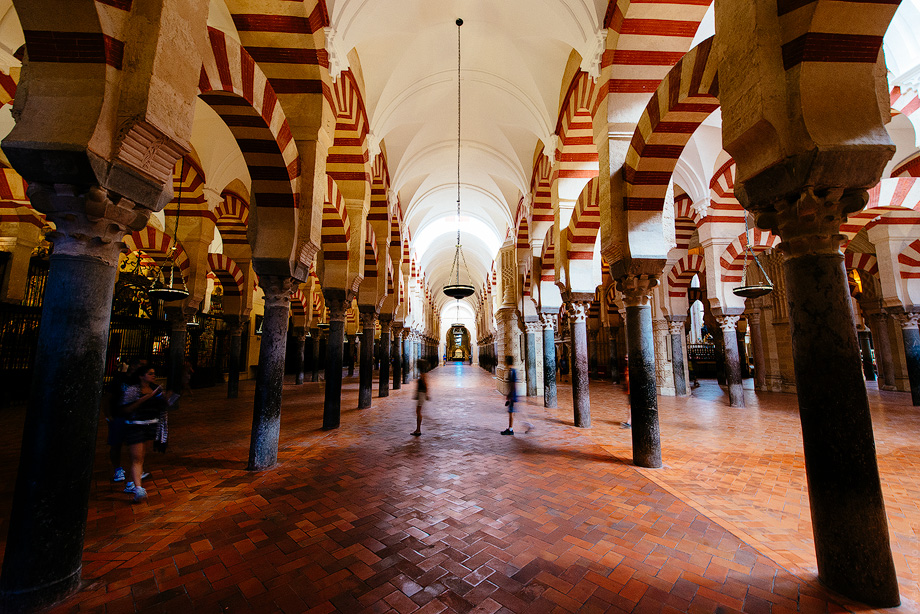 The red striped arches lined the entire mosque.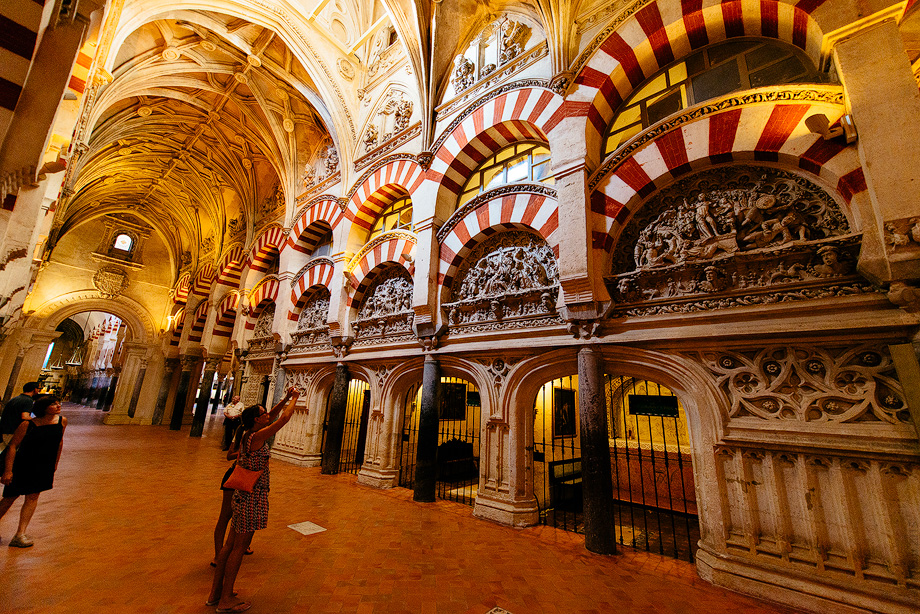 looking up.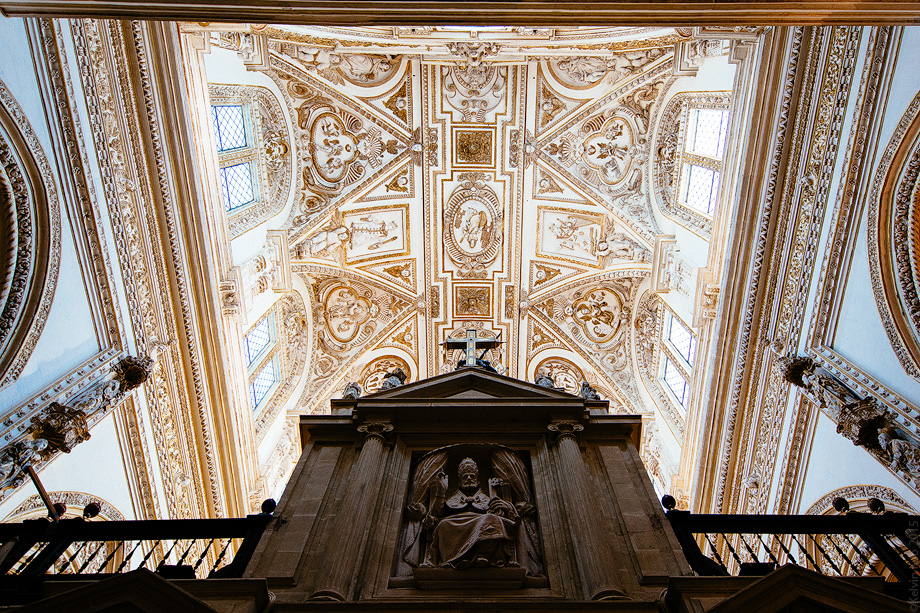 Just an amazing place, and so interesting to see.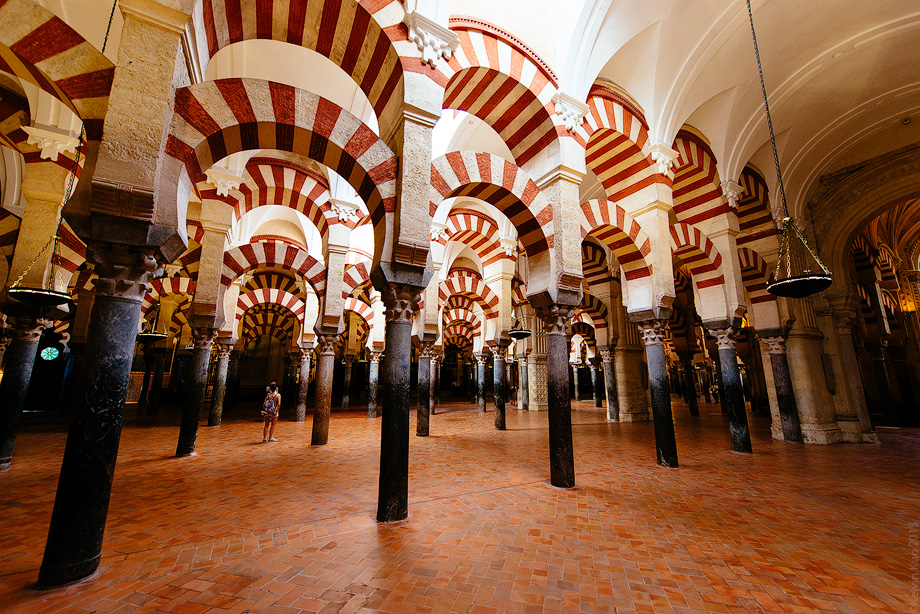 Last one, until next time.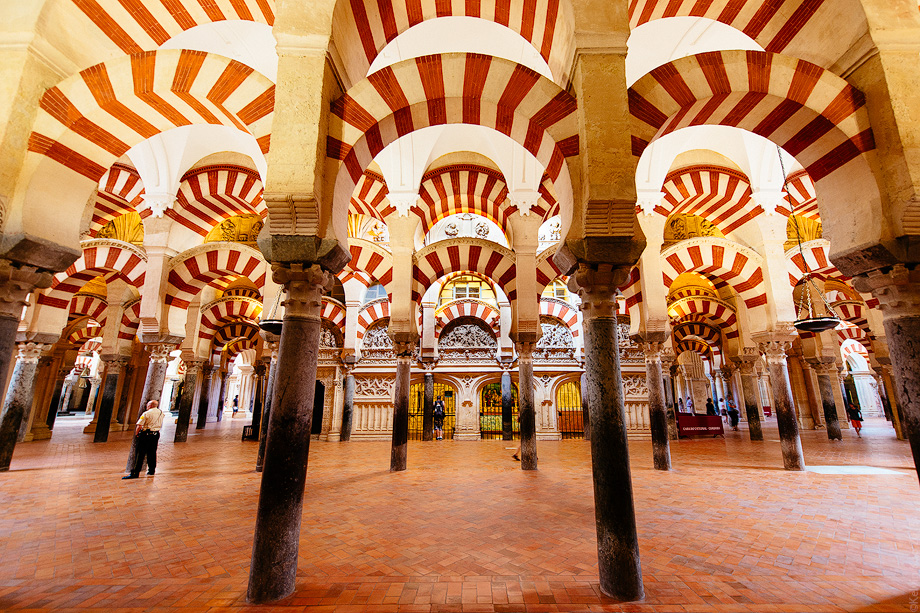 ---
---
You might also like
---