As we headed to our last location in Spain of our European backpacking trip, we landed at Sevilla.  It was strategic for us to be here, since there were no lines connecting Spain and Portugal.  Instead, we could use a bus to cross the border and continue to use our Eurail pass in Portugal.  The unfortunate thing was, we wouldn't have any reservations in Portugal, or Italy.  I ended up booking a flight from Lisbon to Rome while we were traveling Spain and had to meet a certain deadline.  So this forced our hand in a sense, and caused us to figure out what to do when we arrive in Portugal, but that will be saved for another post.
Our last destination was one of the larger cities of the trip, and the biggest memory of this city was playing FIFA with my brother prior to my wedding.  The neon pink jerseys were unforgettable.  As always, we arrived in Sevilla in the early morning, with a day to explore the city.  And as always, the start of our day out of a train station.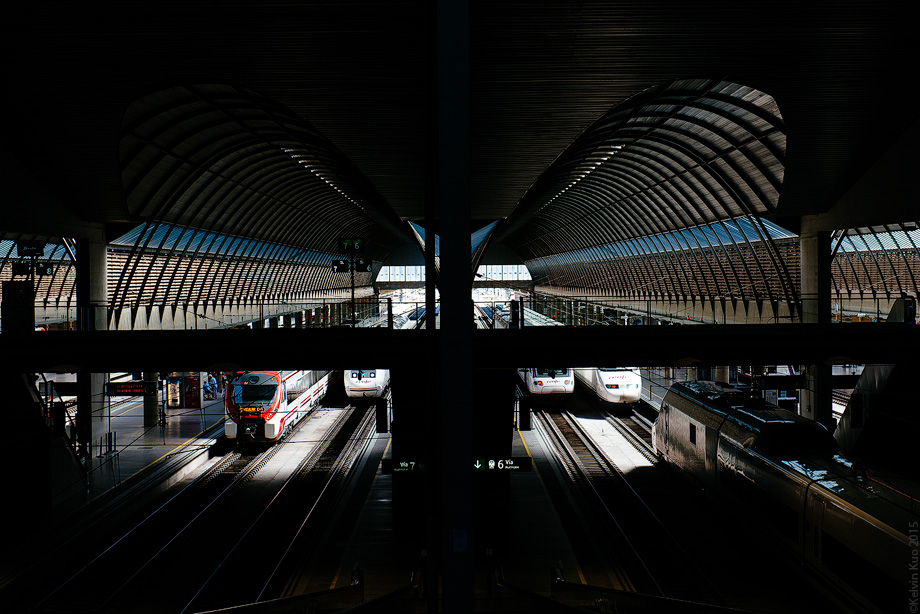 I am not certain this location anymore, I believe it is an open cathedral that we entered, but I will check again on where this was.  The details on the walls and ceiling were incredible, it isn't a surprise why these buildings took so long to build, and also so much money to fund.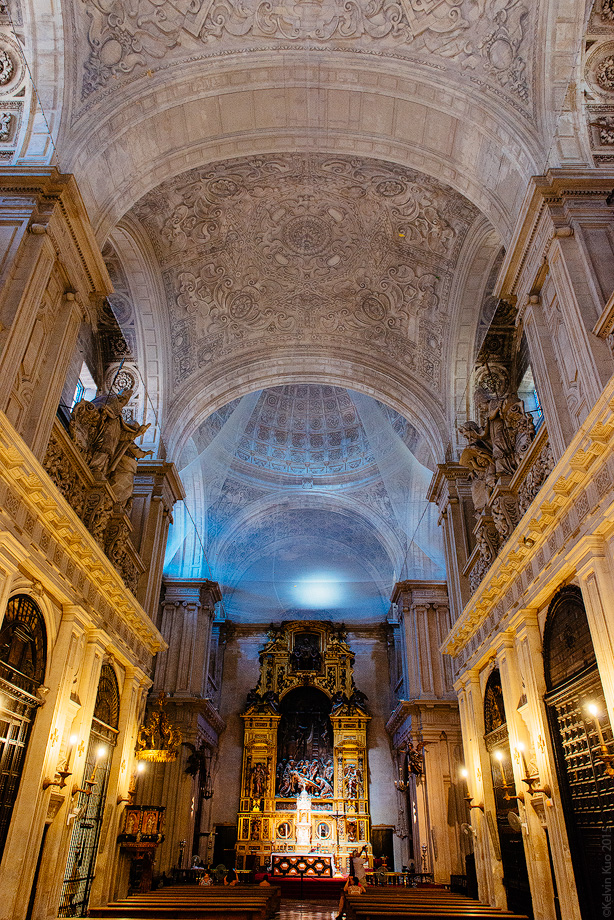 We headed around and ended up going to the large attraction around town, the Catedral de Santa María de la Sede, or the Cathedral of St. Mary.  When we arrived, there were long lines leading out the door to get in.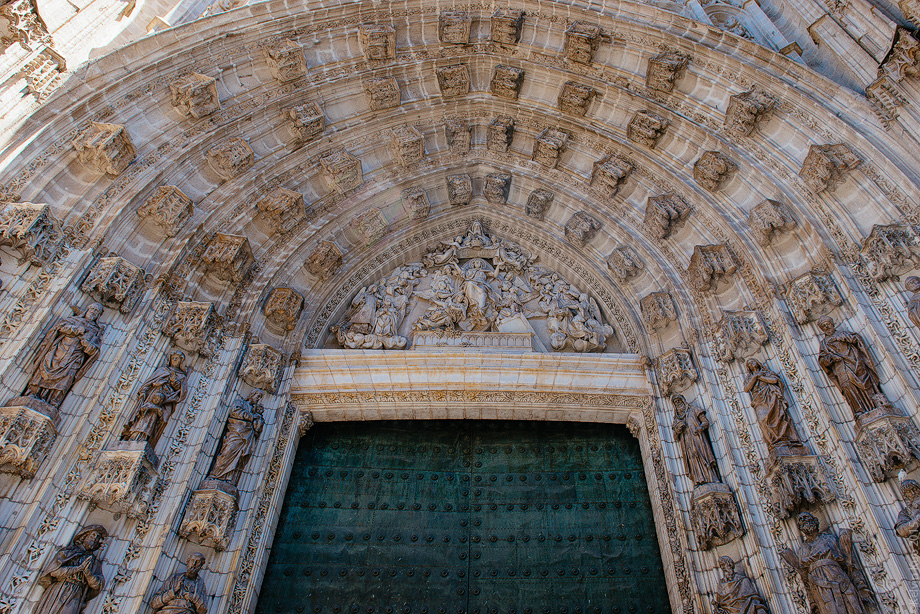 Melody and I were deciding if it was worth it to get in, but I of course was trying to document our trip.  I feel like I am able to both experience it and document, since I feel like my memory fades as I go along with life.  It's unnerving to know that although we experience all these things, we take it granted and feel like we as a society need more.  I am slowly learning to savor each moment, and not go through life and our journeys too quickly.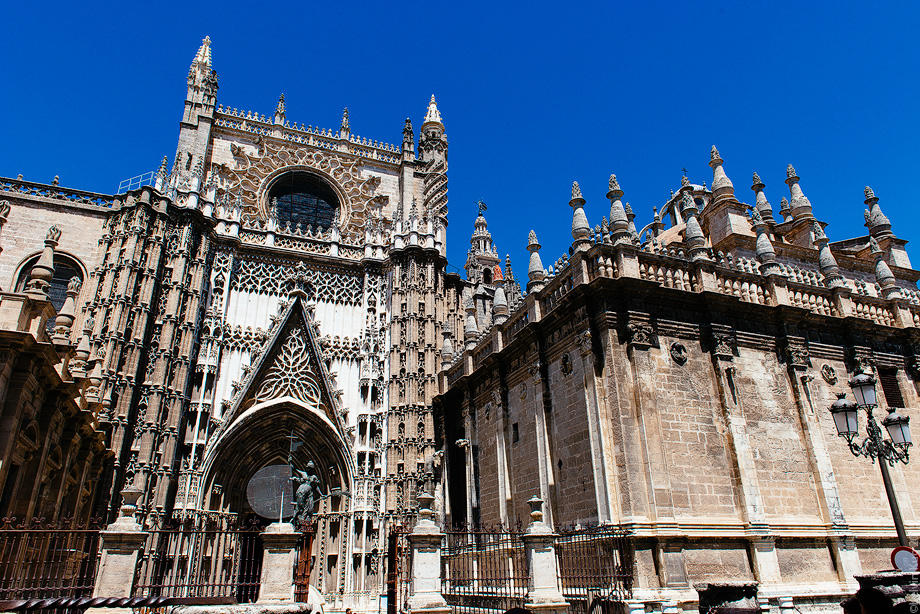 The massive line, in the sweltering summer heat.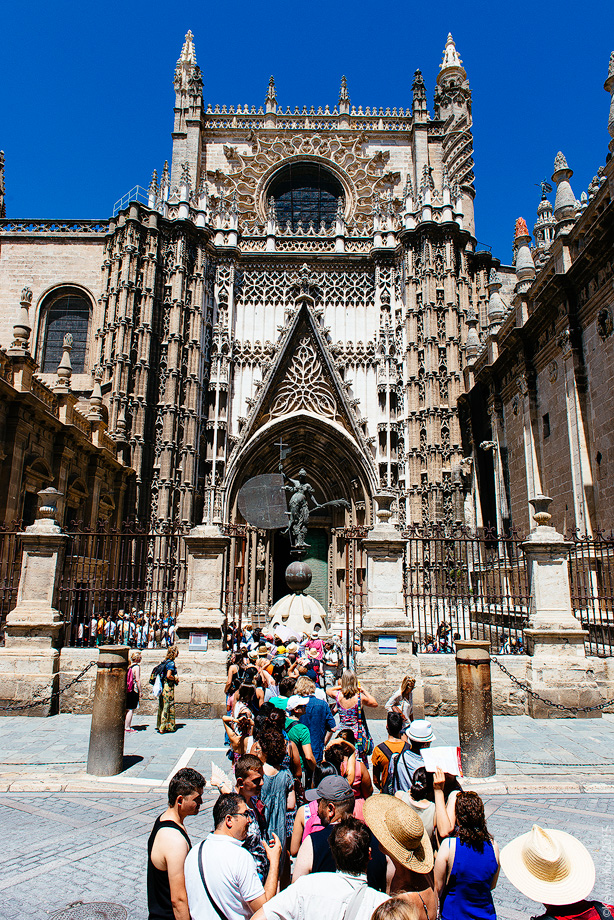 The inside of the cathedral is nothing short of amazing.  The details of each of these European cathedral's and churches is always amazing, and a lot to take in.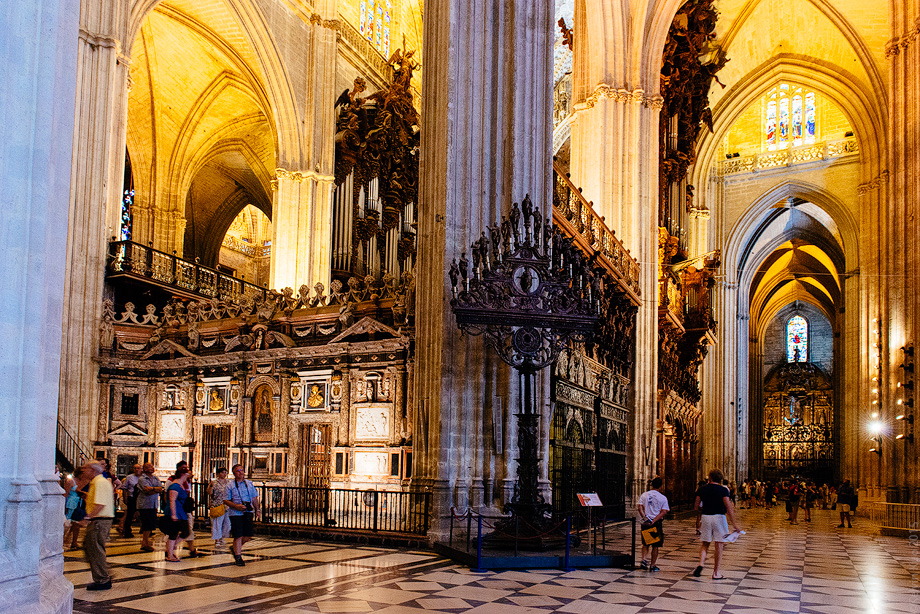 The ceilings and organ were also designed intricately, it seemed like there was nothing to be left out.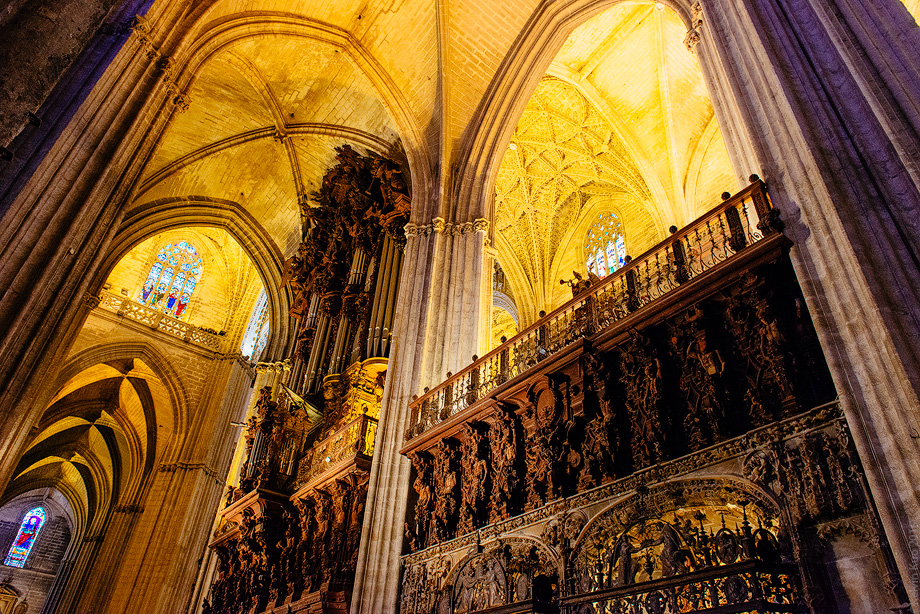 A closer shot of the organ, because of the distortion from my wide angle lens, you can tell how massive this organ really was.  It reached up nearly twenty five feet to kiss the bottoms of the ceilings.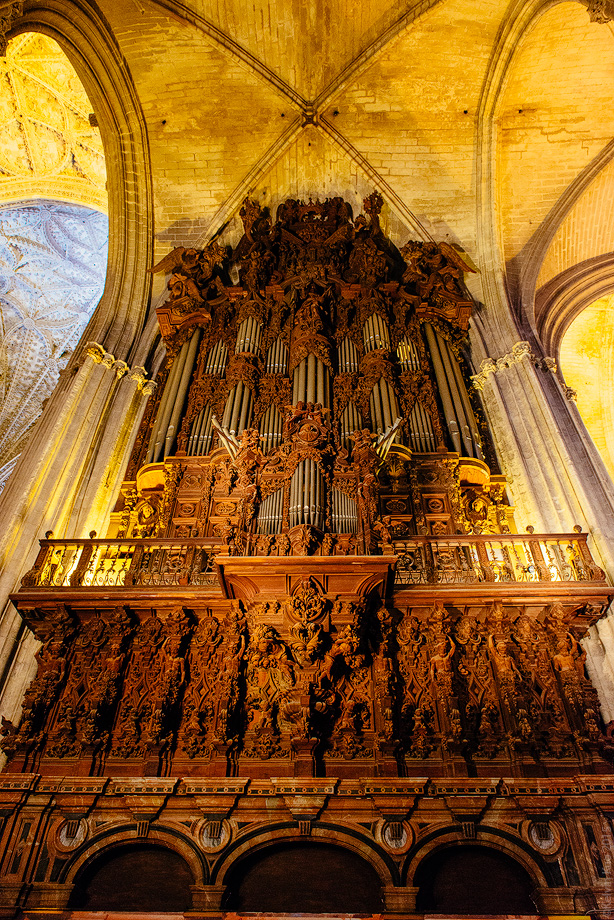 I feel like I do the cathedral a little injustice for not researching the history of this building, but visually, I am able to appreciate all that was put into each and every historic place I visit.  With that, I can hopefully spread some insight on an area that some of us may never really be able to visit.  This is explained by the piece below, which I probably will go read about after this post.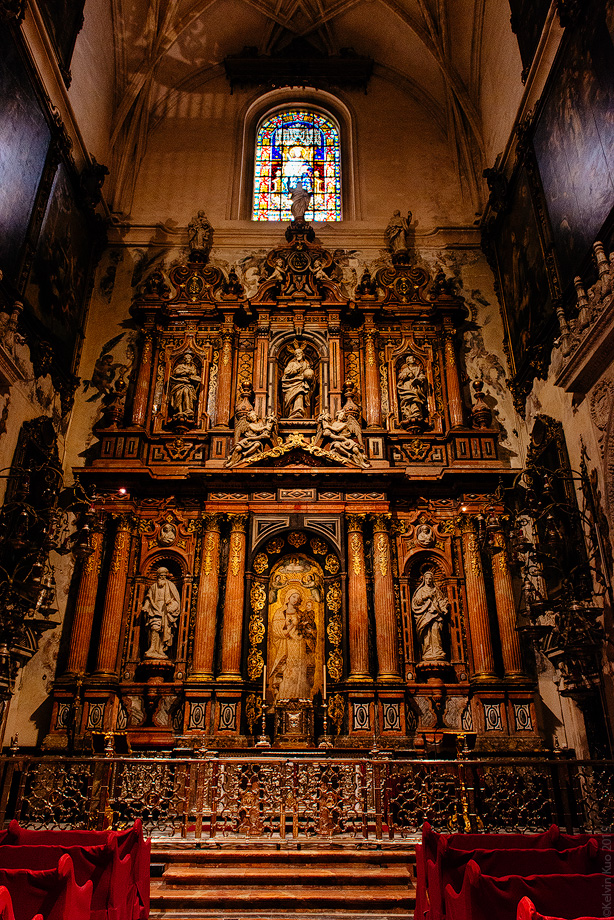 And the detailed ceiling above.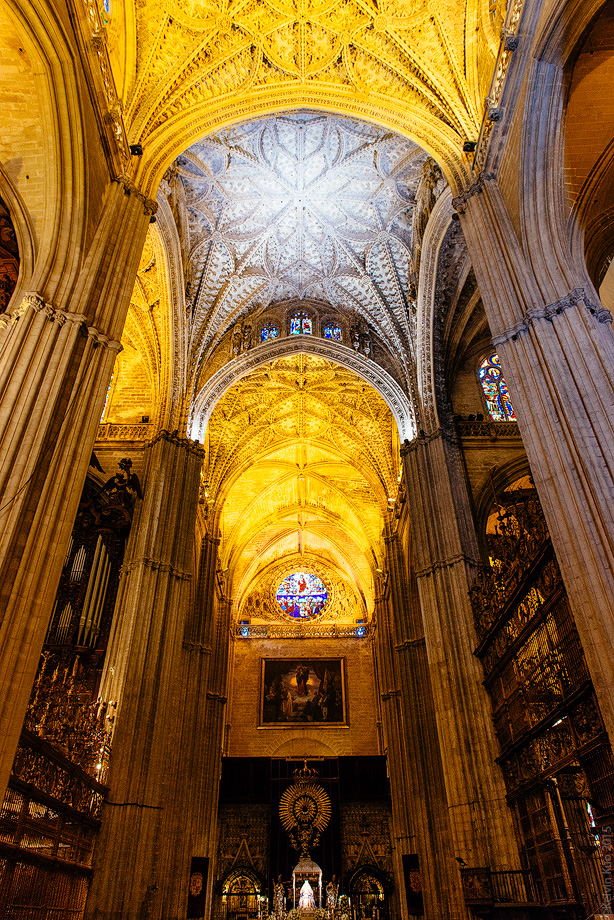 As we passed through he main hall, we also were able to walk through some domed areas inside.  This cathedral was one of the larger ones we would visit on our trip.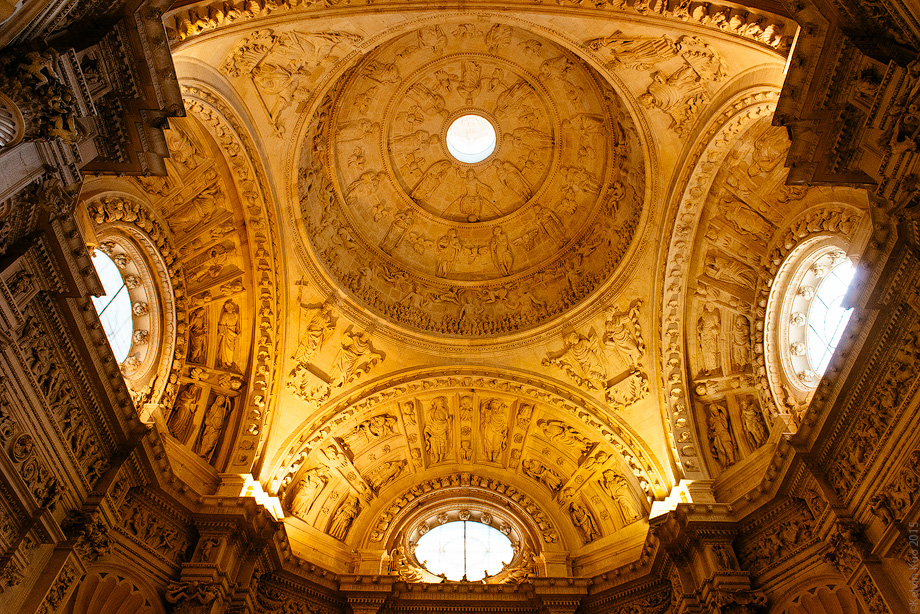 I also found some time to get a photo of Melody with the interesting midday sun.

Some more interesting ceiling shots of the Cathedral.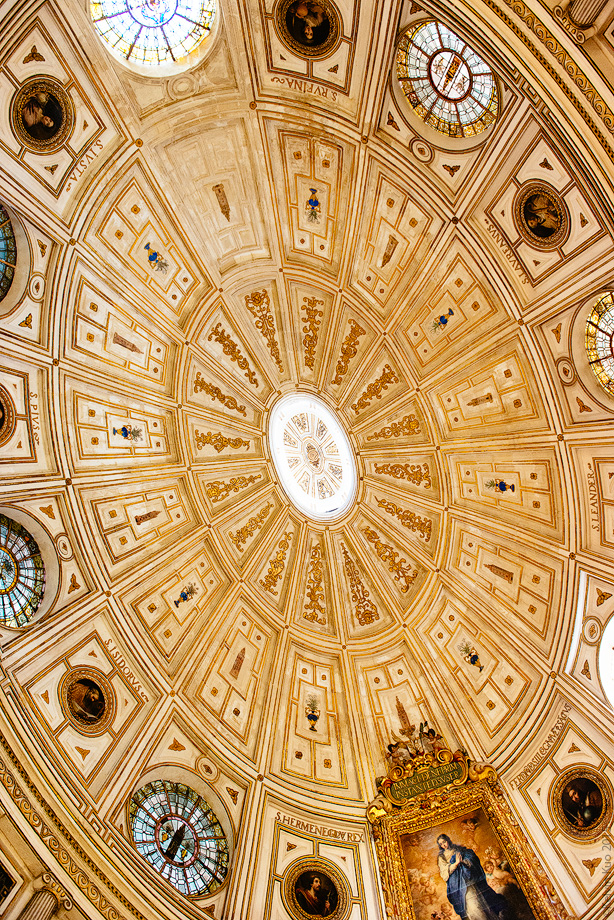 As we explored more of the cathedral, we ended up exploring the bell towers at the top.  This gave us a great view of the whole city, and also gave us a visual on where we should go next.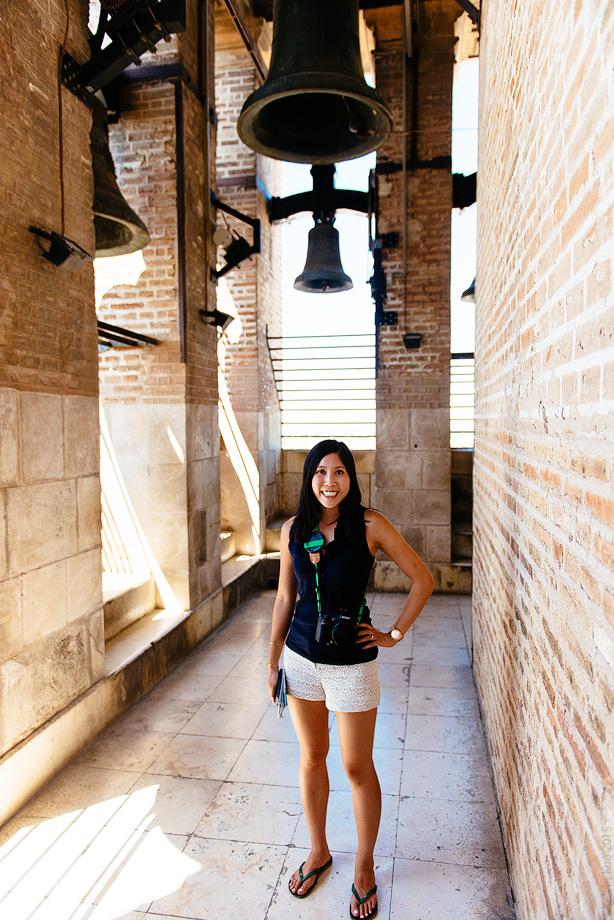 The view from the bell tower.

And the other side.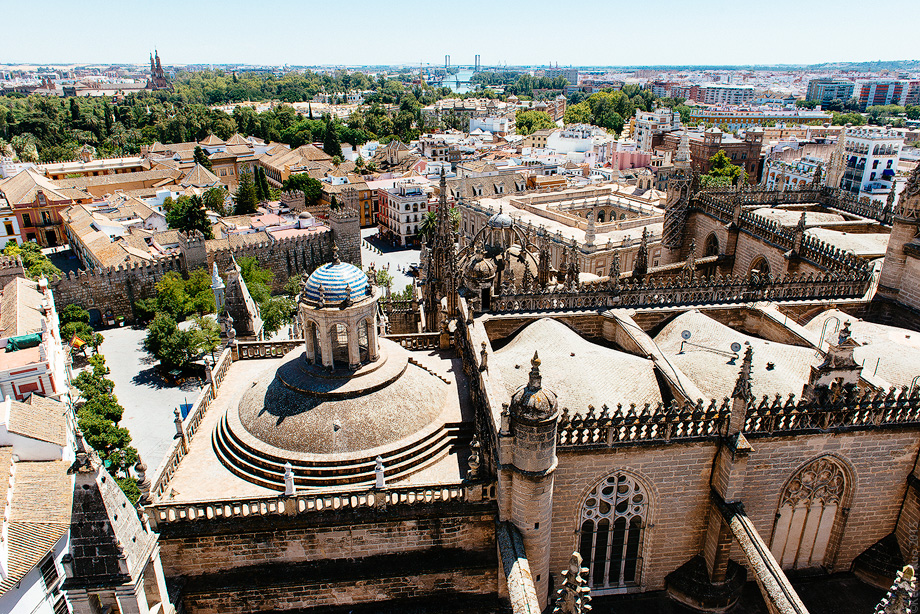 The next place we decided to go was the Real Alcázar de Sevilla, which reminded us what we would have missed at Granada's Alhambra.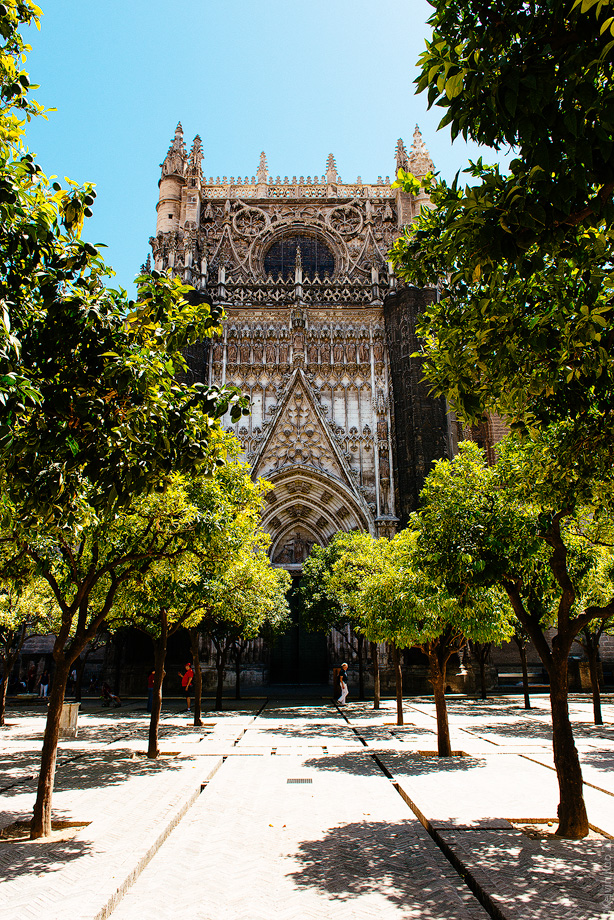 The entrance at Puerta del León, or Lion Gate.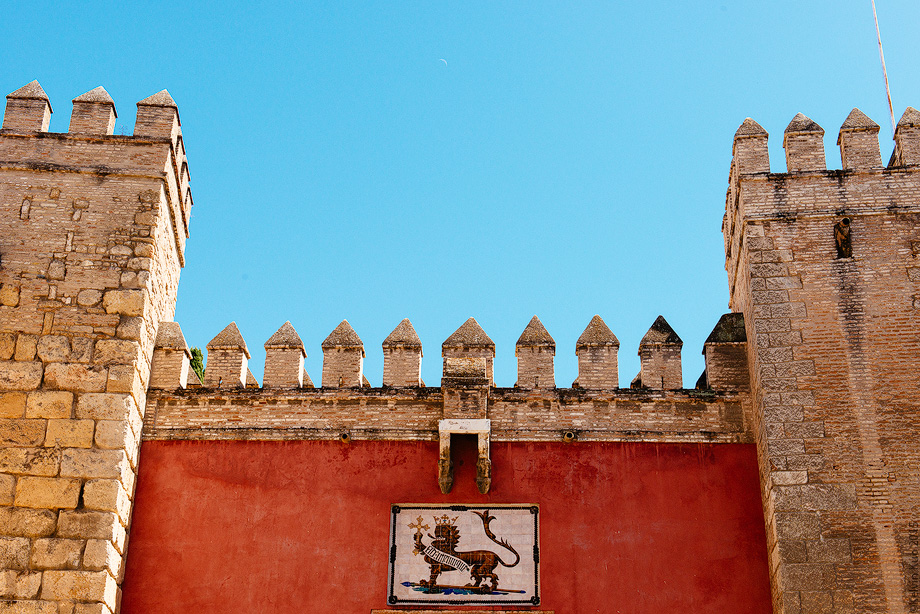 As we headed in, I really didn't know that this would be very similar to the Alhambra, but the modest entrance was interesting.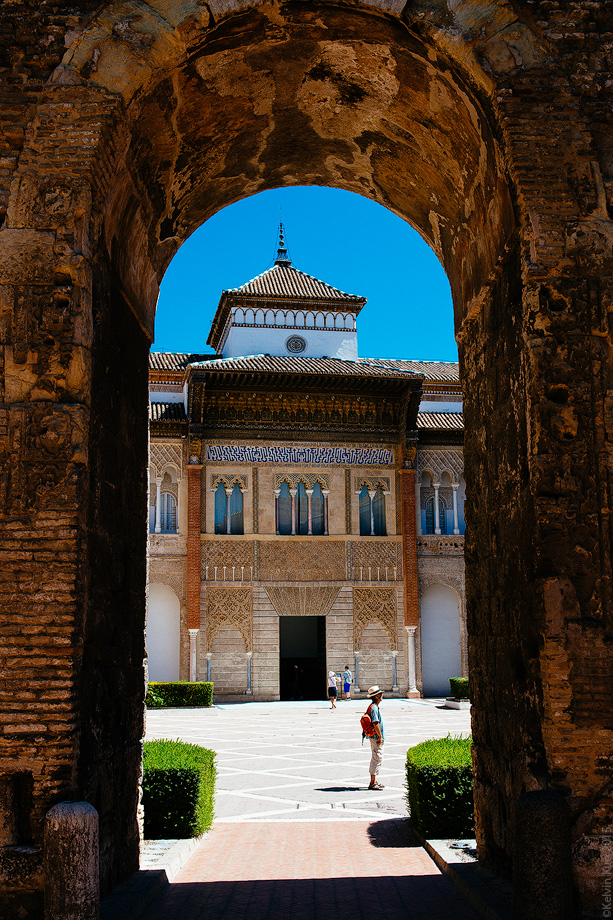 But all the details soon were seen right when we started to walk into the premises.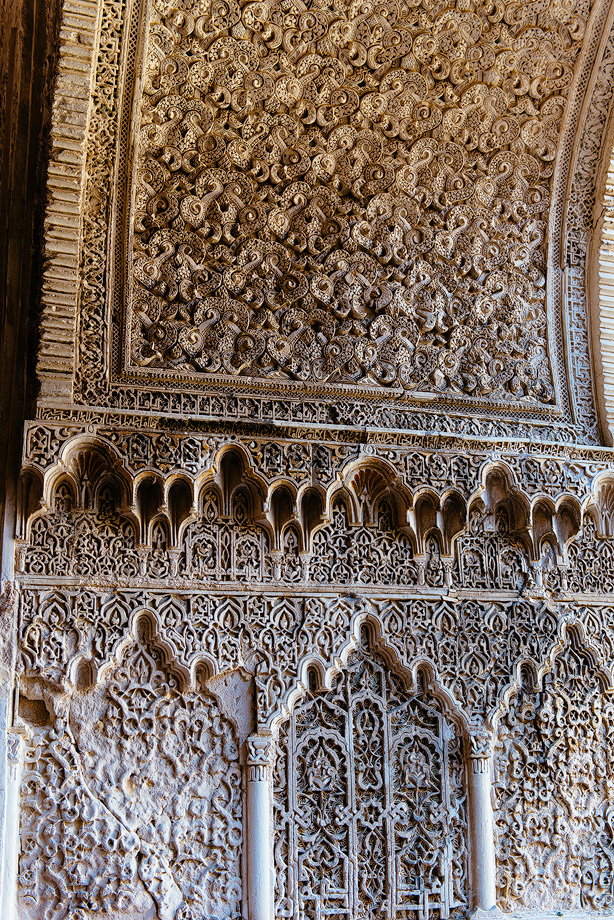 And the similar gothic arches that lined the corridors throughout the Alcazar.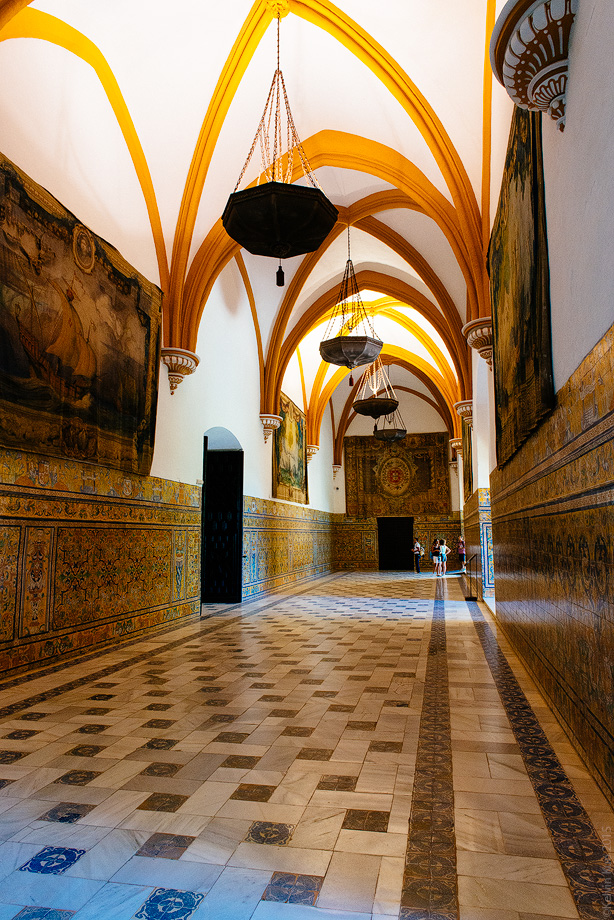 There were also a lot of interesting backdrops to get images of.  I ended up getting a few images of Melody in front of this tile.  The lighting wasn't the greatest, but still something pretty interesting.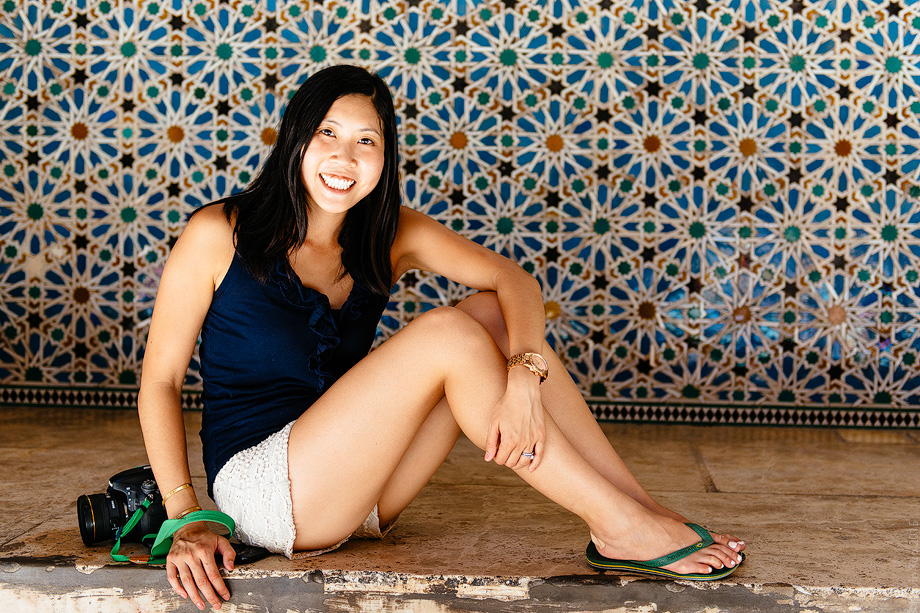 Then we headed to the Courtyard of the Maidens, and the very interesting arches that line the courtyard.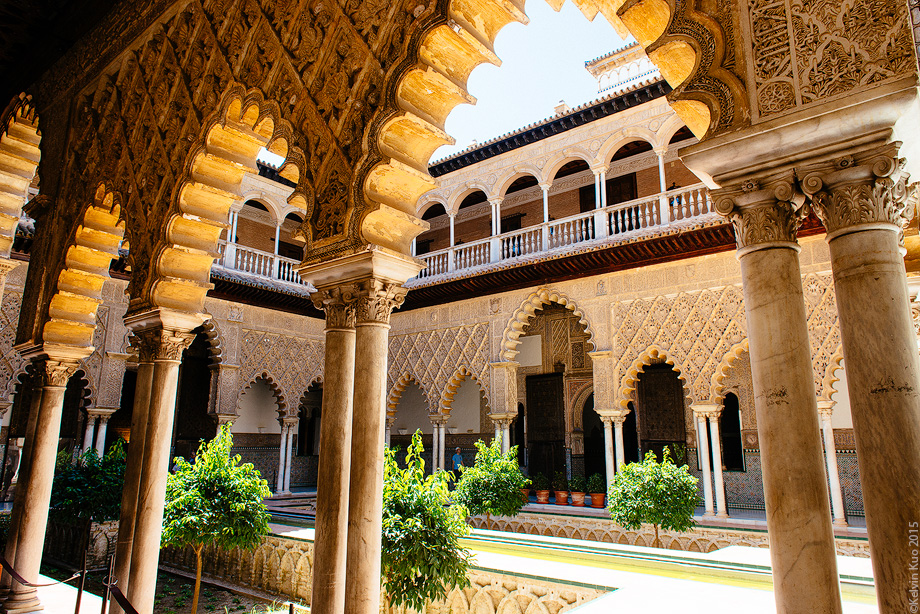 Another view of the courtyard.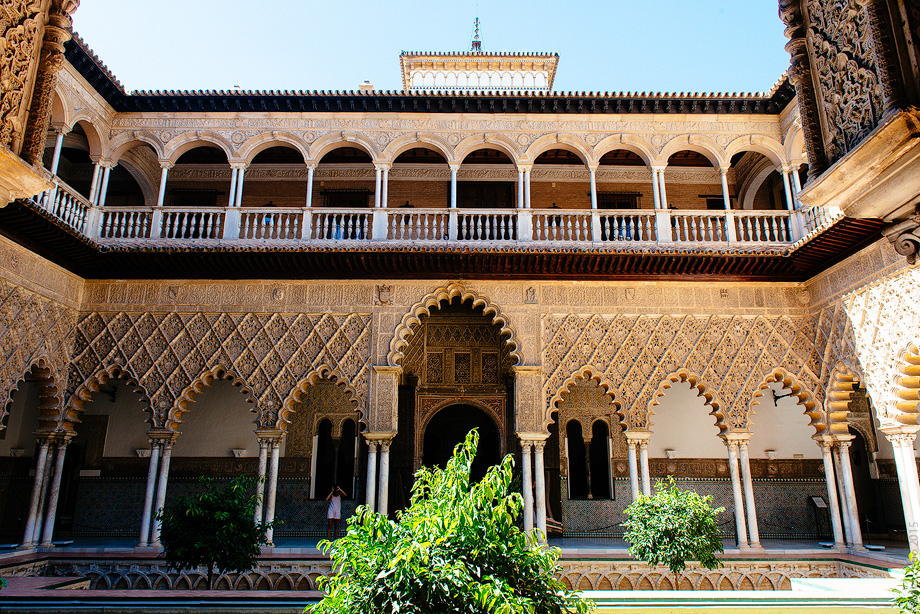 Some more interesting panels with very intricate details of a very geometric design.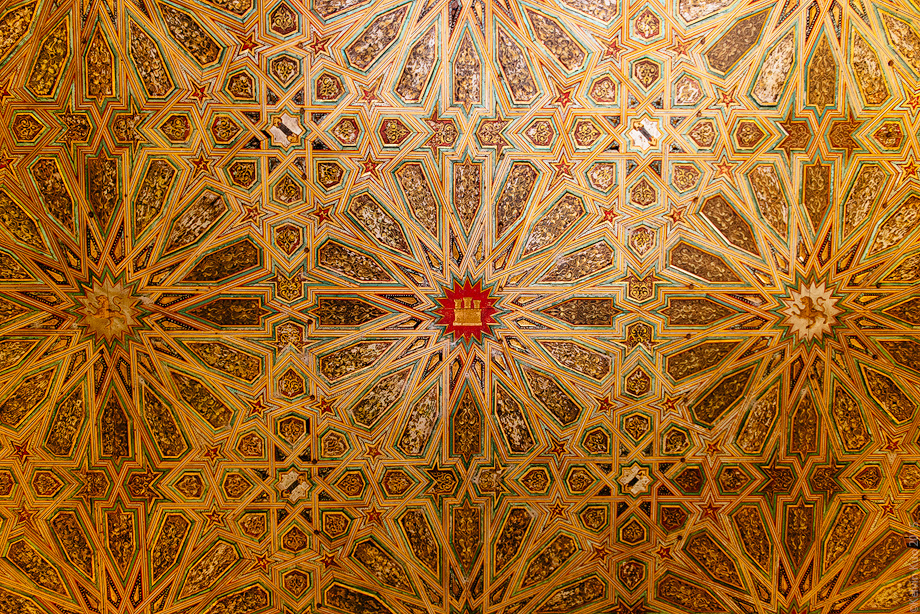 I just loved the arches that lined the areas, and also tried to frame something else to give this images a little more.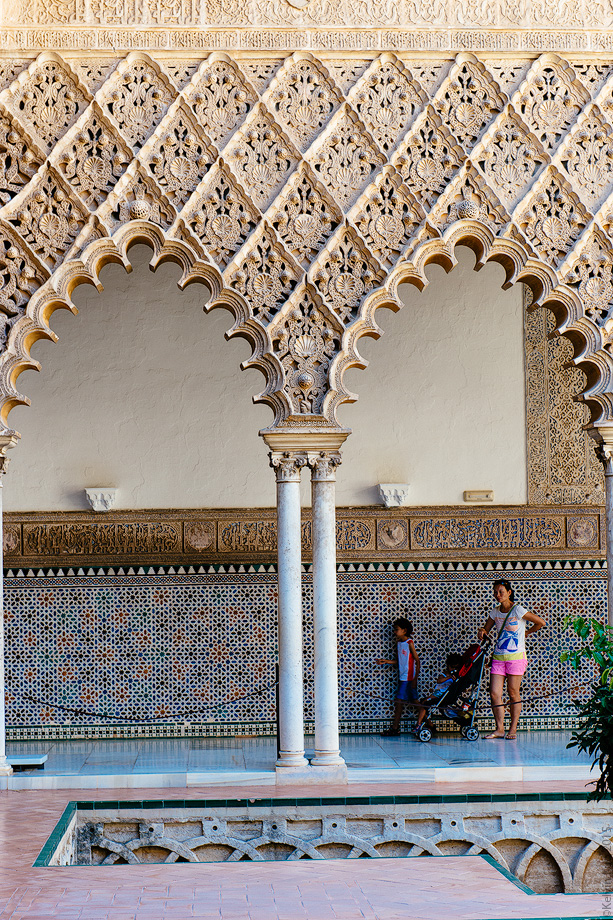 The gaudy designs were everywhere, and definitely a little overwhelming to see.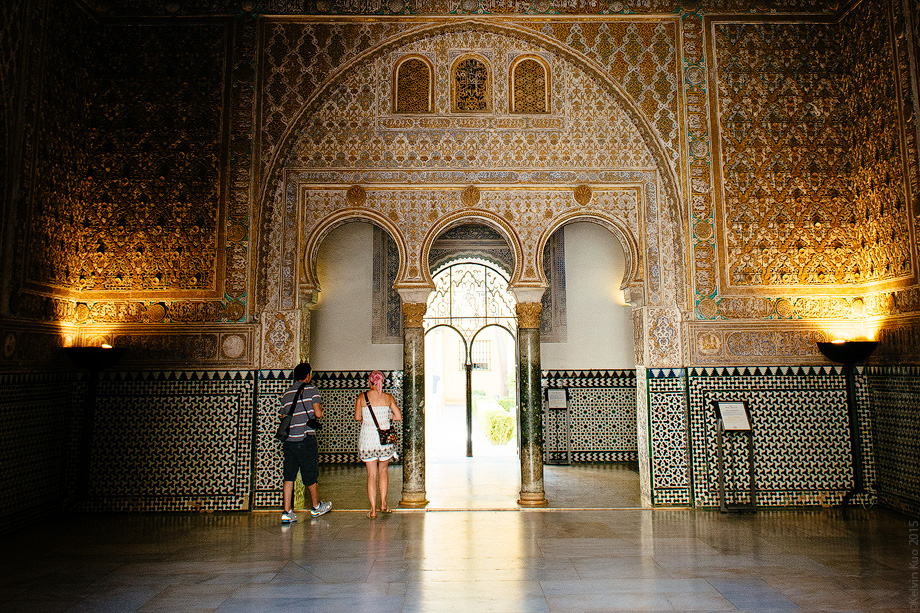 The corners of the room had a interesting 3d effect.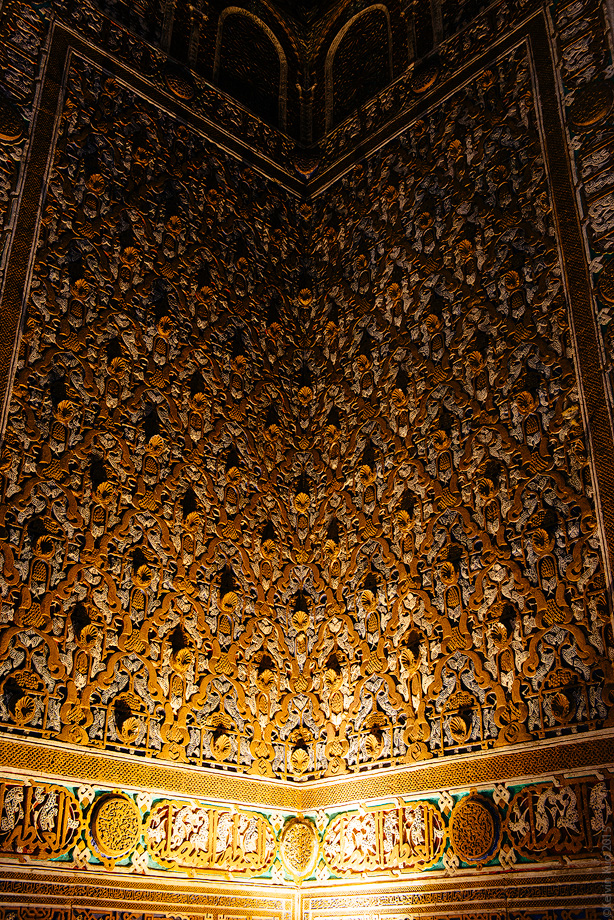 Moorish architecture inside the Alcázar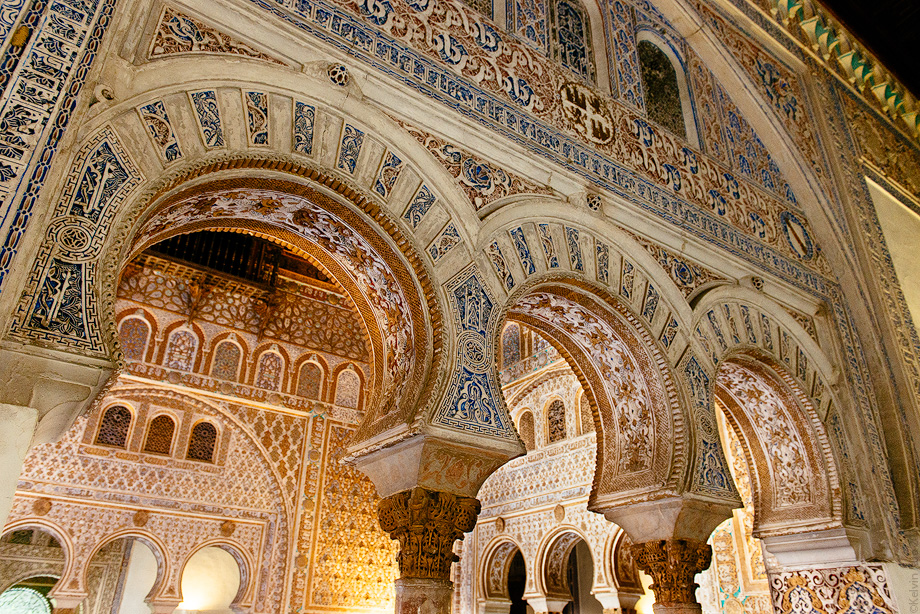 Some more views of the arches leading your way down the Alcazar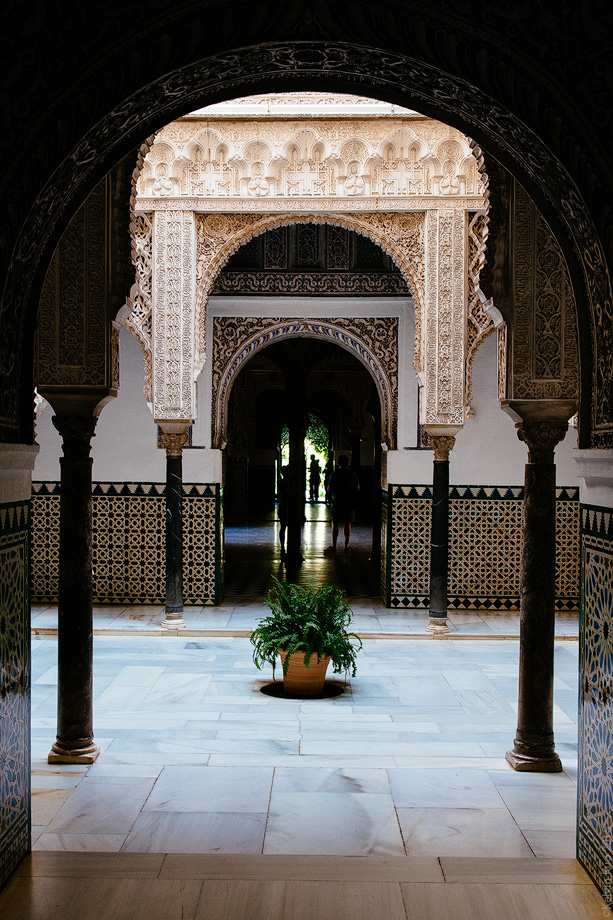 I really wish I could get an opportunity to shoot some of these places on assignment, because if I had the appropriate lighting and not other distractions, we could get a little more out of these images.  But overall, the Alcazar was is definitely a good substitute for the Alhambra that we missed the day before.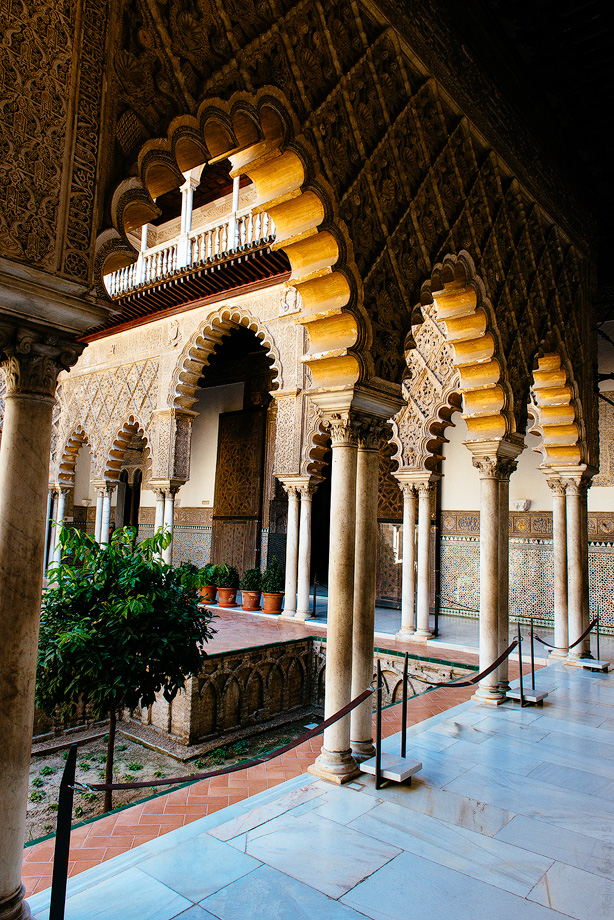 And lastly a tiled stairway up, where I got this shot of Melody.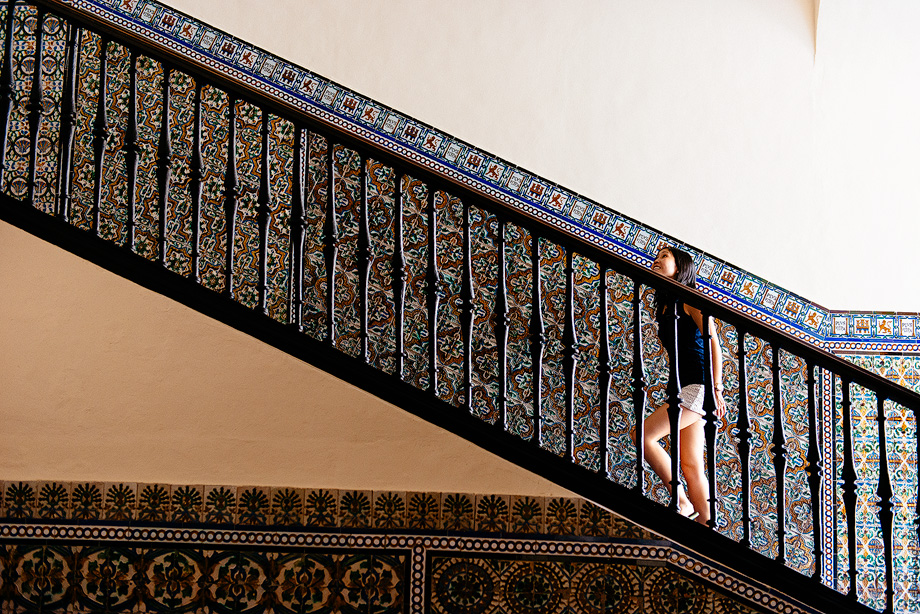 As we left the Cathedral area, I got another view as we headed toward the Plaza de Espana.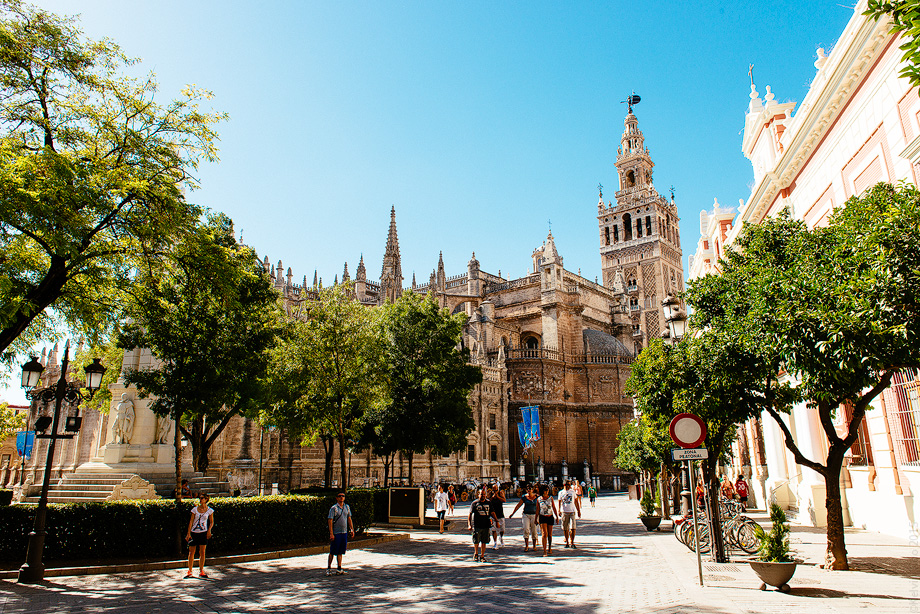 Plaza de España in the Maria Luisa Park is the most iconic part of Sevilla, a beautiful plaza to relax.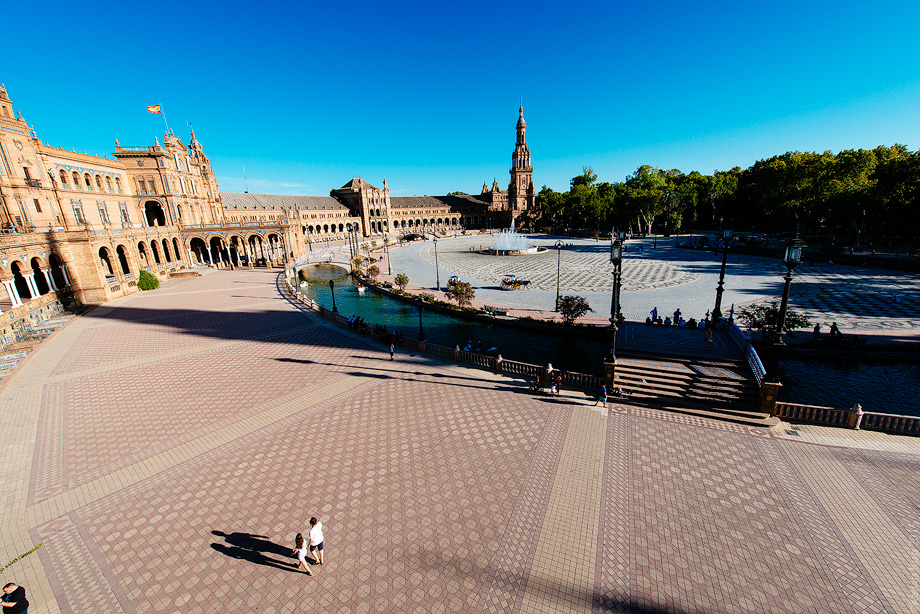 We walked around this area before dinner and did a little shopping as well, for a hat for Melody. But the lighting was perfect, with some longer shadows and a little more interestingness.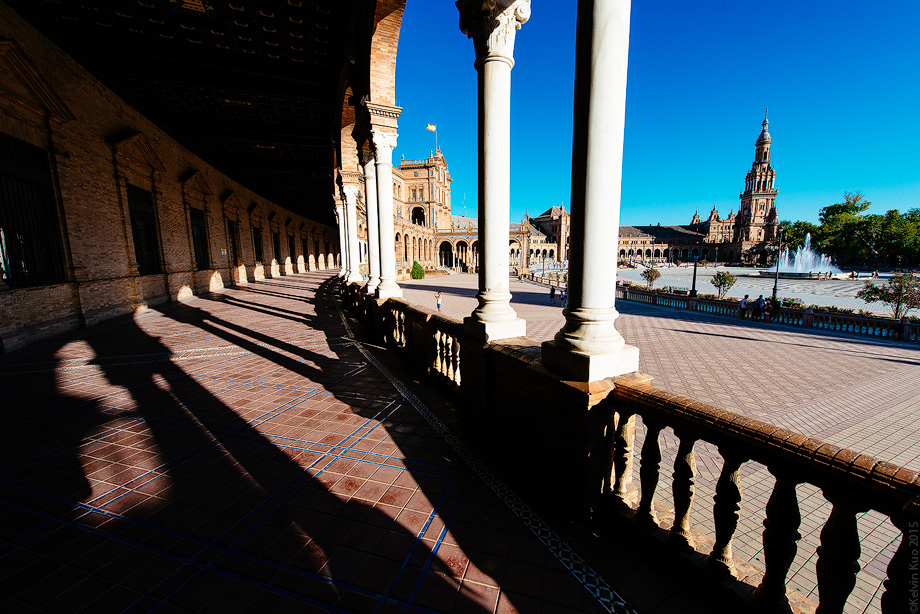 Mel and Kel, Sevilla.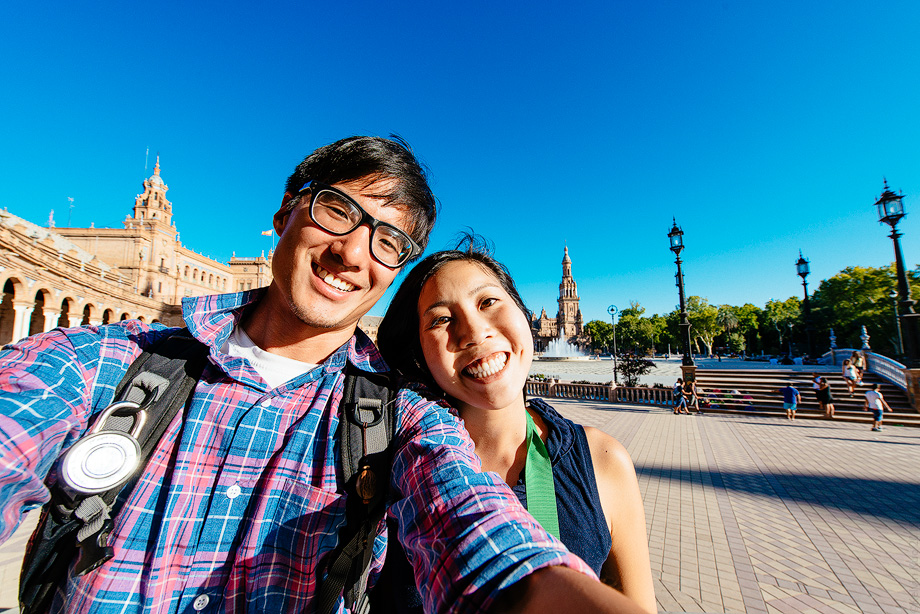 Melody and I ended up almost getting a boat ride around the moat as well, too bad I'm a little too frugal to be that romantic!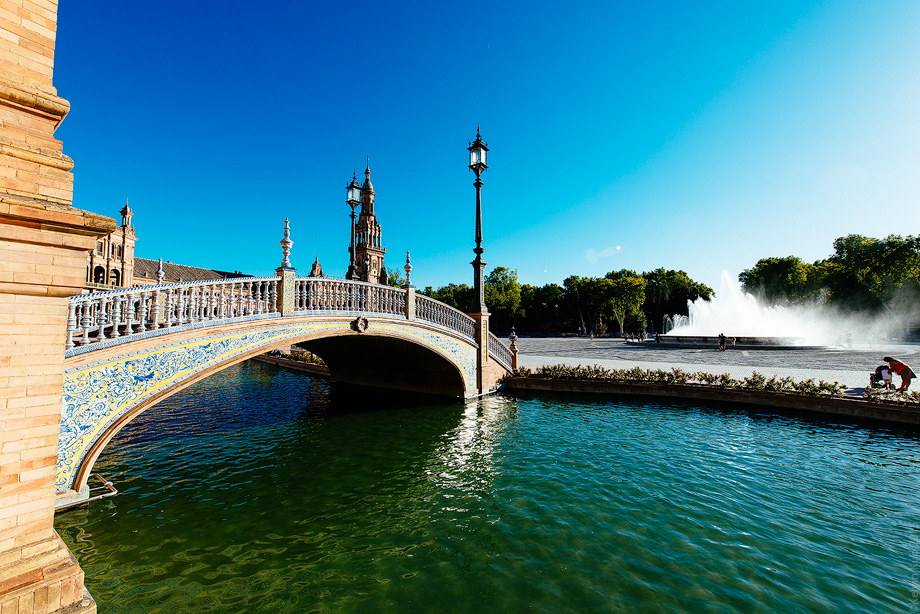 And Melody, posing on the bridge.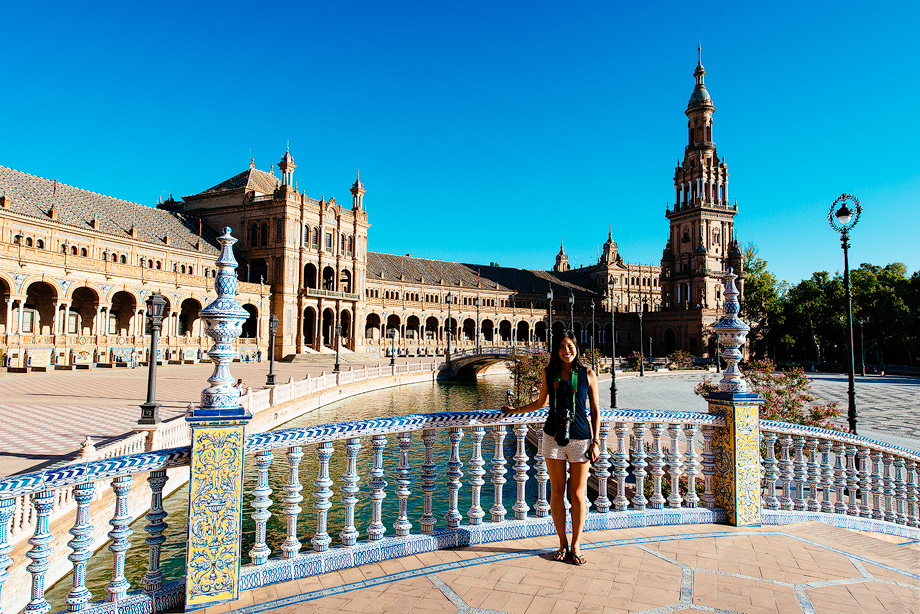 At night, we ended up to go more 20th century and visit the Metropol Parasol.  This structure was the most futuristic in the city, and also an interesting site to see. I ended up getting a few photos around to see what would be the best composition.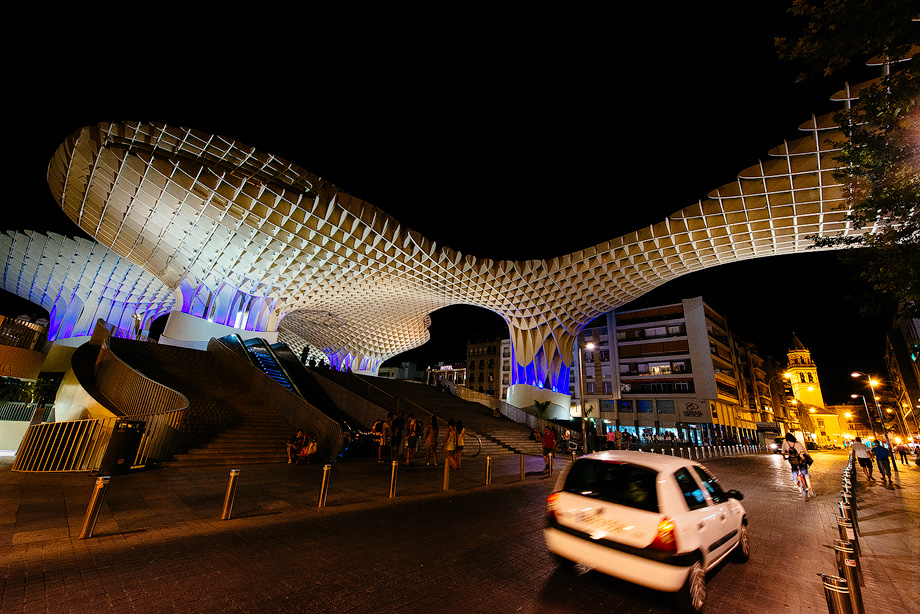 under?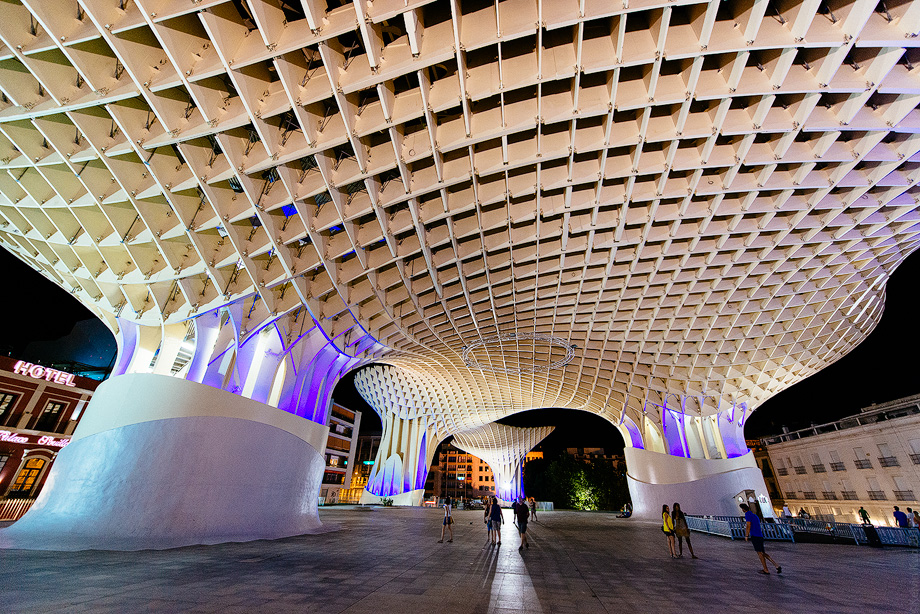 to the side with people?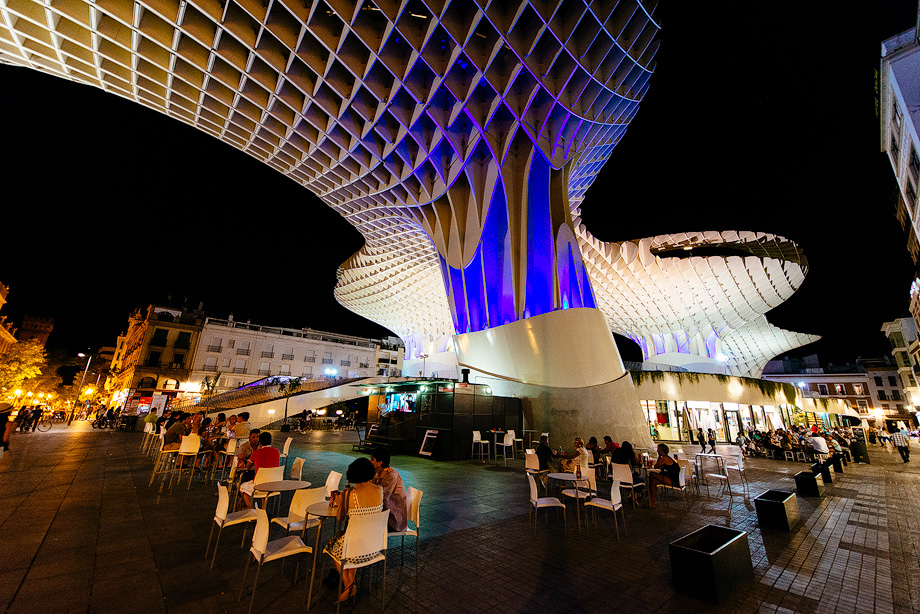 out front?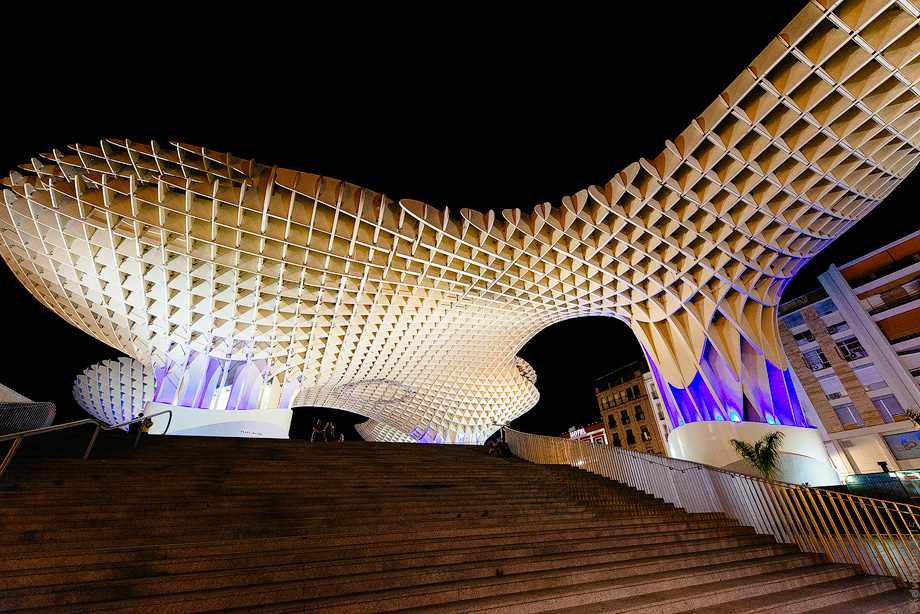 Or at top!  It was cool to see the city from another perspective.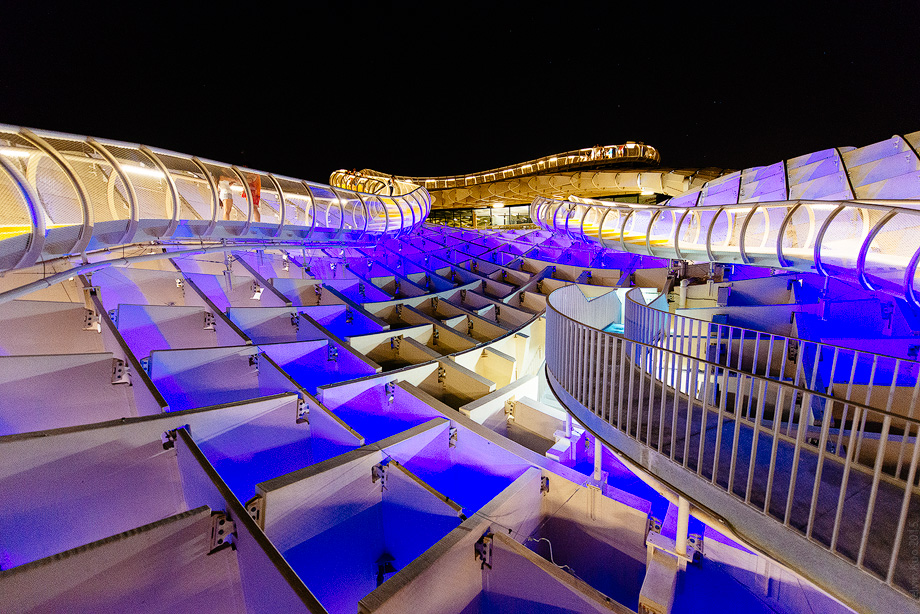 As well as views that accentuated the new and old.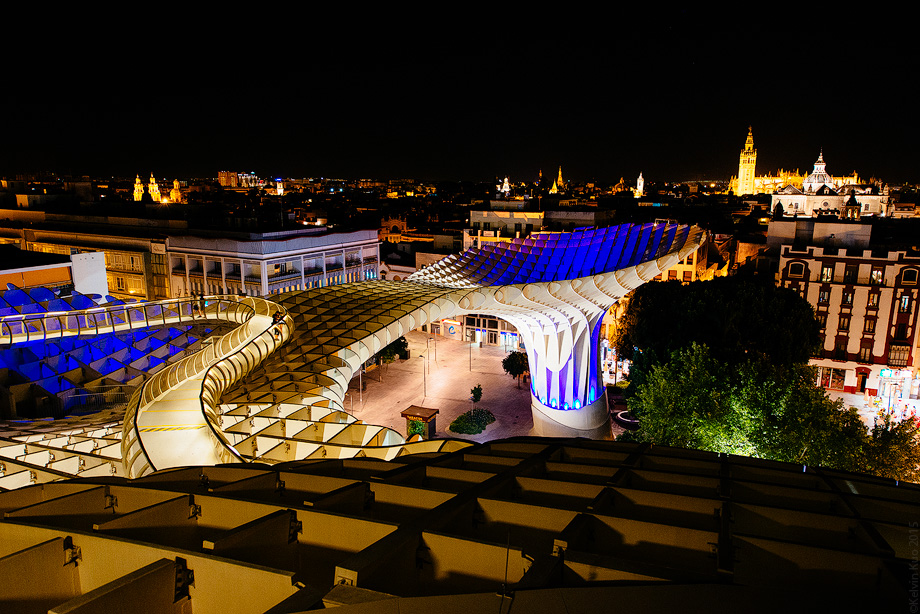 And lastly, St. Mary of the See Cathedral and Giralda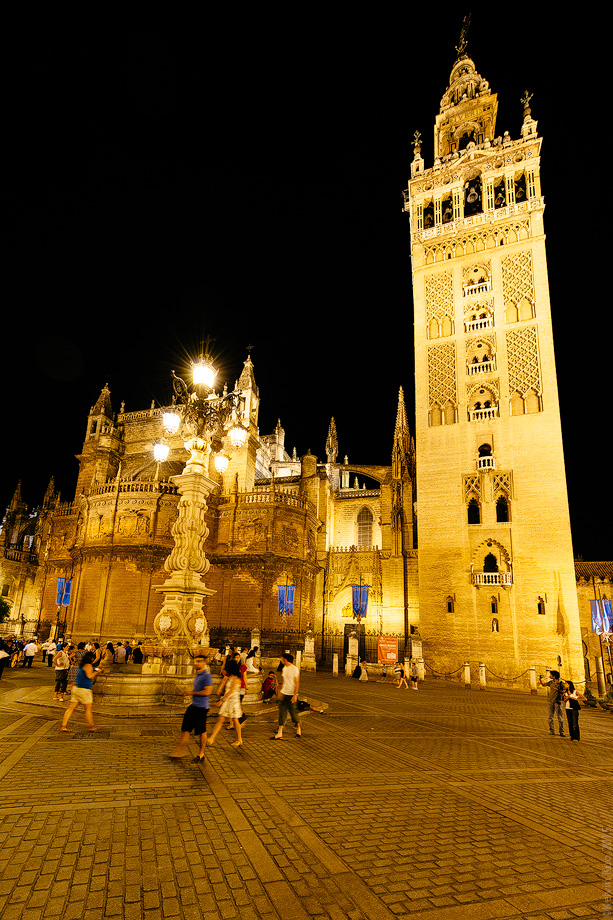 ---
---
You might also like
---