We had our dates mixed up to arrive at Munich, it was most likely due to the loss of time while flying from the west coast of the United States into Europe. We lost an entire day in the process, and this made the logistics of our arrival into Munich a nightmare. I had a colleague that I worked with, a visiting scholar by the name of Tobias, that was waiting to meet us the day before. We thought it was the day that we would be arriving, but didn't realize it until the last minute. So we rushed to Munich from Venice, but there were some weird issues at the border. It was suppose to be a straight shot, and we would have arrived early enough to do some exploring, but instead our train was delayed and later cancelled. We had to figure out what to do, we needed to meet with Tobias that night! And I ended up reading the rail schedule, to find a way that would take us to Munich by 11pm that night. And our friend was still waiting there, for our train to arrive! I was so sorry that we had arrived a day late, I was planning on a day in Munich and a nice hiking trip and night in Neuschwanstein, but instead we were relegated to two nights in Munich.
The first night that we arrived, we ended up touring Munich by night, and by that time everything was closed so we weren't really able to eat or shop around. Instead we planned to meet the next day and do a little tour of Munich again and head to Neuschwanstein by car. Tobias had to get back to lab the following day, and I really did want to hang out more as well. Maybe the next time we are in the area! He drove a few hours just to see us in Bavaria, but also was able to meet some relatives. We headed over to Marienplatz to tour the beautiful square in the middle of Munich and visited Glockenspiel am Rathausturm.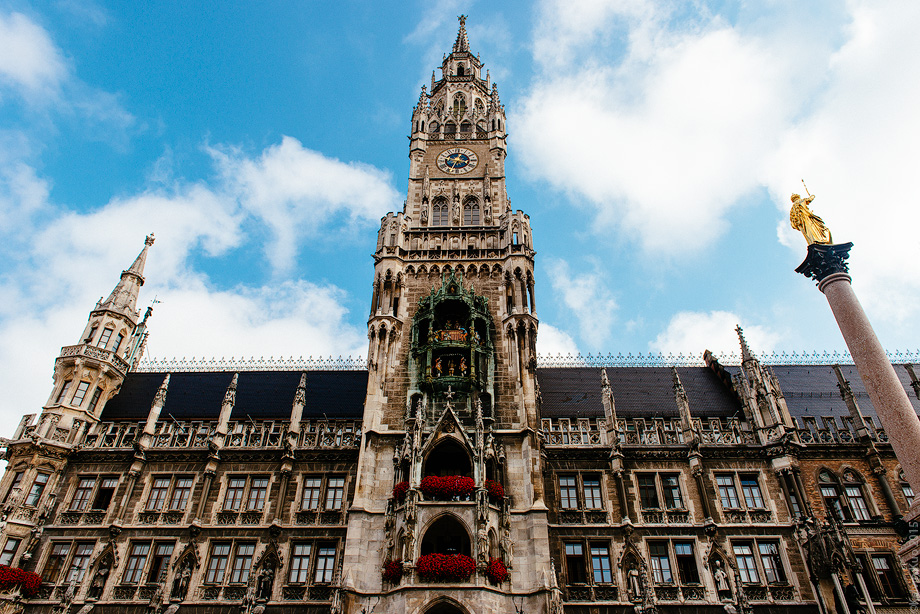 Later we walked around to see a lot more sights that we missed from the night before, trying to maximize our time here.  We stumbled across the farmers market and flea market of Viktualienmarkt.  Here they sold plenty of bottles of wine as well as cheese.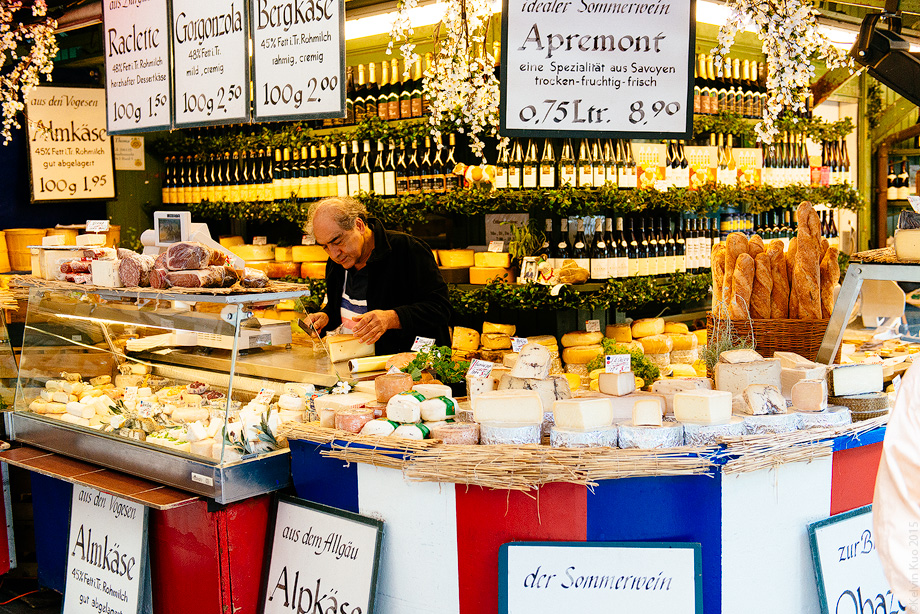 Another vender for jams.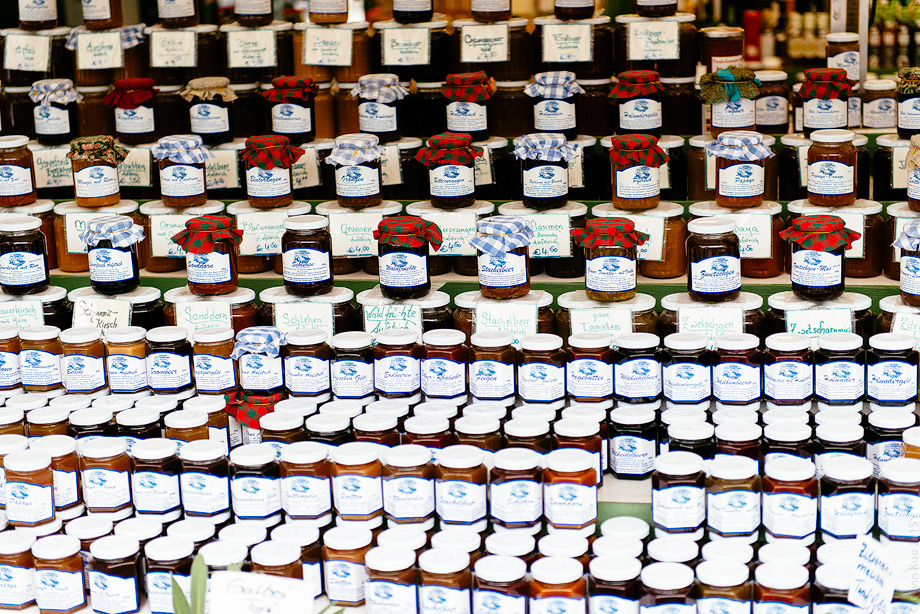 And also another with fresh fruits!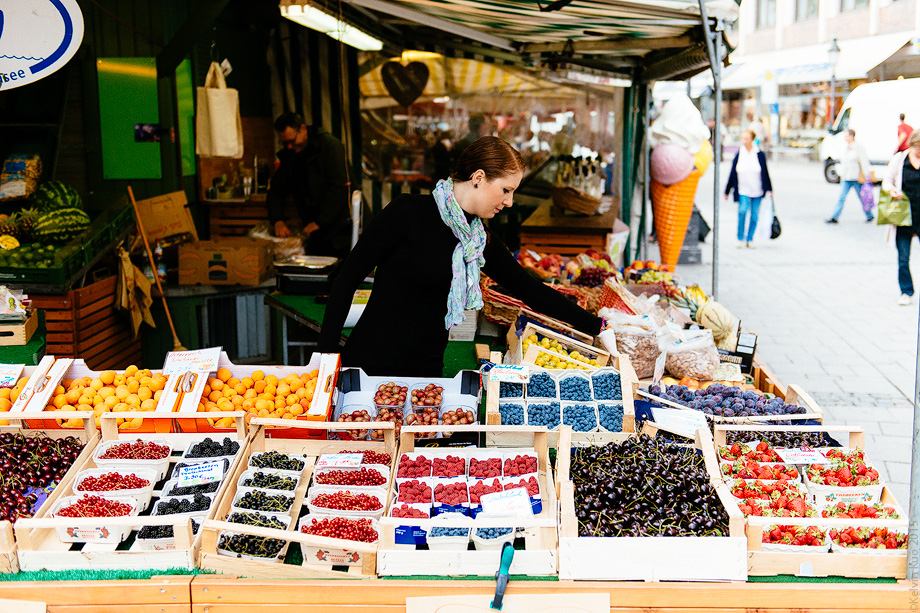 Here are some slowly roasted pork knuckle.  The last time I was here was with my mom and uncle, and we were able to eat these delicious knuckles at the Chinese Tower in the English Garden.  This made us a little hungry for brunch and we headed off to eat.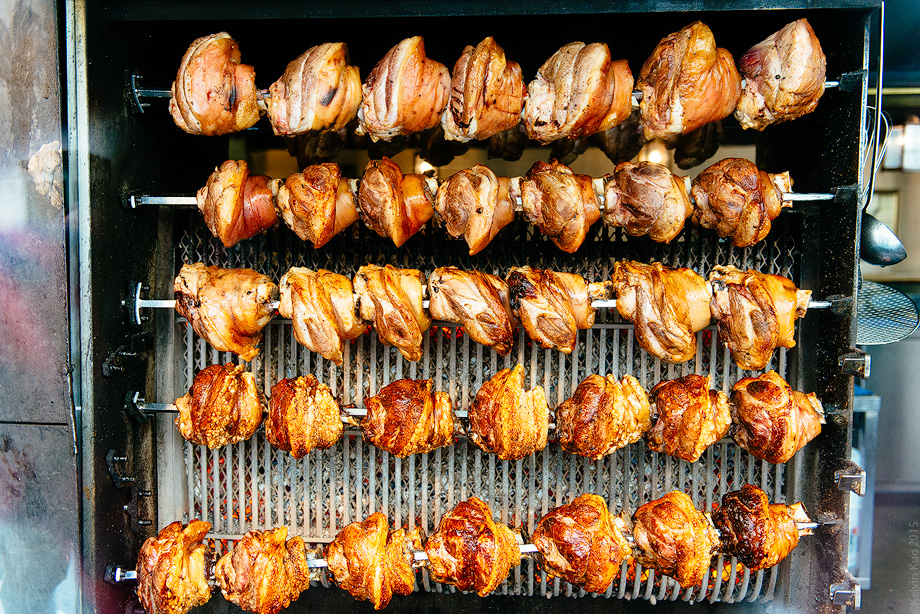 We ended up going to the most iconic places, the Hofbrauhaus Munchen, and it was empty.  Here is Tobias inside, without a single soul.  He told us that traditionally the Bavarians would drink beer for breakfast and eat a traditional breakfast of meats and bread.  We couldn't pass up that offer.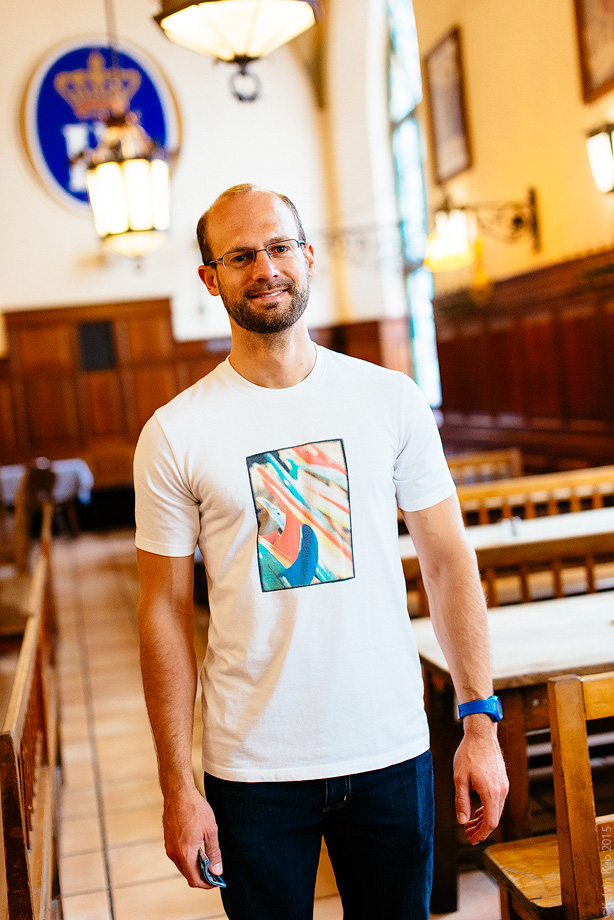 Beers and Breakfast.

We headed over to the Englischer Garten, a large green park in the city of Munich.  It resembles a Central Park in New York.  There is a lot more green space in Europe in general, it usually isn't as crowded unless you are in the large metropolis' of Paris, London, or Madrid-even though London has a similar park space as well.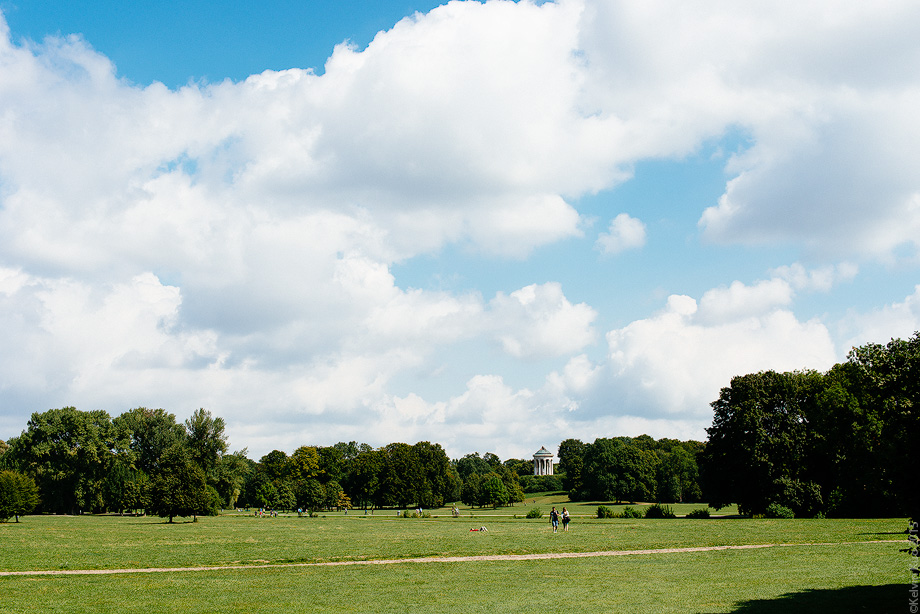 As we walked along, we headed to watch some surfers ride some waves at the local watering hole.  An interesting formation and site to see in Europe.  But Tobias' favorite activity while he was visiting California was surfing, so we had to stop and admire.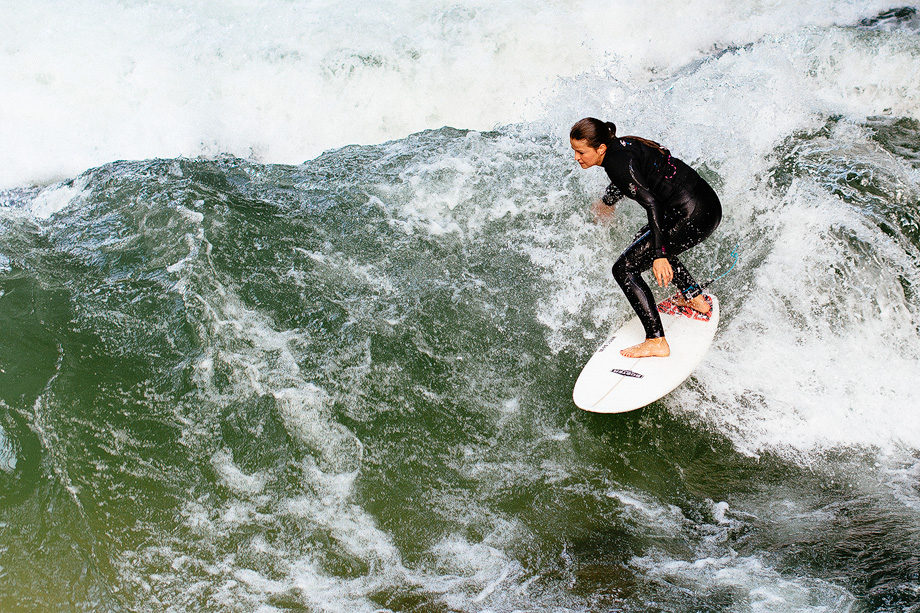 The surfers ended up taking turns, and we ended up watching a few people ride.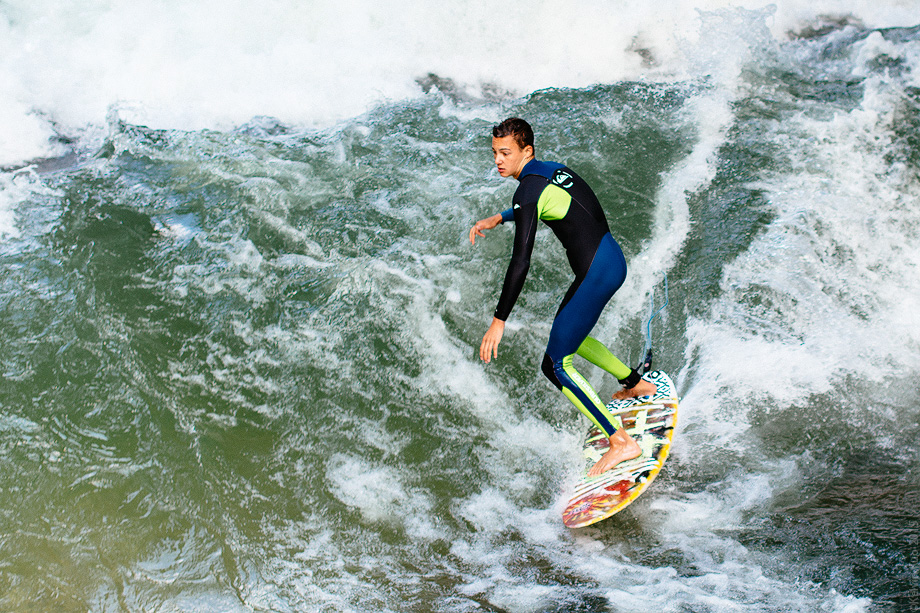 And took Melody to the Chinesischer Turm, just to bring back memories of the past.  I was asking to see if anyone else wanted to get a beer.  I ultimately wanted to get Melody a liter of beer but that never ended up happening.  We would always put it off and say later.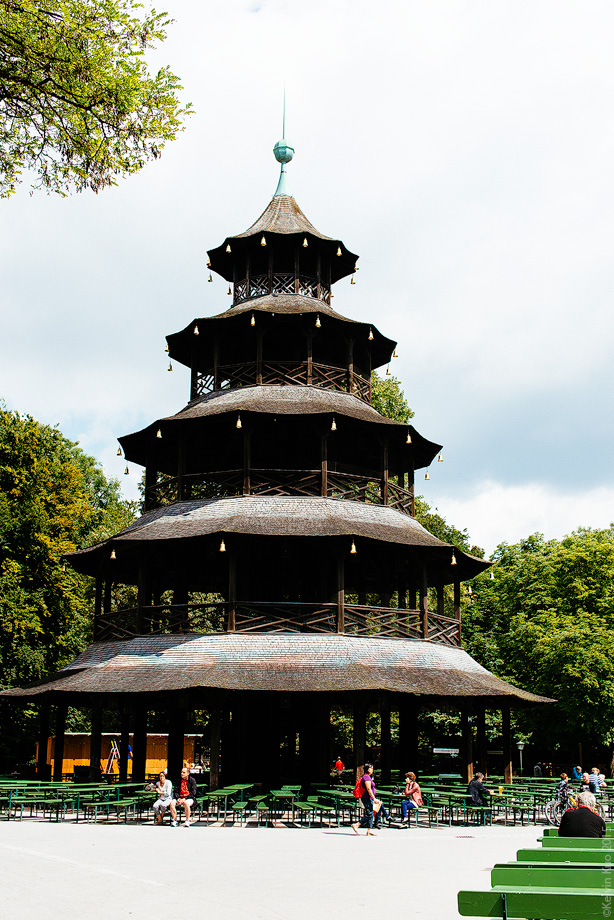 So after that, we ended up leaving Munich and headed on a 2 hour car ride to Neuschwanstein.  This castle is the inspiration for Disney's castle in the United States, and it was quite a site to see.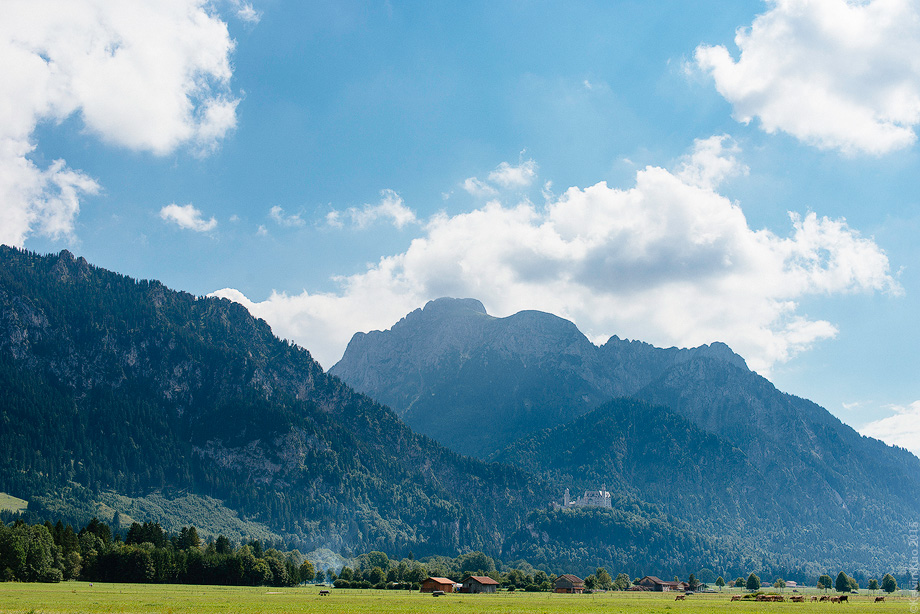 We ended up parking on the street and opted to take the trails up to the castle, here we see the signs leading up.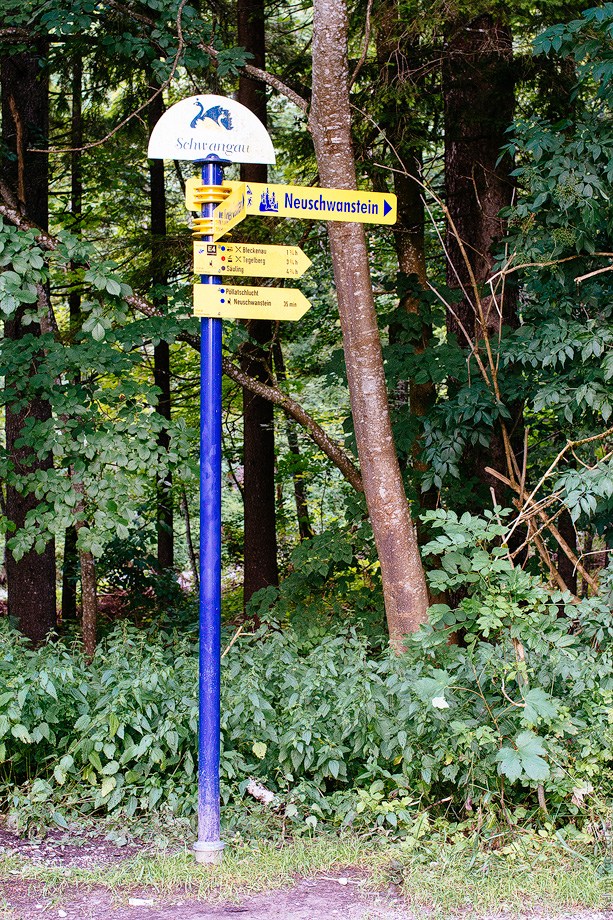 And the terrain we ended up hiking up, which was along a babbling brook.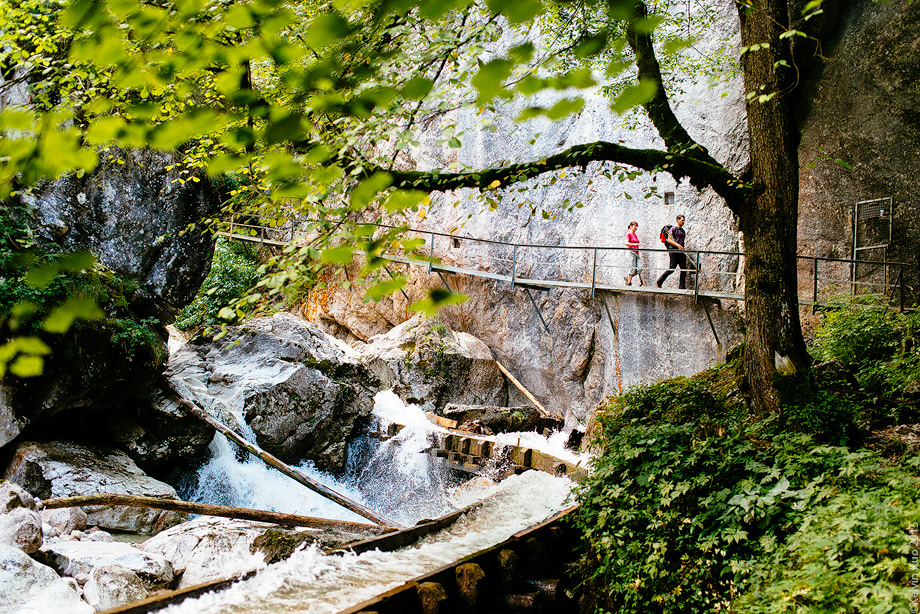 A bridge acted as a walkway on top of the river.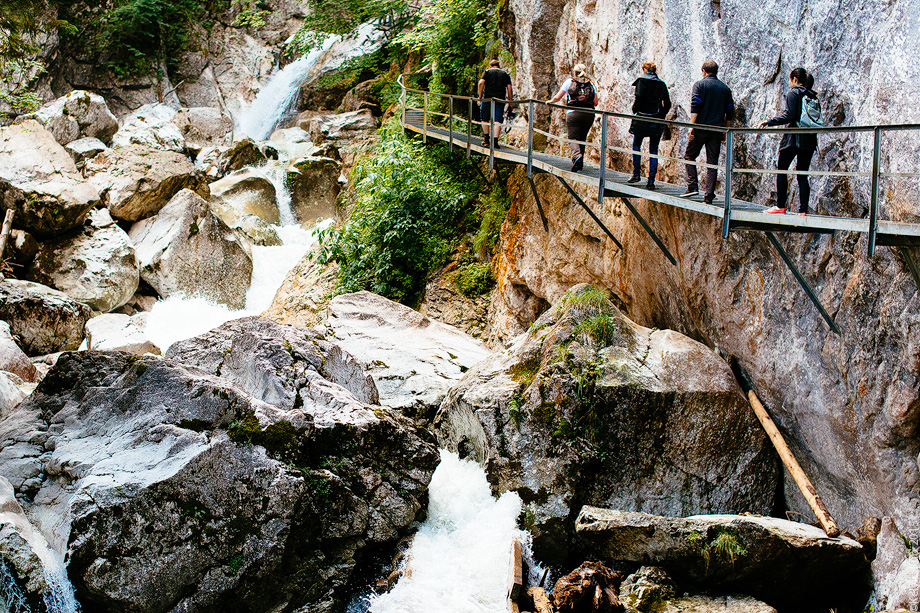 Melody atop the bridge.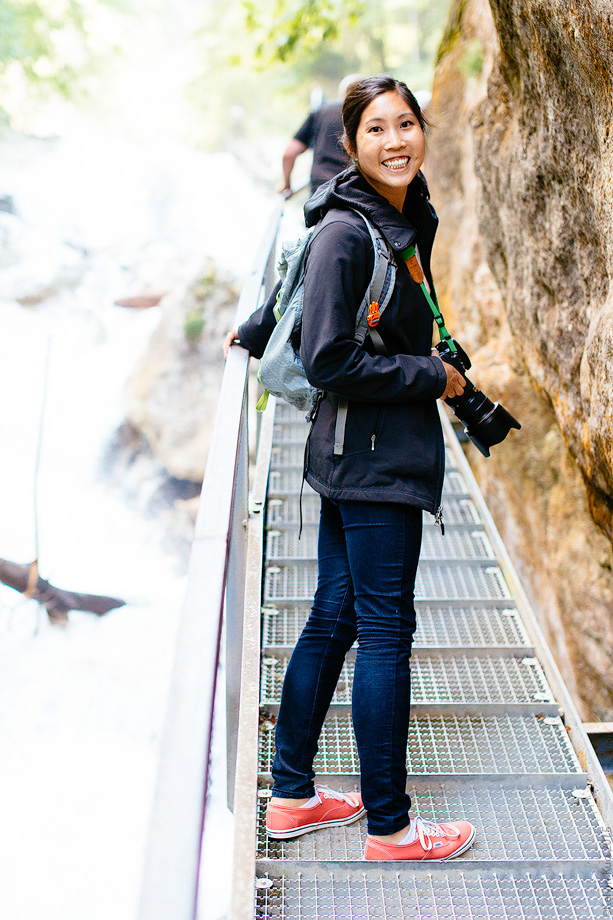 And some more of the hike, with a lot of other people there as well.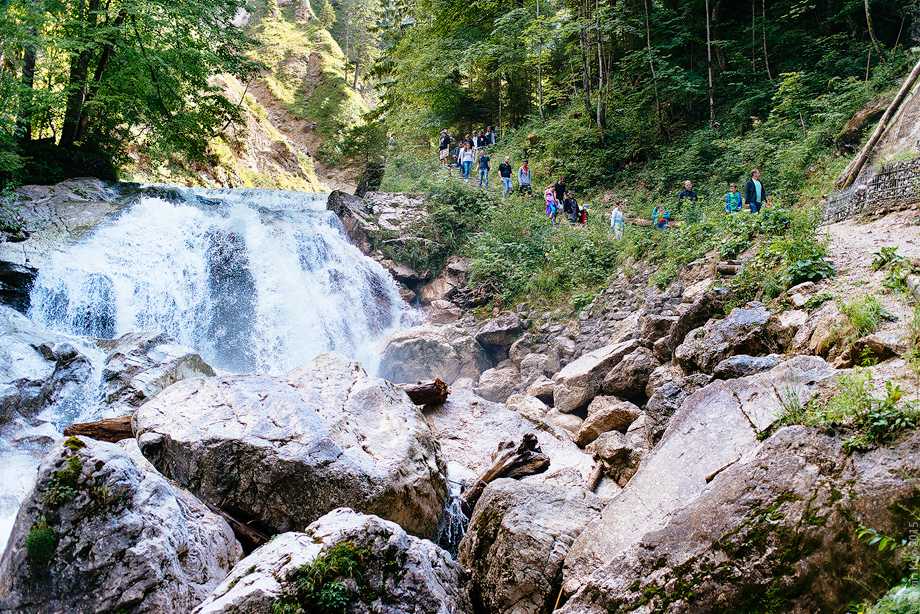 There are usually piled up rocks along various hiking trails in the states, just to notify you that you are on course.  But there was a beach littered with them here.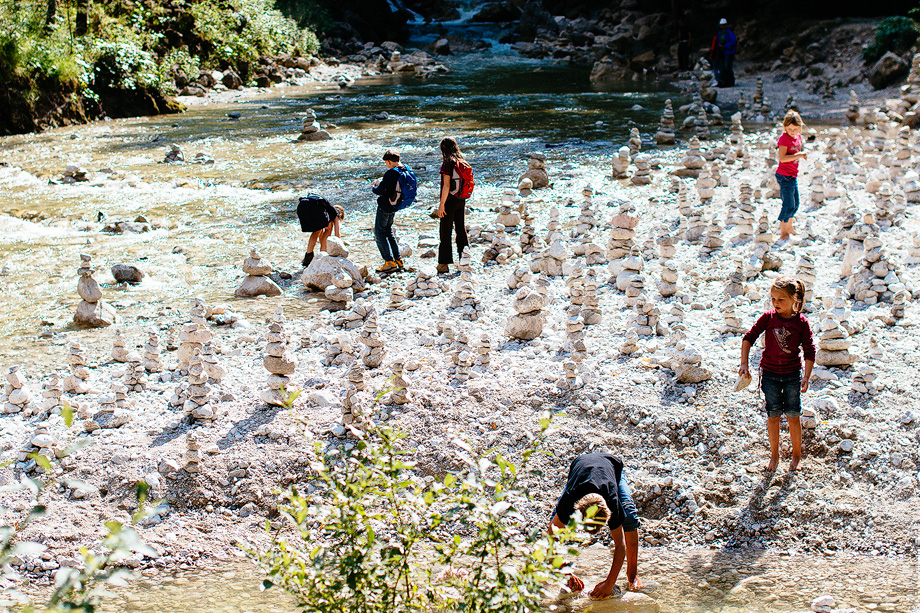 The bridge above, with a view of the castle from afar.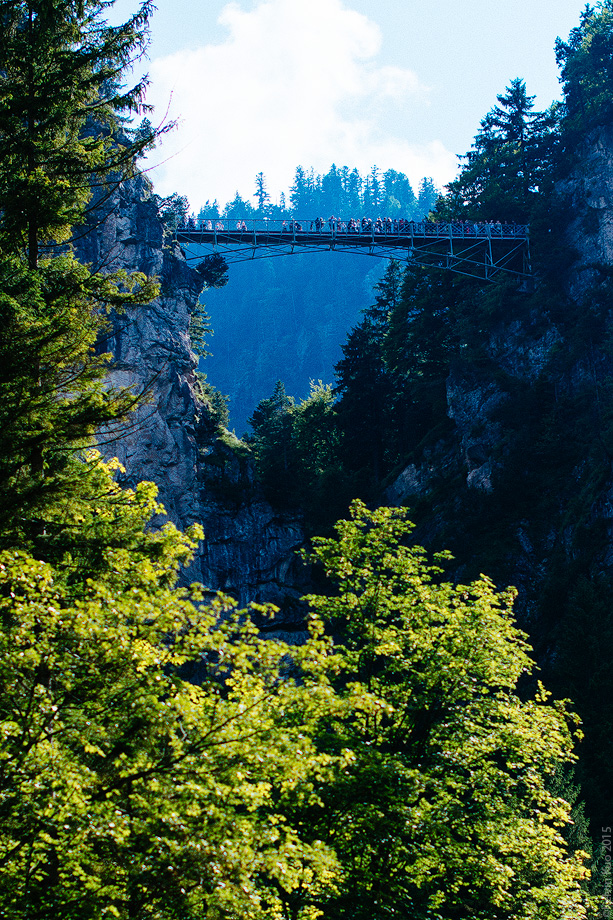 Many of the trails in Germany, including inside the Black Forest, are very well maintained and resemble infrastructure we would see in pretty developed parts of the United States.  It was great to see people looking to maintain these trails and pathways for everyone to enjoy.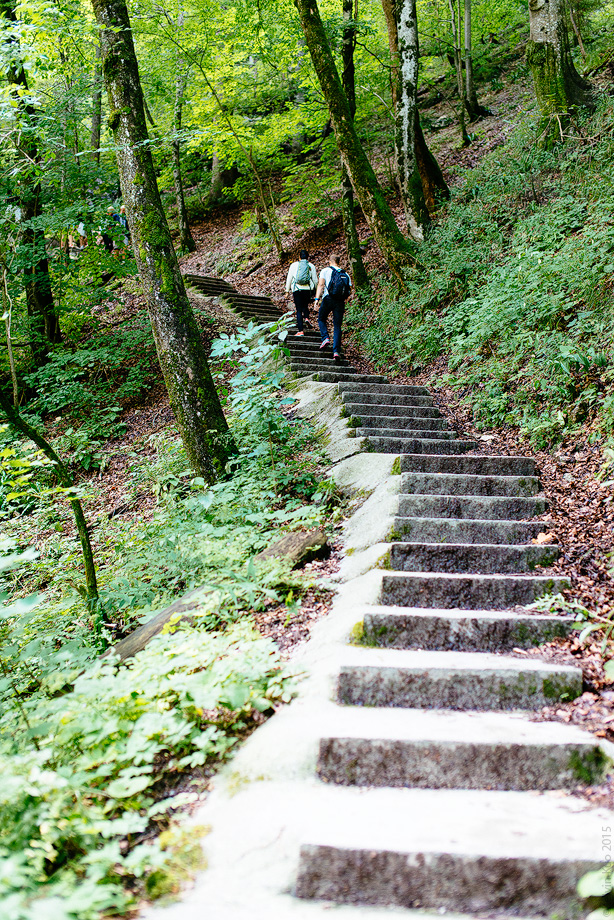 And a little waterfall as we approached the castle.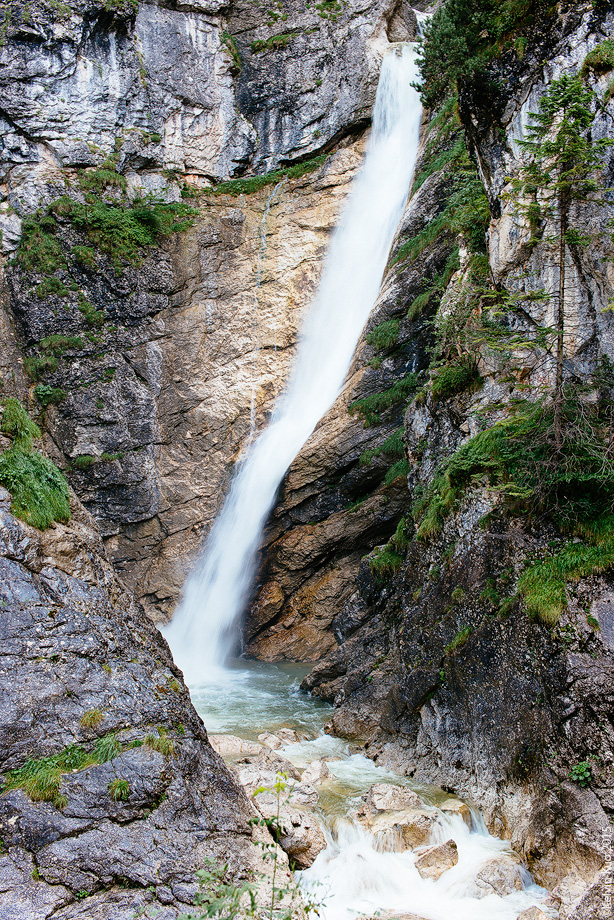 We were entertaining the idea of actually touring the place, which I had done in the past, but we ended up decided to go on a little hike instead.  We had already sat in the car for so long, and also Melody and I had a long train ride back to Munich later that day.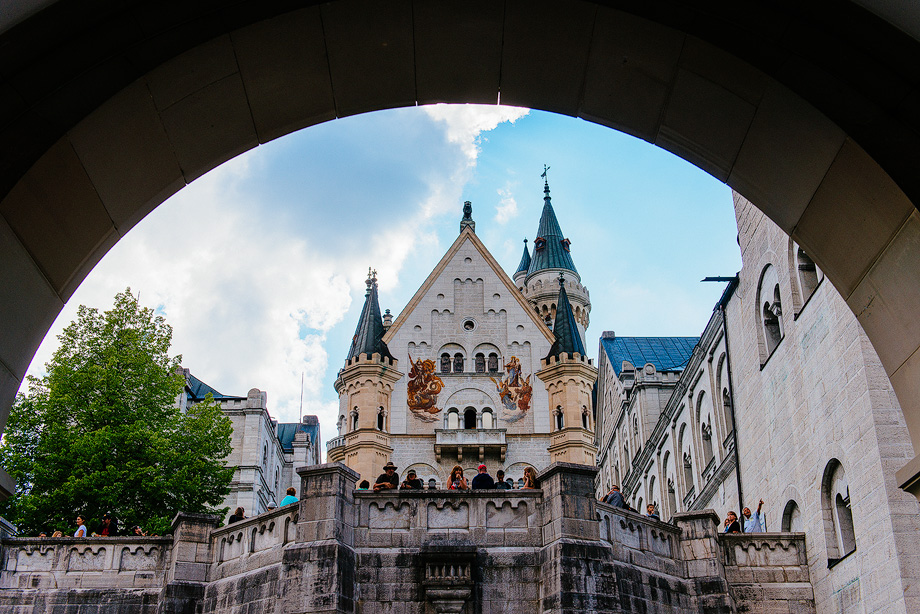 We ended up hiking a few miles, and I had an ultimate goal of getting a beautiful view of the castle with the mountains and lake in the background, but our time was running short and we had to catch the last train back to Munich, because we didn't have a place to stay here that night.  If we were allowed to camp here, I probably would have looked for the view and camped, but this is our honeymoon and not a rough it type of trip.  Below is a photo of the castle from the aforementioned bridge.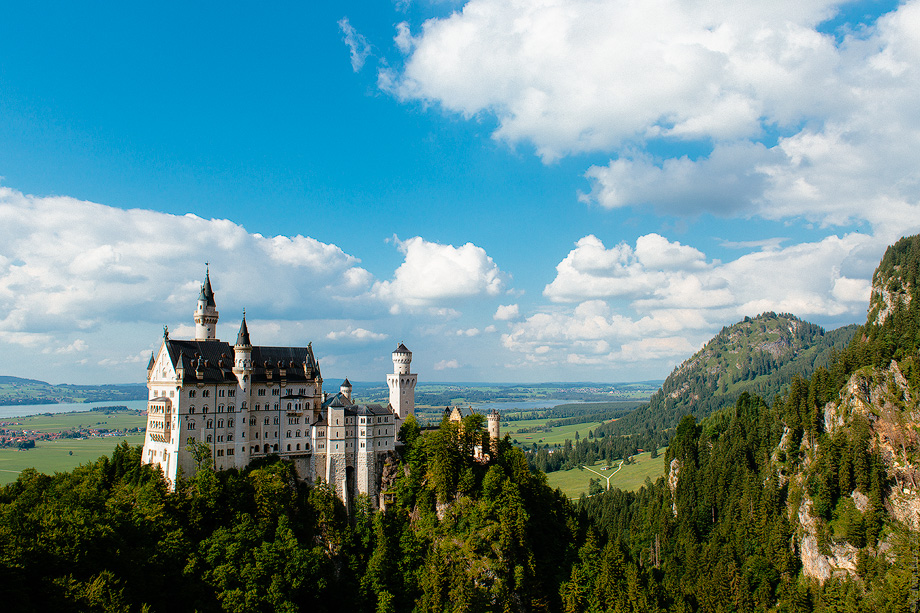 And a close up, you can see the resemblance with the Disney castle.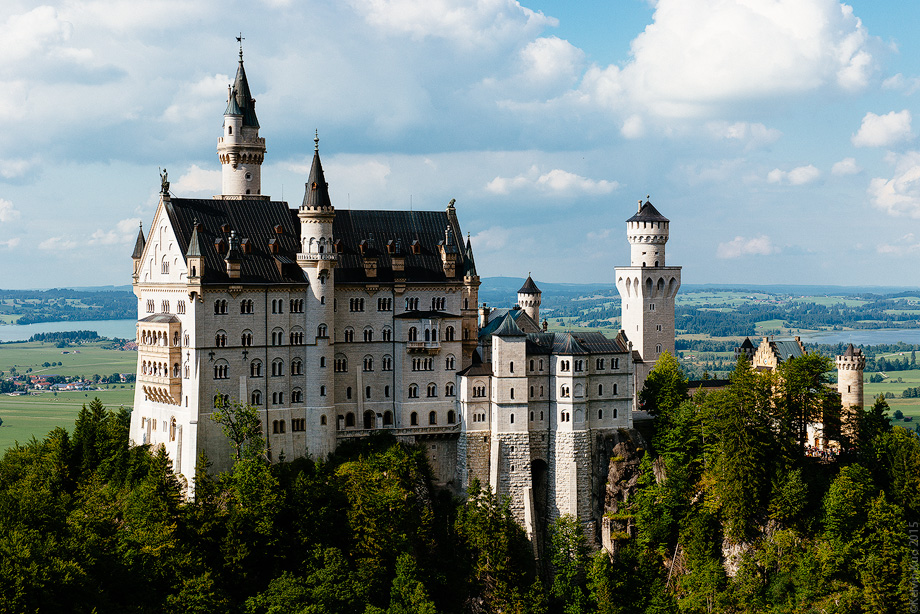 Tobias and Melody on the bridge.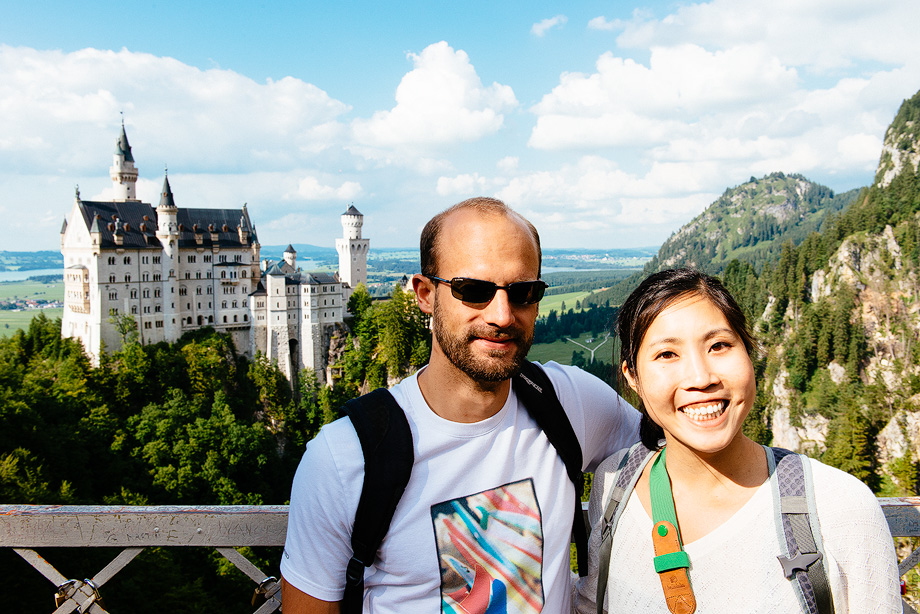 Like I said, I wanted to get further and further, but Tobias and to leave soon to get to lab, and we would appreciate the ride to the train station, instead of an expensive taxi ride.  This place was rural as can be, and any convenience would have helped us, so we ended up turning around after this point. Maybe next time I will have time to explore the right place to get that shot.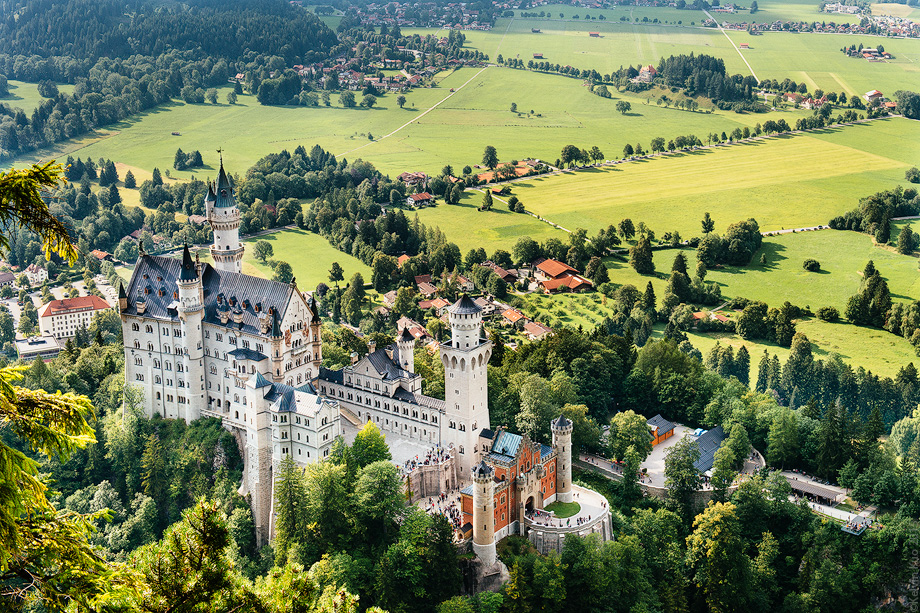 The clouds ended up rolling in as we left, and it looked like it was about to rain, so maybe it was the right decision!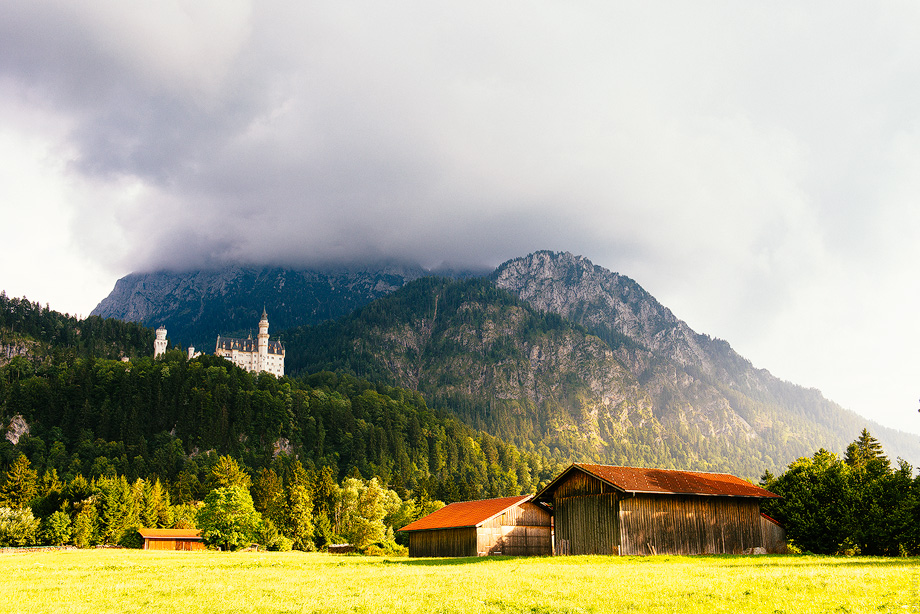 Melody in front of Neuschwanstein.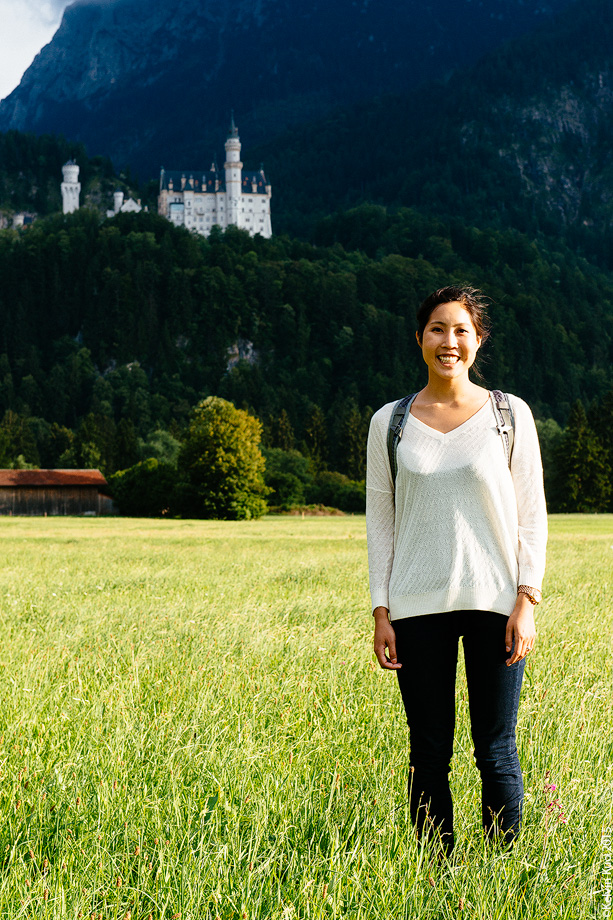 We ended up being able to catch one of the last trains back to Munich, and went to my favorite brewery in Munich, Augustiner for some dinner and a brew.  And that liter I mentioned before? Well they weren't serving it at the location we were at, what a bummer
---
---
You might also like
---