The second to last stop on our honeymoon backpacking adventure through Europe, and one that we received the most information about. Melody had an arsenal of places to go and heard a lot of good things about the place from her sister, Marisa.  I was a little less eager to visit the largest city in France, since I prefer the smaller town feel.  But Melody really hadn't seen Paris, so it was a must do on our list.  While Melody's intentions were to eat, see, and explore, I really had an eye to get a few photos that I would be proud of when I got home.  This whole trip had a few keepers, but actually looking back I can see some things that I would do different.  This set was a little different, with a lot of nice scenes we explored in Paris.  One of the first things we did after arriving was to head down Champs-Élysées to do a little browsing and shopping.  We ended up walking down the whole street and checked out an early version of the Arc de Triomphe, or a sneak peak. On our way back, Melody and I decided to get a few silhouettes of us from a street vendor. It was incredible how he was able to make these paper cut-outs so quickly.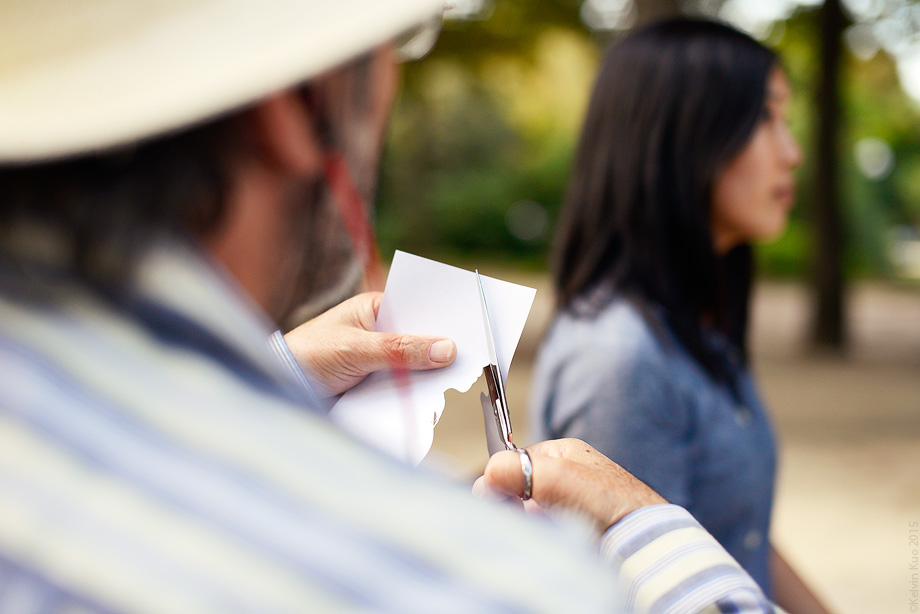 Since it was getting closer to sunset, and there were some clouds in the sky, I wanted to get a nice view of the city.  I really was having trouble deciding, since we would only have two sunsets here, but we ended up deciding to go to Tour Montparnasse. Here we are up top, with a few other people waiting for sunset.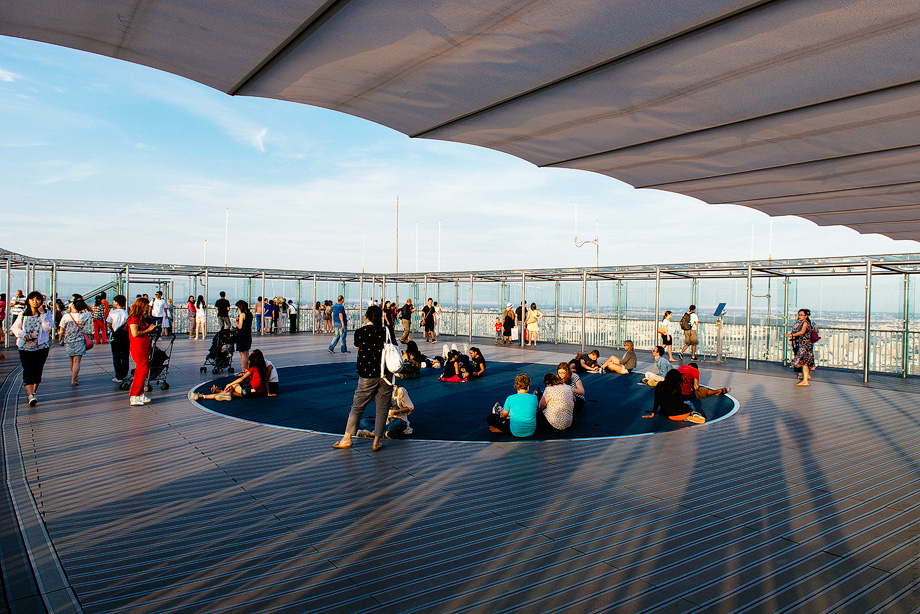 And during sunset, you can get a spectacular view like this, with the Eiffel Tower as a centerpiece.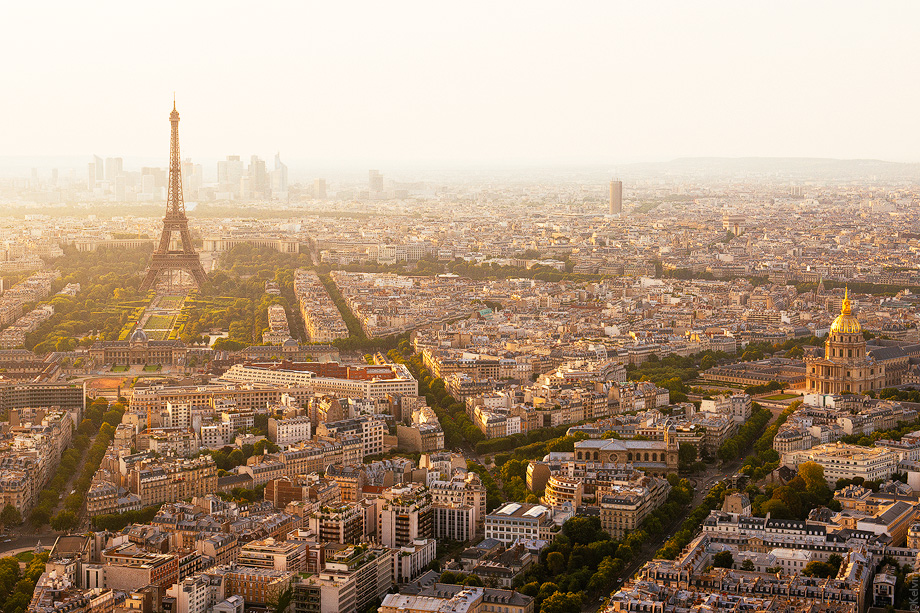 I waited a little later, to get a darker image of the city with the street lights and got ah interesting spot light that rounds the top of the Eiffel Tower like a lighthouse at night.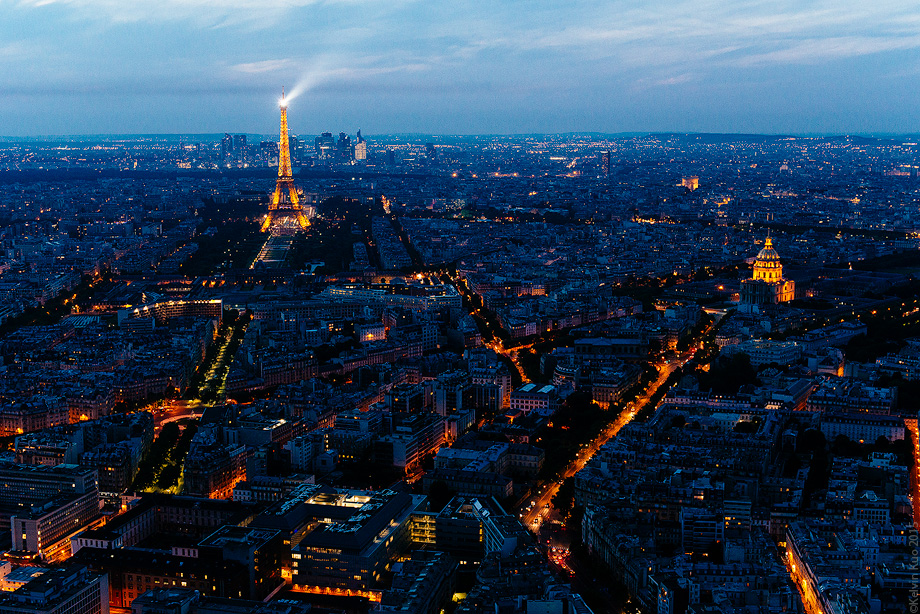 We ended up grabbing some dinner before heading over to Champ de Mars, to stroll the park around the Eiffel Tower.  Melody and I decided not to go up to the top, since we already had such a great view earlier in the evening.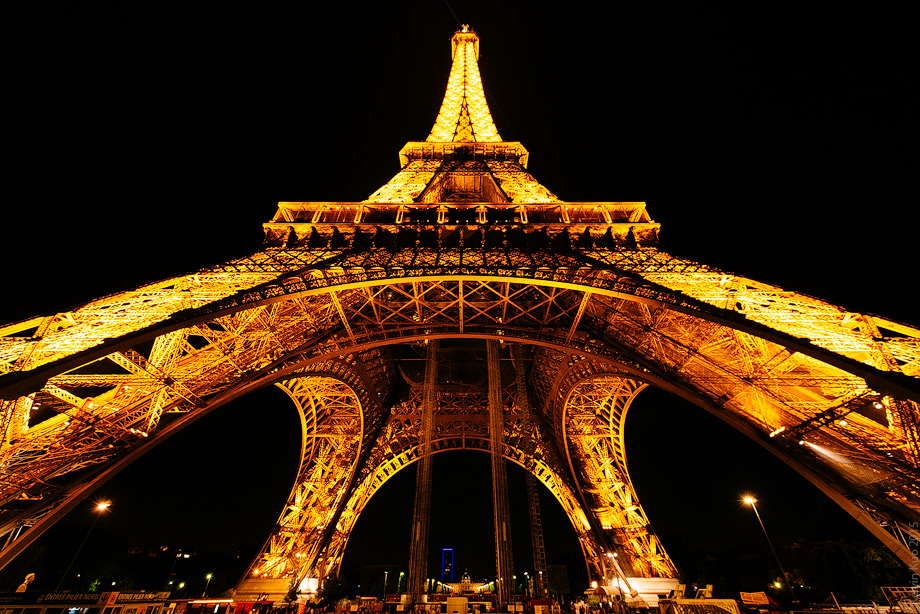 We instead walked around and got a few photos of the Tower lit up at night.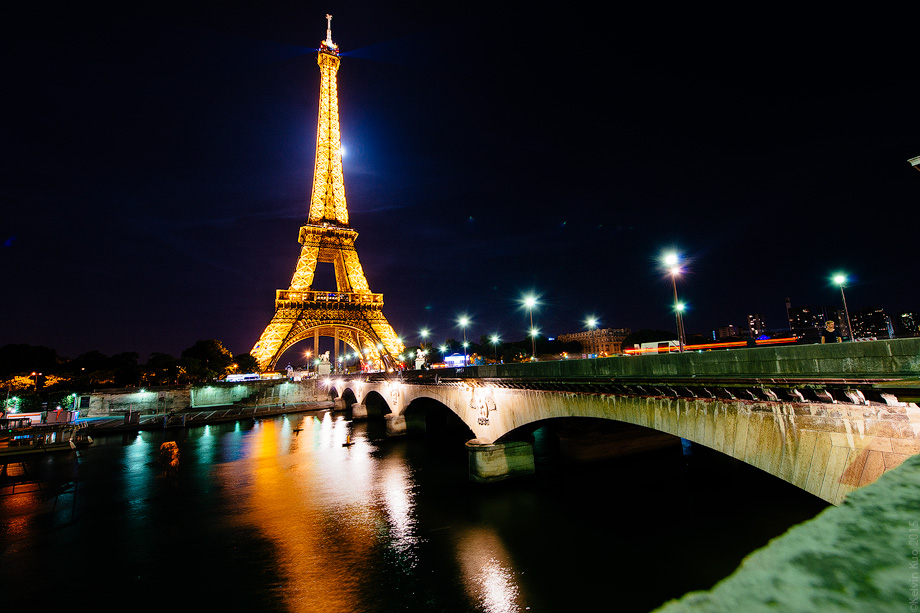 We then expired for the night, since I had plans to wake up early for sunrise the next morning.  I usually love getting sunrise and sunset, especially if the weather is cooperating.  Like I always think, you will never get the same sunset twice, there are always minute environmental factors that will give you a different view from day to day, especially the angle of the light from the sun and the different types of clouds that may be present.  So I headed back to the Eiffel Tower, and across the Seine river at Palais de Chaillot.  I really like the simplicity of the ground to get a clean shot of the tower.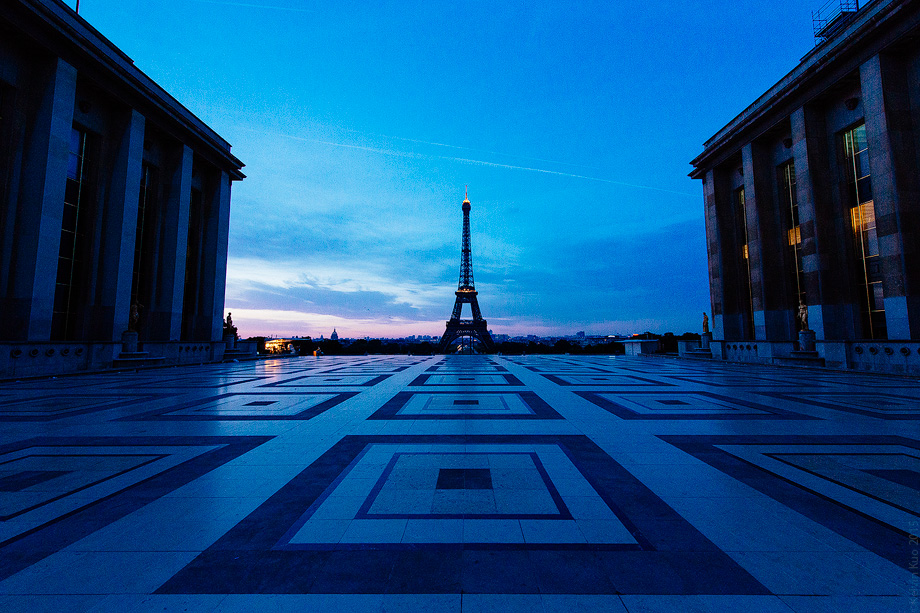 If you head down the steps, there are also these interesting "turret" like features that point you toward the Eiffel Tower which makes for some interesting foreground.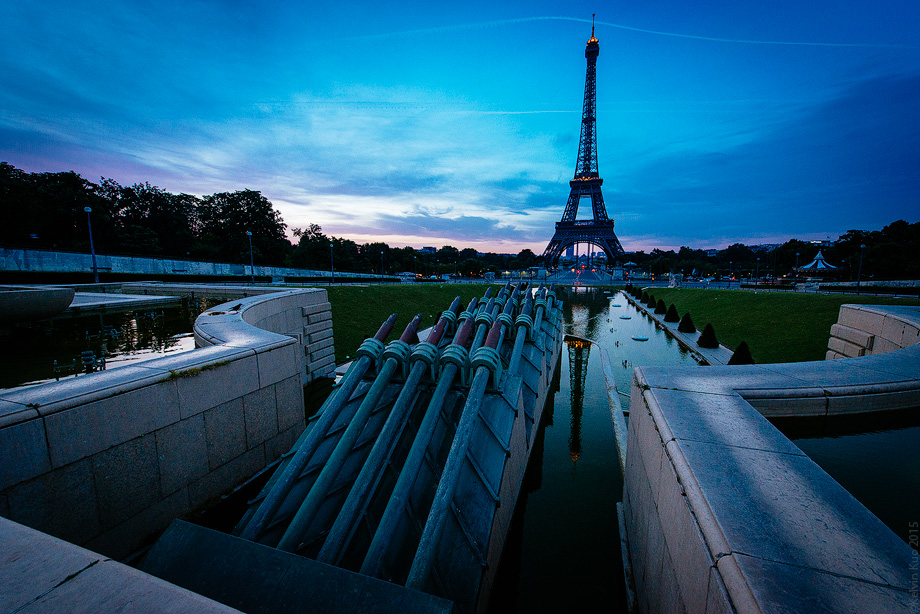 And the skies ended up lighting up briefly, although I kind didn't expect this, but just as I was taking my stroll on the shores of the Seine.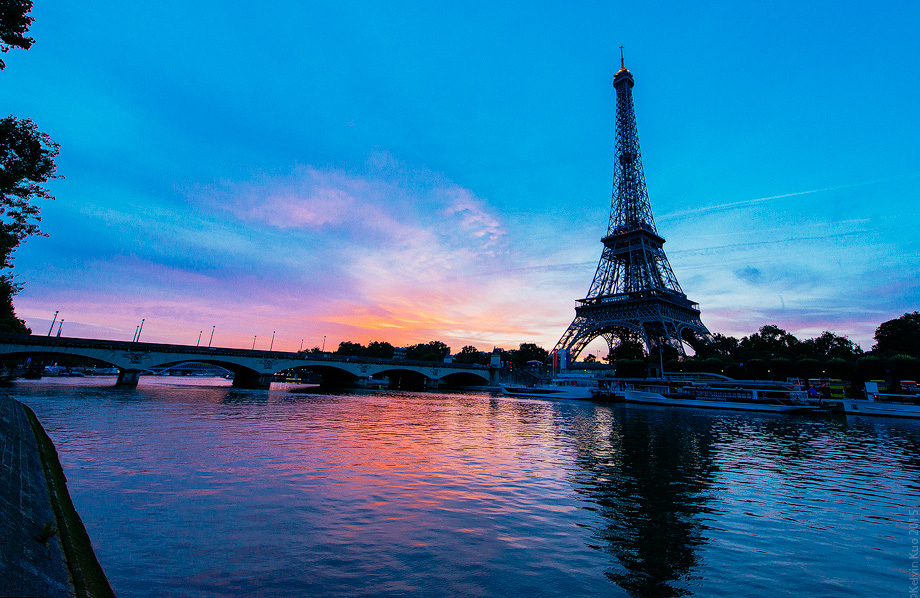 A silhouetted Eiffel tower as the sun colors the clouds behind.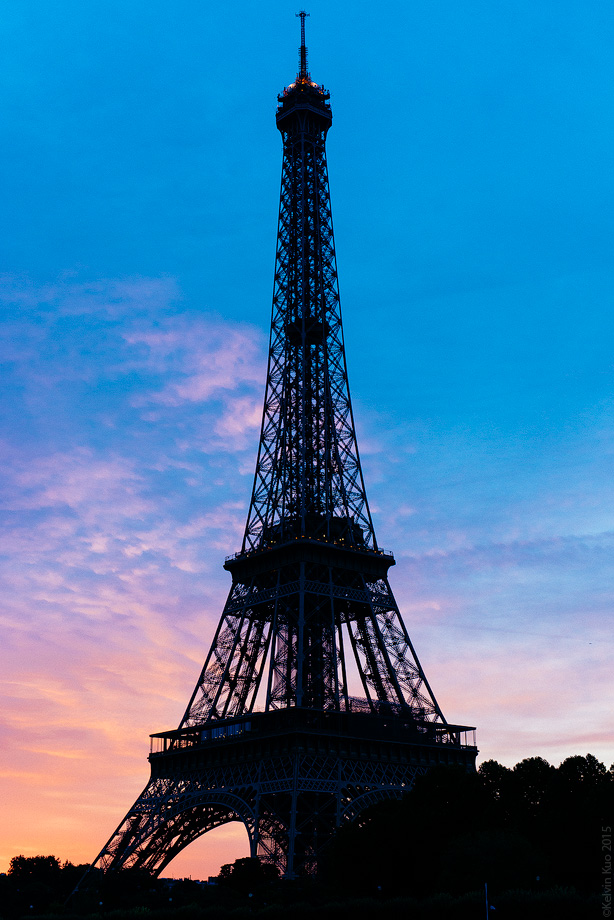 I ended up heading toward Musée de Louvre to get a few shots with a little less people.  Usually people don't like to get up early and enjoy a wonderfully peaceful and intimate view of these major cities.  It is one of the most relaxing times of day for me. I headed under the metro and got a cool view of a few bike paths in the area.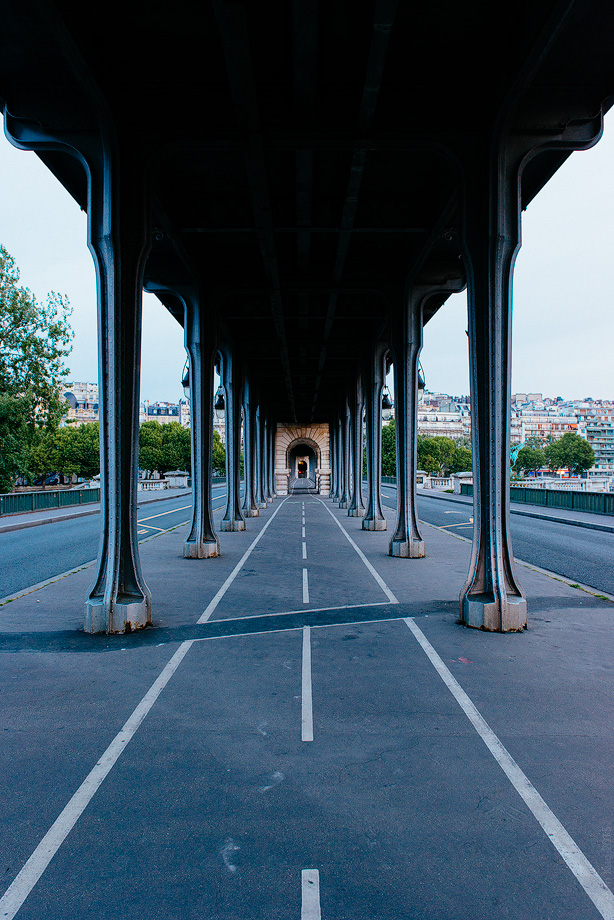 And then I got a few photos of Musée du Louvre, as the sun wasn't too harsh for some photos.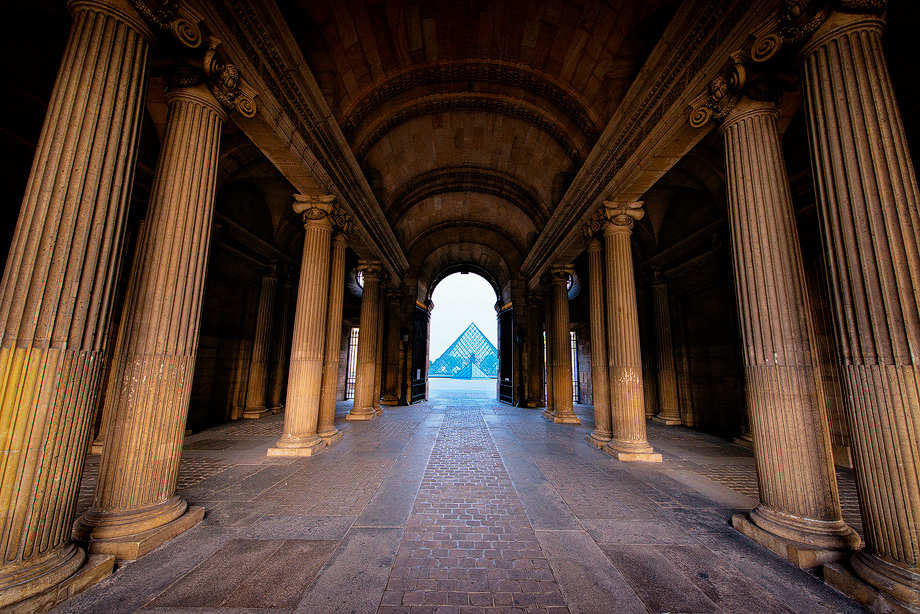 And I headed out, with the front view of the Museum to get Melody out of bed.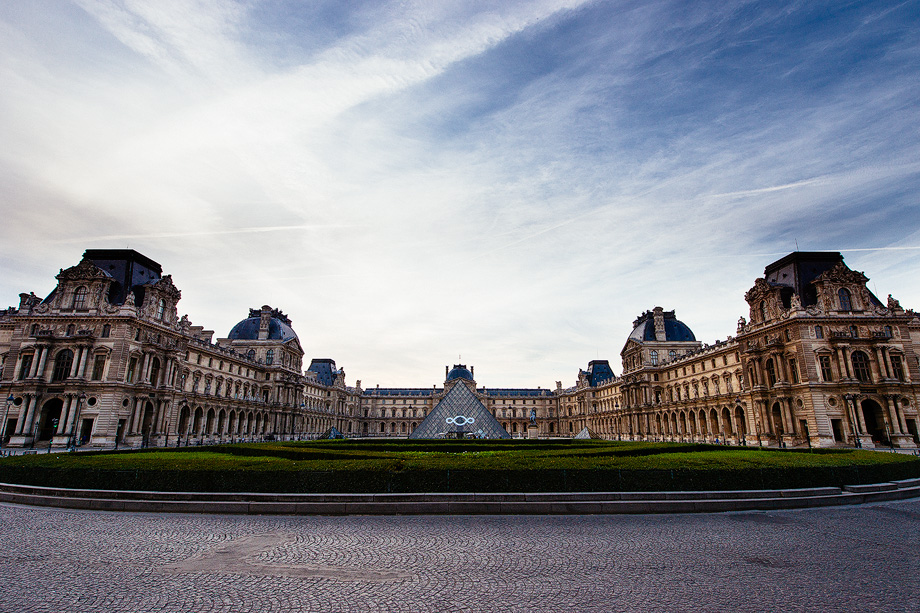 Melody and I had an agenda that day, to see Monet's Water Lillies at the Musée de l'Orangerie.  It was a small museum nestled in the corner of Jardin des Tuileries, pictured below, and definitely is a immersive experience.  The paintings span the whole room, and make you feel like you are truly in the painting.  But after the morning museum run,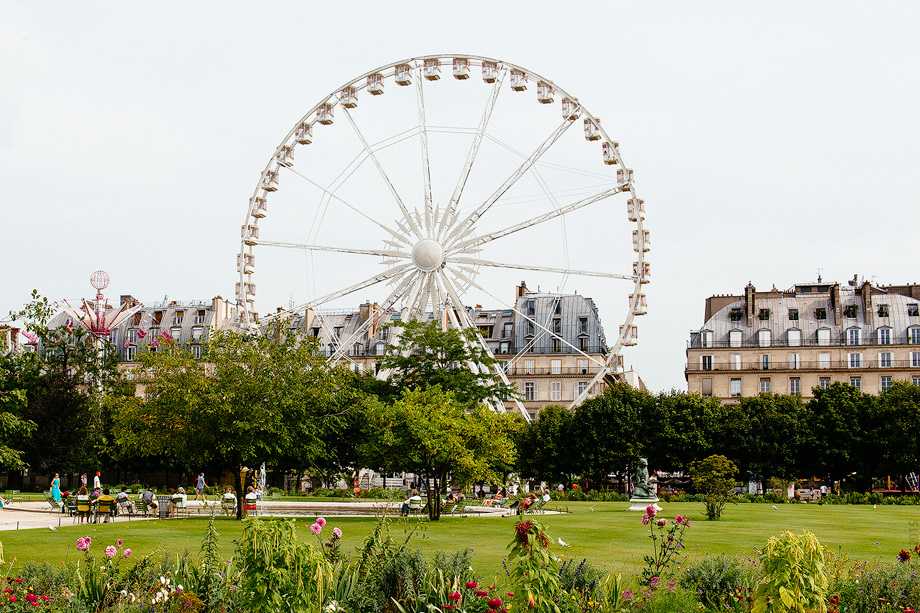 we headed to the Cathédrale Notre Dame de Paris, just to see it.  The main objective wasn't really to see this, but since it was on the way we had to get a few photos.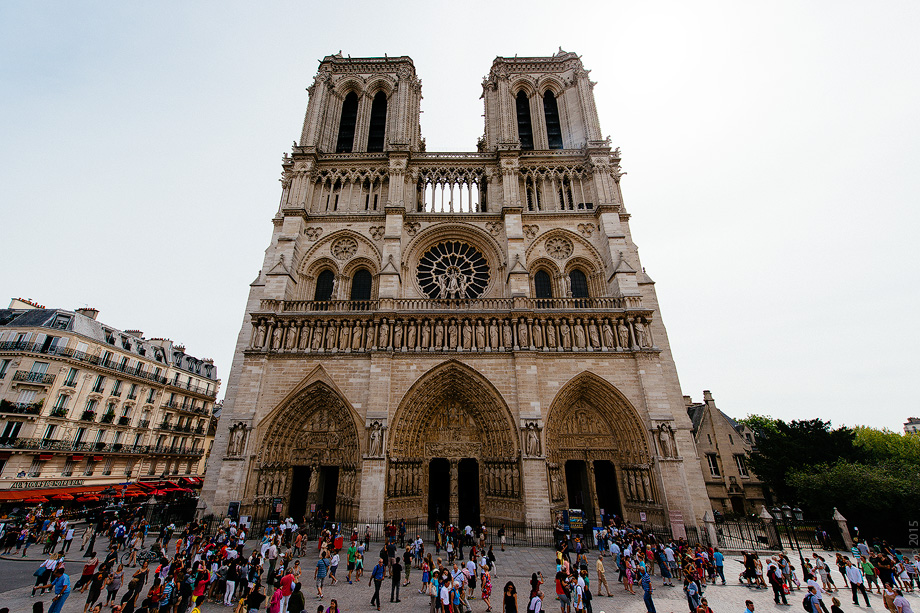 A close up of the front door.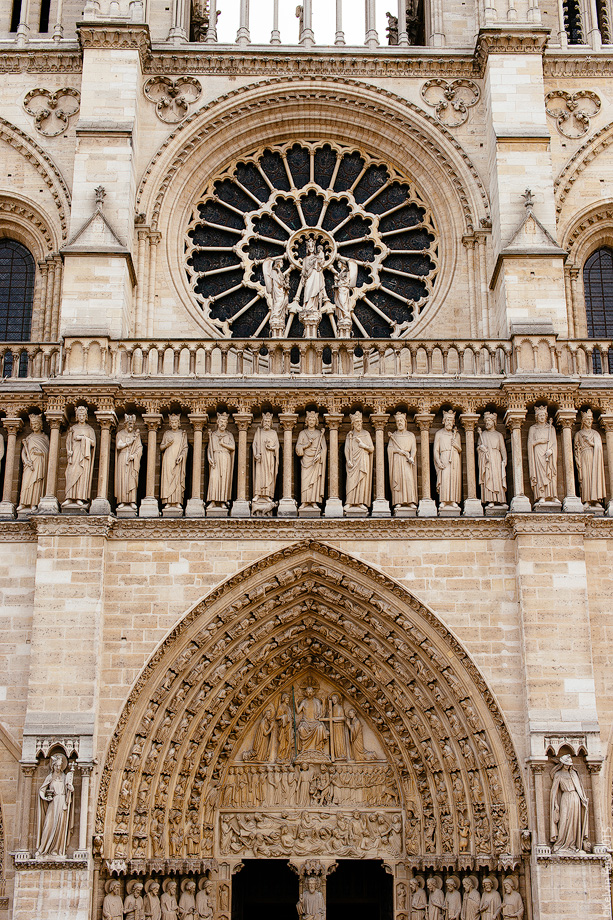 Our main destination was this, Shakespeare and Company, a Parisian bookstore.  Melody loves visiting book stores, and especially loves to get a few books to read during her travels or for leisure.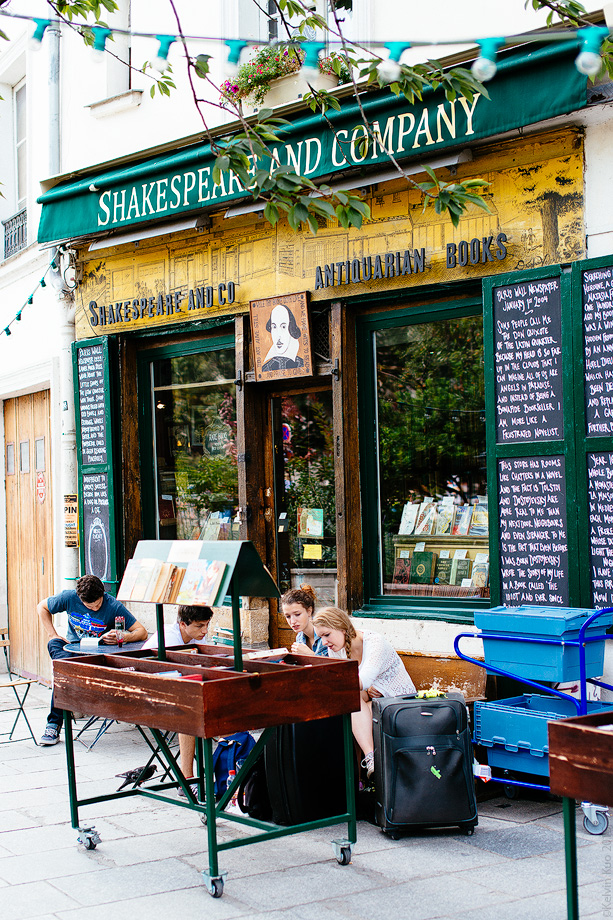 Melody instead, browsing the massive selection of books.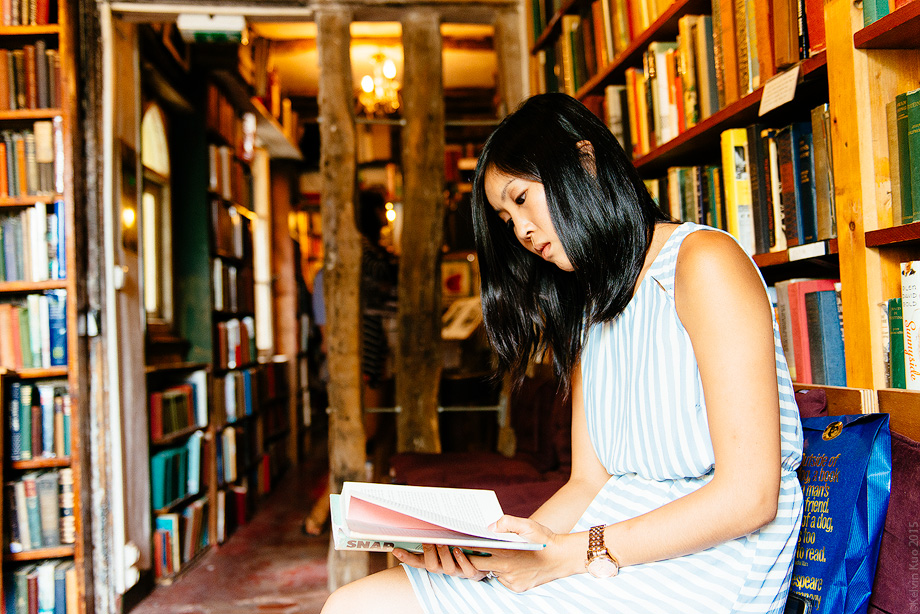 And another, since I really wasn't looking to get or read anything.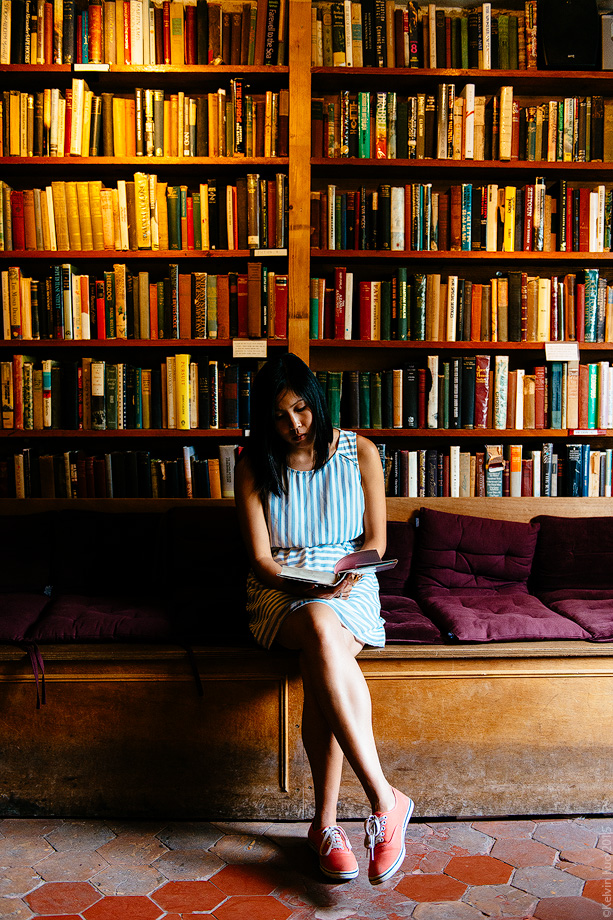 Later, we headed to another suggested location at the Canal St-Martin.  Melody said this neighborhood would have a lot of shopping, but we only found a few places that were open.  Here is an example of one of them.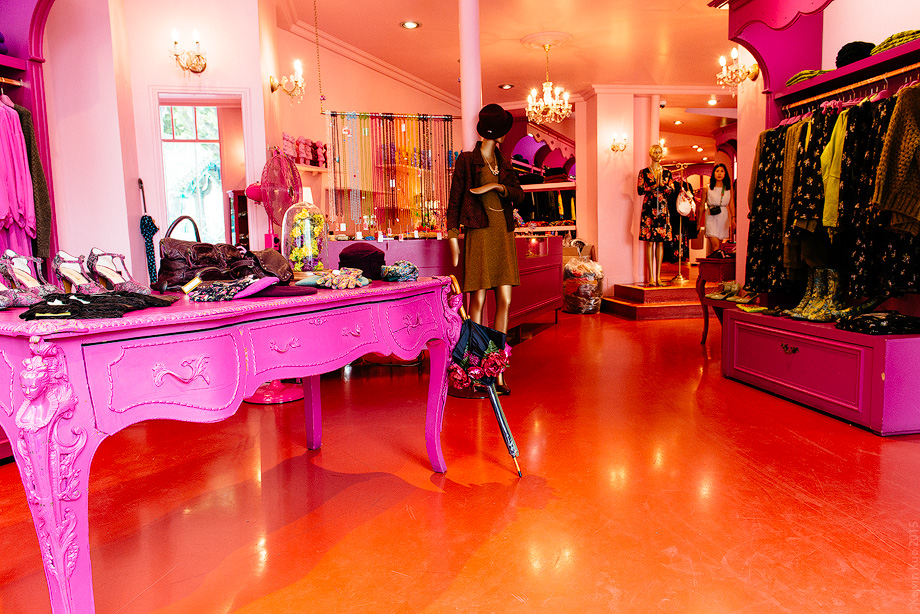 On the way out, we headed to the "best view" in Paris according to a lot of internet accounts at the Basilique du Sacré-Cœur.  I wasn't really impressed, since I usually like to have landmarks in view instead of a large panoramic view of buildings and such.  But it was nice to see all this green space inside of city and also a lot of people enjoying it.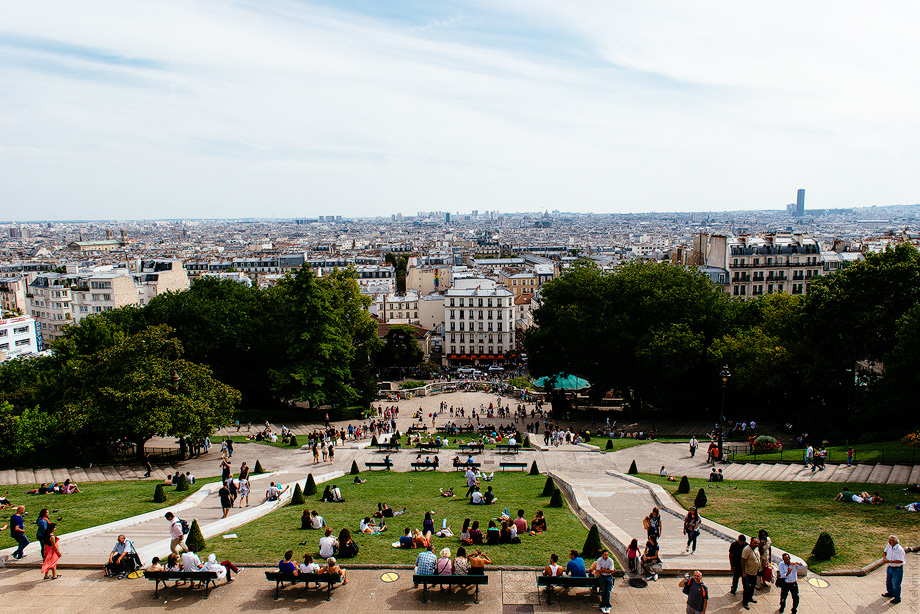 And a view up of the Basilica.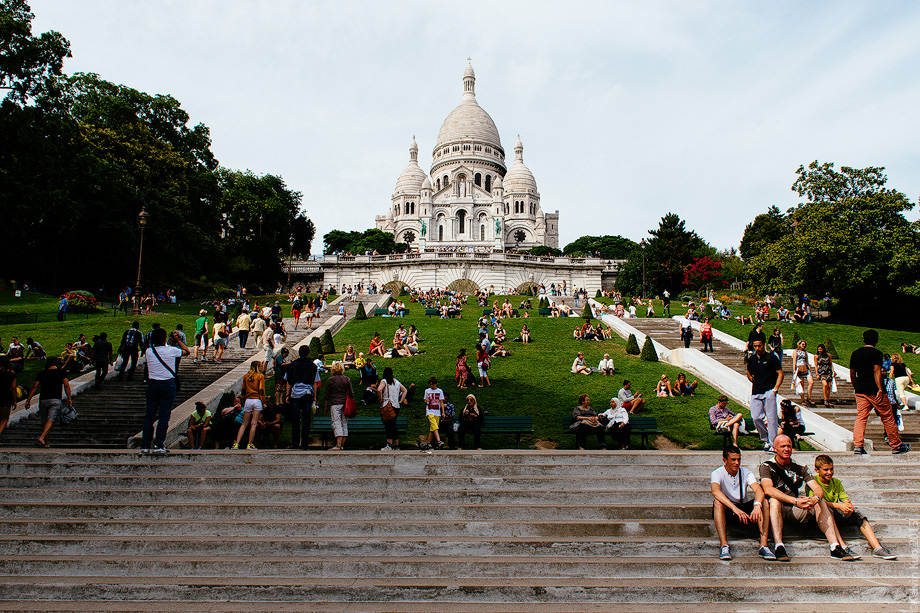 We ended up heading back to the Arc de Triomphe, and opted to actually go in and on top.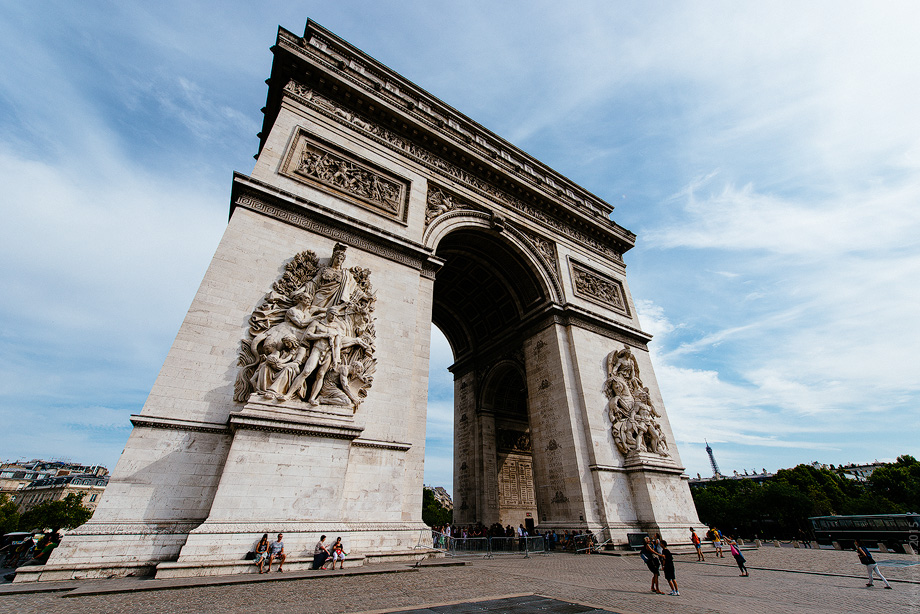 And a view below, before we headed up the arch.

The spiral staircase up, a very claustrophobic experience for people that don't like small spaces.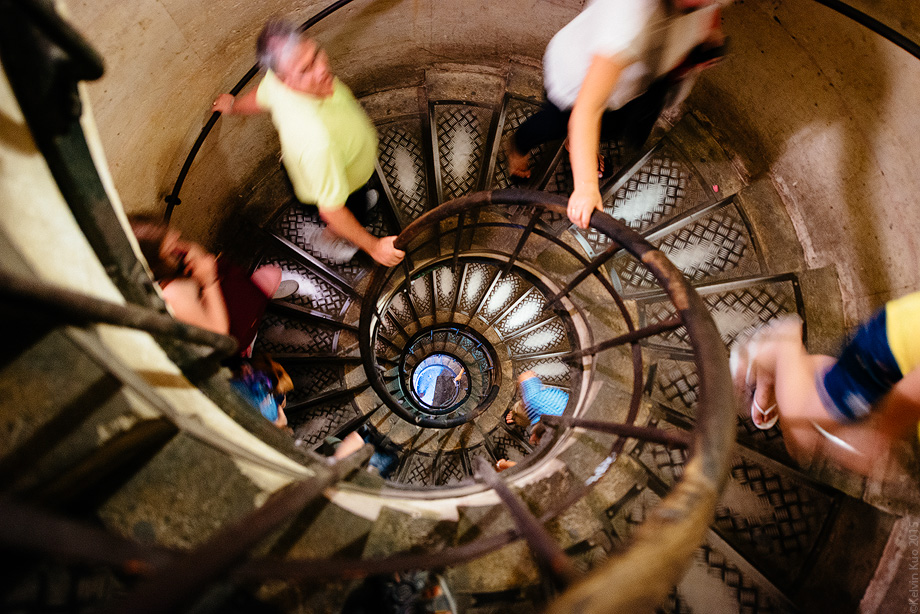 The view up top was amazing, and the light was beautiful for some photos up top.  Here is one, as you see the streets diverge.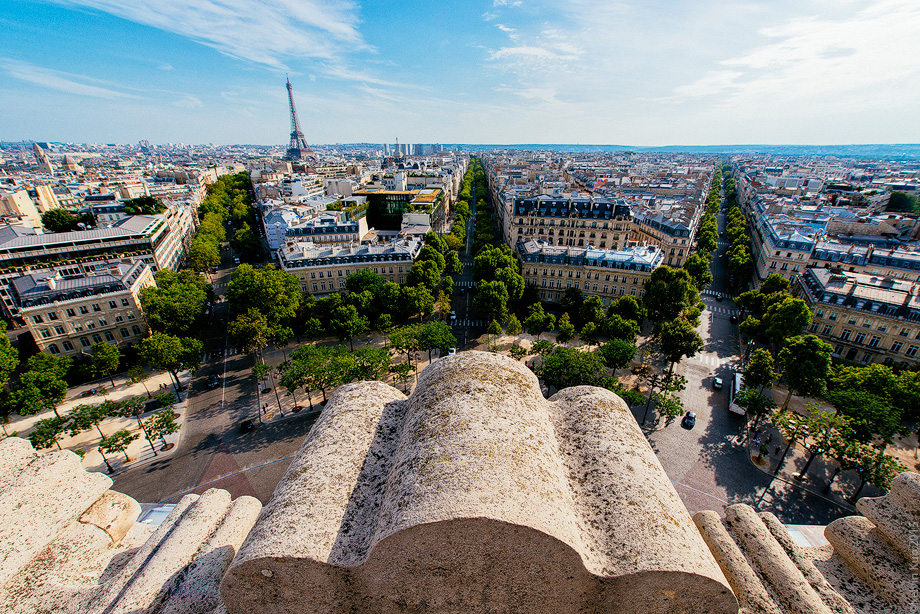 For sunset, we headed to Pont Alexandre III for sunset, but there was not a cloud in the sky.  Still we were able to get some views across the Seine.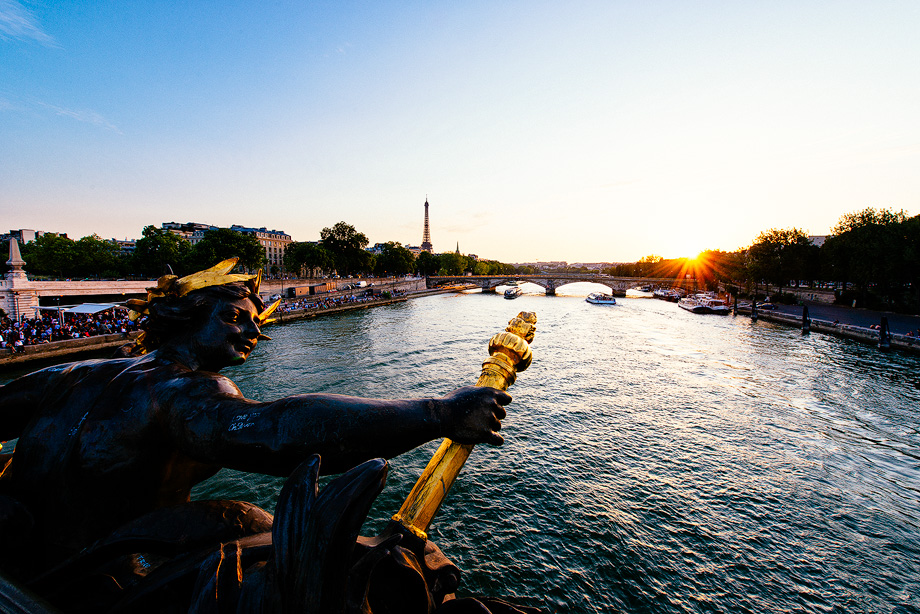 And make a few little jokes about other people photographing, and their form.  Melody loved it so much, she was cracking up at my impression.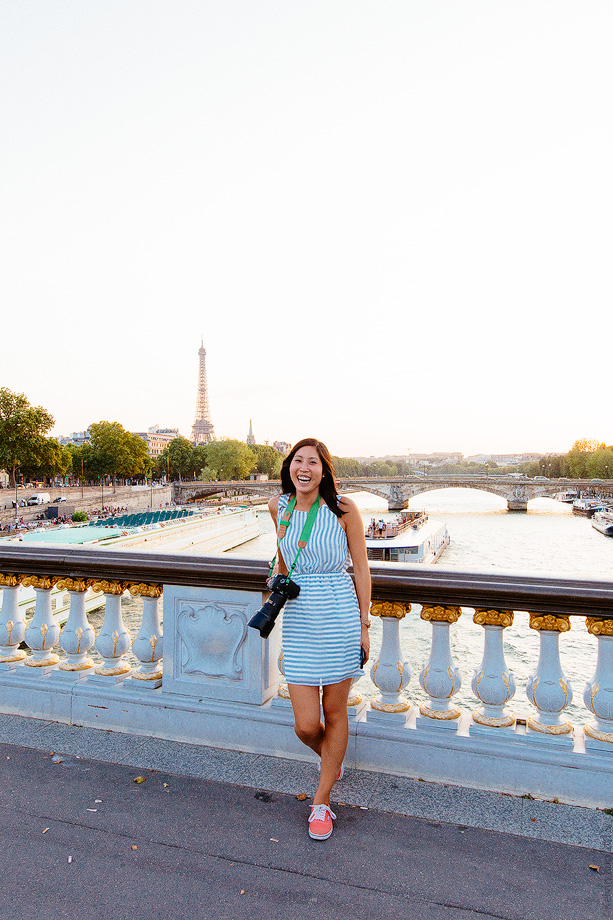 We headed toward the Arc de Triomphe one more time to get a few night time photos.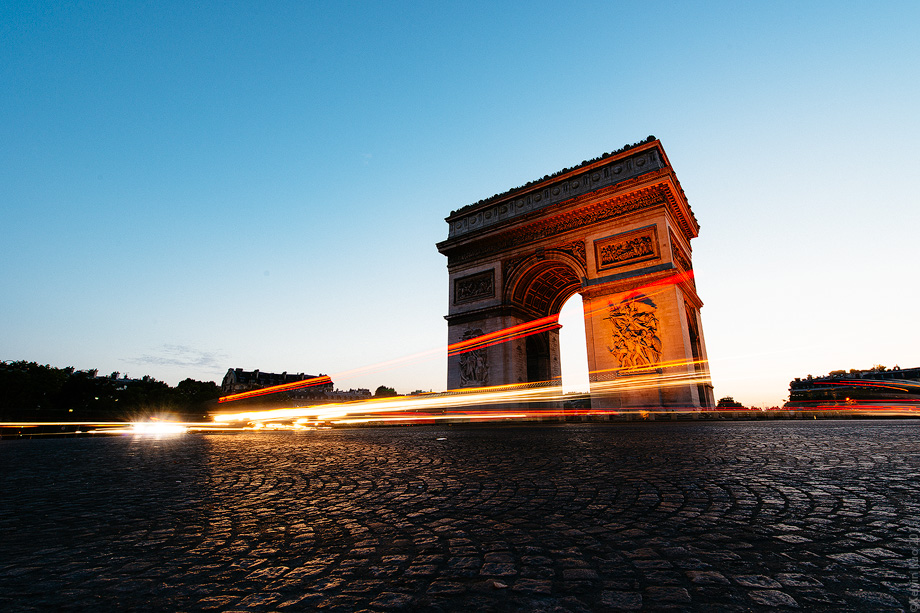 And another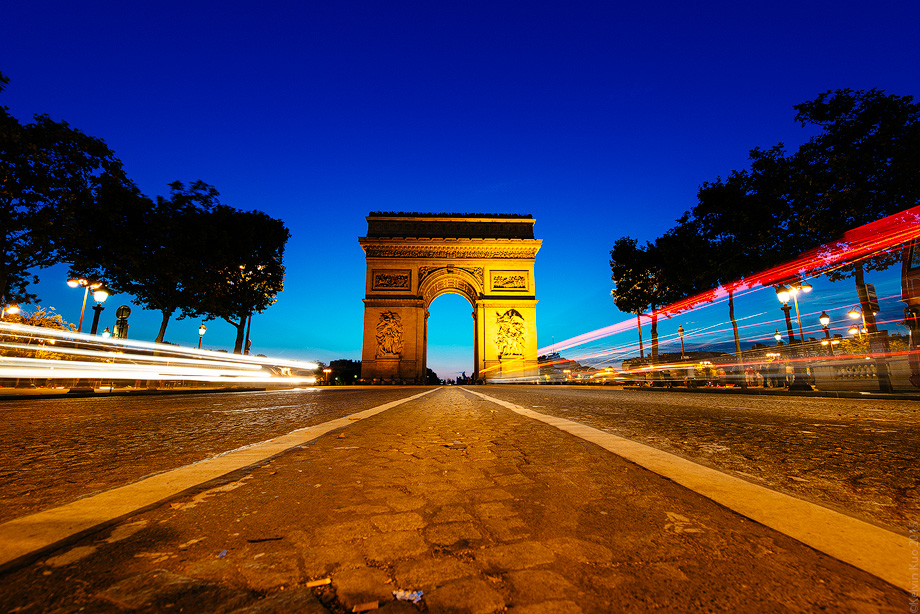 And lastly, we headed to the Musée du Louvre for a few night time photos, and also since Melody didn't have time to go here earlier.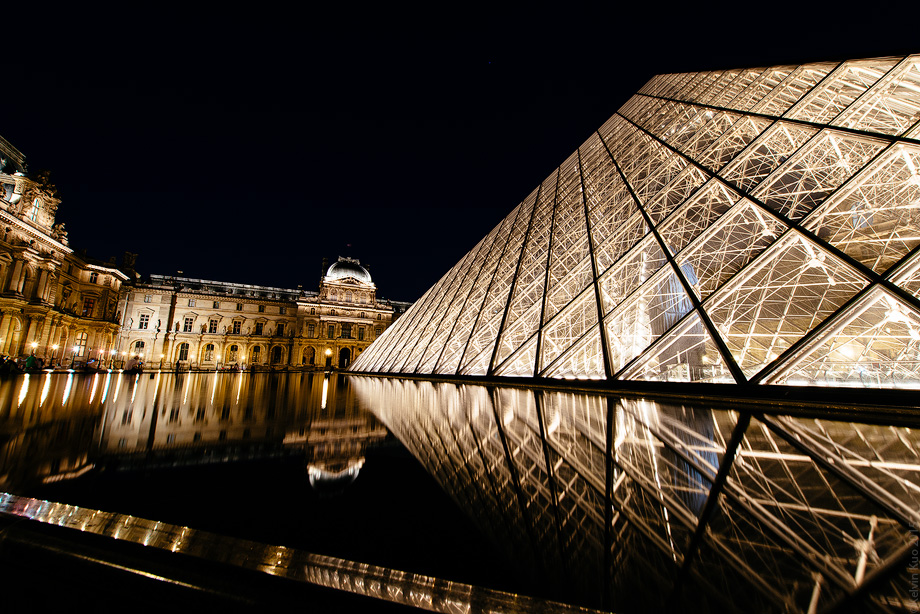 The interesting reflections of the pools around the Louvre.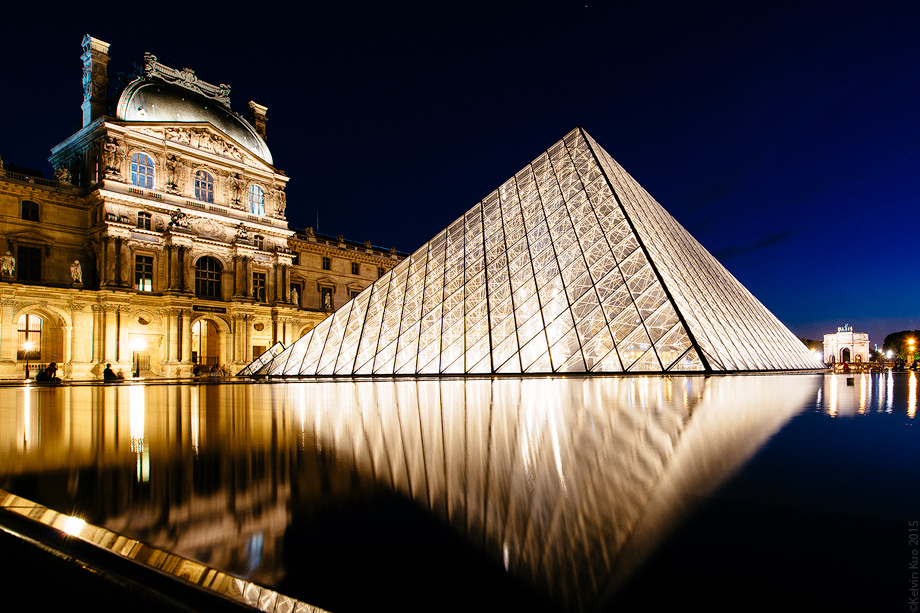 And the difference is night and day, or night and morning with so many people walking around at night.  We had an early morning the next day for our last day of our honeymoon, as we take the 2 hour train ride to London.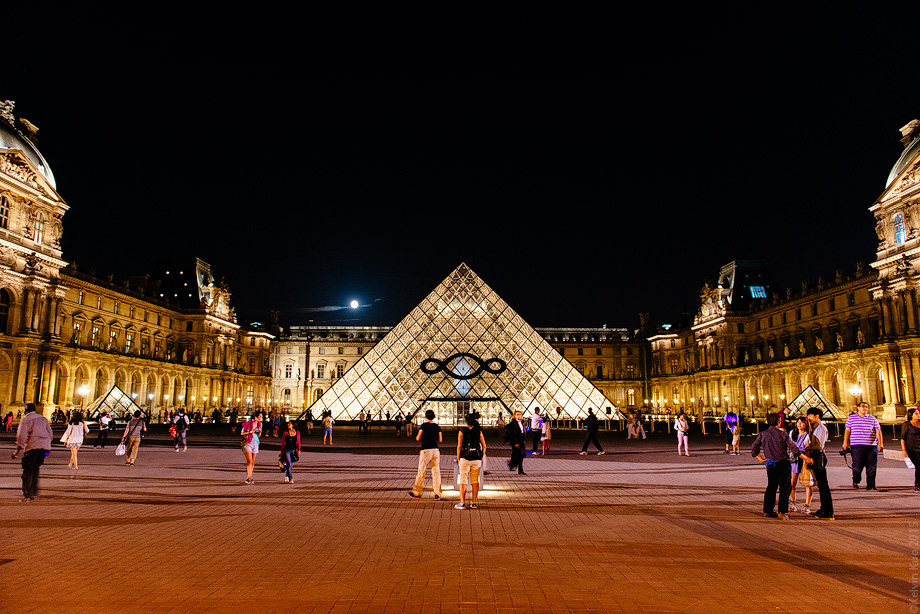 ---
---
You might also like
---