Melody and I had some wide plans, stemming from our idea that our wedding tables would represent places to visit together, which included destinations like Patagonia, Norway, and of course Alaska.  What we really were planning on doing in Alaska was to see some Northern Lights activity, but instead we booked a trip to Anchorage in the middle of summer, during the longest hours of daylight, and it became a summer backpacking trip.  There was a lot of planning to do to get this right, figure out the logistics to our destination, fuel for cooking, rides and the such.  Fortunately we were lucky enough to meet up my former coach, Ted, and get a warm welcome before he left for a fishing trip, and our week long backpacking trip.  This gave us time to check into our hotel, grab some needed equipment at the local REI and get dinner to catch up.
The interesting thing was, the weather was fantastic, although Alaska is known to change drastically from hour to hour, but we woke up in the morning with a bright sunny sky, ready to board our plane to Lake Clark National Park.  I ended up booking our flights through Trail Ridge Air, since they were the most accommodating, helping us with some of the preparation and definitely a great company to deal with.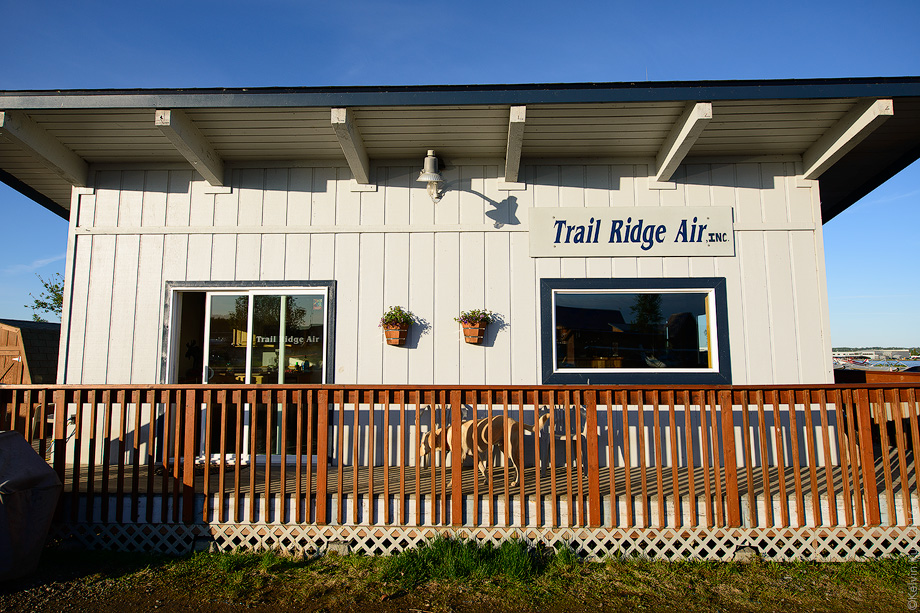 We arrived to see these water boats, the only way in and out of Lake Clark National Park.  Melody was really in for a treat, but really disaster since she is very easily struck with motion sickness.  But our trip there was actually really smooth.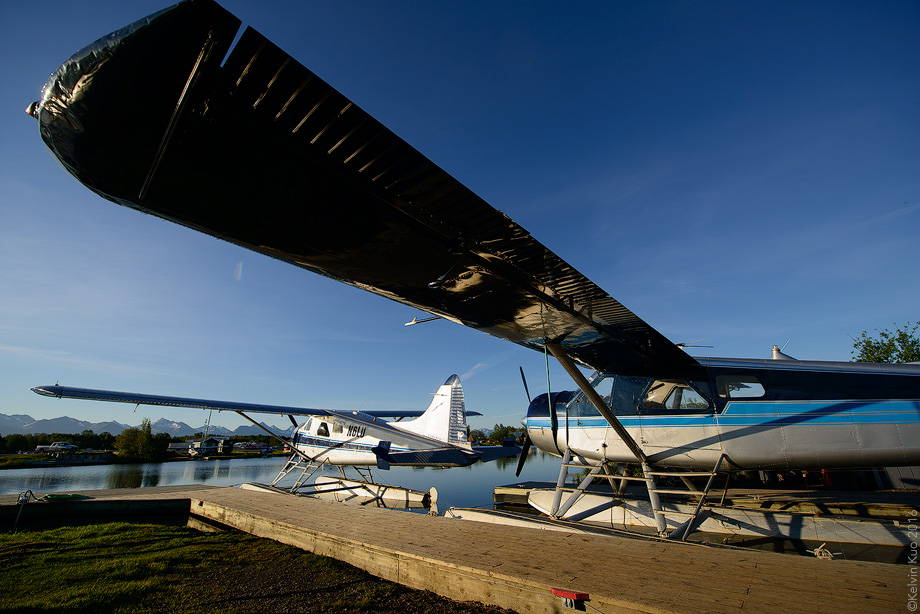 The air strip in Anchorage, not your typical airport.

Then we met Cooper, Trail Ridge Air's dog.  He was very friendly and ready to play catch.  It would have been great to take him along to!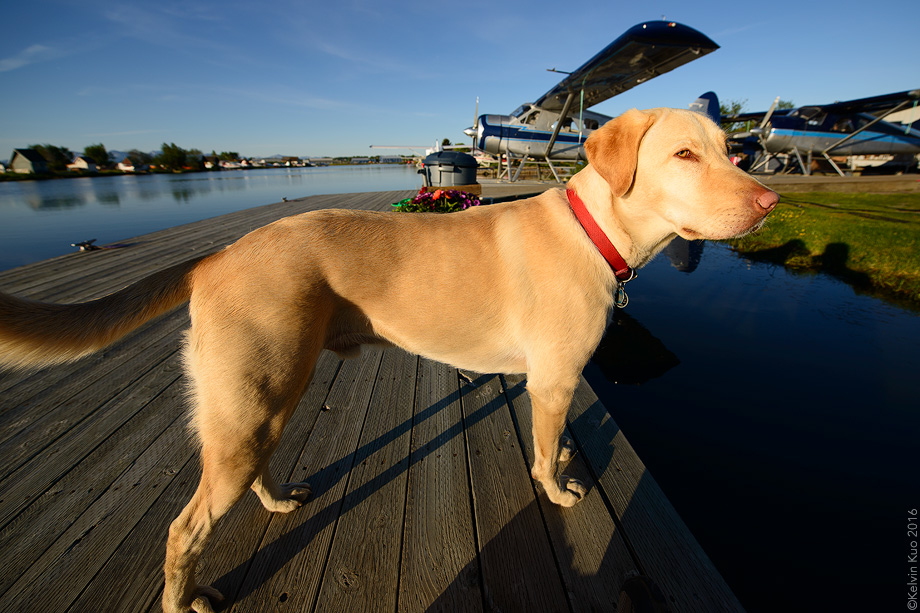 And just waiting  around for take off, I ended up trying to get some photos of our airplane, just so we don't forget in the future.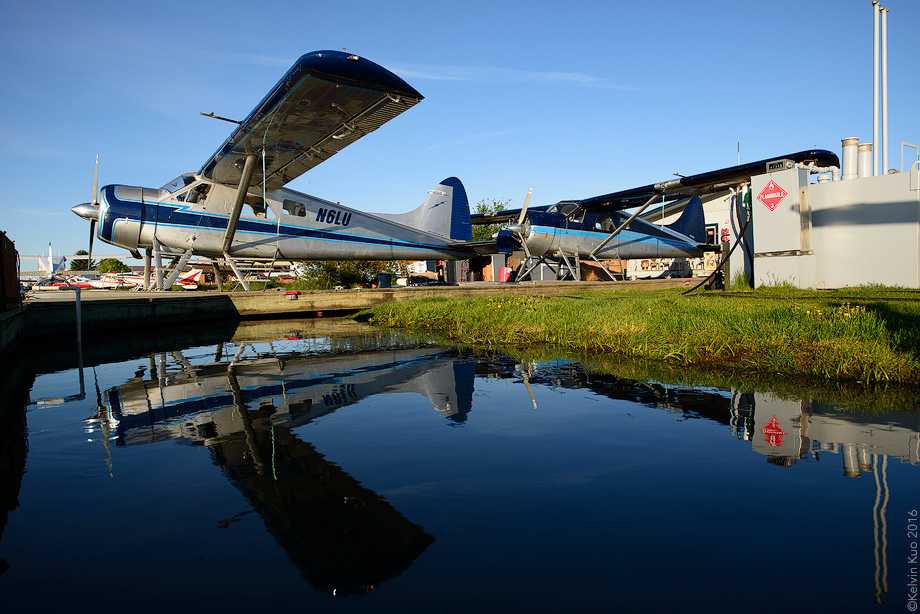 Melody and Cooper, new best friends.

And we ended up saying goodbye to Cooper with his last game of fetch!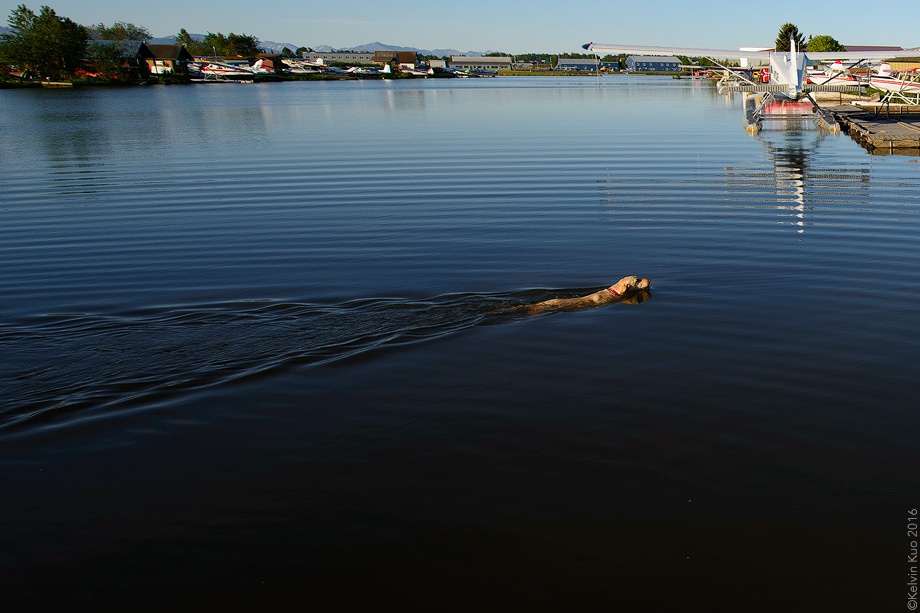 And we were off, just of of our 5 hour flight from LAX and now to a remote destination.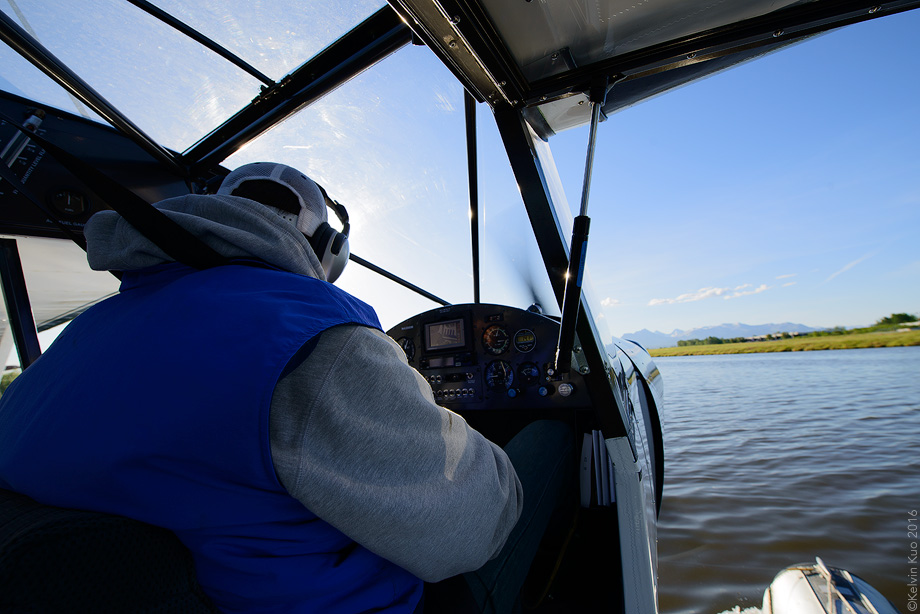 Mel and Kel, talking through the built in radio.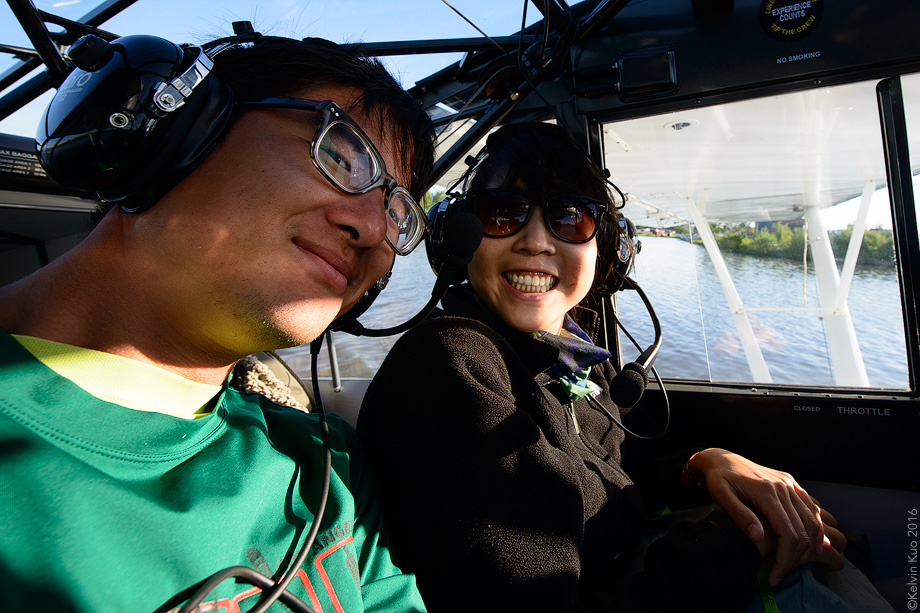 The plane ride itself was an amazing experience.  The landscapes were so dramatic as we flew past Anchorage and toward the Lake Clark area.  It's great to actually see some untouched land, since people are growing used to development and what it's like to have structure in the world.  But the world here is ever changing, only falling victim to Mother Nature, until the humans arrive.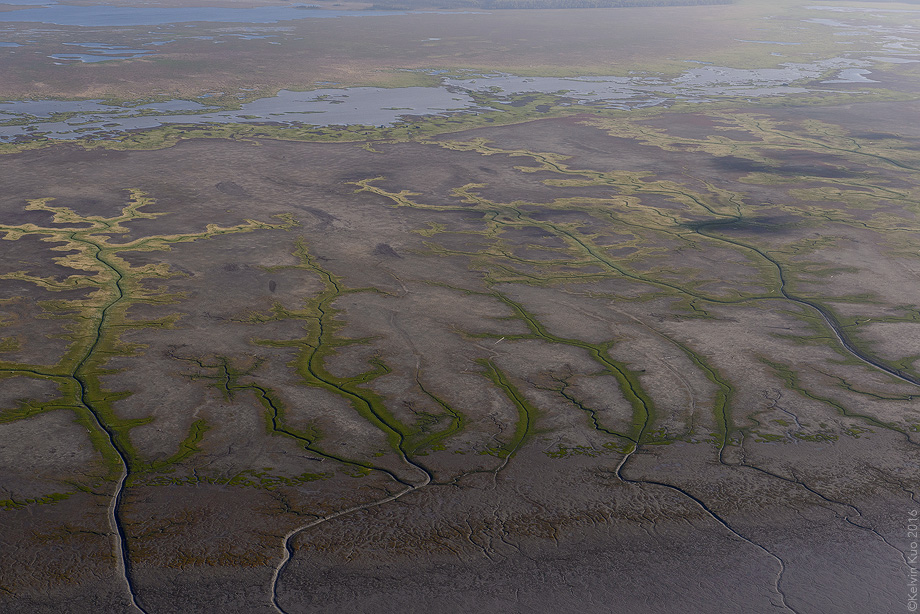 The snow capped mountains weren't as covered as I would expect, but the elevations here aren't really that high.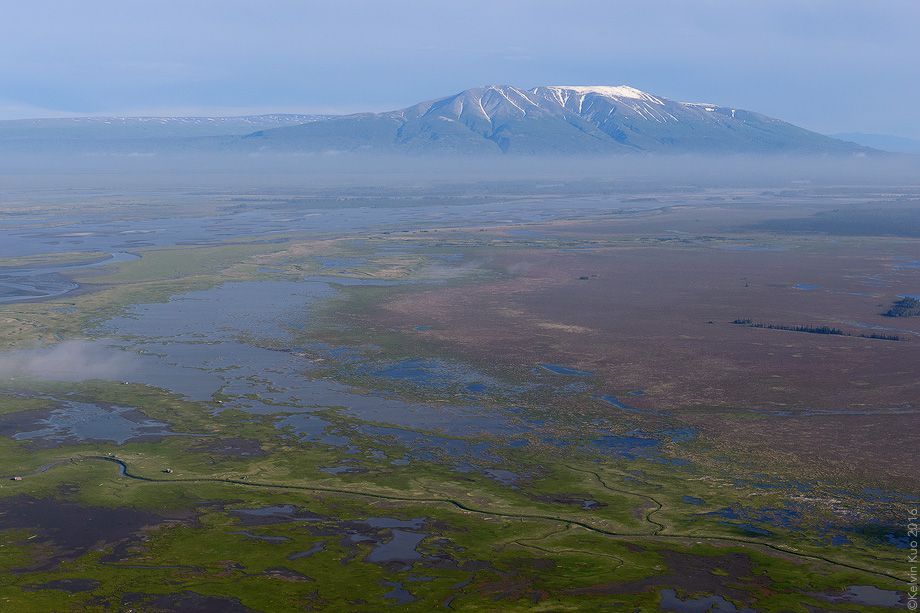 Some more ever changing water drainage.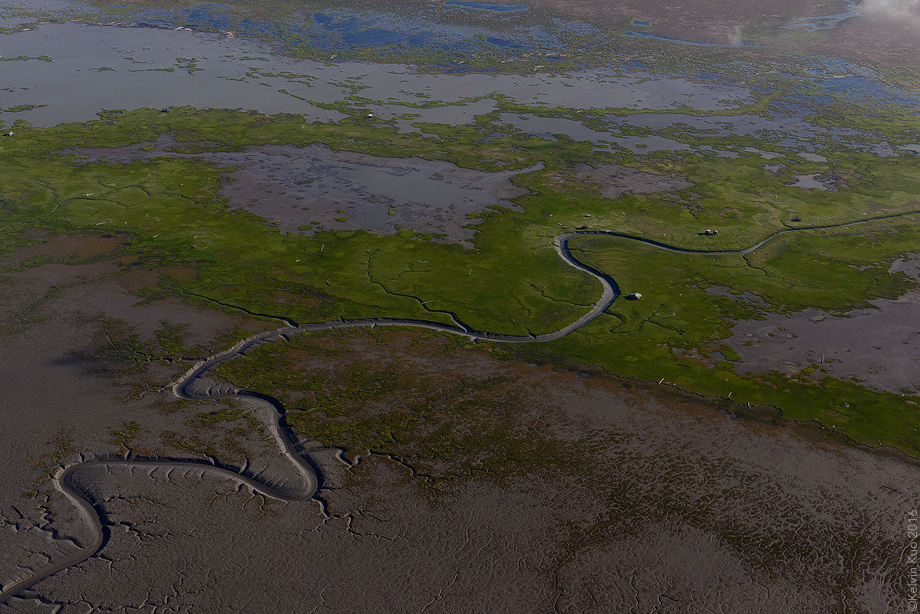 And this really interesting drainage, which seems to change directions pretty regularly.

And we headed into the more alpine region, with more snow capped mountains which for a dramatic panoramic view from the airplane.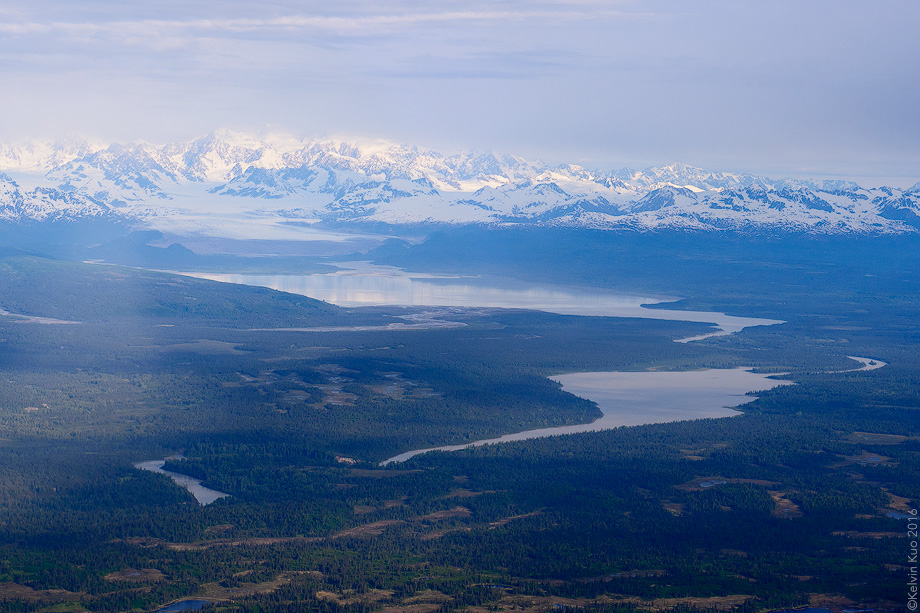 The clouds were very foreboding, making me sense that our trip wouldn't just be sunshine.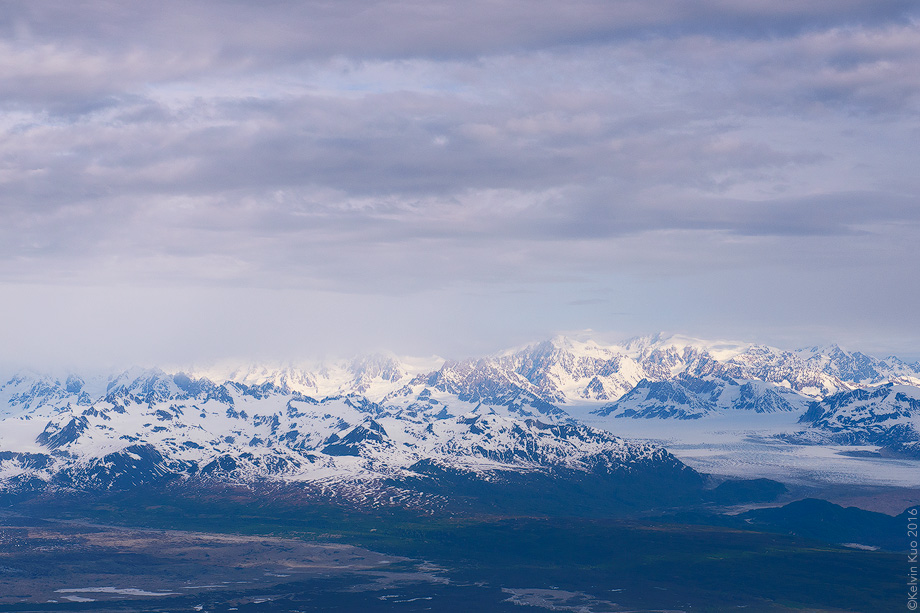 The snow left over from the winter precipitation.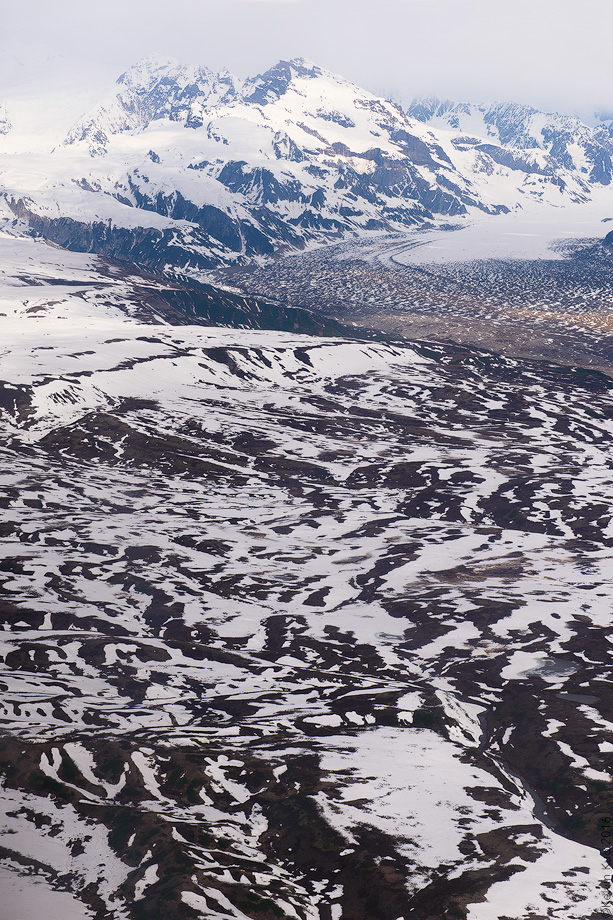 And also the remanence of a glacier, plowing down the mountains.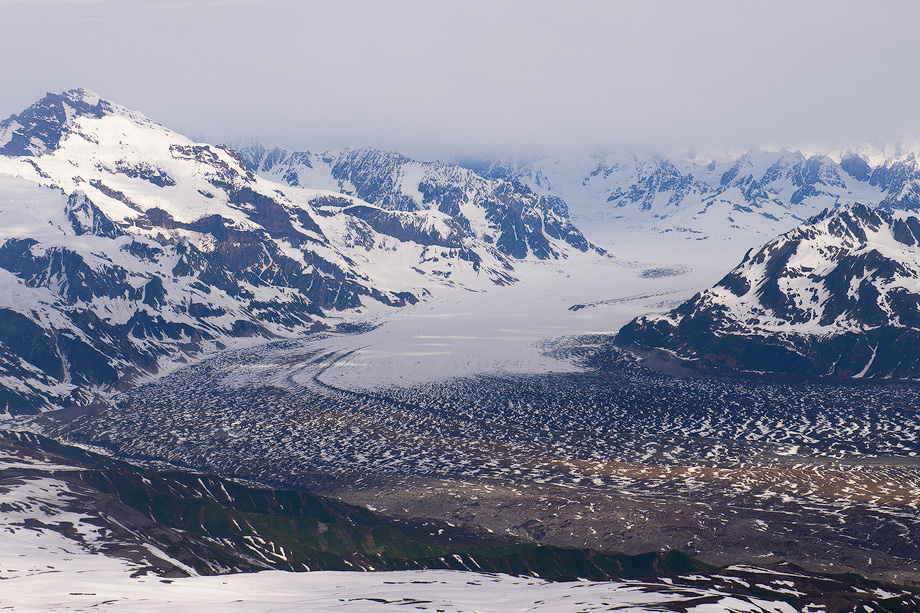 The textures, patterns of nature are very interesting.  Usually it's pretty hard to find in Southern California, but there were very prevalent in a weather worn area like this.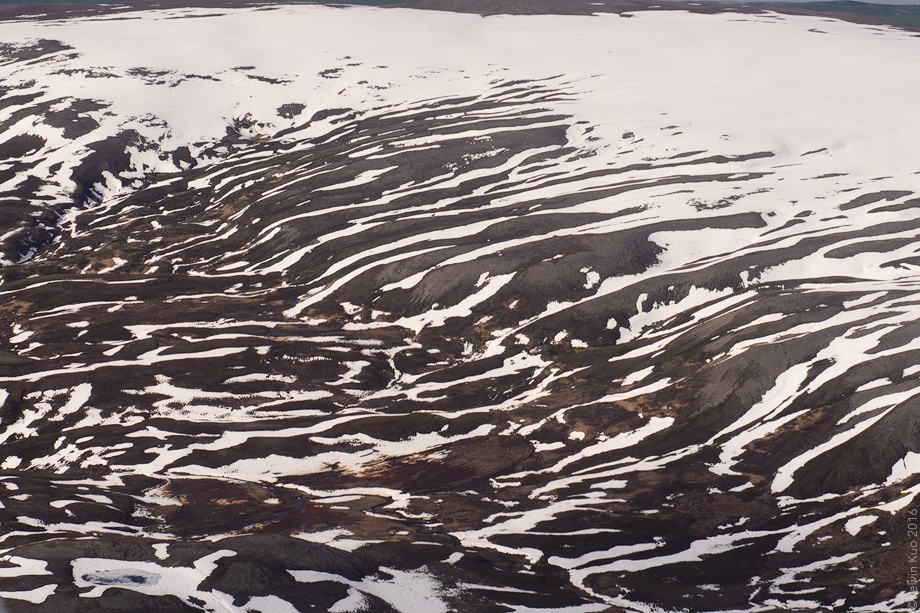 And one of the taller mountains in the background, which may be our next destination in Alaska.  Potentially somewhere near Denali.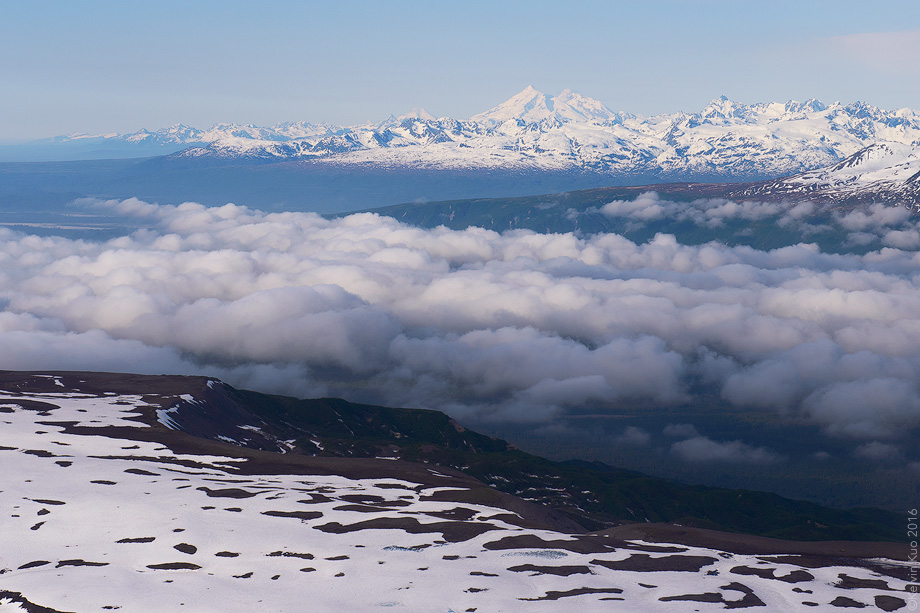 And we flew in more and more, being graced with some very breathtaking views.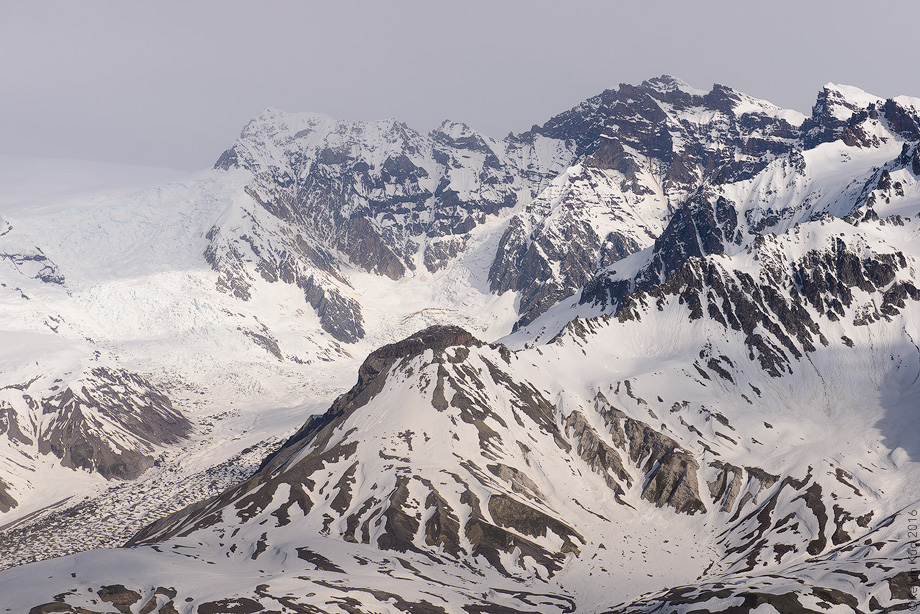 Melted glacier runoff, some signs of global warming? or just a natural occurrence in this part of the world.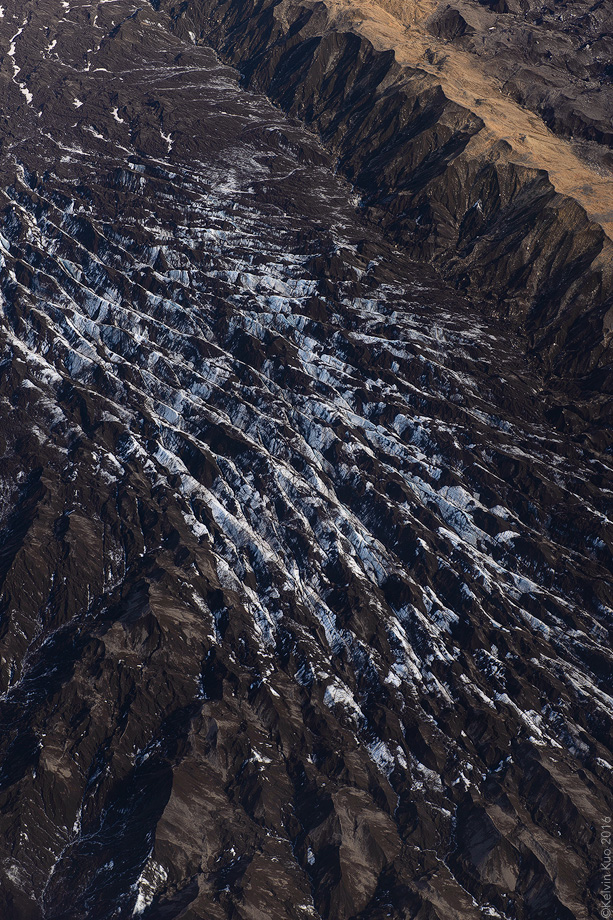 Our first actual glacier sighting, which made Melody and I really excited.  We actually brought some crampons for this trip, incase we were headed on the glacier route from Telaquana Lake past Turquoise Lake to Twin Lake.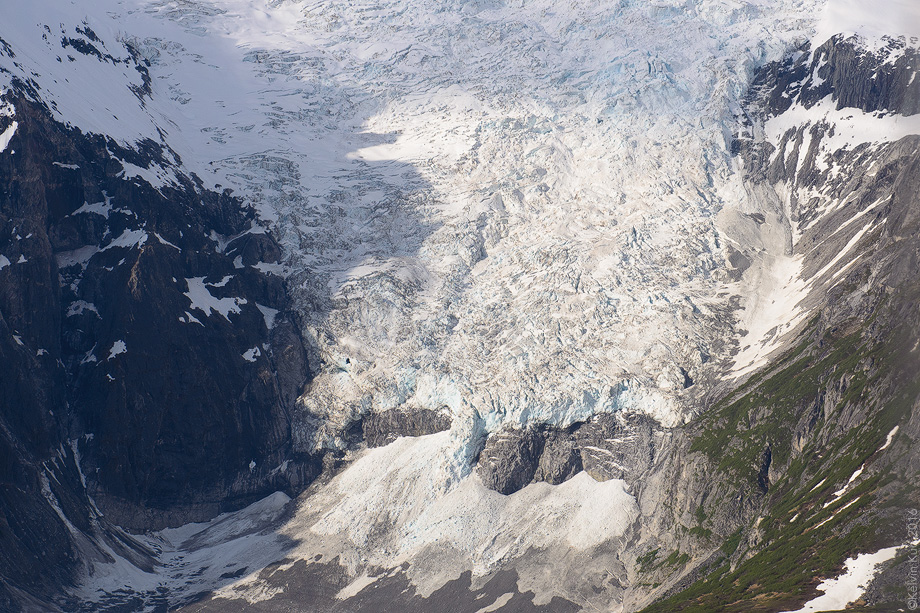 And we started to see where we would head to, at the inlet toward Telaquana Lake.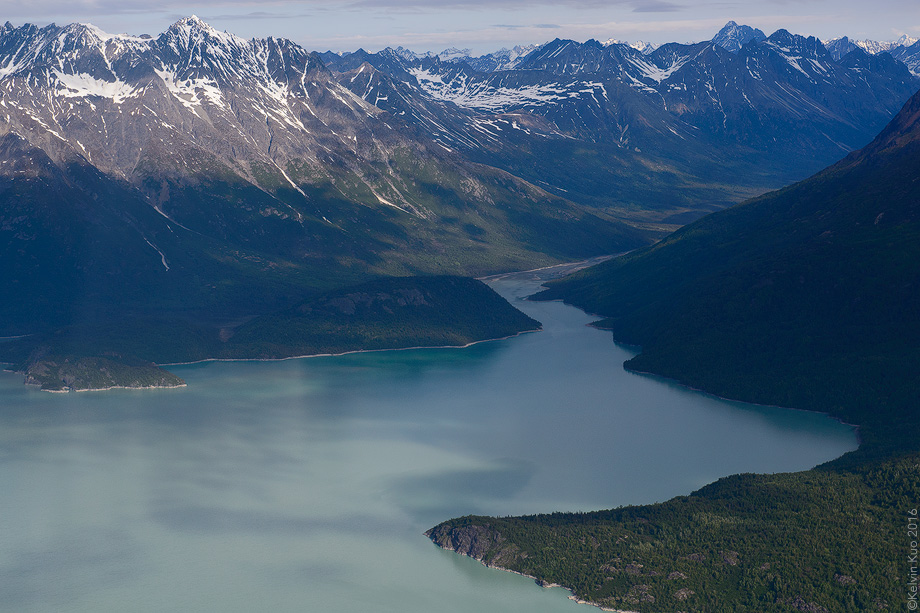 Flying through clouds and mountains.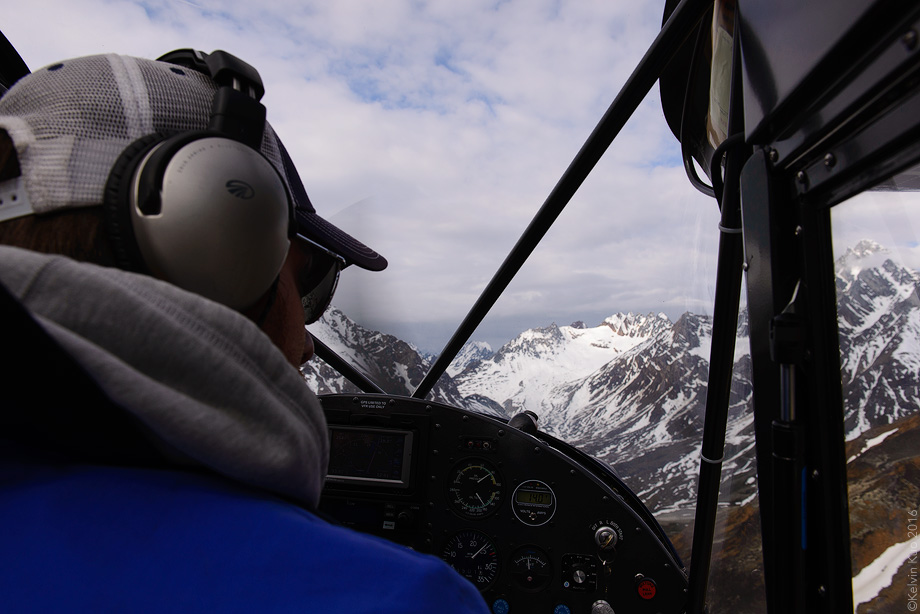 And our landing spot, a surprisingly glassy lake, which is supposedly worse to land in.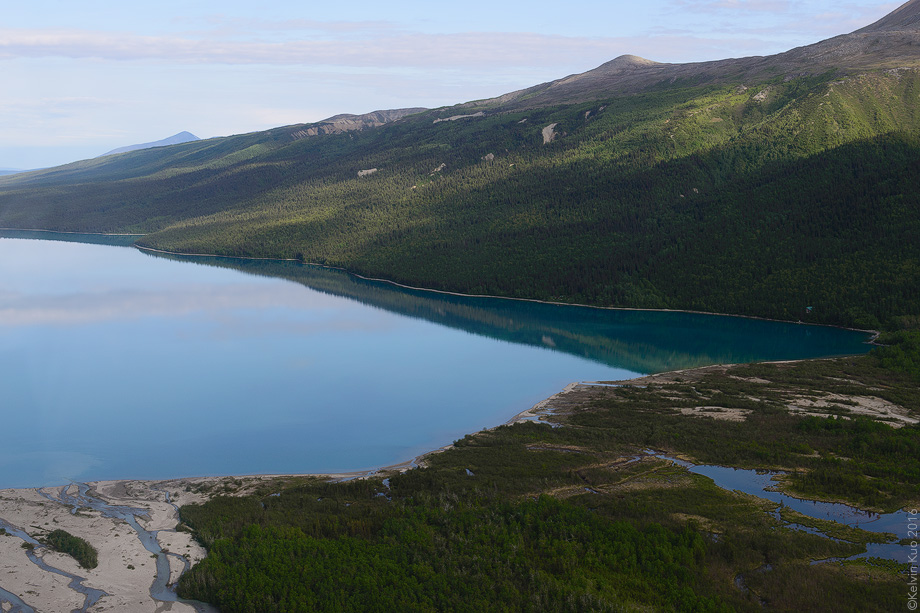 And a view as we were touching down.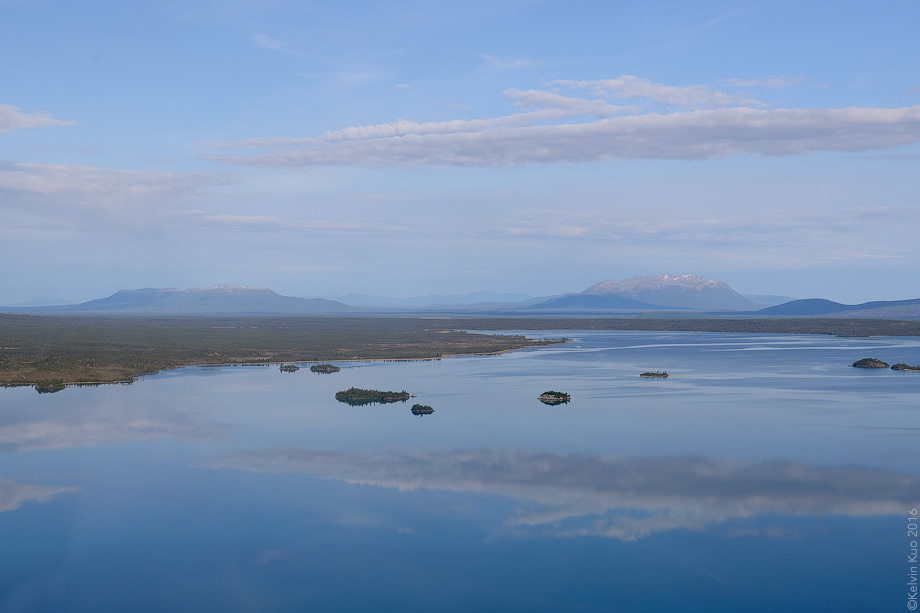 We unpacked our plane, gathered all our belongings and were immediately greeted with the Alaskan Mosquitos.  Melody and I were prepared with the 99% deet and our mosquito repelling clothes and face nets.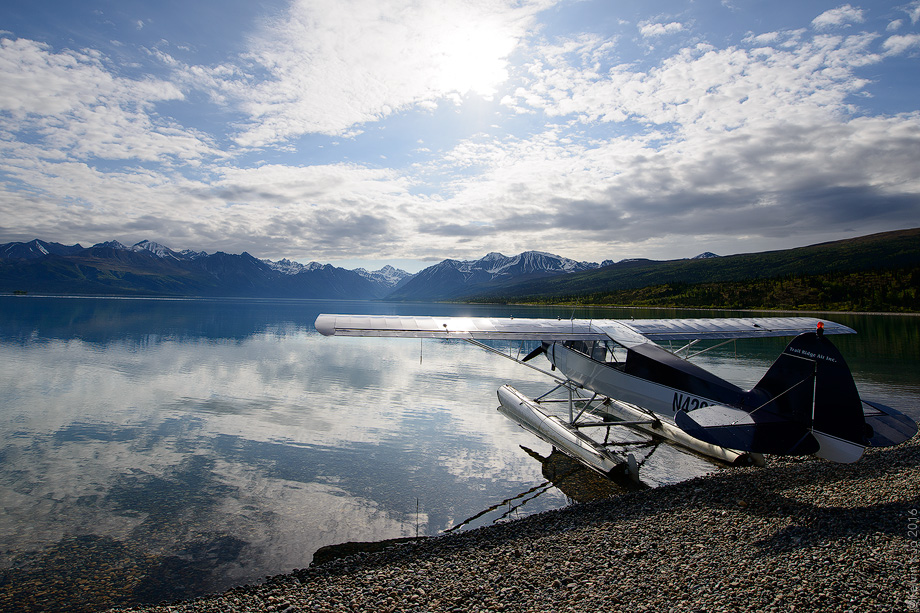 And we said goodbye to our airplane, were we were left with no other people in sight with a rendezvous at Twin Lakes in six days, and 30 miles.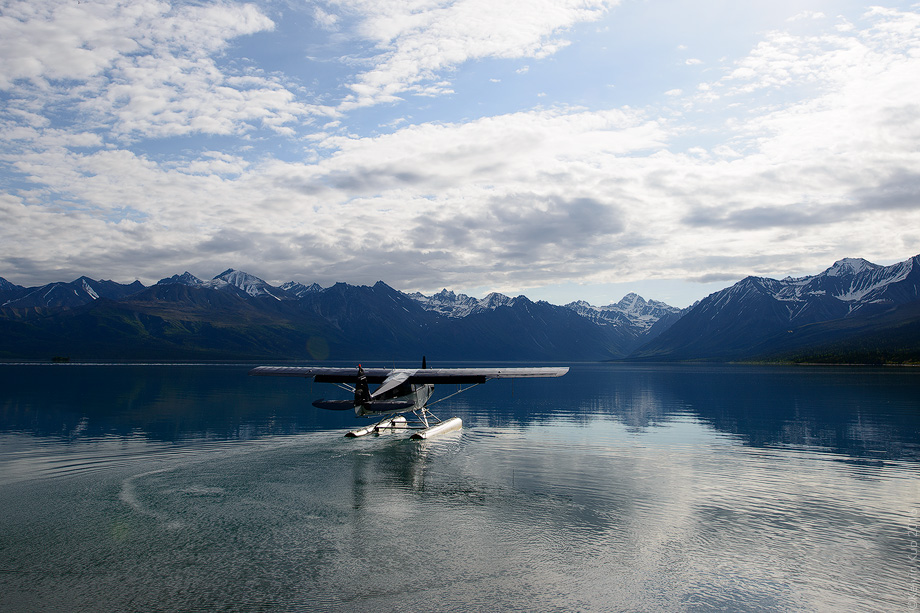 Our last human sighting, which can be both intimidating or exciting.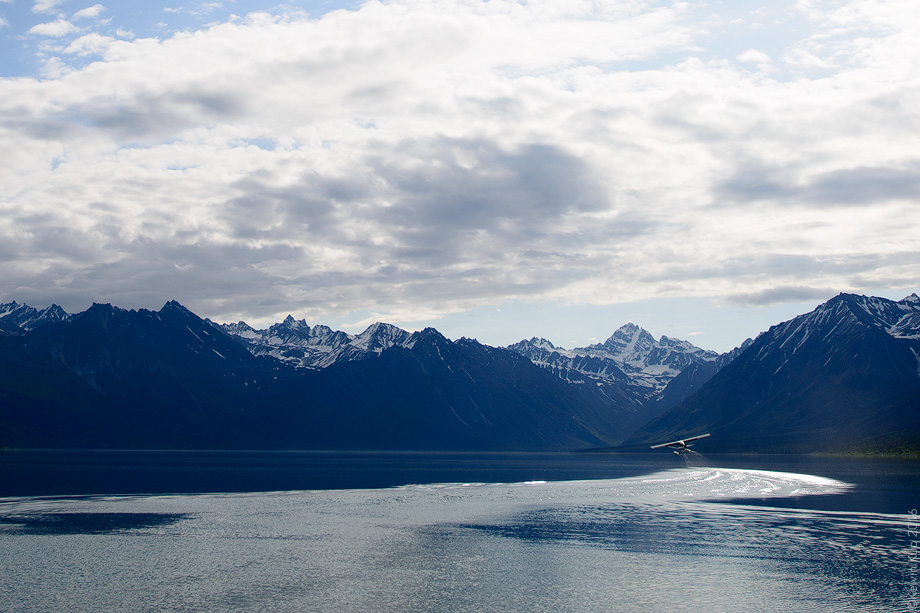 The glassy Telaquana Lake, and we enjoyed the view before we headed up to setup camp.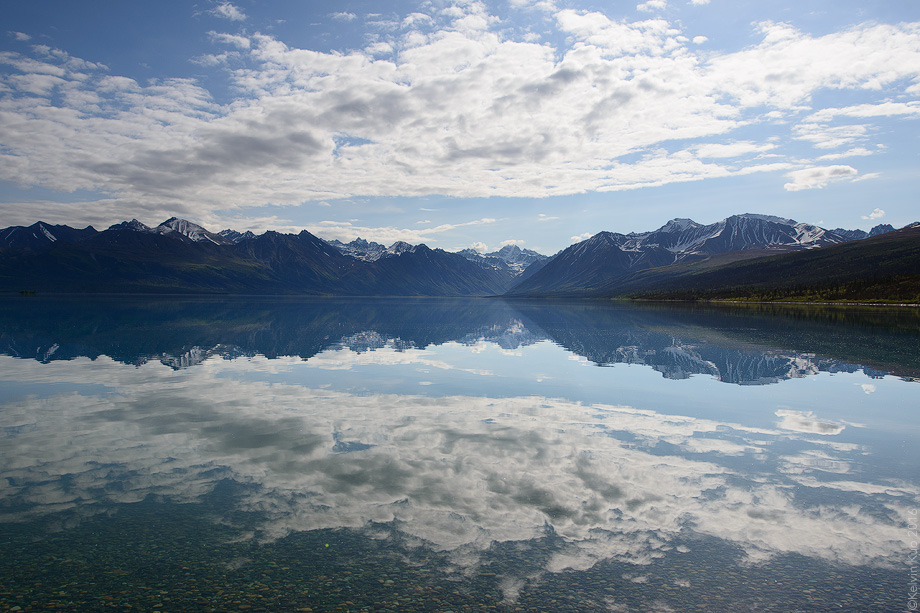 Melody looking for a good placed to head up.  The guides were right, that there really are no marked trails. This is bushwhacking to the extreme.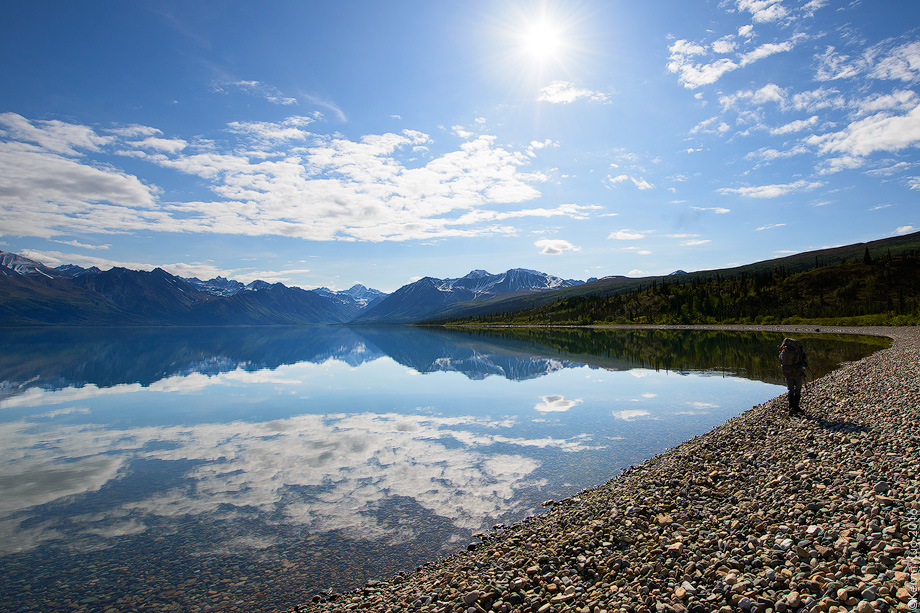 Melody hiking through the growth at Telaquana Lake, looking back to see our view.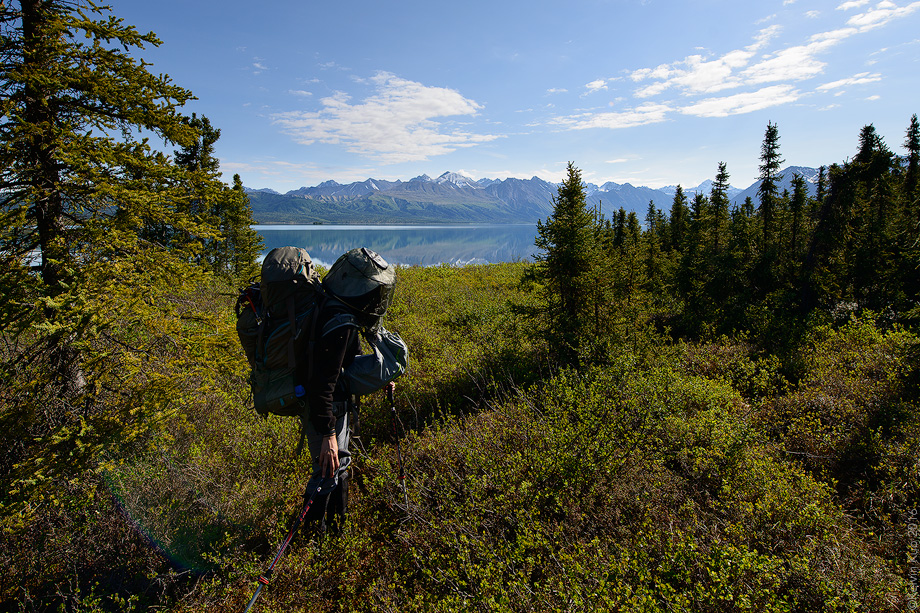 And we setup with this wonderful view of Telaquana Lake, with the weather so beautiful.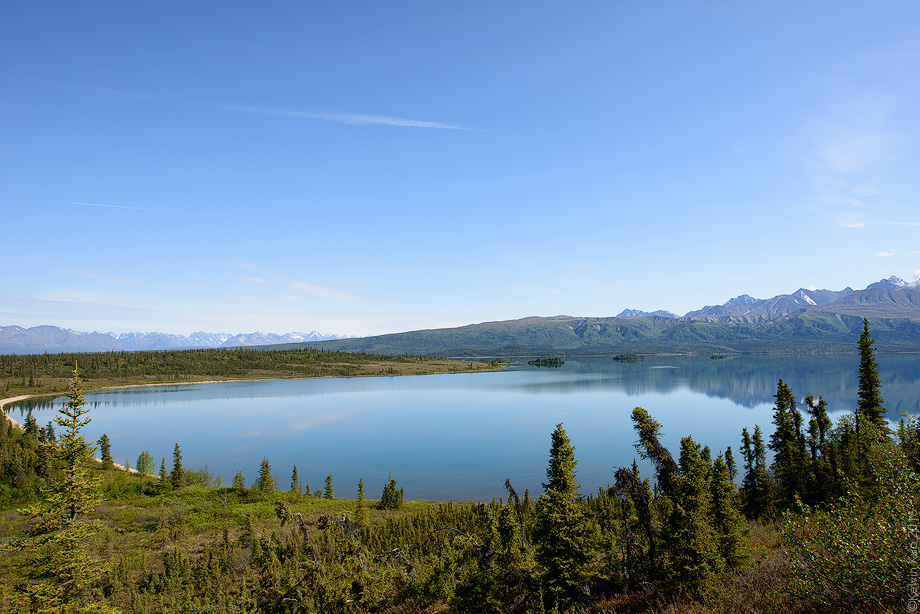 After our camp was setup, we headed back down for a rafting/kayaking adventure.  I ended up borrowing an Alpacka raft from my friend, Luke Walker, to test out their tandem kayak.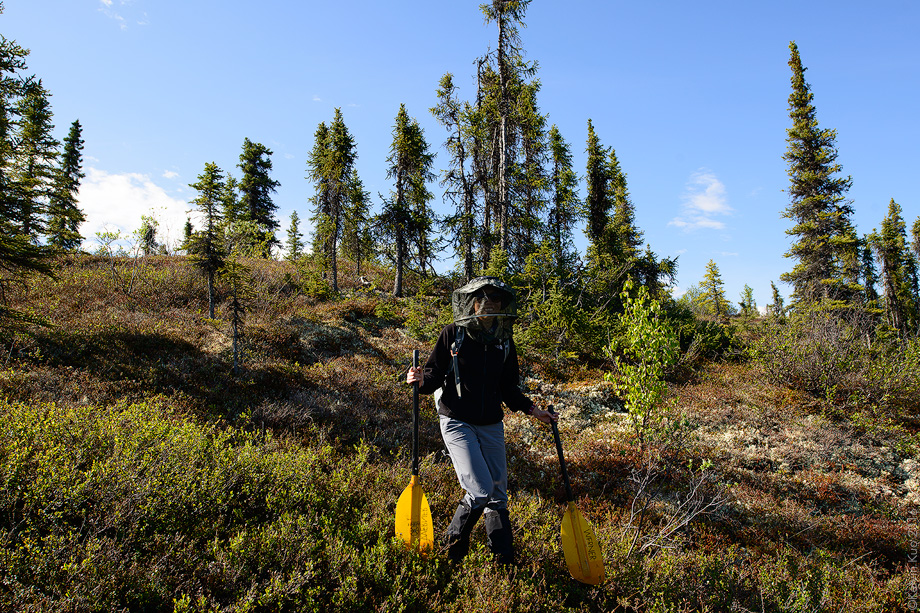 Setting up the kayak, inflatable, packable, but still relatively heavy.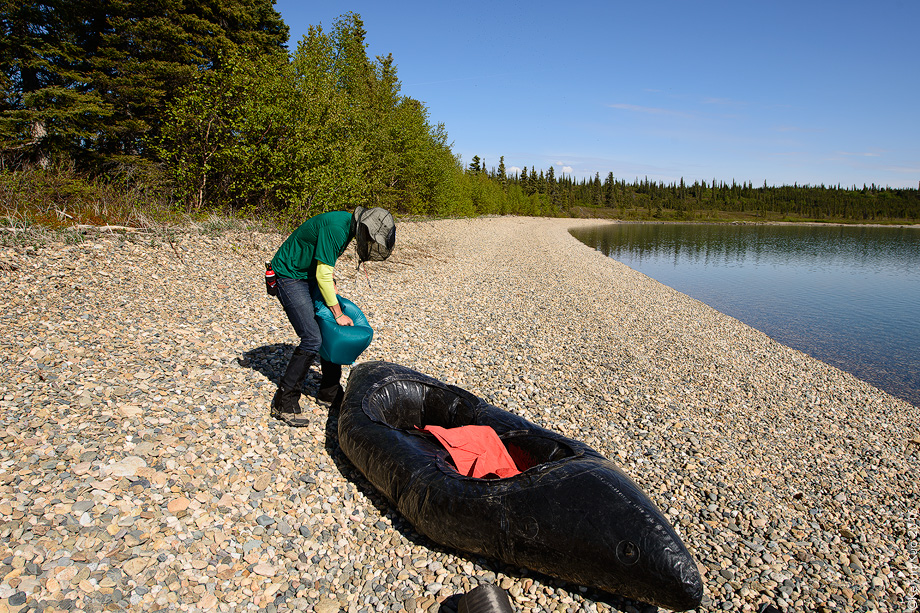 And we were ready to set off on this beauty.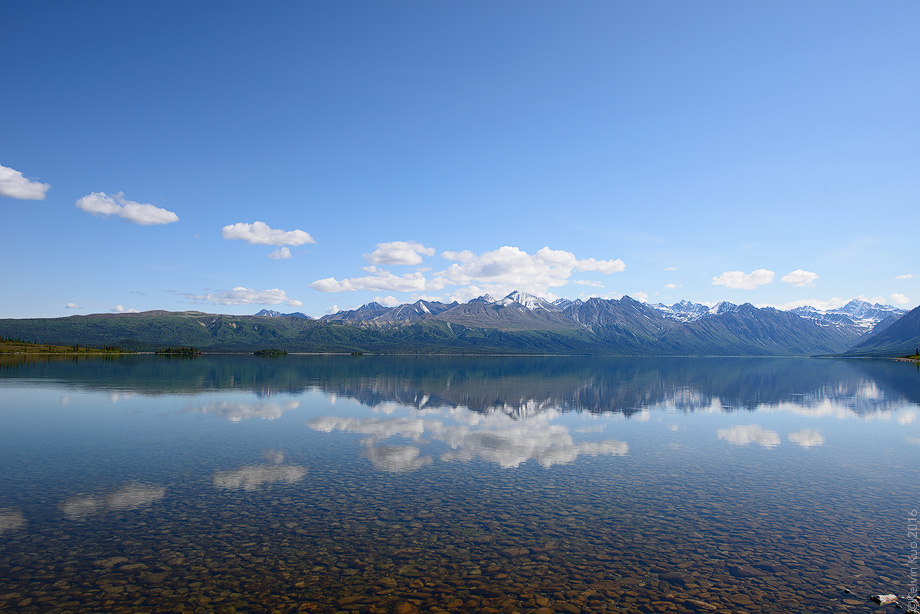 Melody getting ready for our trip to the mouth of the lake.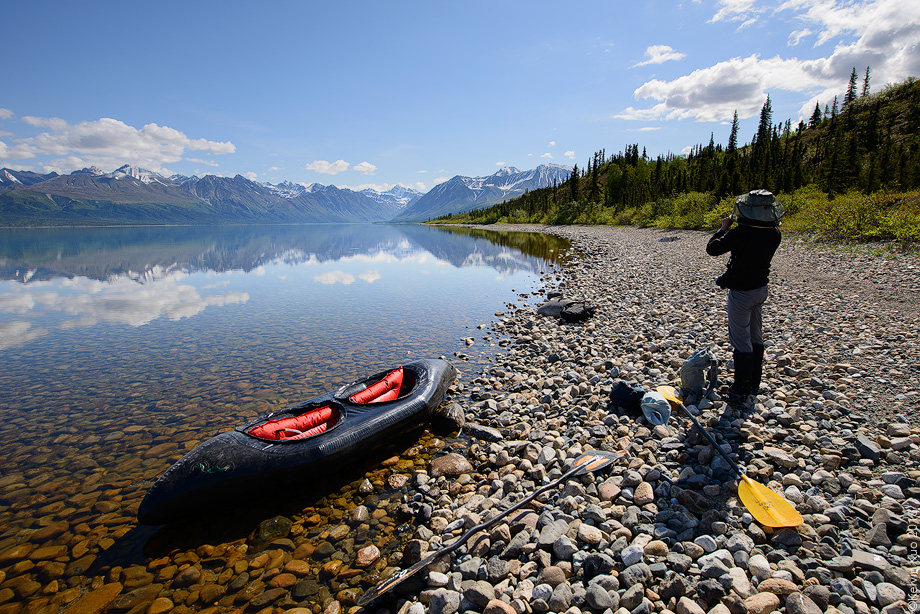 Just a product shot of the tandem Alpacka raft, ready to set sail.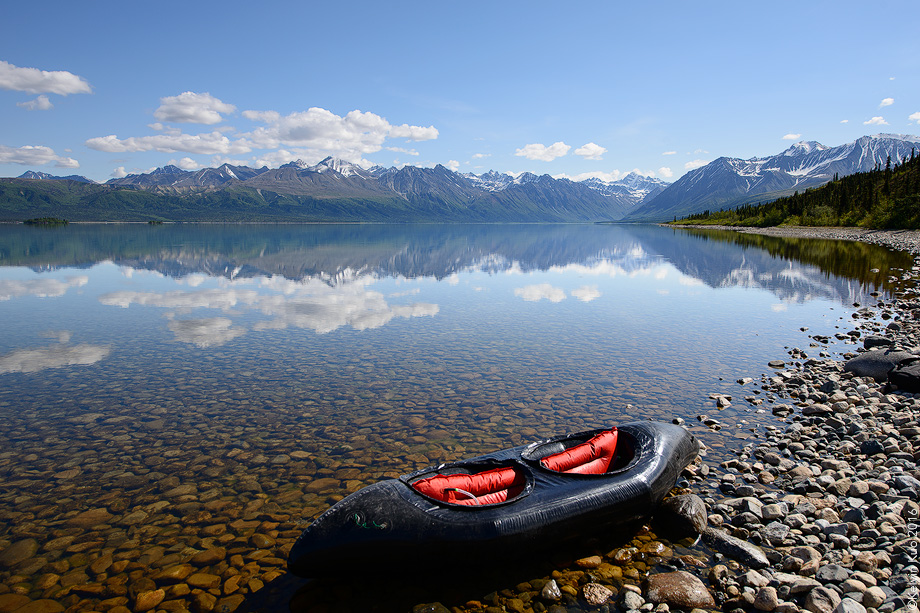 The experience was amazing, it really was like we were floating on a mirror.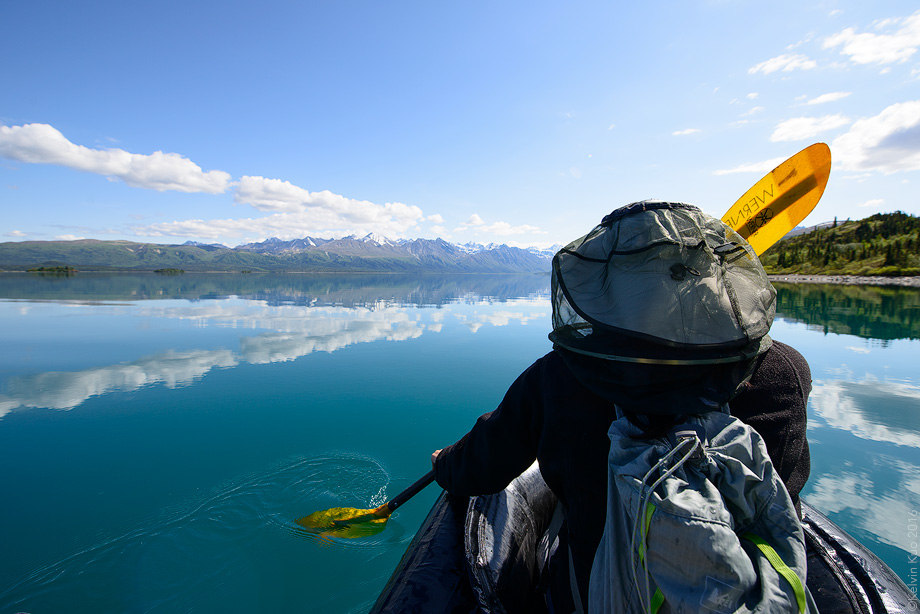 The view we were looking at while we paddled.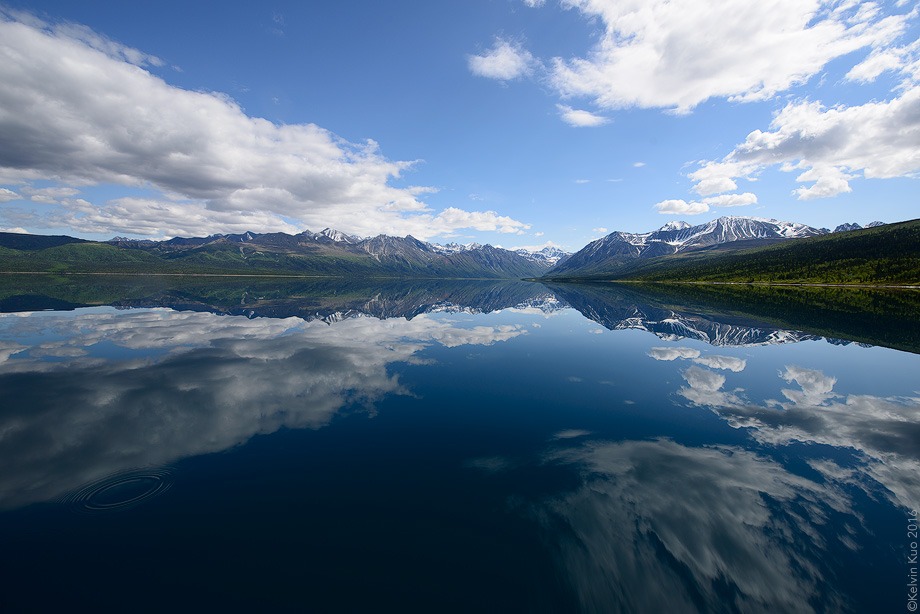 Melody, with her face net off for the rare photo op.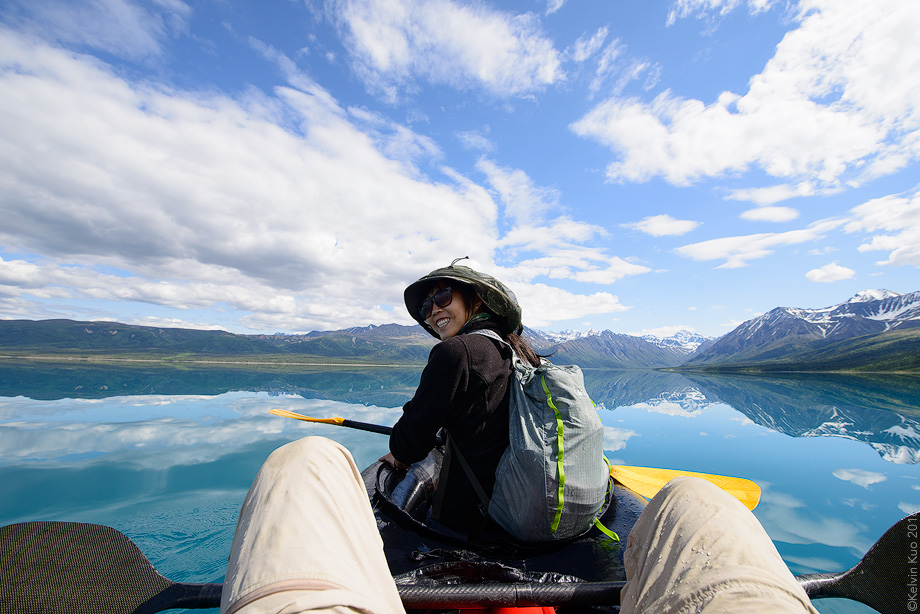 And soon we started getting tired, since the Alpacka wasn't really efficiently made for lake or ocean kayaking.  There was just too much effort wasted on correcting our motion, but still fun indeed.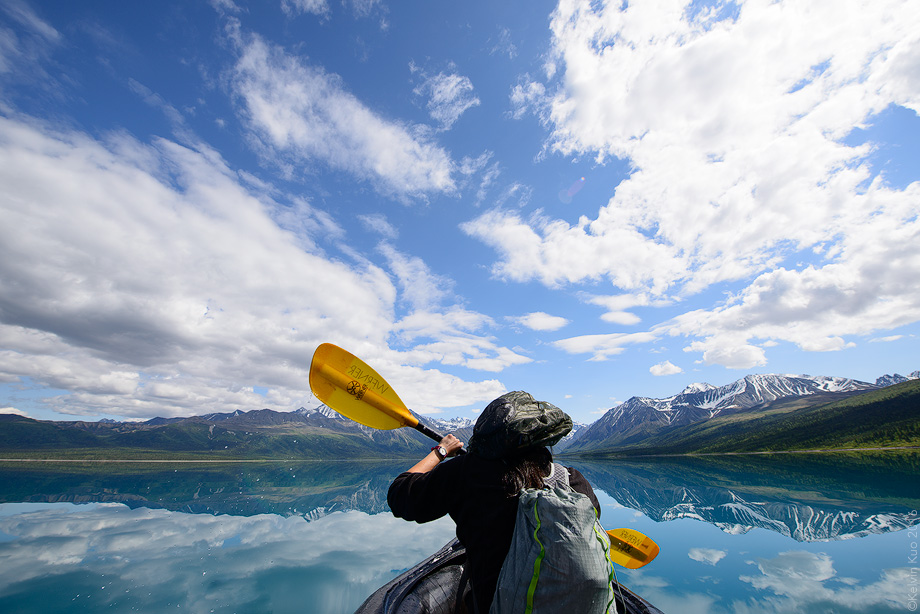 Our little resting point, just barely didn't make it to the mouth!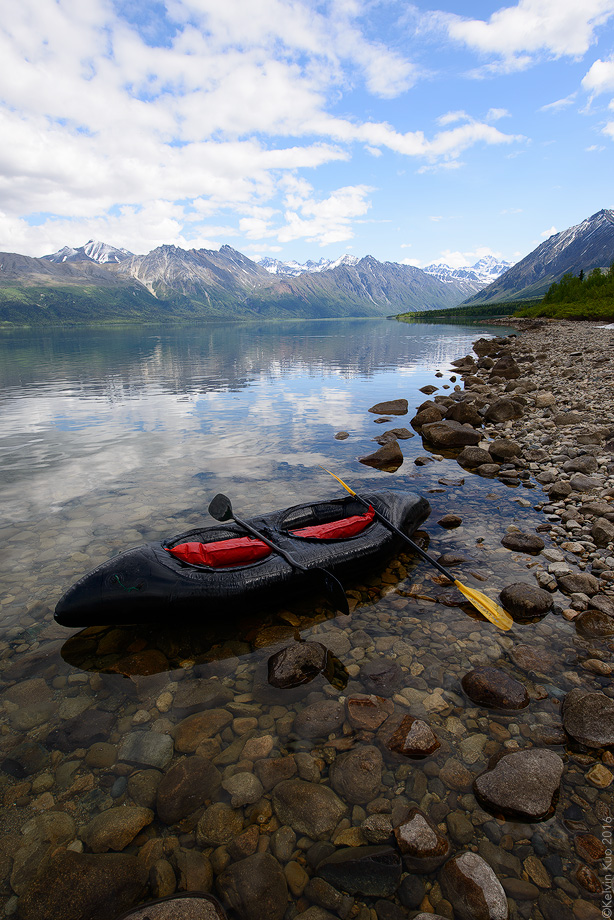 After a quick break, some lunch, we decided to head back to camp.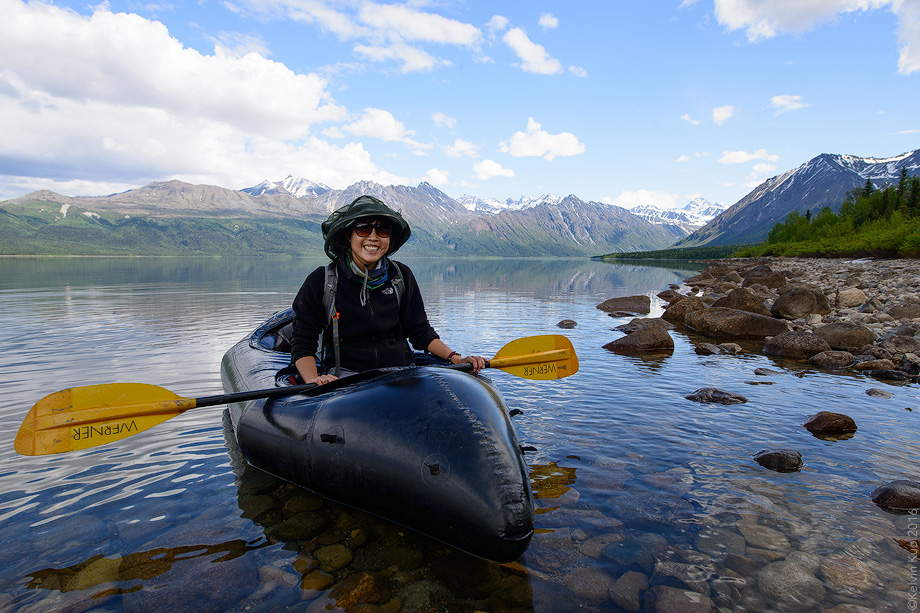 But the clouds were beginning to roll in, and the weather was about to change for a choppy ride home.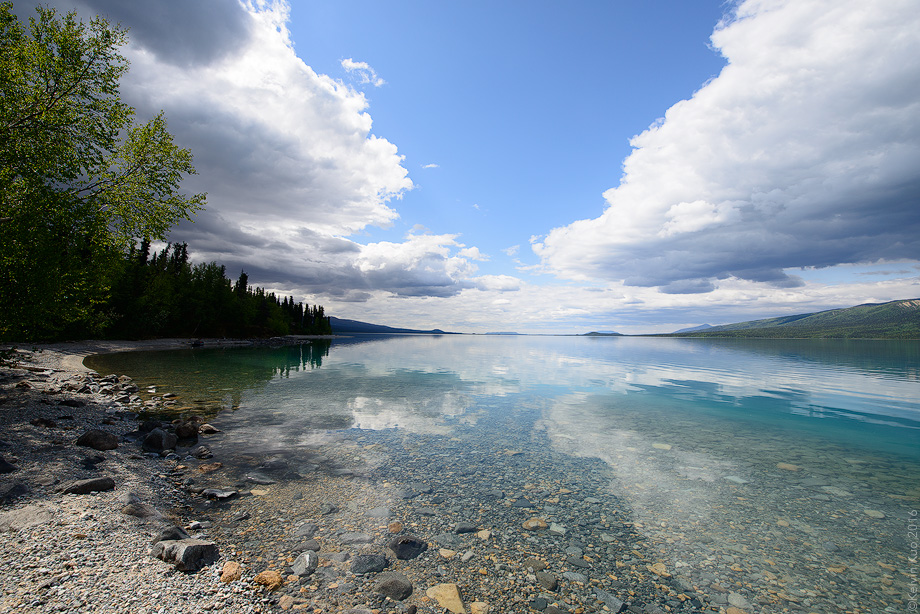 I ended up getting a photo of just how close we almost got!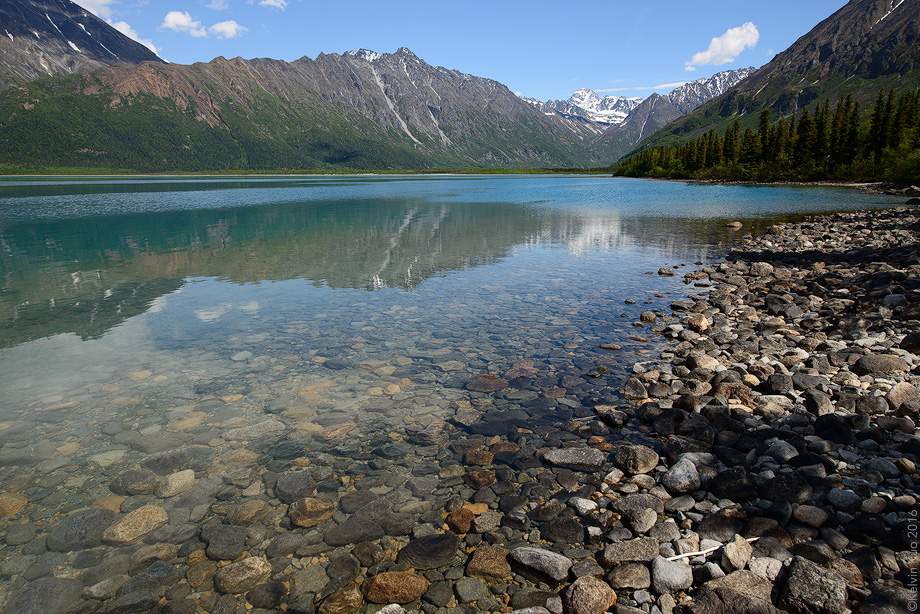 And as you can see, the water ended up being pretty difficult to paddle in, and Melody was getting tired, but you always have to remember, the farther you go out, the farther you must go to come back.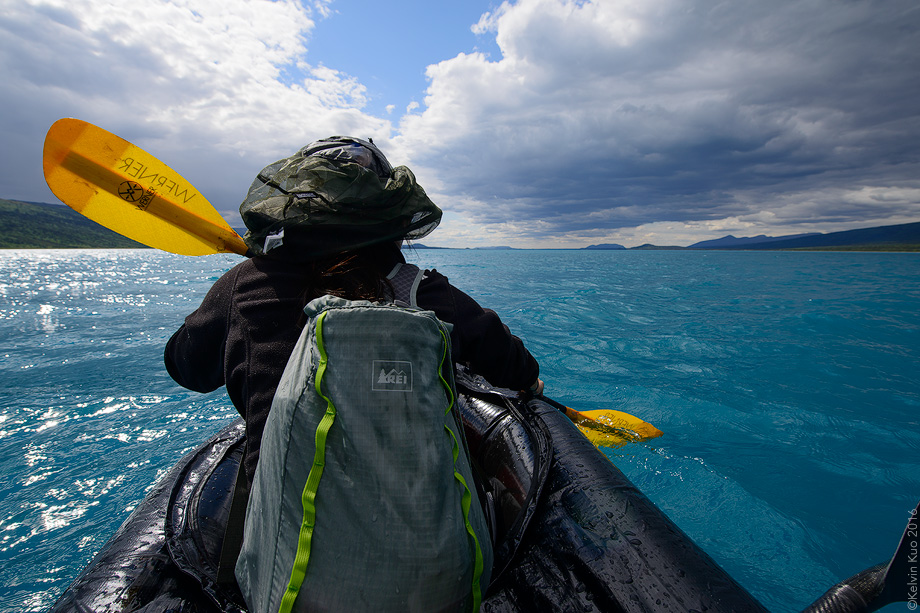 We headed back to our camp, cooked dinner, and decided to take a break until the sun set.  I was so excited due to the weather that day, but we were unfortunate to see that the horizon was just covered up.  No colors in the sky, but still stunning.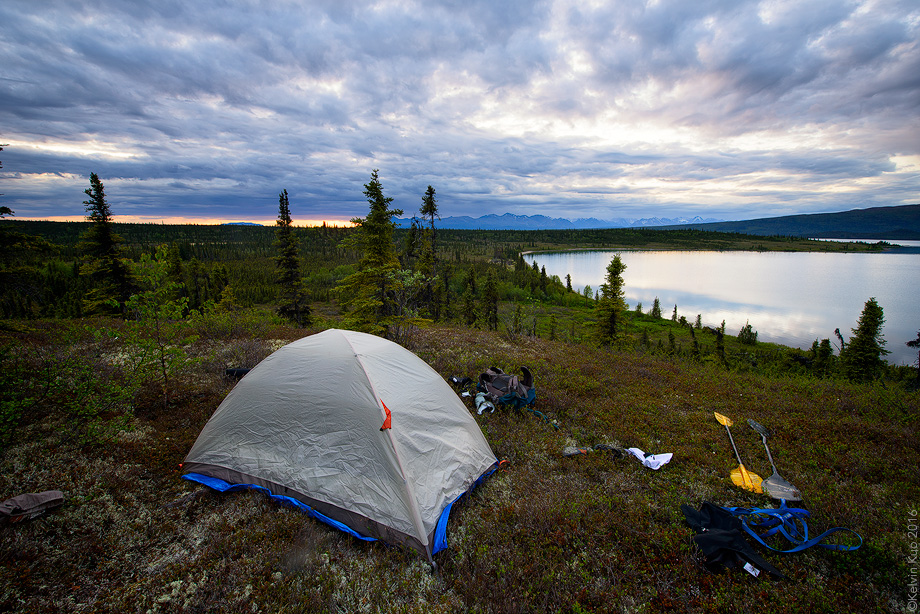 The blue and cloudy skies just as the sun was setting around 11pm that night.  I will be posted more blog posts for the following five days of the trip, stay tuned!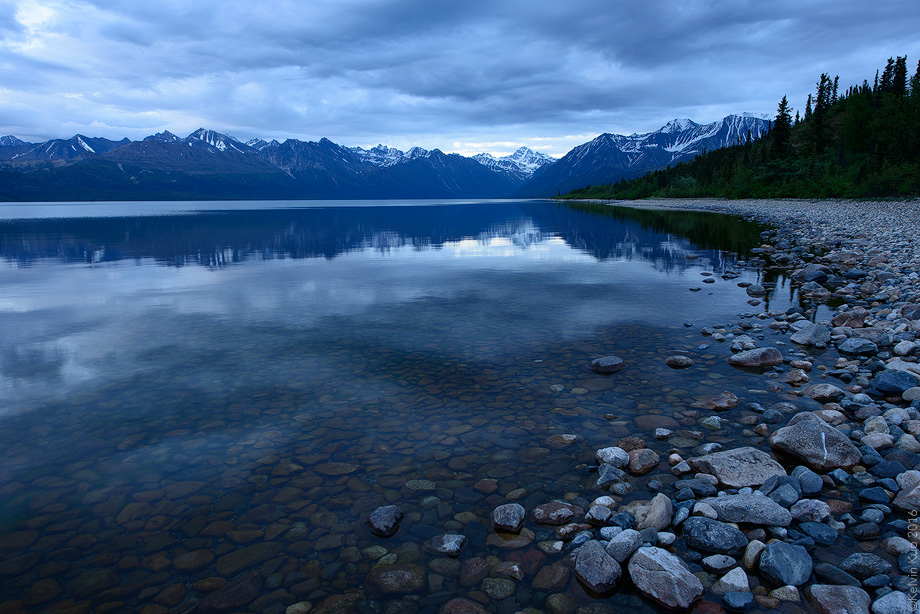 ---
---
You might also like
---